Being in business means you have to juggle multiple tasks and deal with multiple projects. It's not a piece of cake and it can drive you insane!
This is where project management tools enter the scene and make your lives a little bit easier and more organized.
Among the plethora of project management tools out there, Asana managed to stand out. Launched in the year 2008, Asana is being used by thousands of teams in both small and big companies alike.
But, you have to admit that better options have now entered the market. Asana is no longer the best, because it has so many drawbacks as well, which we'll be discussing later.
So, if you are an Asana user looking for some other alternatives for managing your projects or someone looking for some good project management tools in general, then you have definitely come to the right place!
Here, we will be talking about 12 Asana alternatives and competitors. So, what are you waiting for? Jump right in!
First Off, Why Look for an Asana Alternative?
Are you wondering why you are looking for an Asana Alternative? We think it might be because of these drawbacks:
Asana is expensive. It offers a free plan with heavy limitations and its paid plan costs $9.99 per user a month!
It is too complex to understand, especially for new users.
In Asana, a task can be assigned to only one person, which makes it difficult in situations where the task needs to be assigned to more than one member.
The tool is very time-consuming because

you can only make one change at a time.
We know that these problems can be quite frustrating, that's why in this blog we have compiled a list of 11 Asana alternatives and its competitors that you can use to improve your project management experience.
Dive right in, folks!
List of 12 Asana Alternatives and its Competitors for You to Explore

Trello is a simple, user-friendly tool with a neat interface. It is suitable for both business and personal projects.
Trello focuses on Kanban-style project management, where it uses Kanban boards, cards, and lists to effortlessly organize your projects. It also lets you break down your tasks by adding comments, attachments, and due dates.
Trello's interface allows easy transition between mobile and desktop. What's more? Trello has additional tools, such as calendar view and ready-made templates for common projects.

Key Features
Simple and easy to use.
Uses Kanban boards for the organization.
Easy transition on mobile and desktop.
Pricing
Free to use for 10 boards with limited features.
Standard plan costs $12.50/member/month.
Enterprise plan costs $17.50/member/month.

How does a visually appealing project management software sound to you? If that caught your eye, then Airtable is the best Asana alternative for you.
Airtable is an amazing task manager with a visually pleasing user interface that allows you to use images for categorizing your project tasks.
This tool is super flexible and gives you the freedom to organize your data. It creates databases in a spreadsheet format. This allows you to plan your projects within the spreadsheets and visualize them as Kanban boards, standard task lists, grid, or team calendars.
Airtable also offers built-in templates including budget templates and comes with mobile and desktop apps which allow you to comment, edit and collaborate in real-time with your team members.
Key Features:
Creates databases in spreadsheet format
Visually appealing interface
Offers in-built templates
Pricing
Free plan with no user limit.
Paid plan – $20/month per user
Read more: Top Airtable Alternatives & Competitors You Must Explore!

If you're looking for an Asana alternative that offers it all – High functionality, affordability, ease-of-usage, and a suite of features under one virtual roof then look no further than ProofHub. ProofHub is a top-rated team collaboration and project management software that enables project teams of any size to manage various aspects of work from a centralized platform. 
ProofHub enables you to create, assign, and monitor tasks and projects with Kanban boards and Gantt charts. Advanced communication features like Group Chat, Discussions, @Mentions, and Real-time updates ensure enhanced collaboration among in-office and remote teams. 
Custom fields allow you to add more fields to store custom data at the task level while the Table view makes it easy for users to categorize and prioritize tasks according to the workflow. 
Key Features
Task management

Reporting

Custom fields

Multilingual interface

Online proofing tool

Files management

Communication
Basecamp is a centralized platform for managing projects and team communication, with a customizable user interface. It provides a wide range of tools such as message boards, Kanban charts, to-do lists, project schedules, group chats, and many more!
Basecamp allows you to break down your projects making it easy for you to complete your work successfully and on time. It also lets you track your work progress with Basecamp Hill Charts.
Moreover, its message boards allow you to bring conversations on a single page making communication a smooth process.
Key Features
Helps break down projects
Supports smooth communication
Has a customizable user-interface
Pricing
Free personal plan
Business plan at $99/month

Monday.com is a great Asana alternative. It is an all-in-one tool that lets you create and manage projects, add tasks, track productivity, and automate the workflow without a third-party integration.
Monday makes it easy for teams to collaborate in a shared workspace and keeps the members always in sync.
It is an easy-to-use tool that supports Kanban and shows your project details in a timeline. Its dashboard feature allows you to see a visual overview of your team's work.
What's more? Monday offers robust customization for almost everything.
Key Features
Lets you manage multiple projects at once
Provides built-in workflow automation.
The dashboard feature provides an overview of the team's work.
Pricing
Pricing starts at $10-$20/user/month.

If you handle a lot of small projects, then Nutcache might be the right solution for your team. It is designed to manage your entire project lifecycle from its initial stages to the final stage.
Nutcache is an all-in-one solution that helps in planning, tracking, and organizing your tasks efficiently so that you can meet your deadlines without any trouble. This is why it is an incredible Asana Alternative and its competitor.
Nutcache also allows you to see the state of your projects and rank them by their due date, helping you become more productive. It is a credible project management software because it is trusted by 130,000+ businesses.
Key Features
Manages entire project lifecycle
Effortless collaboration with teammates
Track project progress and ranks them
Pricing

Next up on the Asana competitor and alternative list is Jira, a tool that allows you to assign tasks, evaluate timelines, discuss the team's work with full visibility, and track progress.
Jira helps you streamline your project execution experience through task planning and management styles such as Kanban board, timeline views, etc.
Jira walks you through an easy step-by-step onboarding process that helps you choose the right management style for your project, and instructs you on how to set it up. It is highly customizable through the integration of over thousands of add-ons such as Zephyr, Hipchat, Confluence, etc.
Moreover, Jira also has a mobile app so that you can stay in sync, even when you're on the go.
Key Features
Easy onboarding process
Integrations like Hipchat, Zephyr, Confluence, etc.
Real-time progress report
Pricing
Standard: $10/month for up to 10 users
Premium: $14/month per user
Read more: 7 Best JIRA Alternatives and Competitors For Project Management

Hive is an excellent Asana alternative for both small and large businesses. It offers features that help you plan, execute, communicate and monitor all your projects smoothly. It lets you create projects, automate workflows, and provides a summary of your work.
You can view your team's productivity through Hive's analytics feature and keep track of how much time is spent on each project. It also provides other features such as action cards, action lists, proofing, and approvals.
In addition to this, Hive also offers a diverse range of integrations such as Google Drive, Salesforce, Gmail, Slack, GitHub, Zoom, and many more.
Key Features
Streamlines activities through automated workflow
Lets you monitor productivity and time
Offers a diverse set of integrations
Pricing
Starts at $12/month per user.
$4-$6/month per user for add-ons.

Next on the list is TickTick, an amazing and widely used Asana alternative that you should consider. It is suitable for both your personal and professional projects.
TickTick lets you note down your ideas, create to-do lists that help you organize and manage all the projects in your work and personal lives.
An important feature of TickTick is that it allows you to set multiple reminders for your due dates so that you never miss your deadlines.
It is also a great communication tool that makes your team collaborations effortless and effective. It lets you share lists and assign tasks to your teams without any hassle.
Key Features
Breaks down tasks by priority.
Easy to use.
Multiple reminders for deadlines.
Pricing
Free plan available.
Premium plan – $2.79/month.

If you want something similar to Asana, but not Asana, then Wrike is what you are looking for. It has all the features similar to Asana plus more! That's why it is a good Asana alternative.
Wrike is known to simplify project planning, streamline workflows, and give full control over communication.
The tool provides 360° visibility which allows you to clearly see the tasks ahead of you. It also sends you real-time updates so you can keep track of the progress of your team.
It is easy to review and approve work in Wrike, because its built-in proofing and approval system enables your team to give feedback quickly. What's more? Wrike offers enterprise-grade security!
Key Features
Provides 360° visibility.
Has enterprise-grade security.
Simplifies project planning.
Pricing
Free with limited functionality.
Professional – $9.80 per user/month.
Business plan – $24.80 per user/month.

Next on the Asana alternative list is Scoro, an all-in-one work management software that helps you manage your projects smoothly without killing productivity.
Scoro offers a broad spectrum of features from CRM to project management and lets you plan projects, manage budgets, send invoices, and view your team's workload.
With Scoro, you can manage your time and your team's time efficiently using its time management tools like team calendars, timesheets, and automated time-tracking. It also gives you a transparent view of your projects and helps you evaluate the progress being made.
What's more? Scoro offers integrations with over 1,000+ apps allowing you to integrate it with your favorite tools.
Key Features
Gives transparent view of work progress
Offers over 1000 app integrations
Has a user-friendly interface
Pricing

Mavenlink is an all-in-one Asana alternative that unites project management, collaboration, time-tracking, resource planning and project financials in a single place.
Mavenlink has a centralized dashboard that updates you on the progress of each project on a single screen. It gives you a deeper understanding of your projects through Gantt charts, task lists and threaded communication.
The tool also lets you access detailed reports that help you evaluate your team's performance and progress to make decisions related to your future projects!
Key Features:
Has centralized dashboard updates
Provides access to detailed reports
Offers tracking features
Pricing
$19/month for 5 users
Professional: $39/month/user
Over to You!
That concludes our list of Asana alternatives and its competitors that you can explore!
As you can see, Asana isn't the only option out there if you want to manage your projects.
There are so many other options with better features and higher quality that will make project management a breeze for you!
Now that we have given you a list of Asana alternatives to choose from, all there's left for you to do is to find the right one that fits your needs.
That's a wrap, folks!
Further reads:
Related posts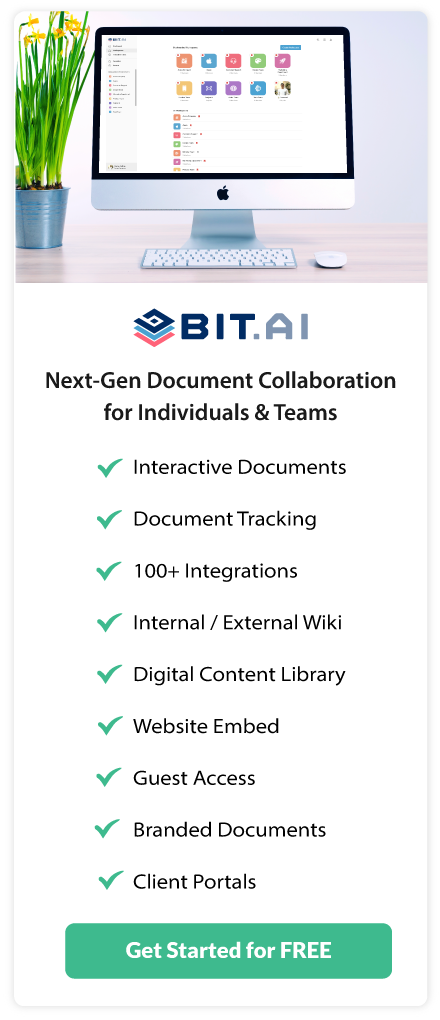 About Bit.ai
Bit.ai is the essential next-gen workplace and document collaboration platform. that helps teams share knowledge by connecting any type of digital content. With this intuitive, cloud-based solution, anyone can work visually and collaborate in real-time while creating internal notes, team projects, knowledge bases, client-facing content, and more.
The smartest online Google Docs and Word alternative, Bit.ai is used in over 100 countries by professionals everywhere, from IT teams creating internal documentation and knowledge bases, to sales and marketing teams sharing client materials and client portals.
👉👉Click Here to Check out Bit.ai.