Looking for an alternative to Microsoft Project? These alternative tools might help!
Finishing projects on time and delivering results is key to a company's bottom line. However, successfully completing a project requires a lot of moving parts to work in cohesion. Relying on your team or manager's memory to plan, accomplish, and deliver a project within the deadline is a bad, bad strategy.
This is why project managers rely on project management software to put their team together, brainstorm and strategize, allocating resources, plan their budget, conduct meetings, and forecast deliverability. Between 2017 and 2018, the percentage of organizations using spreadsheets to manage their agile projects dropped from 74% to 67%.
Rather, these companies moved to specialized project management tools. In fact, 77% of high-performing projects use project management software.

One such project management software is Microsoft Project. The first commercial version of Microsoft Project was released for DOS way back in 1984! That was 36 years ago!
While Microsoft Project has stood the test of time, it's still a bit outdated.
Meanwhile, the industry has been completely reformed, with newer, faster, and more proficient project management software releasing ever so often.
If Microsoft Project is outdated for you, is heavy on your pocket, or you simply need a simple yet effective alternative to Microsoft Project, you have come to the right blog.
List of top 10 Best Microsoft Project Alternatives
While there are many project management software out there, we decided to narrow it down to the 10 best ones out there. So, without further ado, lets dive in…
Teamwork
Bit
Mavenlink
Zoho Projects
Blossom
Active Collab
Avaza
Workzone
Paymo
Jira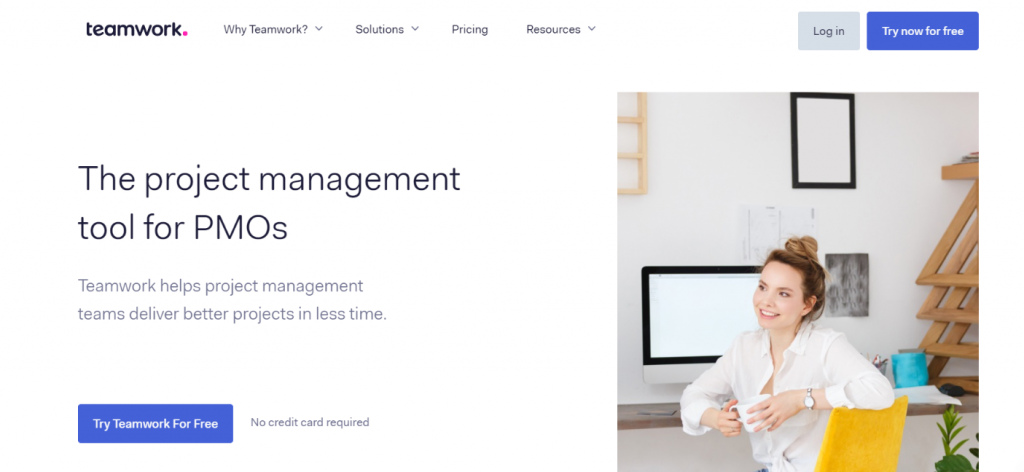 Founded in 2007, Teamwork is the first Microsoft Project alternative on our list. Founded in 2007, Teamwork has quickly gained traction over the years and is trusted by over 20,000 companies worldwide including Paypal, Netflix, and Disney.
With Teamwork's board view, managers can quickly visualize all projects and get a bird's eye view on progress. Manage and allocate resources related to all projects using the workload feature while the portfolio gives you a panoramic view of where all your projects stand. Teamwork has time-tracking built-in, so you can easily track time spent on tasks by external clients or freelancers and bill accordingly.
With its easy to use platform, managers can create tasks and subtasks, set goals and milestones, save task list templates, and chat with team members easily. Spaces allow employees to store company knowledge- important files, help-center articles, documents, and more easily.
Some Cool Features of Teamwork

Track changes made to tasks via task history and time tracking.
Teamwork Desk for customer service and a built-in CRM for managing all contacts
Board view, Gantt charts, Calendar view, and more.
Pricing: 
Free with limited functionality
Paid plans start from: "Forever Free" plan includes 100mb storage space for up to 5 users. The pro plan starts at $9/month with 100GB storage and supports up to 100 users.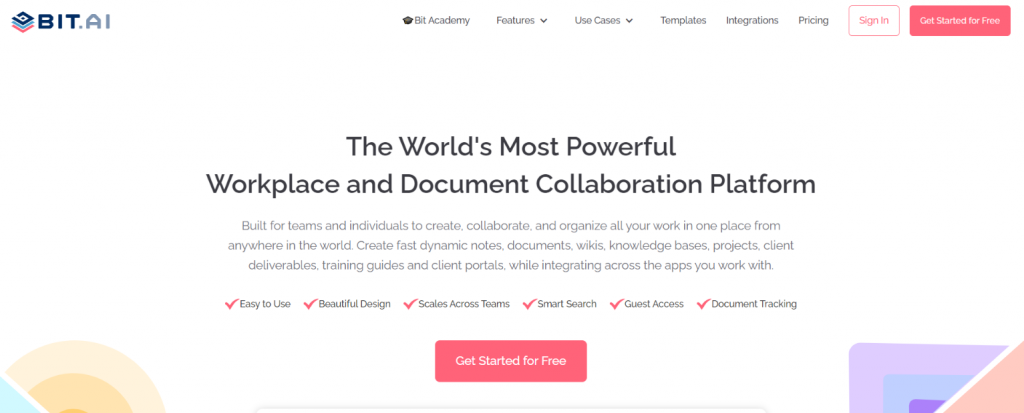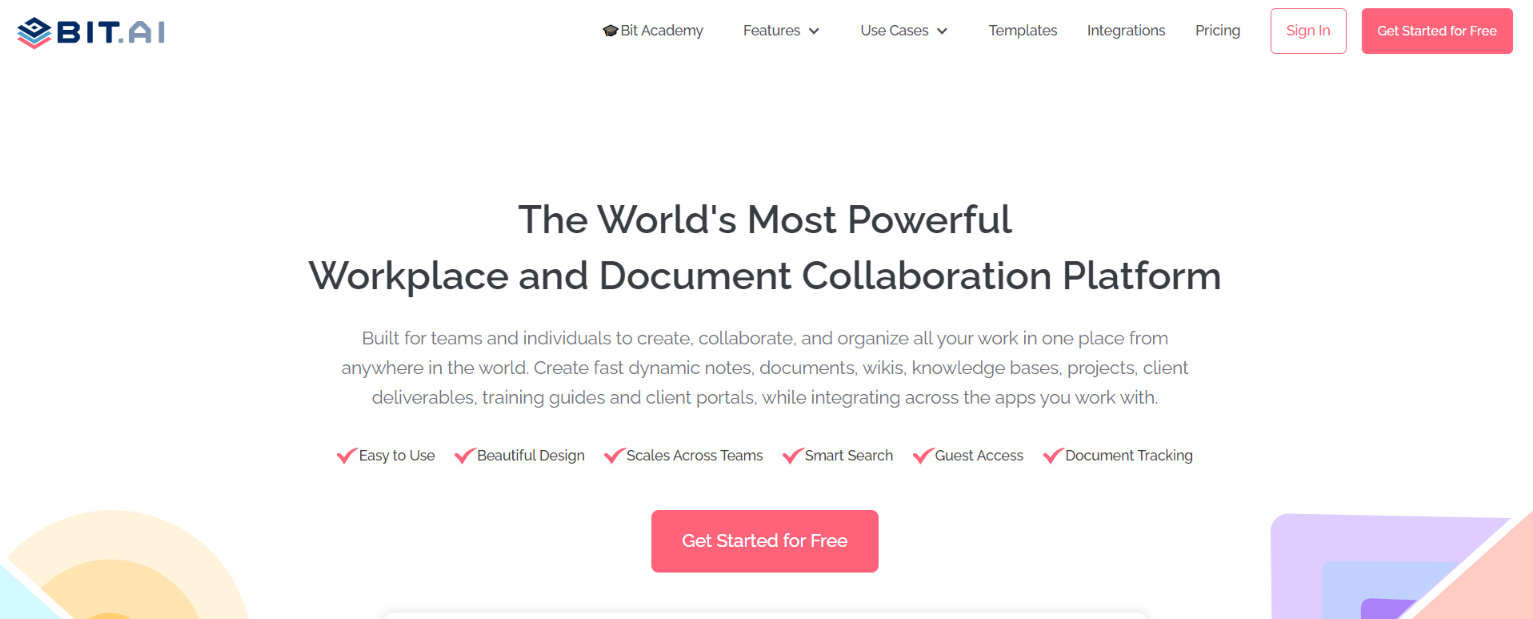 Next up is Bit, a smart collaboration platform for teams. Acting as a central hub for all communication and content, Bit is another awesome Microsoft Project alternative. Project managers use Bit to create planning documents, collaborate with peers in real-time, and store all project assets in one place for easy and fast access. You can add content from over 70+ various applications that will live inside of your Bit documents.
Collaboration: Multiple people can simultaneously collaborate on a Bit smart document in real-time. It's a great way to manage projects, brainstorm ideas, and most importantly, share knowledge.
Smart Editor: Bit's minimal and distraction-free editor makes a great tool for project documentation. The platform also supports Markdown for fast typing. Once you are done creating, you can easily export your documents as Word files, Markdown, PDFs, and much more.
Manage Content: Need a place to store all your project assets media? Bit has an amazing content library to save and access all your images, files, videos, slides, spreadsheets, and other rich media.
Organization of information: Create workspaces around projects, teams, departments, and clients to keep your data organized. Pin important docs to the top, add new members to a workspace, and take your content organization to the next level with hierarchical folders!
Templates: Kickstart your project management with amazing ready-made templates specially made for project managers. The project management plan, project charter, project proposal, project tracker- there are countless templates for numerous use-cases.
Some Cool Features of Bit
Password protection, document tracking, lead capture forms
In-line commenting and chatting
Easy and fun to use
Pricing: 
Free with limited functionality
Paid plans start from: Standard ($12/month), Plus ($20/month), Enterprise (contact sales).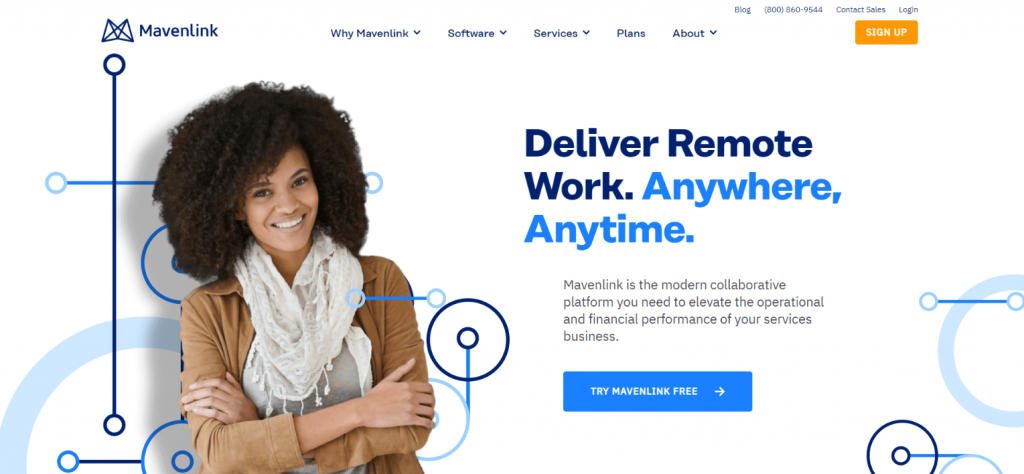 Whether your team manages 10 or 1000s of projects at once, Mavenlink's amazing platform provides a quick overview of all projects and keeps managers in sync. One of the top-ranked project planning and management tools on G2crowd, Mavenlink automates project management and provides amazing functionalities for resource planning, project accounting, and team collaboration.
With a detailed project overview with Gantt charts, task lists, and threaded communications, Mavenlink helps managers keep an eye on everything that's going on in the organization. A great feature of Mavenlink is the project pulse that provides real-time health of a project by tracking tasks completed and allocating resources wherever necessary.
With advanced analytics, project managers can get business intelligence, identify problem areas, and implement recommended best practices to take their projects to the next level. The software integrates with popular tools like Salesforce, Google, and Microsoft, and brings all your data in one place
Some Cool Features of Mavenlink
Detailed insights on project health and resources
Agile project management features
Project accounting, budgets, forecasting, and more.
Pricing: 
Free with limited functionality
Paid plans start from: Teams ($19/month), Professional ($39/month), Premiere (contact sales), Enterprise (contact sales).

Zoho Projects is part of the Zoho suite of apps. A cloud-based team collaboration tool and an effective alternative to Microsoft Project, Zoho Projects allows teams to plan projects, assign work,4, manage resources, and collaborate with each other effectively. Zoho has a ton of project templates to help project managers kickstart their efforts and also a project wiki to store ideas, data, reference materials, and more.
Using Gantt charts, managers can see all tasks and their dependencies, keeping the team on track. With built-in automation, employees can save time automating redundant tasks and create automated workflows using the drag and drop builder. Timesheets allow managers to record every second person's spend on tasks and pay them accordingly.
The platform can be easily customized using personalized fields, statuses, layouts, and workflows. Zoho Projects integrates with Google, Slack, Zapier, Github, and many others.
Some Cool Features of Zoho Projects
Gantt charts for keeping an eye on project progress
Workflow automation with easy to use workflow builder
Social project management with @mentions, comments, and activity feeds
Pricing: 
Free with limited functionality
Paid plans start from: Standard ($25/month), Express ($50/month), Premium ($100/month), Enterprise ($150/month).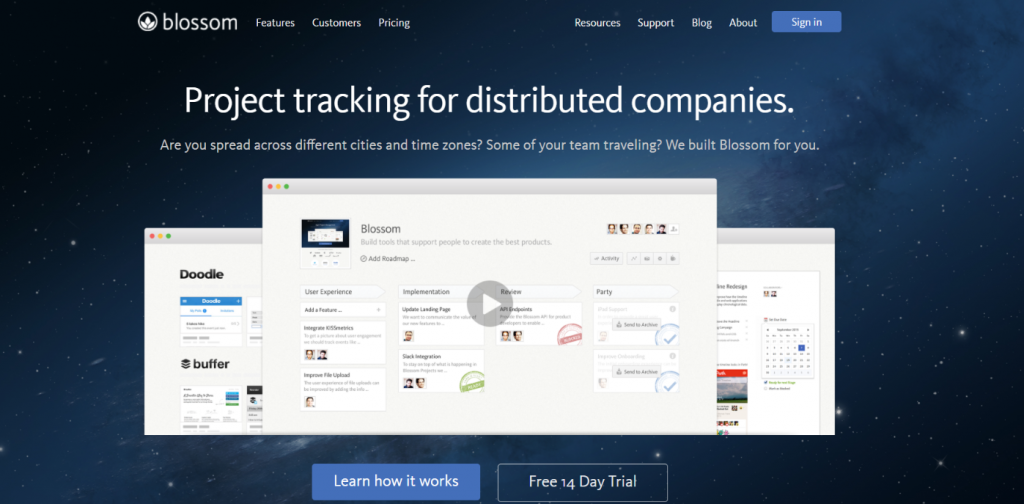 Made for distributed teams, Blossom is a great project management tool if your team is geographically dispersed. Blossom gives a clear overview of what's happening in the organization and who's doing what. Built with simplicity in mind, Blossom follows the principle of Kanban. Since distributed teams cannot have in-person meetings, Blossom makes it easier by making sure meetings are as visual and descriptive as possible.
With detailed performance analytics reports, Blossom frees you from scrum sprints and provides a clear overview of where and how your resources are being spent. If you use Github a lot, you are going to love Blossom's integration with GitHub and automatically show you your GitHub issues, feature branches & pull requests directly inside your Kanbard board.
Creating product roadmaps is also a breeze in Blossom, as it allows managers to share roadmaps with anyone on the team and send email notifications for any updates or changes.
Some Cool Features of Blossom
Share file attachments like screenshots, videos, audio recordings, and more.
Stand up meetings for remote teams
Robust integration with Github and Slack
Pricing: 
Free with limited functionality
Paid plans start from Contact Sales
Read more: What is a Project Scope and How to Write it?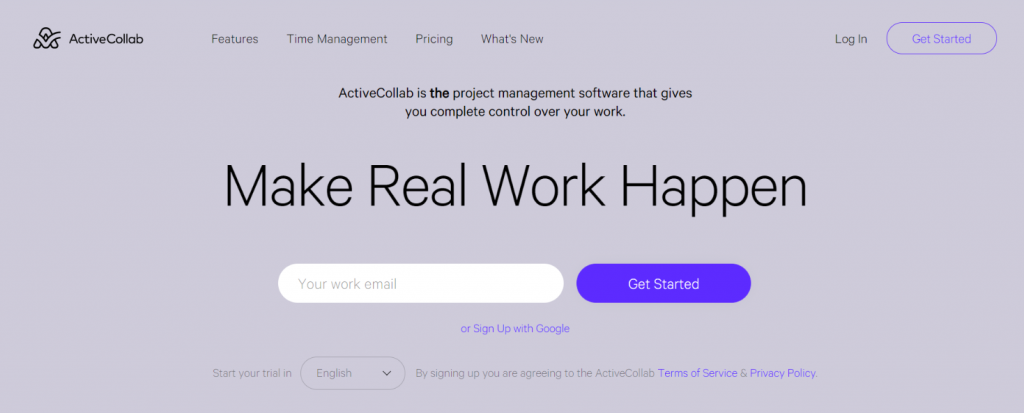 Next up is Active Collab, a simple yet feature-rich Microsoft Project alternative. ActiveCollab is a cloud-based platform but gives you the option to host it on your own servers for full control of your data. Assign tasks, set due dates, create schedules, allocate resources, send files, track progress, and send notifications- all in one place.
More than 50,000 teams worldwide use ActiveCollab's project management capabilities to ship projects in time. Team members can plan, organize, and communicate all project-related info without ever leaving the platform. With time tracking, employers can track billable hours and pay fairly to contract employees.
Users can also star a project, create and duplicate project templates, add labels, tags, and categories to projects, and check their progress. Create tasks, subtasks, add due dates, add task description, highlight priorities, add dependencies, and even set reminders easily.
Some Cool Features of Active Collab
Duplicate tasks and templates.
Track time spent on a project and bill clients accordingly.
List, timeline, column view for tasks and projects
Pricing: 
Free trial with limited functionality
Paid plans start from: $7/month/user with an option for add-ons at $4/month/user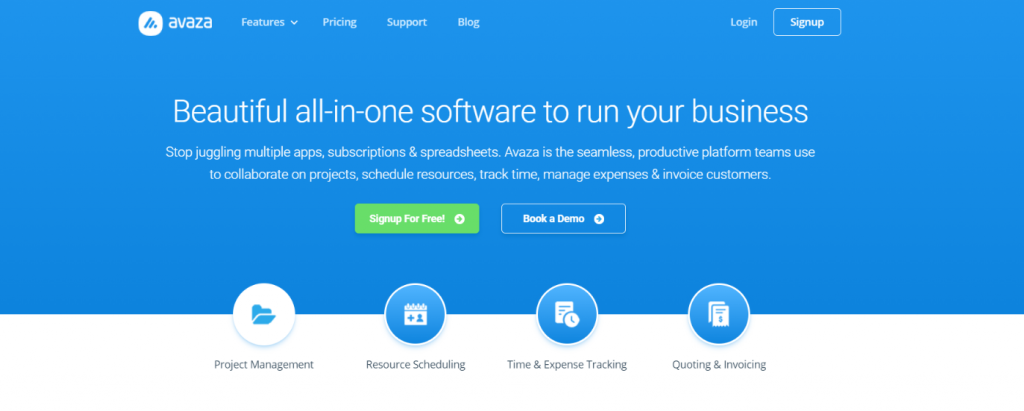 Avaza is another amazing project management tool with features of accounting software. From project planning and scheduling to time tracking and invoicing- Avaza does it all. Bring your team and collaborate n tasks, allocate resources, customize dashboards, track time spent, send invoices to customers, and get paid. Trusted by over 30,000 companies worldwide, Avaza is a solid Microsoft Project alternative.
Avaza users can quickly customize their dashboards and switch between Kanban, Gantt, and list views projects and tasks. They can even convert an email into a task, track completion rate, and more. Managers can view team availability and manage resources easily. They can schedule and edit assignments using Avaza's drag and drop builder, and can even incorporate user leaves and public holidays for better forecasting.
Avaza expenses is a great way to manage company accounts as users can click pictures of receipts on the go and email them to Avaza. AAvaza can then digitize those receipts, add approvals, and can even set recurring billings.
Some Cool Feature of Avaza
Integrate with Google, Slack, Evernote, Quickbooks, Jira, Xero, etc
Great customer support
Time tracking, file sharing, invoicing, etc.
Pricing: 
Free with limited functionality
Paid plans start from: Startup ($9.95/month), Basic ($19.95/month), Business (39.95/month).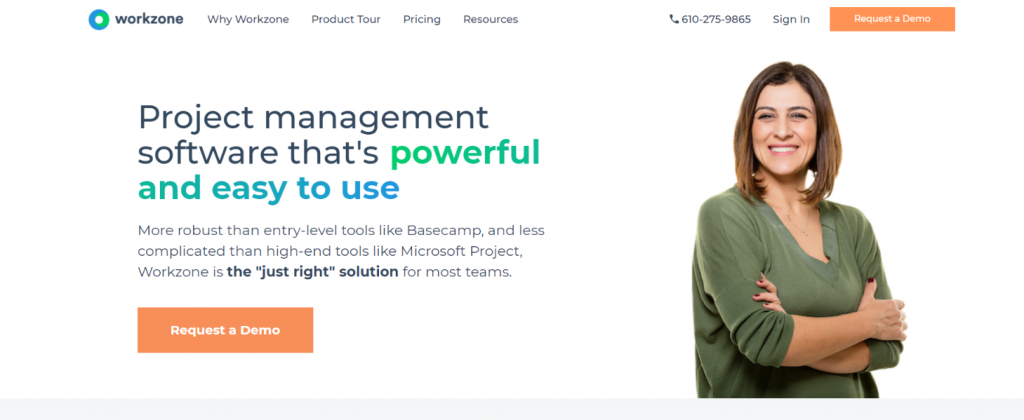 Workzone claims to be less complicated than Microsoft project and we agree. With an easy to use interface, users can easily break down large projects into small tasks and to-do lists and add them to different workspaces for better organization. Rated #1 on Capterra, GetApp, and Software advice amongst all project management software, Workzone is a robust platform for managing your team and projects.
Project managers can collaborate on projects, manage to-dos, assign tasks and resources, share assets, track time, and keep an eye on the project schedule easily. The platform allows users to request, share, review, and approve files online, without the back-and-forth email.
A highly customizable platform, companies can add logos and colors to their dashboard so that it reflects their brand or their clients. Users can also create a private portal/extranet for each client or business associate. With group calenders, managers can track events or project tasks by client or department and send reminders of forthcoming meetings or deadlines.
Some Cool Features of Workzone
Trigger automatic emails for late tasks
Group calendar to merge each employee's schedule into one.
Custom branding, API, integrations, etc
Pricing: 
Free trial
Paid plans start from: Team ($24/month/user), Professional ($34/month/user), Enterprise ($43/month/user)
Paymo is an all-in-one project management software that includes features like project scheduling, resource planning, project planning, time tracking, and collaboration. Project managers use Paymo to monitor all project-related activities in real-time, schedule and allocate resources, and make changes using Gantt charts.
Switch to an advanced task view to get all task details, descriptions, and the person responsible for it. With real-time comments, communicate with your team, and get work done quicker. There's a kanban view to get a complete project overview. Set milestones, use templates, create dependencies, and set task priorities with this easy-to-use software.
Managers can also set task duration and due dates to make sure work is completed on time, keeping employees accountable. Users can also create project estimates and create recurring tasks if needed. It is a perfect Microsoft project alternative.
Some Cool Features of Paymo
Group tasks by priority, due date, and more
Assign the same tasks to multiple users
Convert tasks, projects, and budgets into an estimate
Pricing: 
Free with limited functionality
Paid plans start from Small office ($8.95 per user/month), Business ($14.25 per user /month)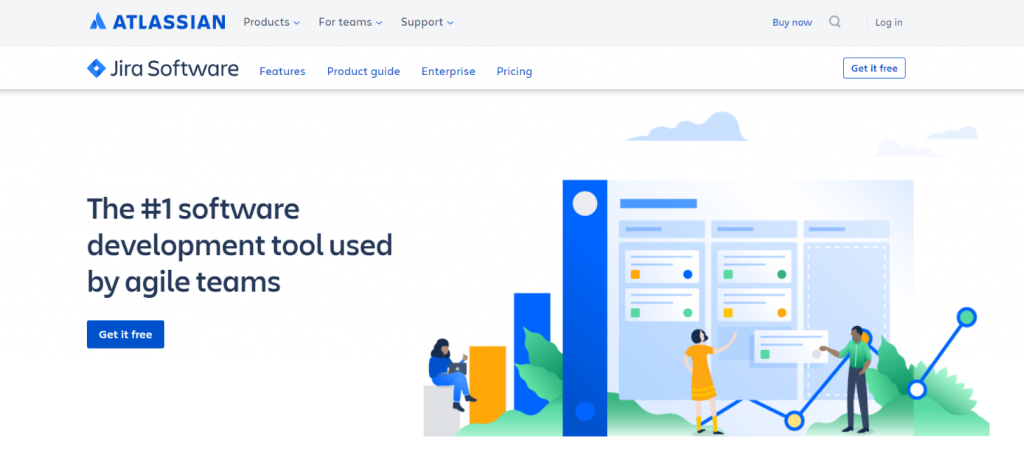 With over 65,000 clients, including the likes Airbnb, eBay, and Spotify, JIRA is amongst the most popular project management software out there. If you work in software development, we are sure you have come across Jira. Jira allows software teams to plan and release software, allowing them to deliver iterative and incremental value.
Assign tasks, evaluate timelines, discuss the team's work with full visibility, and track progress, all from Jira's dashboard. Like other project management software, Jira also supports the Kanban board view for your project's full visibility. Agile reporting means Jira provides real-time, actionable reports about your team's performance.
Build automated workflows with drag and drop builder, automate processes with rich APIs, and integrate with developer tools. Jira also has 3000+ apps to extend its functionality and get the most out of the tool.
Some Cool Features of Jira
Integrations Hipchat, Zephyr, Confluence, etc
Best for agile software management and development
Real-time progress report
Pricing: 
Free with limited functionality
Paid plans start from: Standard ($7/month), Premium ($14/month).
Final Word
The Microsoft Project alternative tools we mentioned on this blog are some of the best ones out there. You really cannot go wrong with any of the above-mentioned software, it all boils down to the type of project you are working on, your team size, and of course, your budget. Let us know which Microsoft Project alternative impressed you the most and why by tweeting us @bit_ai. Cheers!
Further reads: 
Task Management Tools Every Business Must be Using!
Top Airtable Alternatives & Competitors You Must Explore!
11 Asana Alternatives & Competitors You Must Know About!
Business Requirements Document (BRD): What, Why, and How to Write?
Best File Management Software and Systems
Top 5 Google Sheets Alternatives to Help Businesses
How to Create a Project Management Communication Plan?
10 Killer Zoom Alternatives and Competitors Worth Checking Out!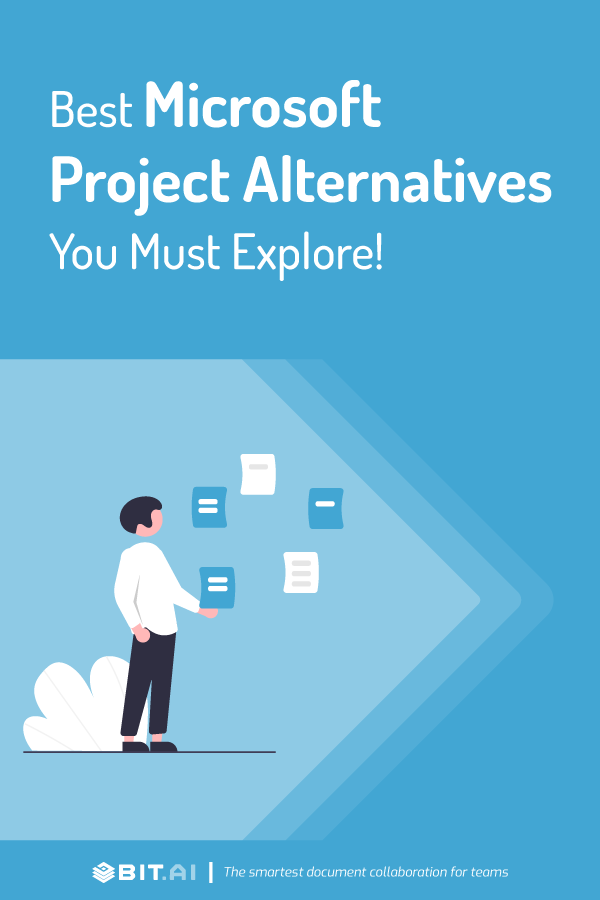 Related posts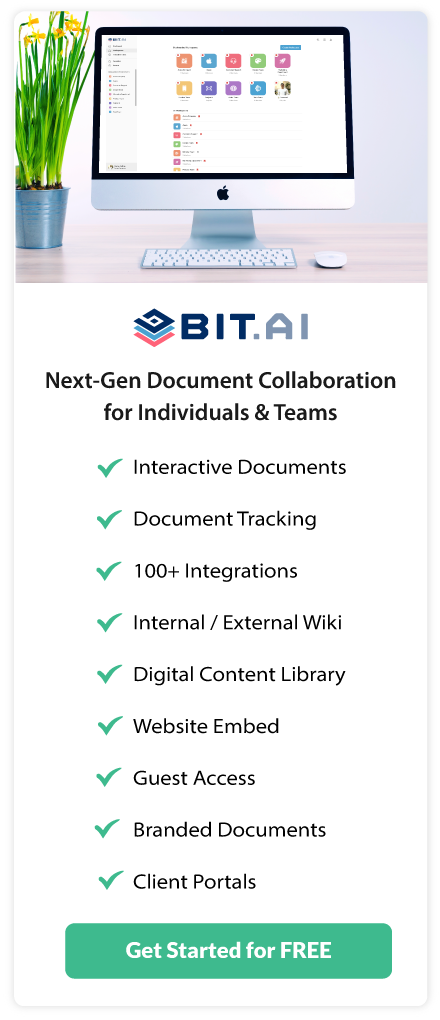 About Bit.ai
Bit.ai is the essential next-gen workplace and document collaboration platform. that helps teams share knowledge by connecting any type of digital content. With this intuitive, cloud-based solution, anyone can work visually and collaborate in real-time while creating internal notes, team projects, knowledge bases, client-facing content, and more.
The smartest online Google Docs and Word alternative, Bit.ai is used in over 100 countries by professionals everywhere, from IT teams creating internal documentation and knowledge bases, to sales and marketing teams sharing client materials and client portals.
👉👉Click Here to Check out Bit.ai.