Handling a project can feel a lot like herding sheep with a laser beam: random and chaotic at best.
From putting together a team, creating a ton of project documents, planning the budget, allocating resources, and conducting meetings – a project manager has got his/her hands full with a multitude of responsibilities when handling a project.
Especially, in this evolving digital world, things are bound to slip through the cracks while managing everything at once, which might eventually lead to disastrous results.
According to research by the Project Management Institute, 9.9% of every dollar invested in a project is wasted by an organization due to poor project performance!
That is a shocking $99 for every $1000 spent!! Well, all this can be controlled if you use a well-defined project management schedule. A project management schedule clearly outlines the tasks that are to be done, their process, the involved resources, and how long it takes to complete them.
A project management schedule is like a blueprint to check against future risks and progress that might affect the project's initial scope. However, it can be exhausting to develop a project management schedule that is simple enough to be understood by all stakeholders, yet detailed enough to be followed by those who execute it.
This is why we have put time and effort into creating an exceptional guide on how to create a project management schedule with tips that will help you manage your project successfully with better communication and less chaos!
Let's go!
What is Project Management Schedule? (Definition)
A project management schedule is resource control and management tool, that identifies activities for the entire project based on resources such as time scales, budget, and dependency requirements. In other words, the project management schedule is a plan for the completion of a project, a list of planned activities, to achieve project goals through efficient use of available resources.
In terms of sophistication, project management schedules can be characterized by the nature of contents or by the level of intended usage- basic (activity listing, timetable), to the more complex (bar charts, network-based schedules such as CPM, etc.).
Additionally, depending on the length and complexity of your project, your project management schedule can vary from a simple chronological list of tasks to a comprehensive web of interrelated tasks or dependencies.
More specifically a project management schedule includes:
Project deliverables
Tasks required to finish the deliverables
Dependencies between different tasks
Resources required to complete each task
Project deadline and task durations
The budget and costing of the project
The planned time for every resource
Allocation based on roles and duties

Why Incorporate a Project Management Schedule?
The lack of clear goals leads to 37% of project failures. This is why project managers need to clearly define the timeline of completion, deliverables, and the end result to ensure the explicit execution of a project. And an easy and efficient way of doing that is by documenting a project management schedule.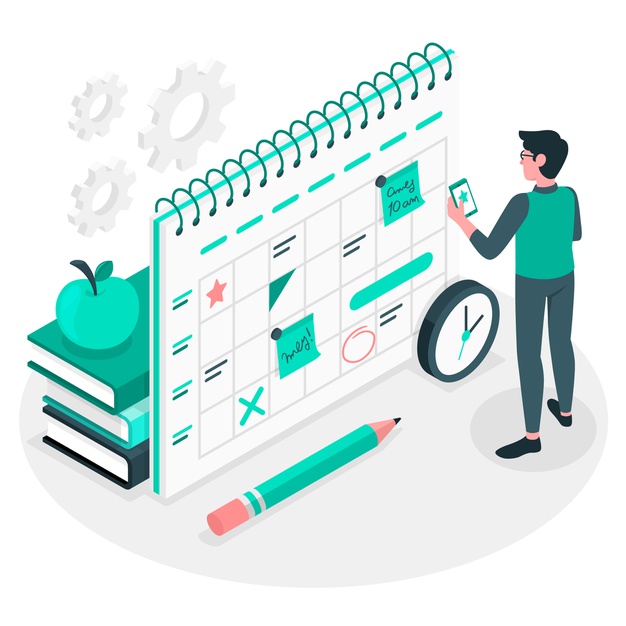 Project management schedules are used throughout the project lifecycle. These documents outline what work needs to be done, the order in which it needs to be done, what resources are required, task distribution, and how long different parts of the work will take. It helps project managers collaborate and communicate with their team members, stakeholders, keeps the project on track, and prevents pitfalls.
Using a project management schedule is crucial for everyone involved in the processing and execution of the project. It assists project managers to monitor every detail of the project and track its progress. It also allows managers to determine the team's capacity to help them identify who the right person is for each task.
If any changes occur or delays happen, the team will be able to react accordingly without affecting the project's delivery. Moreover, they will have a better understanding of what is expected of them.
Furthermore, project management schedules offer the following benefits:
Help teams to track, communicate, and report progress.
Ensures everyone is on the same page about tasks, deadlines, and dependencies.
Helps highlight issues, concerns, and difficulties, such as a lack of resources or delays.
Helps identify task relationships and hierarchy.
Read more: How to Create a Project Management Communication Plan?
Steps for Creating a Project Management Schedule:
Project management schedules offer a visual overview of the project from start to finish and lead to increased work productivity among teams. As simple as the schedule appears on a document, breaking down a project into a calculated structure might feel overwhelming, especially to new managers and members.
So, if it's your first experience creating a project management schedule or 500th, use these six no-fail steps to perfect your next schedule.
1. Define activities and tasks
The first step is to determine all the tasks or activities that will help you accomplish the project. In order to do that, you must recognize all the deliverables that are needed to build the whole project. These deliverables can be deduced in your WBS (Work Breakdown Structure).
WBS is the foundation of every project management schedule. It involves breaking down the work to be done into smaller chunks that are easier to manage, track, and share.
This method builds control points throughout the whole project, so project managers know what deliverables or tasks to focus on, while stakeholders have a clear picture in terms of what to expect in return for their money.
2. Determine dependencies
Now that you have listed the tasks, the next step is to find dependencies between these tasks. This will help you in determining the order in which your project tasks are supposed to be performed. This way, you can build a priority list of what comes first, and simplify the process.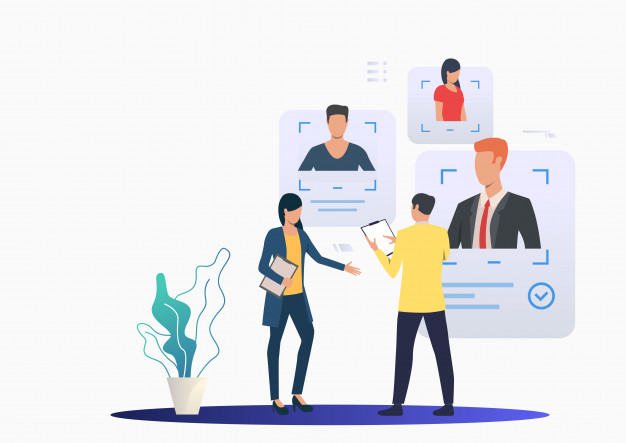 In order to do this, you simply have to analyze how each task is related to one another. For best results, go through the various types of dependency relationships as they can impact the start & end date of each task and can possibly shape the whole project.
Most common dependency relationships are:
Start-to-Start: Where tasks can be executed concurrently and do not depend on one another to be completed.
Finish-to-Start: Where each task must be completed in order for another to start.
Finish-to-Finish: Conditions where one step can't be executed before another step does.
3. Identify resources
The goal here is to determine the types of resources and the amount of work required to complete each activity – be the manpower, supplies, or materials.
When selecting the right type of resource, don't be fooled by how great things look on a document. Always examine your team's skills, knowledge, and proficiency in a certain task, as this step is closely tied to how you'll estimate the costs.
Resource planning helps the project managers to gain more visibility on who's doing what, promotes quality work, and allows members to have a clear outline of what is asked of them.
To estimate resource availability, consider:
The sequence for each task completion
Time restrictions, such as vacations, company holidays, and office closures
Cost restrictions
Skills and experience of team members
Read more: What is Project Status Report Documentation?
4. Estimate task duration
So far, you have only gathered the "ingredients" for the project management schedule. Now, it's time to estimate activity durations, which will give you a better picture of how long it takes to deliver the project.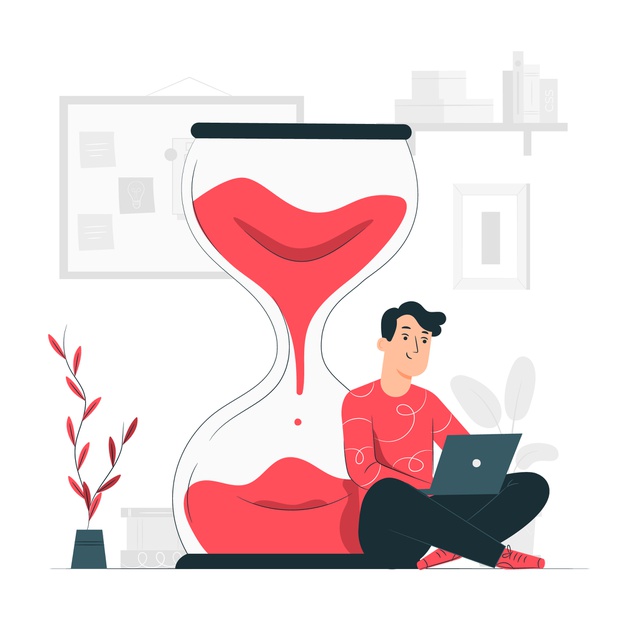 For the actual estimating process, use the historical data from your previous projects like the budget, materials, and complexity implied.
5. Review the project schedule
Project management schedules require reviewing completed tasks on periodic intervals. This process will help you correct fluctuations from the initial baseline and minimize risk in the long run. Here are the top 3 reviewing techniques to choose from:
What-if scenarios – Address different situations and their effects that might delay the project. You can use the results and prepare contingency plans to protect yourself against future risks.
Trend analysis –  This technique looks at the project performance during a particular time duration to see whether it's moving forward or lagging behind.
Critical path method (CPM) – CPM determines the minimum amount of time it takes to finish a project. It does so by analyzing the earliest start and end dates of each activity, then you can identify the optimum path to choose – the critical path.
6. Allocation
The last step in creating a project management schedule is assigning the project work! Your teams are usually split across a number of different commitments – so you need to sync members, team schedules, and distribute project work ahead to make sure that tasks are completed within their set deadlines.
As a project manager, ideally, you need to assign resources based on the skills of your team members. Run through the list of activities and allocate your team members to suitable tasks.
Read more: What is Project Planning: A Step by Step Guide!
Best Practices for Creating a Critical Project Management Schedule!
As a project manager, it's your responsibility to ensure that your team stays productive throughout the project cycle. The key is to provide the perfect project management schedule to your team so they can have a clear idea of what's to come and how to process through. There are many ways that can help make the process of creating a project management schedule a lot easier! Read on?
1. Understand the stakeholder's needs
Before you begin with creating a schedule, it's essential to understand the stakeholder's ultimate goals and needs. The idea is to recognize the most important deliverables for your stakeholders and prioritize them as the first thing to complete. This is called a primary value proposition.
Project managers can pivot the team's energy and time giving stakeholders exactly what they want, despite the struggles or challenges that may arise on the course.
2. Optimize tasks to attain a healthy schedule
A healthy project management schedule should require the least maintenance.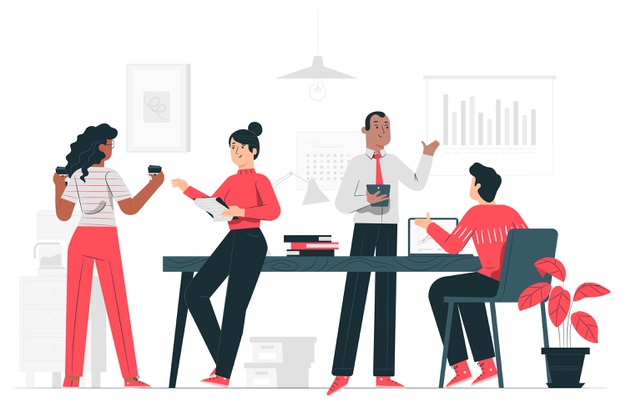 Hence, avoid setting anything in the schedule that limits the movement of tasks in case predecessors finish it early or late. Try to plan your schedules with minimum restrictions as possible such as early start and finish dates or activity durations constraints.
3. Don't assign everyone at 100%
Based on the point above, project managers assign resources to an activity with a default level of 100% loading. This means resources will be assigned full time on that particular activity for its entire duration, which is an activity duration constraint! This can lead to a decrease in productivity as members can also have parallel tasks. So it's a good practice not to assign them full-time for one single activity.
Rule of thumb: A simple rule of thumb is to assign a maximum of 40 hours or less per week for a task to have a granular deliverable.
Bit.ai: The Ultimate Tool For Planning Project Management Schedule
Good documentation is the foundation for good project management and that is where a project management tool comes in. Using a project management tool is a great way to document schedules more efficiently and effectively.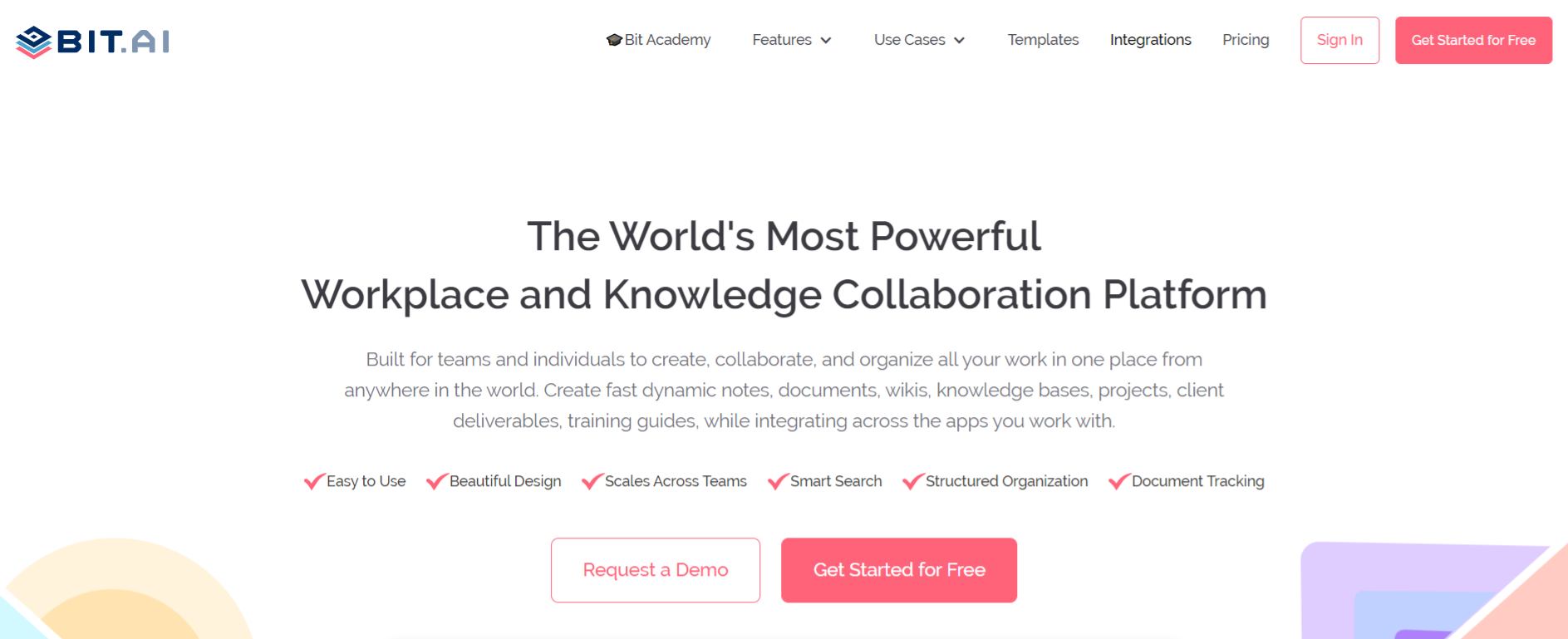 One such tool that is used by organizations and professionals in over 100+ countries is Bit.ai. Bit is a robust platform that serves as a central hub where collaborators, content, and knowledge can be accessed in one all-inclusive document.
Project managers can use Bit to create project management schedules, project documentation, planning documents, collaborate with the team in real-time, and store all project assets in one place for easy and fast access. They can simply export these schedules as PDFs, Markdowns, Word files, and much more. Bit's sleek, minimal, and distraction-free editor makes it the perfect tool for project management documentation.
Some more features of Bit are:
Content management capabilities
Separate workspaces and guess access
Real-time team collaboration
100+ Rich media integrations
Document tracking and insights
Multiple ways of sharing: trackable links, live embeds, and live state
Comment and chat within documents
Wiki/interlinking documents
Put Your Knowledge into Practice!
Now that you're armed with enough fresh knowledge about project management schedules, it's time to put all that into practice.  As a project manager, creating a well-planned schedule takes you on the road to working smarter. Now, you have the plan and the steps you need to start revitalizing, revamping the process of creating a project management schedule! So, why wait!
No matter, if you use a project management tool or jot it down on paper, the job of creating a project management schedule is as tangible as it gets. Do you use a tool to optimize your project management schedule? If yes, share your experience in the comments section below. Cheers!
Further reads: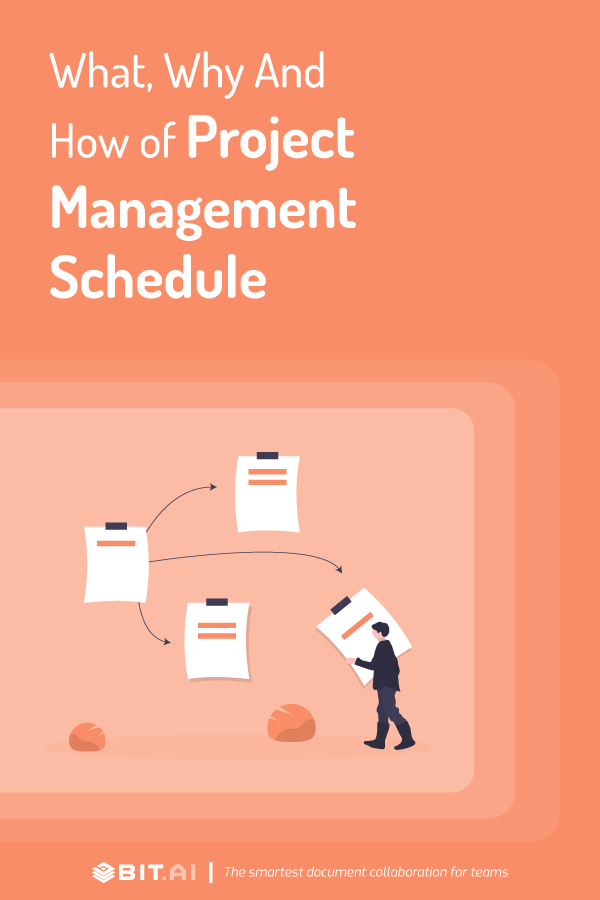 Related posts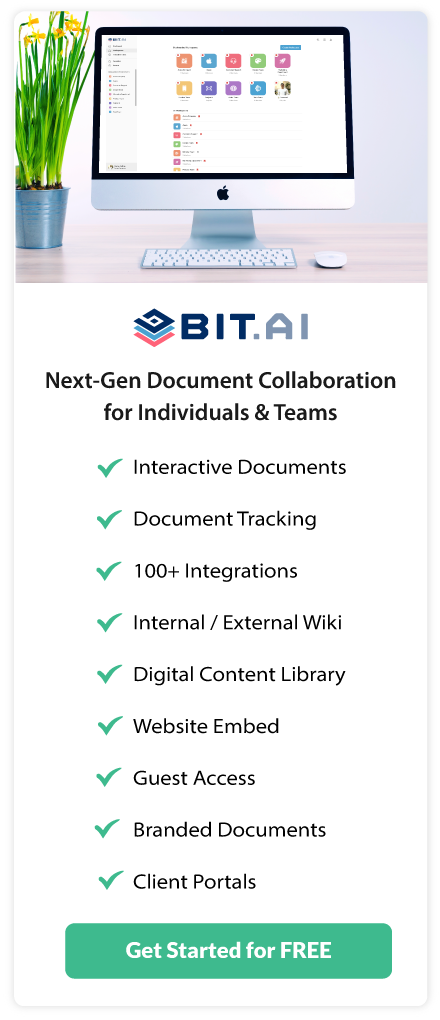 About Bit.ai
Bit.ai is the essential next-gen workplace and document collaboration platform. that helps teams share knowledge by connecting any type of digital content. With this intuitive, cloud-based solution, anyone can work visually and collaborate in real-time while creating internal notes, team projects, knowledge bases, client-facing content, and more.
The smartest online Google Docs and Word alternative, Bit.ai is used in over 100 countries by professionals everywhere, from IT teams creating internal documentation and knowledge bases, to sales and marketing teams sharing client materials and client portals.
👉👉Click Here to Check out Bit.ai.