Creating a schedule for your team, setting up meetings with your clients and customers, building a project schedule, making sure there are no overlaps – it's mentally exhausting. We totally get it!
Fortunately, there are tools out there that can totally change the way you create your schedules – be it personal schedules, project schedules, or meeting schedules. They make your work easier, faster, and better.
We are talking about…*drumroll*…schedule maker tools! These tools will help you create the perfect workflow for your projects, help you schedule your meetings effectively, make your team productive, and more!
In this blog post, we're going to walk you through some of the best schedule maker tools out there. No matter what your business is, you'll definitely find a tool here that works for you. Let's go!

List of the Best Schedule Maker Tools for Keeping track of deadlines:
1. Calendar Software
Calendar is certainly one of the most amazing schedule maker tools for creating schedules, taking notes, setting reminders, and other similar tasks.
The tool comes with a solid calendar interface, which makes it easy to understand the tasks that are being done on a particular day, or over the month.
Yes, you read that right! Calendly gives you a birds-eye view of your weekly/monthly schedule. This way, you can understand what's coming ahead a lot more easily.
All in all, Calendly helps you schedule and manage your tasks effortlessly. However, it is more suitable for freelancers, self-employed people, and small business owners than larger businesses.
2. HubSpot Meetings 
HubSpot Meetings, as the name suggests, is a powerful and nifty tool for setting up meetings, appointments, automated schedules, and more.
This schedule-maker tool saves your time and effort by doing the heavy lifting for you. Basically, it automates the manual, repetitive, and arduous task of setting up meetings and sending emails regarding the meeting.
In addition, HubSpot Meeting offers flexibility and transparency to teams and makes the entire lead-capture process easy. It even has a feature that shows the prospects when you're available.
What's more? You can embed this widget on any of your web pages, and your visitors would be able to book time with you when they are on that page.
Read more: Project Management Schedule: What is it & How to Create it!

3. Google Calendar
Unless you live under a rock, you've probably heard about Google Calendar at least once in your life. It is one of the very few cloud-based schedule maker tools available.
Google Calendar is a robust tool that offers features like scheduling, task management, reminders, and alarm systems. If you own a small business, Google Calendar is perfect for you!
Moreover, this nifty tool allows you to leave notes and share comments in the schedules that you create, leading to much more effective team collaboration.
4. 10 To 8 
If you're looking for a simple yet robust tool to create schedules and set up appointments every day, then look no further than '10 to 8'. This tool is specifically built to provide 24/7 booking functionality.
You can sync it with your existing calendar platforms such as iCloud, Outlook, or Google Calendar. It's also compatible with other tools like Slack, Google Analytics, and Mail Chimp.
As 10 to 8 offers so many integrations, you can easily streamline your entire project management under one roof and be more productive.
5. CalendarHero
Another schedule maker tool on our list is CalendarHero. The main goal of this tool is to make scheduling and setting up meetings easier – for anyone and everyone.
What makes CalendarHero amazing is that it lets you set up pre-configured meeting types, so you don't have to specify it every time you need to schedule a meeting.
Moreover, it integrates with many apps like Google Calendar, Google Drive, Dropbox iCloud, Outlook, Microsoft Office 365, Google Drive, One Drive Gmail, Slack, and more.
That's not it! CalendarHero also has a widget that you can embed on your website, so your prospective customers can take a look at your schedule and book a meeting.
6. WorkTime
WorkTime offers three main functionalities: time management, time tracking, and of course, scheduling. It allows you to schedule each hour of your day for your tasks and appointments.
One of the coolest features of this schedule maker tool is that it gives you the ability to view everything at a glance. Basically, you can create schedules for the entire week, and overview them together.
Furthermore, WorkTime lets you share your schedule on social media platforms. However, this feature is more suitable for individuals rather than businesses.
One drawback of WorkTime is, it doesn't include some important scheduling features like communication modes, reminders, and more.
7. Setmore 
Setmore is much more than just a schedule maker tool. It allows you to set up automated online appointments where your customers/clients can book an appointment with you themselves.
You can then view the booked appointments in the calendar, where you can monitor and track them easily. You can even reschedule your appointments by dragging and dropping them in a new timeslot. Whenever you reschedule an appointment, a notification will be sent to your client.
In addition, Setmore lets you access your appointments from desktop, laptop, mobile phone, or any other device. With an efficient appointment tool like Setmore, your business is bound to grow.
8. Doodle
Doodle is regarded as one of the best schedule maker apps available on smartphones. The app is compatible with both Android and iOS, and it aims to save your time by helping you schedule your entire day.
Once you download the app, you are required to set up your 'MeetMe' page. On this page, people can see the time slots in which you're available, and select one to set up a meeting.
This app even has a 'polling' function where you can set up a meeting poll, select particular dates and times for the meeting, and then send it off to the participants. They can then vote for the time that works best for them!
9. Calendly 
Calendly is the perfect schedule maker tool for freelancers, self-employed people, and small business owners. Just like Hubspot Meetings, Calendly shows people when you're available for a meeting.
You can even share your availability status with others using personalized links! Moreover, you can directly reach out to your customers or others stakeholders and let them schedule a meeting with you themselves.
The best part? You can set your own time preferences and availability. People can then pick a time from the available slots and set up a meeting with you.
10. TeamGantt
This schedule maker tool is highly recommended if you're a beginner. No, that doesn't mean that it's a basic tool! It is even used by big-shot companies like Netflix and Amazon.
TeamGantt is extremely easy to work on and use for multiple projects. Its specialization is 'Gantt Charts' and it offers several other project scheduling and management features!
This awesome tool has a freemium version, and several paid plans with additional features like tracking workflows, collaborating with team members, and more.
11. Forecast.App 
Forecast encapsulates project management and resource management tools, and it helps you schedule and streamlines your work. This tool aids you in short-term as well as long-term planning with much more precision than most schedule maker tools out there.
The best part about Forecast is that it doesn't bind you in any set format like Gantt, Scrum, or Kanban. It gives you the flexibility to do what you want, in the way you want to.
Moreover, Forecast comes with built-in AI functionality which helps you spot any delay or derailment in your schedule! Also, it gives you real-time information, reports, and insights related to your project that you can even share with your client.
Read more: 10 Best Reporting Tools and Software for Businesses!
12. Boomerang Scheduling
Boomerang Scheduling is a browser extension that you can just install on Google Chrome or Mozilla Firefox. You can even plug it into your Gmail or Outlook accounts.
Here's how this schedule maker tool works: While sending an email regarding a meet-up, you can pull up your available timeslots using the tool, and then let your clients pick the one that suits them.
Apart from that, Boomerang Scheduling has a powerful dashboard where you can see and manage all your appointments. Quite awesome, isn't it?
13. Arrangr
A nifty schedule maker tool, Arrangr can easily be integrated with other top-notch tools like Google Calendar, iCloud, Office 365 Calendar, and Outlook.
As Arrangr integrates with so many important tools, you can easily see your available time slots and avoid double-booking. Impressive, right?
What makes Arrangr unique is its ability to suggest the perfect spot for your in-person meeting. It gives you restaurant, bar, cafe, and hotel suggestions along with ratings, reviews, and photos of the locations.
14. WhenIsGood
If you're looking for a simple, no-fluff schedule maker tool then WhenIsGood is the right choice! The tool is pretty basic, easy to use, and has limited features.
You just need to create an account, and then you'll get access to a Calendar where you can set and decide time slots for your events and meetings.
Whenever you create an event, the tool will generate three links: for making changes to your calendar, for sending out meeting invites, and for managing poll outcomes.
15. Appointy 
Along with being a powerful schedule maker tool, Appointy also allows you to turn your website visitors into customers. This cloud-based tool seamlessly integrates with your website, making it easier for you to serve your customers directly. The result? More conversions!
Don't have a website to integrate the tool? No need to worry, because Appointy also offers its own subdomains that you can use. That's not it! Using the tool, you can even create an additional tab on your Facebook page, where people can check your available time slots and schedule appointments with you.
Other features of Appointy include customizing time-slot intervals, streamlining the recurring bookings, and setting working hours for your team members. Remember that you need to create separate Appointy accounts for each member of your team.
Read More: 10 Appointment Scheduling Software in 2022
16. Shifty 
Shifty is a schedule maker tool that is specifically geared towards small businesses. It offers a wonderful and simplistic interface, with drag-and-drop functionality.
The tool allows you to assign multiple tasks to your employees according to their respective shifts. This functionality makes Shifty a better tool than word processors and spreadsheet apps.
Every time a change is made to the schedule, all the participants are notified via emails. Also, even though Shifty was made to facilitate small businesses, but it can be used by individuals as well!
Wrapping Up
That's it, folks! Our comprehensive list of the best schedule maker tools will definitely take your scheduling game to the next level. ✨
Now, all you need to do is go through the features that we've listed down, pick the tool that fits your needs, and start creating the perfect schedule!
By the way, which one of these schedule maker tools is your favorite? Did we miss out on any of your favorite tools? Don't forget to let us know by tweeting us @bit_docs. Cheers!
Further reads: 
6 Best Talent Management Systems & Software in 2022
15 Business Intelligence Tools & Software Every Business Needs!
Top 9 HR Software and Tools for Human Resource Departments!
9 Amazing Flowchart Software and Tools of 2022
9 Brainstorming Tools You Should Use in 2022!
6 Best Talent Management Systems & Software in 2022
9 Amazing Flowchart Software and Tools of 2022
Editorial Calendar: What is it & How to Create a Solid One?
Related posts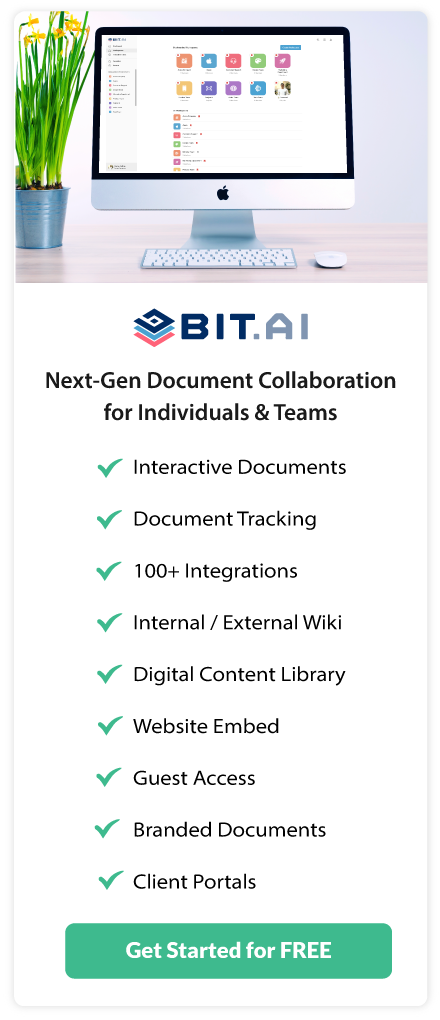 About Bit.ai
Bit.ai is the essential next-gen workplace and document collaboration platform. that helps teams share knowledge by connecting any type of digital content. With this intuitive, cloud-based solution, anyone can work visually and collaborate in real-time while creating internal notes, team projects, knowledge bases, client-facing content, and more.
The smartest online Google Docs and Word alternative, Bit.ai is used in over 100 countries by professionals everywhere, from IT teams creating internal documentation and knowledge bases, to sales and marketing teams sharing client materials and client portals.
👉👉Click Here to Check out Bit.ai.