Technology has been life-changing for all of us. From how we interact with friends to how we work in our office, technology has disrupted nearly every aspect of our lives. Today, we are not going to discuss the technological impact on our personal lives.
Rather, we will dive deep into how technology has taken over every inch of business operations and has given rise to this new phenomenon that has taken the workplace by storm- remote work.
Thanks to the practice of remote working and telecommuting, gone are those days of sitting in your cubicle eight hours a day. Technology today- be it our PCs, software, or apps- has significantly blurred the lines between the physical office space and the place where work actually happens!
Thanks to the always-connected, instant-access environment, technology as created, you can sit with your laptop in a Starbucks nearby and get work done.
Your workplace becomes wherever you decide to sit down. In the comfort of your home, at the coffee house, or at a co-working space. The workplace has essentially become non-stationary, thanks to the culture of remote work.
But what exactly is remote work?
What Is Remote Work? (Definition)
Remote work is simply any work you do that doesn't require you to go to a physical office location. You can work from your home, a cafe, a bar, from a park, or basically anywhere you feel like.
The only requirements for remote work is a laptop and an internet connection (preferably a good one!). Remote work is often referred to as "telecommuting" or "work from home," but they all mean the same thing nonetheless.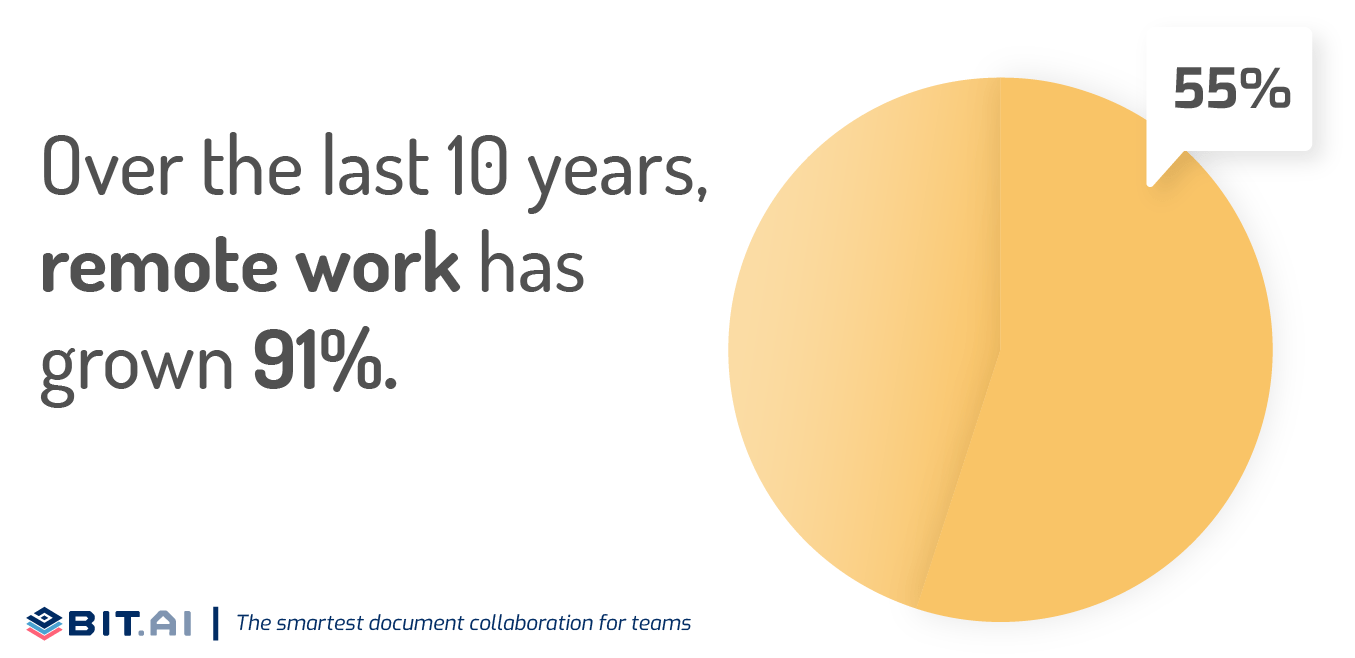 Take a look at these stats about remote work:
Read more: Combating Social Isolation in Remote Working
Types Of Remote Work
1. Office-based with an option to Work-From-Home
Some offices allow their employees to work from home a few days a week while for the rest of the days, they have to report to the office.

2. Fully Remote
There are some offices that don't have such conditions and employees are allowed to work remote as often they'd like.
3. Distributed Team With Nomads
The type of team filled with remote workers who are nomads/travelers and are located in different parts of the world with varying time-zones.
Read more: What Is Digital Workplace And It's Impact On The Future Of Work
How Does Remote Work Take Place?
Work can be done remotely from nearly any place you like, as long as you have your laptop and an internet connection. Some people work from home and commute to the office once a week or once a month to discuss progress or for important client meetings.
Others might work from a nearby cafe like Starbucks. Automatic, the company behind WordPress, closed it's 15,000 sq feet San Francisco office because their employees preferred working from home instead. Now the company gives its employees a $250/month stipend to spend on co-working spaces or for coffee at Starbucks!
Many people love the setup of an office, but also the flexibility of home and that's where co-working spaces come in. According to the GCUC global co-working report, there are currently 3.1 million co-workers in the world and the number is forecasted to nearly double by 2022.
Co-working spaces are arrangements where employees from different companies, share a common office space. The difference is that employees can come and go as they please and have the basic necessities of a regular office like good Wi-Fi, printing machines, and other office supplies at their disposal (which they might not find at their home).
Many startups even operate from a co-working space as its significantly cheaper than buying or even renting a full-blown office space.
Why Do People Work Remotely?
Around 3.3 million Americans say that they work from home. The rise is obvious as remote work provides a newly found freedom to employees where they are trusted to do their jobs in an environment they deem the most comfortable, reducing stringent policies and corporate norms.
Remote work also provides massive upsides to businesses. For starters, it allows managers to hire the best minds they can get to work on a particular project from anywhere in the world. The quality of talent a business can hire is not limited to a particular region or state.
There are many benefits to remote work for both employees and the employer ranging from higher productivity and reduced office expenses.
Read more: What Is Digital Transformation? The Buzzword For 2021
‍
How Remote Work Benefits Employees?
1. Massive Productivity Boost
People working from home often report higher productivity as to when they are in the office. The stats are there to prove it as a Harvard Business Review study found that remote employees contribute almost a full day more productivity per week versus employees in an office.
A report from ConnectSolutions suggests around 30% of the people who were telecommuting were able to accomplish more in less time, while 24% of those surveyed said they were able to accomplish more in about the same amount of time.
There are many reasons that contribute to higher productivity
Less time is spent commuting, adding more hours to the day to do their jobs.
Fewer office distractions like small talks and water-cooler gossips get eliminated while working from home, leading to increased productivity.
Being flexible with your work hours also allows people to do be more productive as some people are more focused earlier in the day while some tend to focus at night.
2. Flexibility to Work
According to a survey by the AARP, 74% of older Americans would want work flexibility and 34% would like to work from home. One of the most obvious reasons why people like working from home is the flexibility it provides.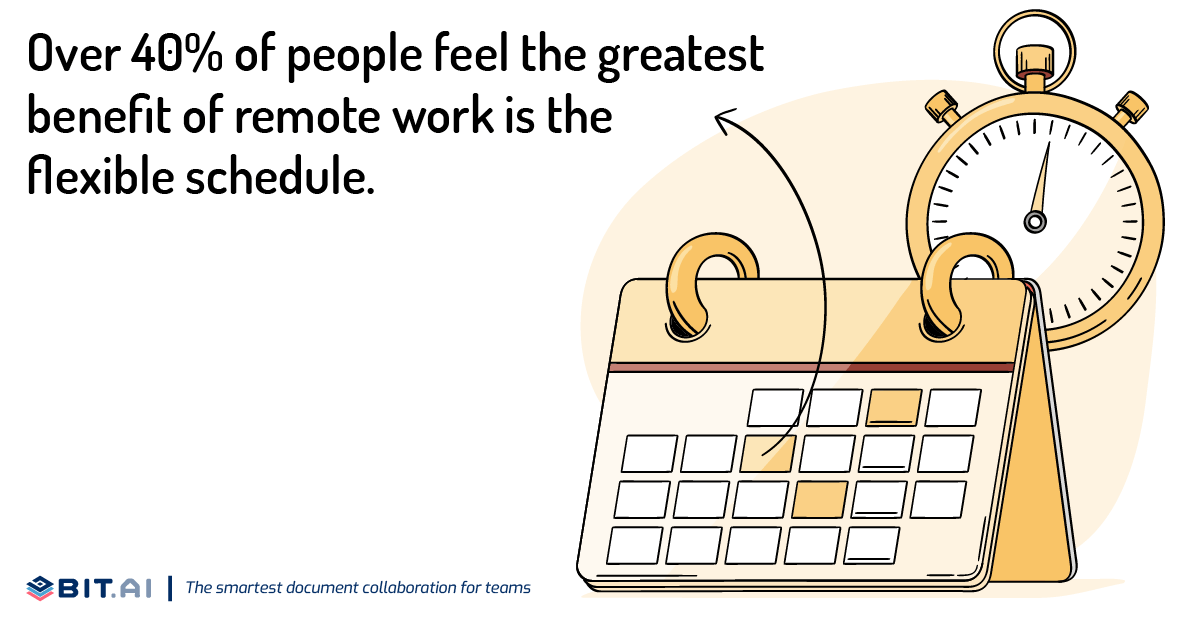 Over 40% of people feel the greatest benefit of remote work is the flexible schedule. If you are a night owl, you can schedule all your work at night while taking care of your errands and leisure during the day. Similarly, if you are a morning person, you can wake up early, get work done, and free up your evenings.
Remote work is particularly helpful when you are a parent as you can move your schedule around your kid's needs. Similarly, if someone wants to study further or learn a new skill, they can schedule their day according to their class or course.
Read more: Tips and Tools to Manage Your Distributed Team
3. Remote Work = Healthy Work!
In a report published by the Royal Society for Public Health in the UK, it was found that 55% of participants felt more stressed as a result of their commute.
By allowing employees to work remotely, companies eliminate the stressful commute and help employees work in an environment they are most comfortable in.
People who work remotely at least once a month are 24% more likely to be happy.
86% of people feel that working remotely reduces stress.
If you want your employees to give their 100 percent at work, you want them to be healthier and happier- both of which can be achieved by giving them a flexible work schedule or work from home option.
Read more: What Is Workplace Collaboration And How To Do It Right
‍
How Remote Work Benefits Employers?
1. Save $ with Remote Work!
Remote work directly impacts a company's bottom line as it helps reduce a ton of operating costs. It helps minimize office finances like rent, stationery, coffee, janitorial services, utilities, furniture, etc. Take a look at these stats:
According to a report by Flexjobs, employers can save $22,000 per remote worker per year, even if their entire team is not remote.
Aetna, an insurance giant in US, shed 2.7 million square feet of office space and as a result, saved $78 million by allowing employees to work remote.
American Express reported annual savings of $10 million to $15 million thanks to its remote work options.
In 2015, companies managed to save $44 billion by letting their employees work remotely as each employer saves an average of $11,000 per year!
‍2. Higher Productivity = Increased Revenue
Employers in the US lose $1.8 trillion a year in productivity. Yes, you read that right! Productivity is a big hurdle business faces each and every day. Remote work provides a solid solution to this productivity disaster as more than 77% of people working remotely report greater productivity and 52% are less likely to take time off (Source: PRNewswire).
Not just employees, but managers too agree on the benefits of working from home as two-thirds of managers who were surveyed reported an increase in overall productivity from their remote employees.
Moreover, a study from Cardiff University suggests that employees who work from home are more likely to work extra hours and put extra effort into their jobs than their peers who work in the office.
‍
3. Increased Employee Engagement and Retention
Apart from increased productivity and reduced operational costs, businesses benefit from remote work with increased employee engagement. A recent study on "the state of remote work" by TINYpulse and Owl Labs found that remote employees have "slightly higher levels of investment in their work."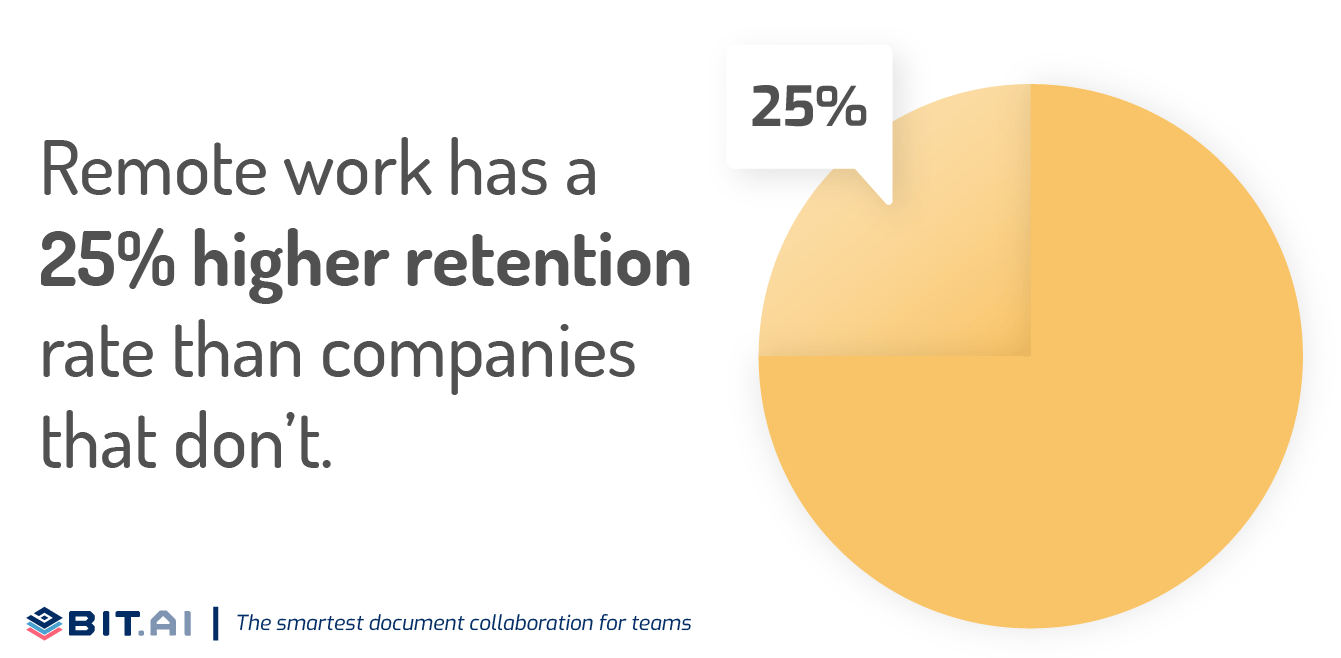 Data also suggests that companies that support remote work have a 25% higher retention rate than companies that don't. It's a no brainer to allow employees to work remotely as it leads to higher engagement as well as retention, reducing costs associated with hiring new employees.
Some additional stats supporting this claim: 
A robust 68 percent of job seekers who are millennials said an option to work remotely would greatly increase their interest in specific employers.
79% of knowledge workers in a global survey by PGI said they work from home, and 60% of remote workers in the survey said that if they could, they would leave their current job for a full-time remote position at the same pay rate.
87% of remote workers feel more connected through the use of video conferencing.
75 percent of employees surveyed in a Softchoice study said they would quit their job for one that offered remote work.
4. It's Better for the Environment!
With rising concerns over climate change and employees shifting to a more eco-friendly workspace, its imperative for a business to take appropriate steps to lower its carbon footprint. Working remotely helps moderate climate change. Here are some environmental benefits that occur annually:
Reducing gas consumption by more than $20 million.
Decreasing greenhouse gas emissions by 54 million tons.
Reducing oil consumption by 640 million barrels.
Telecommuters right now reduce greenhouse gas emissions by an amount equal to 600,000 cars.
If we were to include workers who would like to telecommute but can't right now, we would have an annual reduction in harmful gases equal to the amount produced by 10 million cars.
Remote Work Tools that Make Remote Work Easy
It's clear how remote work can provide massive benefits to both the employer and the employees. However, in order to truly make remote work possible, a laptop and a Wi-Fi connection are not enough.
A large share of contribution in making remote work what it is today goes to awesome software tools and apps that connect people all around the world and allow them to do their jobs efficiently.
Here are the top tools for remote teams we have found to be the most useful:
Kicking off this list is Bit, a new-age document management and collaboration tool that helps teams to collaborate, share, track and manage all company documents, files, and other content in one place.
Bit is the ultimate SaaS tool for remote teams as it brings all your company documentation, media files, and knowledge under one smart roof.
Bit allows remote teams to:
Collaborate on interactive workplace documents where all of your digital content from Google Spreadsheets, Forms, Airtable databases and much more can live and be accessible inside of them.
Documents can go from personal notes to team research, to coordinated documents and client-facing material that can be shared and track to get intelligent engagement insights.
Amazing content management capabilities as Bit's content library that allows teams to save images, files and any type of digital content you add to your documents (or workspaces) so that you can access and reuse them easily.
Bit's real-time collaboration feature makes it easy for teams to be under one virtual roof, provide their feedback and suggestions, add comments, and discuss work together in a cohesive group.
Read more: Remote Tools to Help Counter Coronavirus Pandemic
If you are a digital nomad who wants to work remotely but doesn't know where to start, Nomad List is the perfect website for you. It's one of the biggest crowdsourced databases of cities in the world where nomads can travel and work to.
Nomad list analyzes 250,000+ data points like cost of living, internet speed, weather, AQI, safety index, and other metrics to help you choose where to go next.
It's a paid platform that also acts as a networking portal for remote workers to work together or share their experiences. They even have a dating section where you can find like-minded remote workers to hang out with!
Maintaining a healthy dose of communication with your team is a must for every remote team. Our go-to app for communication is Slack. Slack makes it very easy to chat with remote workers and even conduct voice or video calls. And with over 8 million daily active users (3 million of which are paid users!), you know you are in good hands!
With Slack, you can create various groups called "channels". These channels could be based on different departments in your company or different interests (ex, a Slack channel for SEO and content writing). Other notable features of Slack include file sharing and handy mobile apps.
Working remotely can increase the risk of compromising sensitive company information, especially if you re working form a cafe and using public wifi. Encrypt.me keeps your company information safe by encrypting all your digital devices like laptops, smartphone or tablets.
It creates a VPN (a virtual private network) that provides a layer of protection from bad actors. Encrpyt.me automatically activates whenever you are using a public Wi-Fi and is a must-have tool for a remote worker.
As an employer, keeping a check on progress can be difficult, especially if your employees work remotely. This becomes even more important if you have hired freelancers at hourly rates. Enter, TimeDoctor. TimeDoctor is a great tool that allows remote workers as well as employers to track time spent on work and send invoices.
Apart from time spent on work, you can track a bunch of other cool stuff like time spent on breaks or while chatting with others. It's beneficial for employees too as they can get pop-up alerts whenever you stray into time-wasting websites and even shows a daily time report to measure your success. The dashboard gives you an overview of your tasks and time spent on work and provides timesheets and billing reports.
Read more: Best Communication Tools For Remote Teams
Even though remote workers enjoy a much higher rate of productivity at home, they are not immune to distractions. When you have no one keeping an eye over you, many of us tend to watch YouTube videos or scroll Twitter during work hours.
Stayfocusd is a Chrome Extension that'll keep you focussed on the task at hand by blocking time-wasting websites. Just enter the websites you want to block and the time span and Stayfocusd will do the rest.
You can block social media websites like YouTube, Reddit, Twitter, etc. and also other news/media websites you often find yourself wasting time on.
Since meetings and discussions form the basis of most creative work, having tools in place is a necessity. Working remote means you need to have a reliable tool that allows you to conduct video conferences with your team members and carry out discussions just as you would in a physical office.
Zoom is our go-to choice for conducting video meetings online. Whether you want to conduct an online meeting, a webinar, or just share screens, Zoom is a great tool. Apart from that, Zoom also provides file messaging, file sharing, and was even named a 2018 Gartner Peer Insights Customers' choice for meeting solutions!
Mural is a real-time digital whiteboard for remote teams. Mural understands the shift in the workplace culture and wants to provide a robust platform to allow team members to brainstorm ideas and innovate together, no matter where they are in the world.
Rather than converting physical files into digital documents, Mural wants remote workers to start their work on a digital platform. It enables this by allowing users to create digital sticky notes, design mockups, to-do lists, sketches, graphs, and more and share with their teams.
 Apart from its awesome collaborative features, Mural provides anonymous voting sessions so people can voice their feedback without fear of retaliation.
Read more: Top 10 Digital Whiteboard Software For Team Collaboration
Following the theme of collaborating and discussing work online, Filestage is another great tool for remote teams, especially if your workflow involves a lot of digital content like images and videos.
Filestage works in the cloud, which means there's no software installation. Just make your account and you're good to go. What's even better is the fact that it allows clients to give feedback without the need to register an account.
With Filestage, you can add your digital content- an article, video, logo, etc. and get it reviewed from your team members, upper management, or clients easily. It's the perfect tool if you work in a marketing or design team.
Remote work can cause trouble in scheduling a meeting or video conference with different team members, especially if you all operate in different time-zones. Calendly takes this weight right off your shoulder by automatically scheduling meetings for you.
Simply let Calendly know your available slots and share your Calendly link via email. No more back-and-forth emails as Calendly makes it easy to book meetings by calculating the time and day when everyone on the team is available for a chat. You can even integrate Calendly with your Google calendar, Outlook, or iCloud calendar.
Where to Find a Remote Job?
Think remote job is exactly what you need? Take a look at these job boards exclusively made to showcase open positions for remote jobs from all around the world.
Over to You!
And there you have it, folks! A comprehensive look at remote work and how it's shaping the work of tomorrow. As we have seen in this blog post, remote work has numerous benefits for employees like increased productivity, improved morale, low stress, and increased happiness.
Remote work has also proven to be extremely advantageous to the employer as well as they enjoy saved office and supply cost, more engaged employees, higher retention rates, and an environment-friendly approach to work.
It's easy to see why people call remote work as the 'future of work.' The advantages that remote work has easily foreshadowed its limitations. One thing to keep in mind is to equip yourself with tools (like the ones mentioned above) to make your remote lives as easy and as efficient as possible.
With the right set of software tools, remote work could help you do wonders to your productivity and earn some much-deserved brownie points with your manager! So what are you waiting for? Start your journey towards remote work today!
Do you have any doubts about remote work? Have you tried working remotely at your company? Do share with us your experience by tweeting us @bit_docs.
Further reads: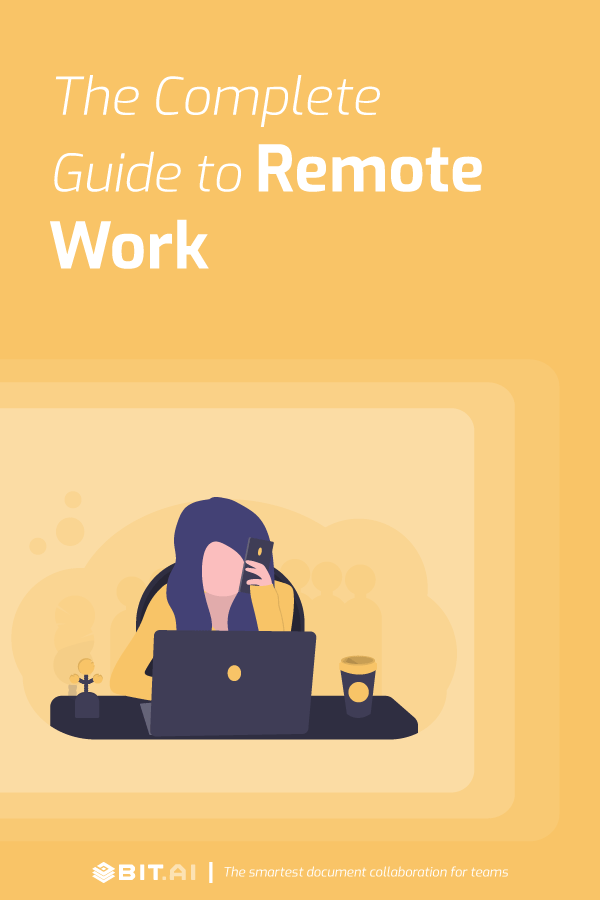 Related posts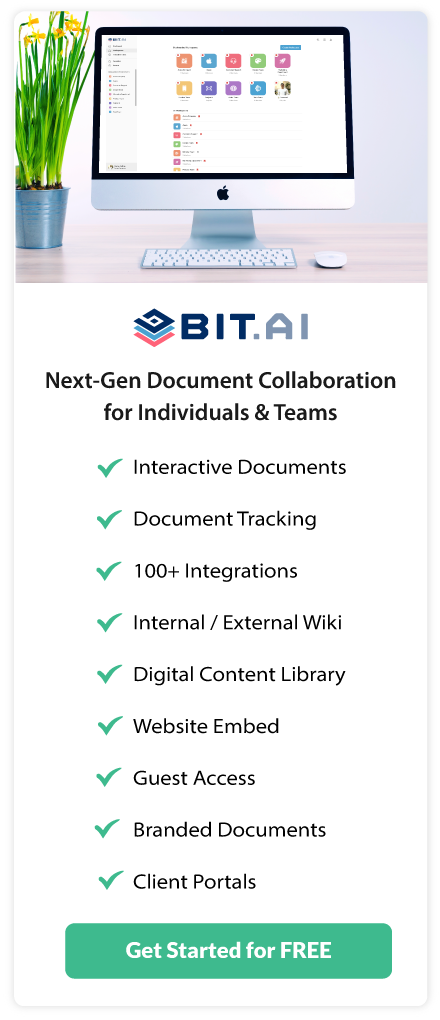 About Bit.ai
Bit.ai is the essential next-gen workplace and document collaboration platform. that helps teams share knowledge by connecting any type of digital content. With this intuitive, cloud-based solution, anyone can work visually and collaborate in real-time while creating internal notes, team projects, knowledge bases, client-facing content, and more.
The smartest online Google Docs and Word alternative, Bit.ai is used in over 100 countries by professionals everywhere, from IT teams creating internal documentation and knowledge bases, to sales and marketing teams sharing client materials and client portals.
👉👉Click Here to Check out Bit.ai.