Far gone are the days of sitting in your office cubicle for 8 hours a day. Today, technology- whether it is our PCs, laptops, or mobile phones- has blurred the lines between a physical workspace and where work actually happens with the onset of remote work!
Remote work is changing the global workspace and its operations. In a wave that is showing no signs of slowing down, especially with the current state of the COVID-19 pandemic remote work is rapidly increasing all around the world.
There has been a significant boost in employees that are working in remote positions, either full-time or part-time, with an increased percentage of the workforce looking towards working on flexible schedules.
Tech-giants like Amazon, Facebook and Google have told their employees to work from home and are quickly implementing remote working policies in the US.
Even during normal times, companies were starting to embrace a growing enthusiasm towards remote working and were using flexible work options as a way to motivate their employees.
But there's another side of the coin.
Although remote working is an amazing way of life for many employees and companies across the world, it also comes with a fair share of challenges for them.
Even with the glorious perks like work flexibility, getting to work from anywhere, focused work time, and more — it's difficult to avoid the moments of loneliness and isolation with this work lifestyle.
 A crucial part of your social interaction spins around your job and your workplace. You tend to spend most of your waking hours with your teammates and colleagues. Therefore, when you work remotely, that aspect of your social life disappears. Remote work feeds on Isolation 'sometimes' and results in the following repercussions.
Consequences of Social Isolation in Work from home scenario
You might not be friends with your office coworkers, but conversation and communication are important parts of human behavior. Since remote workers do not have the same access to this daily interaction process, it's no wonder that they forge a sense of loneliness.
 Australian Psychological Society conducted a study that shows, every 1 out of 2 individuals report that they feel lonely for a minimum of 1 day a week. 
While the thought of not having to leave your home seems perfect – especially when you don't have to travel to your workplace – it can lead to social isolation and withdrawal. If you are a remote worker, it can be fearsome to go for days without having sincere face-to-face interaction with a person.
Social isolation can become one of the biggest pitfalls faced by a remote worker. According to a report by Buffer, 19% of remote employees stated isolation as their #1 problem. This shows that isolation for a remote worker is an ordinary thing. What's less obvious is how you can create a sense of belonging while working remotely.

Employees shifting to remote working are afraid that they lack the social support needed to stay engaged and motivated in their work zones. It is surprising to learn that, the absence of social interaction isn't the primary contributor to professional nomads, feeling "cut off" is!
According to a report by 'Igloo', 70% of employees working remotely feel left out of their workplace. This happens because they have problems with processing information, communication, and decision-making, eventually leading them to social isolation!
Fortunately, there are a few relatively simple tricks you can apply to get rid of the loneliness of being a remote worker. So, below are the top 4 recommendations for all workplace experts during times of social isolation!
Tips to conquer Social isolation in remote working
When you discard the social element of traditional offices, no amount of digital communication can replace the need to engage the same space of physical interaction. On the other hand, after weeks, and months of working in social isolation, the silence can become deafening.
So, to help you conquer social isolation, we have curated a list of 4 golden tips that will bring a sense of proximity in your lifestyle of remote working. Let's dig in!
1. Working at least one day per week outside of your home.
No matter if it's a coffee shop, a local library or any co-working space, the very first step towards fighting the feelings of social isolation is pushing yourself out of your everyday home office and put a foot outdoors. Pick a nearby co-working space or any other public location to work at least once a week in the outside world to surround yourself with other people.
If you have other friends that are also working remotely and facing the same problem, invite them along with you so you can work together. And even if you don't talk to many of the other people, don't worry! You may find this simple act of stepping out of your home to make you feel like you're a part of a bigger community.
Take the initiative and reach out to other remote workers living in your city or state to schedule a fun meet-up, where you can spend time together working on similar projects as associates.
2. Creating an Unplugging Ritual
Another common drawback of remote work that contributes to isolation is not getting away from work. Usually, when you work from home, it's more difficult to shut down your system and leave the office. In fact, 22% of remote workers stated that unplugging from work is their topmost concern.
Creating work-life boundaries is crucial for being able to unplug after work and enjoy well-earned personal time. Without this dividing line, you'll find yourself being exhausted by work and eventually cut off from family/friends and miss out on your leisure time.
To steer clear from this problem, create an unplugging ritual for yourself! For some, this ritual can be a promise for self that they'll no longer be lingering on work emails or taking calls after a certain time, task or event. For others, it can be a Zumba class at a certain time, which prompts them to shut down and leave the house.
Read more: Tips and Tools to Manage Your Distributed Team
3. Talking More Than Just Work with coworkers
There's a habit—especially in remote work culture—that the communication between associates is less social and more formal. Texting and emailing is a great way to keep a line of contact open while completing a project, but how does it work when you want to be more than just a coworker- Maybe a colleague? For this particular dilemma the answer is simple: Start sharing a little more.
Having a safe zone to share a word about your personal life—and being supported by your work community to do so—goes a long way towards feeling more connected to your coworkers.
Even the basic act of sharing a cute story about your dog helps you and your associates bond. And yeah! next time you need to ask someone about a work quire while working from home, begin the conversation by letting them know about remote work loneliness to let them know, they are not alone!
Read more: Why Companies are shifting to Digital Workplaces
4. Use a collaboration tool like – Bit.ai, to remote work more Efficiently
If you're already feeling a sense of loneliness as a professional nomad, social isolation could increase while facing a lack of communication and understanding between remote teams regularly. Whether you're trying to collaborate on a project, create a common document or write a work report for everyone on the team, you'll easily get frustrated trying to communicate effectively via text or call.
Instead, why not take advantage of a team collaboration platform to help you communicate with your colleagues more effectively while working from home- A platform like Bit.ai
Bit is a modern-day document collaboration and management tool that helps teams to collaborate, track, share and manage all company documents, projects, and other content under one roof. Its real-time collaboration attribute makes it easy for remote teams to provide their suggestions and feedback, add comments, and discuss work together in a cohesive group.
Say Yes to Remote work and, No to Social Isolation
As businesses deal with the COVID-19 situation, the need to offer remote working, workplace flexibility, and fighting social isolation are becoming topics of concern. It's time for companies to embrace work flexibility and seize the opportunity to expand options for remote working as it can be a great win-win when done correctly!
Just, don't let your home-office zone isolate you from the outside world. Create a work-life balance to make the most out of your job flexibility and in-case you ever feel lonely, just ping a colleague and talk about it! Find ways to cultivate team communication, via collaboration tools like Bit.
Let us know, what trick do you and your team use to overcome social isolation and make the most out of remote working, in the comments section below or tweet us at @bit_docs
Further reads: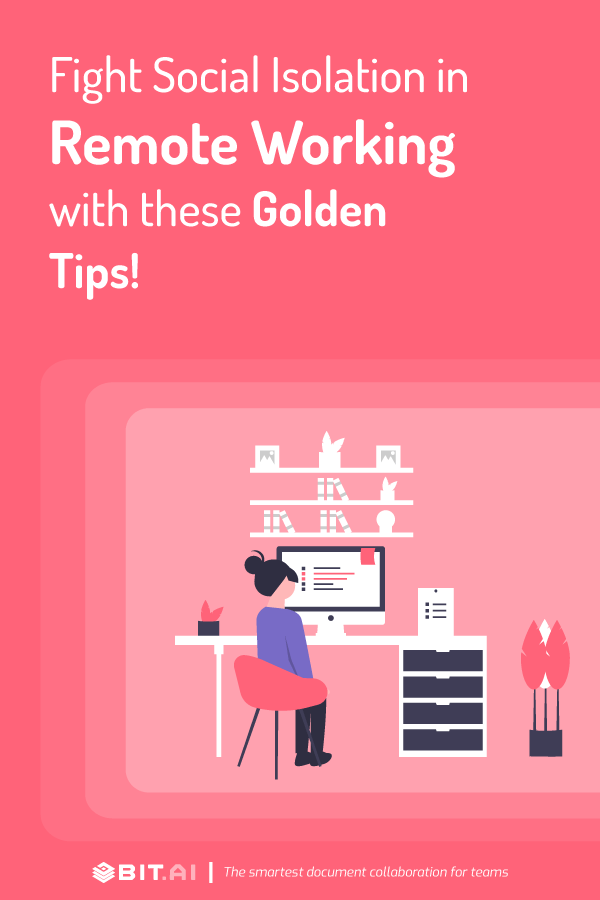 Related posts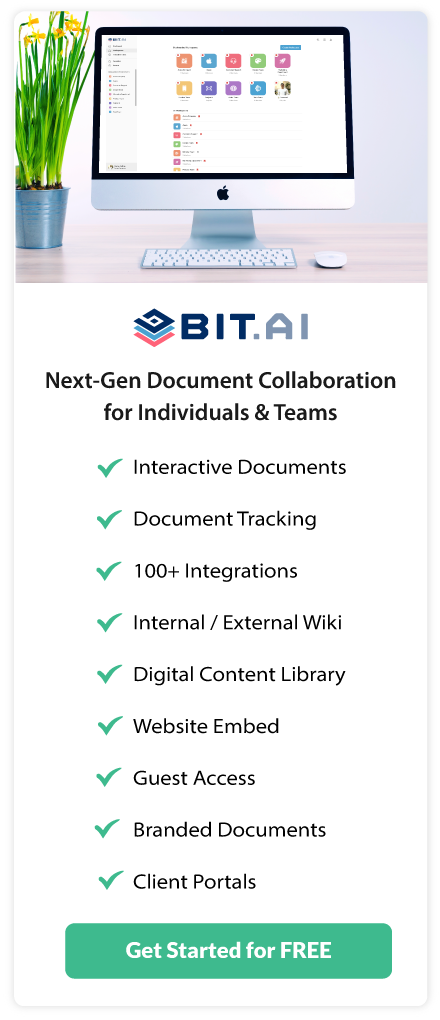 About Bit.ai
Bit.ai is the essential next-gen workplace and document collaboration platform. that helps teams share knowledge by connecting any type of digital content. With this intuitive, cloud-based solution, anyone can work visually and collaborate in real-time while creating internal notes, team projects, knowledge bases, client-facing content, and more.
The smartest online Google Docs and Word alternative, Bit.ai is used in over 100 countries by professionals everywhere, from IT teams creating internal documentation and knowledge bases, to sales and marketing teams sharing client materials and client portals.
👉👉Click Here to Check out Bit.ai.