Remote work is no longer a growing trend or a nice-to-have.
As the world is hit hard with the novel coronavirus or COVID-19, companies are turning towards remote work to keep their business going in these tough times. With over 400,000 cases worldwide and over 18,900 deaths, Covid-19 should not be taken casually.
However, if this is your first time working from home and managing a distributed team, all of this can seem a bit overwhelming. If that's you, our list of awesome tips and tools for managing a distributed team will surely help!
But before getting to the list, let's understand what a distributed team exactly is:
What is a Distributed Team?
Simply put, a distributed team is a group of individuals who work from different locations. This means, they don't work from the same physical workspace. They might be working from their own homes, different cities, or even different countries.
A distributed team is also referred to as a "remote team", a term that we have started using quite often after the onset of the pandemic.
To help you out in these hard times, we have compiled a list of some awesome tips and tools to manage your distributed team and get work done effectively:
Tips to Manage a Distributed Team
1. Set clear roles and responsibilities
Setting up clear roles and responsibilities helps avoid a ton of confusion in the workplace. For a distributed team, this becomes all the more important as its easier to misread a situation or instruction which could lead to disastrous results.
Setting responsibilities explicitly helps in managing expectations from the beginning as employees are bound to perform better if they know what is expected of them. A list of ground rules can go a long way in keeping employees accountable and preventing important tasks to slip through the cracks.
Read more: The Ultimate Remote Collaboration Guide For Distributed Team
2. Hold weekly virtual meetings
According to research, almost 50 percent of employees think meetings are the biggest waste of their time at work, and the number one productivity killer! Working with a distributed team allows employees to stay productive without the need to jump in on another one of those meetings that could have been an email.
Having said that, meetings are essential to keep everyone on track and aligned with business goals. Depending upon your business needs, you can have weekly or even daily virtual meetings on tools like Zoom or Skype and manage your distributed team effectively.

3. Communication is key
Did you know that only 5.9% of companies communicate goals daily? Out of which, only 14 percent of employees actually understand the company strategy, goals, and direction! Communicating goals and strategy is essential to avoid confusion in the workplace.
This can be even more harmful if you have a fully distributed team. Communicating regularly helps employees perform their tasks with full autonomy and with better clarity. Since a staggering 86% of employees and executives cite a lack of collaboration or ineffective communication for workplace failures, you can't underestimate the power of good communication.
Read more: Effective Workplace Communication For Better Collaboration
4. Don't rely on email
Adobe Systems reports that the average worker spends around 30 hours a week checking their email! On top of that, we receive approximately 304 business emails on average, making email, one of the biggest productivity killers in the office.
Email isn't an effective collaboration tool and leads to chaos amongst distributed teams. Having a group conversation by email is unthinkable and it's impossible to assign tasks and know who's in charge of what.
There's little to no context around the information being sent, attachments are hard to find, and knowledge is often siloed. There are many communication and collaboration tools out there that work way better than email and we have mentioned some down below. Keep reading…
5. Use the Right Tools
This is a big one! Using the right software can make or break your remote setup. Many collaboration and project management tools have come up in recent years. These tools allow managers to assign responsibilities, brainstorm ideas, track progress, store media content in the cloud, communicate goals, hold meetings, create content in real-time and more.
In fact, data suggests that over 44 percent of employees want wider adoption of internal communication tools in their organization. Studies also suggest that improving internal collaboration through social tools could help raise the productivity of interaction by as much as 20 to 25 percent! Don't worry though, we have got all the tools you need to manage your distributed team in the next section…
Read more: Combating Social Isolation in Remote Working
Tools to Manage Your Distributed Team
Apart from the numerous tips, you can incorporate to supercharge your distributed team, technology can be a huge ally in helping you manage your distributed team more efficiently. There are a ton of collaboration apps and tools to help you get work done remotely. Here are few of the best ones out there:
The more tools and software we incorporate in our workplace, the less work actually gets done. Shuffling between Word documents, emails, Dropbox files, etc drains our productivity, stopping us from actually doing any work. Enter Bit- one tool to do it all!


Bit is a new-age document management and collaboration tool that helps teams to collaborate, share, track and manage all company documents, files, and other content in one place. It is the ultimate productivity tool as it brings all your company documentation, media files, and knowledge under one roof. After all, collaboration literally means "working together"—co-laboring, not just co-talking.
Bit allows teams to:
Collaborate on interactive workplace documents where all of your digital content from Google Drive, Spotify, Spreadsheets, Forms, Airtable databases and much more can live and be accessible inside of them.
Create all-kinds of workplace documents, from personal notes and to-dos to team research and client-facing material that can be shared and track to get intelligent engagement insights.
Amazing content management capabilities as Bit's content library that allows teams to save images, files and any type of digital content for easy access.
Pricing: 
Free plan with limited features
Paid Plans starts at: Standard ($8/user/month), Plus ($15/user/month), Enterprise (contact sales)
We all know meetings and regular check-ins with your distributed team are important. The challenge, however, is to get your team onboard at the same time. Distributed team members are often in different timezones, separated by geographical borders. This makes it extremely tough to schedule group meetings and get work done efficiently.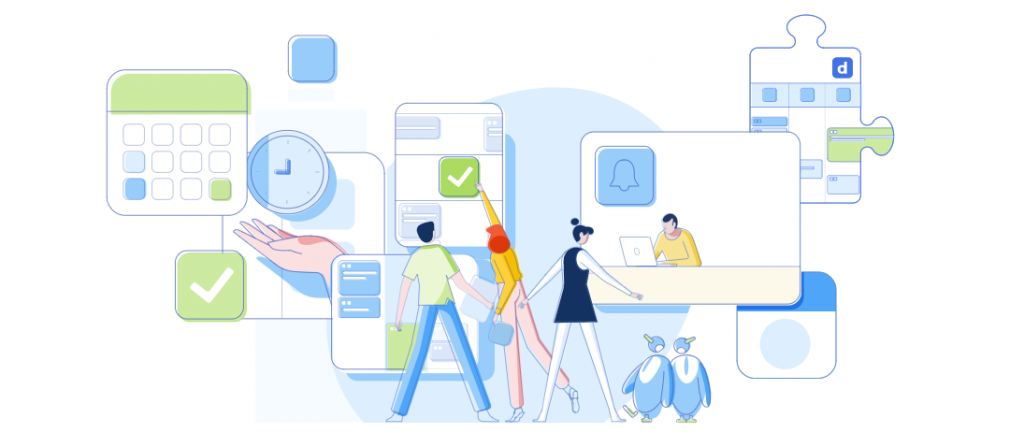 Doodle is a smart calendar software that lets users schedule meetings with their peers without getting into the to-and-fro email game. The app automatically scans each employee's availability quickly across diverse timezones and recommends a meeting time when everyone's free.
You can also carry out one-to-one meetings with your co-workers and can even open up "time blocks" for appointments. Doodle integrates with Google calendar and Outlook, making it extremely simple for distributed teams to get on board and mark their availability.
Pricing: 
Free plan with limited features
Paid Plans starts at: Starter ($4.49/user/month), Pro ($5.99/user/month), Team ($30/5 users/month)Enterprise (contact sales)
Read more: Remote Tools to Help Counter Coronavirus Pandemic
Setting roles and responsibilities and assigning to-dos are an important part of work. Todoist is a to-do app that lets you create tasks, assign responsibilities, and plan your weeks in advance for productivity. Managers can even set a due date for a particular task or project to keep everyone accountable.

More than a simple to-do list app, Todoist also lets you create projects and add collaborators. Once a project is created, managers can delegate a task to a teammate while creating a priority level so you know what's important and what isn't.
Todoist also has pre-made templates like Project roadmap and meeting agenda to help you kickstart your work. Apart from the desktop client, Todoist also has Android and iOS apps so you can keep a check on your work on the go.
Pricing: 
Free plan with limited features.
Paid plans start at- $3 / month
Video conferences play an important in any remote setup. Having a great tool for video calls can save up a lot of time and effort and make your team more productive. The simplest and easiest to use video conferencing tool out there is Whereby.
All you have to do is open up your web browser, create a meeting room, and share the link to that meeting room with your co-workers via email or Slack and that's it! Up to 4 employees can quickly get on a video conference and get work done without hiccups.
The best part of Whereby is the frictionless approach to video calls as you don't need to download and install any software. The guests you invite for video calls don't even have to register an account to access the tool.
Simply send them the link and you're good to go. Although you can only have up to 4 guests simultaneously in a video call, you can always upgrade to a PRO plan which allows up to 50 participants. Another notable feature is the ability to make the meeting room private so participants have to ask for permission before joining in on the conference call.
Pricing: 
Free plan with limited features.
Paid plans start at- Business ($59.99 / month up to 50 participants), Pro ($9.99/month up to 12 participants)
Creating design projects can be particularly painful if you have a distributed team. InVision makes the process of design collaboration a breeze with its awesome capabilities. InVision is a complete design suite for remote teams as employees can bring all the nuances of a design project- from idea generation and brainstorming to implementation and feedback- all under a single roof.

Users can create mockups, upload existing designs and review them together effectively. InVision allows users to communicate in real-time and receive live-feedback from team members or clients.
And with InVision Freehand, users can get a whiteboard-Esque experience that allows them to plan, design, wireframe, give feedback, and collaborate freely. And with InVision's Design System Manager, teams can store all Brand assets and documentation under a single source of truth.
Pricing: 
Free plan with limited features.
Paid plans start at- Starter ($15/ month), Professional ($25/month), Team ($99/month)
Read more: Top 10 Digital Whiteboard Software for Team Collaboration
Working with a distributed team often requires sharing access to the same tools. Since remote workers often use a home or public wifi to their work, it's no longer safe to store passwords in a word file or spreadsheet on your computer because of the security threat.
This is where password managers like LastPass come in. Not only does LastPass keeps your passwords safe and secure, but it also makes it easy for remote team members to log into their essential software.

With LastPass, users can save their passwords, contact info, and even credit card details. You can also store memberships details, WIFI passwords, insurance cards and more. LastPass also has an inbuilt password generator and create long, randomized passwords that are difficult to hack. You can also share your passwords with your team via the app and don't have to use any 3rd party chat app to do so.
Pricing: 
Free plan with limited features.
Paid plans start at- Premium ($3/ month/user), Family ($25/month/ 6 users)
Distributed teams have a stronger reliance on technology than people working in an office environment. As a result, they tend to use a number of tools to get work done. Zpaier is a workflow automation tool every distributed team should incorporate in their day-to-day.
Zapier lets you connect over 2000 apps and then use the "if this, then that" model to automatically trigger apps and functions. For instance, you could tell Zapier, "when I get a new email in, copy the attachment from Gmail to Dropbox, and send me a notification about the file in Slack"!


Zapier has an easier to use interface and creating workflows like the example above are really simple. Employees can free up their time from carrying out monotonous tasks by automating routines in Zpaier and get more productive.
Pricing: 
Free plan with limited features.
Paid plans start at- Starter ($19/month), Professional ($49/month users), Team ($299/month), Company ($599/month)
Over To You!
Managing a distributed team can be challenging. However, the rewards outweigh the few initial challenges by a mile! Remote employees tend to be more productive, happier, and more satisfied with their jobs than their in-office counterparts.
Businesses too, enjoy the benefits of a distributed team in terms of widening their talent pool and saving on office rent. We hope that the above-mentioned tools and tips will come handy to you in these tough times and will continue to reap rewards even after the virus outbreaks flattens!
Further reads: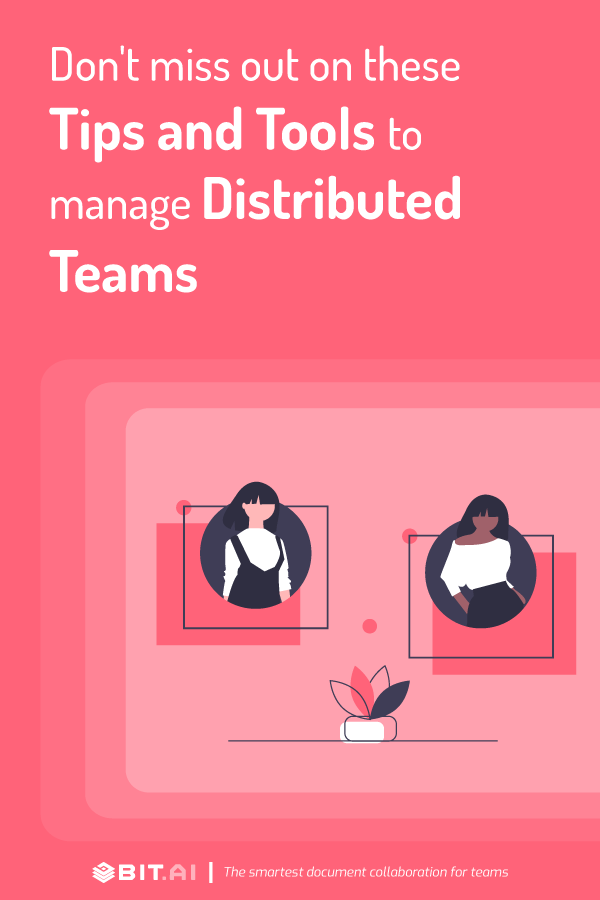 Related posts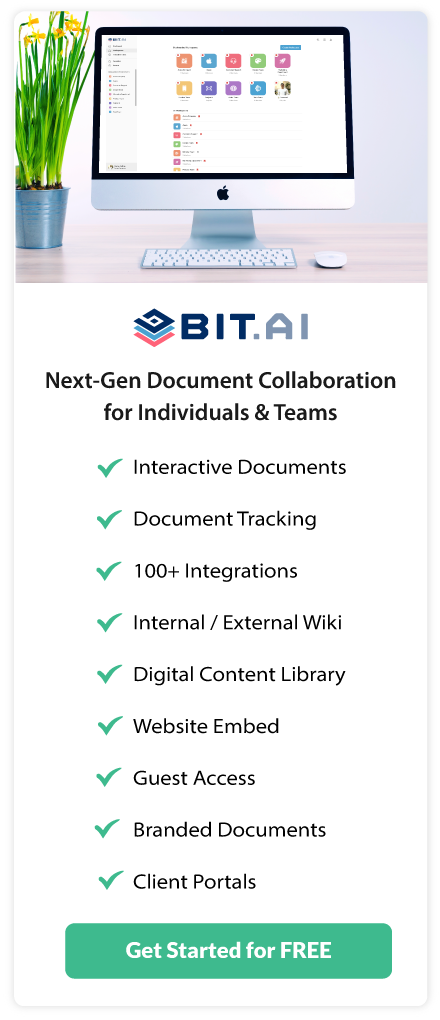 About Bit.ai
Bit.ai is the essential next-gen workplace and document collaboration platform. that helps teams share knowledge by connecting any type of digital content. With this intuitive, cloud-based solution, anyone can work visually and collaborate in real-time while creating internal notes, team projects, knowledge bases, client-facing content, and more.
The smartest online Google Docs and Word alternative, Bit.ai is used in over 100 countries by professionals everywhere, from IT teams creating internal documentation and knowledge bases, to sales and marketing teams sharing client materials and client portals.
👉👉Click Here to Check out Bit.ai.