Looking for digital whiteboard software to collaborate with your remote team? The following software might help!
A whiteboard is the first thing that comes to mind when we talk about team collaboration. The original collaboration tool, physical whiteboards, allow teams to brainstorm ideas, plan forward, draw mockups, and explain information to co-workers.
For quite a while, whiteboards have served teams well all across the world. However, whiteboards only work when you have your co-workers in the same space. As work becomes more remote, whiteboards are being replaced by their digital equivalent.
As more and more businesses are supporting remote work, employees don't need to show up at the office every day of the week.
Even though there are tons of benefits to having remote workers – minimizing office finances like rent, stationery, utilities, saving commute time for employees, and reducing unnecessary office meetings, water-cooler talks, and office politics- there are some drawbacks.
Not having your team in the same room often means you have to skip the whiteboard sessions and dive into back-and-forth emails to explain something to your peers. As you can imagine, this often turns out to be a huge mess!
To solve this crucial problem, many digital whiteboard software has appeared in the market in the past decade. Digital whiteboard software allows teams to skip the messy email chain and go straight to brainstorming and collaboration by providing them a space to do so.
So without wasting any more time, let's explore the digital whiteboard software one by one and see which ones stand out!

Kicking off our list is a whiteboard software by the master of office productivity, Microsoft. Microsoft Whiteboard was born after Microsoft's acquisition of the Intentional Software, a company by former chief software architect at Microsoft, Charles Simonyi.
This "digital canvas" allows teams to collaborate from any part of the world by logging into the Whiteboard app. Your whiteboards stay safe in the cloud until you're ready to return to them, from the same or another device. No need to take photos of your whiteboards or mark them with "Do Not Erase."
Users can use the Whiteboard app on the browser or download a Windows app or even an iOS app. If you own a Microsoft surface stylus, you can easily use it for sketching or making flow diagrams on the whiteboard app. All in all, Whiteboard is a reliable canvas for teams to work and collaborate on.


Google Jamboard is a 55-inch 4k display with touchscreen capabilities. Built as a digital whiteboard for your office space, Jamboard enables users to sketch your ideas whiteboard-style while benefiting from the access and connectivity of an interactive canvas.
Users can easily drop images, add notes, and pull assets directly from the web while collaborating with team members from anywhere.
Jamboard unlocks your team's creative potential with real-time co-authoring- whether your team is in the same room using multiple Jamboards, or across the world using the Jamboard app on mobile. As Jamboard is a part of the Gsuite, you can pull in work from Docs, Sheets, and Slides and even add photos stored in Drive to your Jamboard!

Mural is a great platform for design teams with geographical barriers between them. Mural wants you to stop digitizing your content, rather start your work on its digital whiteboard and bounce off ideas.
Users can create digital sticky notes, tasks, to-do lists, design mockups, sketches and more and share it with team members all around the globe. Apart from its awesome collaborative features, Mural provides anonymous voting sessions so people can voice their feedback without fear of retaliation.
With an iOS app, you can create Murals whenever inspiration strikes and share them with your team.
Read more: Top 10 Design Collaboration Tools For Teams

If you are not looking for fancy whiteboard software and need something quick and easy to collaborate on, Crayon is the whiteboard app for you.
Just go to their website, enter your name and meeting room name, share the link with your co-worker, and voila! You're in a live whiteboard session with your teammate! No need to install or download any software or lengthy sign-up processes.
Just like the Paint app on Windows, Crayon allows you to click and drag on the blank canvas to start drawing. You can also double-click anywhere to open a text box to type in. Crayon is one of the simplest digital whiteboards out there and is perfect for those quick and random brainstorming sessions.

Following the trend of quick and easy-to-use whiteboard software, Witeboard is similar in usage as Crayon but with some cool features. The biggest drawback of using a digital whiteboard instead of a physical one is the difficulty of drawing shapes and designs using a
mouse or a trackpad. Witeboard solves this problem via its "shape detection" feature which automatically turns your messy sketches into perfect circles and rectangles.
Some key features include: 
Witeboard also saves all the boards you have drawn on in your browser's cache.
Ability to turn the whiteboard into a blackboard.
Change languages.
Save your whiteboard sketches as an image.

Not labeling itself as a simple whiteboard software, Conceptboard aims to become your collaborative workspace where teams from all departments can get together to get things done.
Whether you work in marketing, product development, strategy, or project planning, Conceptboard gives you the much-needed virtual space to collaborate and bring ideas together. Whether you're working on product packaging or coordinating multiple projects, Conceptboard lets you speed up the review and approval process.
The ability to mark up files and add comments helps in gathering and compiling everyone's feedback quickly. Inside the whiteboard, team members can add files, images, documents, screenshots, pin sticky notes and work in real-time so that everyone's on the same page.
With ever-expanding whiteboards, you can add as much content as you want. When you are done with your work, you can safely share the link to your whiteboard with people inside and outside of your organization anywhere, anytime, on any device.
Read more: 20 Best Online Collaboration Tools For Teams
7. Draw.chat

Collaborating on a digital whiteboard with your remote team is a blessing. Add text, audio, and video chat to it and you might as well get the perfect collaboration tool on your hand.
Draw.chat does all of that easily. Just create a private meeting room, share the link with your teammates, and hop on a quick brainstorming session.
Draw.chat offers some neat formatting features like adding text, changing color, adding images, annotating images and PDFs, and more. Also, you can create multiple whiteboards for different purposes within your main link. Cool, right? Once done, you can save your sketches on your computer or can share them with clients and other teammates.

Another quick, no-frills whiteboard software, Whiteboard Fox offers a quick virtual board to collaborate with co-workers and friends. Just go to whiteboardfox.com, click on "start drawing", set permissions and you're good to go.
Once you are in, you are presented with a whiteboard with grids to help you draw easily. The drawing tools are simple with options including- draw, erase, move, zoom, and the ability to add images and text to the board.
Users can also click on the "copy all" button to grab everything added to the whiteboard and paste it onto your note-taking or any other app.
While it may not be as feature-rich as Real-time Board, Whiteboard fox is a tool for those who want to have something readily available at all times and just gets the job done.
Read more: 15 Best Internal Communication Tools For Your Business

RealtimeBoard provides engaging collaboration for distributed and co-located teams regardless of locations and time zones.
One of the best whiteboard software available on the market, RealtimeBoard is built for truly remote teams who rely on various SaaS apps to get their work done on a daily basis.
Some neat features include: 
Use digital sticky notes and the simple yet powerful text editor to help you brainstorm and work on ideas anytime, anywhere
Use mind mapping tools to quickly
capture, organize, and structure ideas
Add images, videos and embed media content to gather all the necessary information in one space
Instead of giving you a blank canvas like many other digital whiteboards, RealtimeBoard provides users with 50+ pre-made templates for various use cases: user story mapping, kanban boards, mind maps, mood boards, and more.

The last one on our list for the best whiteboard software is Ziteboard, a lightweight whiteboard website that works on any device: laptops, tablets, mobile devices – optimized for both iPad's Safari and Google Chrome on laptops.
With the aim to improve the work for most remote teams, developers, designers and make meetings, project planning, and customer communication better, Ziteboard allows real-time collaboration and audio and video chat with teammates.
With freehand drawing and line smoothing all your scribbles will look perfect- making it an amazing tool for wireframing. A WordPress plugin, smartphone apps, Slack integration, and even Google Chrome Extension allow users to fully leverage the power of Ziteboard.
Final Words
Whiteboards have been the go-to brainstorming tools for teams at the office. With distributed workforces, work needs to be shifted to smart devices and cloud applications.
Digital whiteboard software mentioned above is doing a phenomenal job of making that transition smoother while inspiring new ideas and fostering creativity.

Further reads: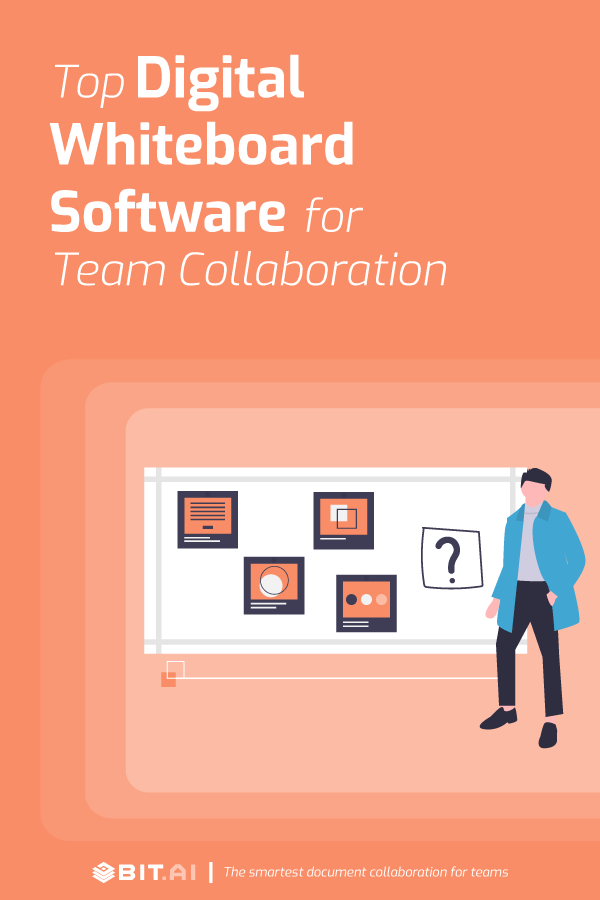 Related posts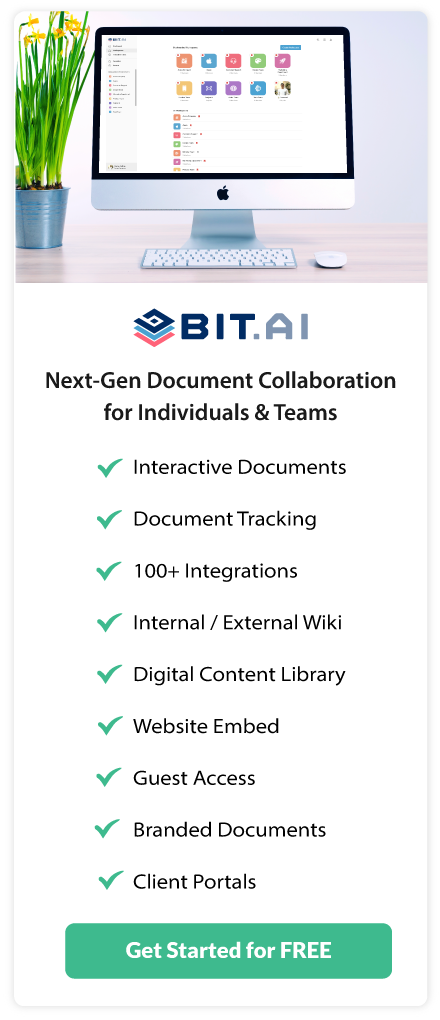 About Bit.ai
Bit.ai is the essential next-gen workplace and document collaboration platform. that helps teams share knowledge by connecting any type of digital content. With this intuitive, cloud-based solution, anyone can work visually and collaborate in real-time while creating internal notes, team projects, knowledge bases, client-facing content, and more.
The smartest online Google Docs and Word alternative, Bit.ai is used in over 100 countries by professionals everywhere, from IT teams creating internal documentation and knowledge bases, to sales and marketing teams sharing client materials and client portals.
👉👉Click Here to Check out Bit.ai.