In this blog post, we'll take a look at the benefits of having an internal communication strategy in the workplace and how your organization can benefit from having an internal communications tool. Let's get started!
All communication that goes inside an organization, whether amongst team members or across departments, comes under internal communication.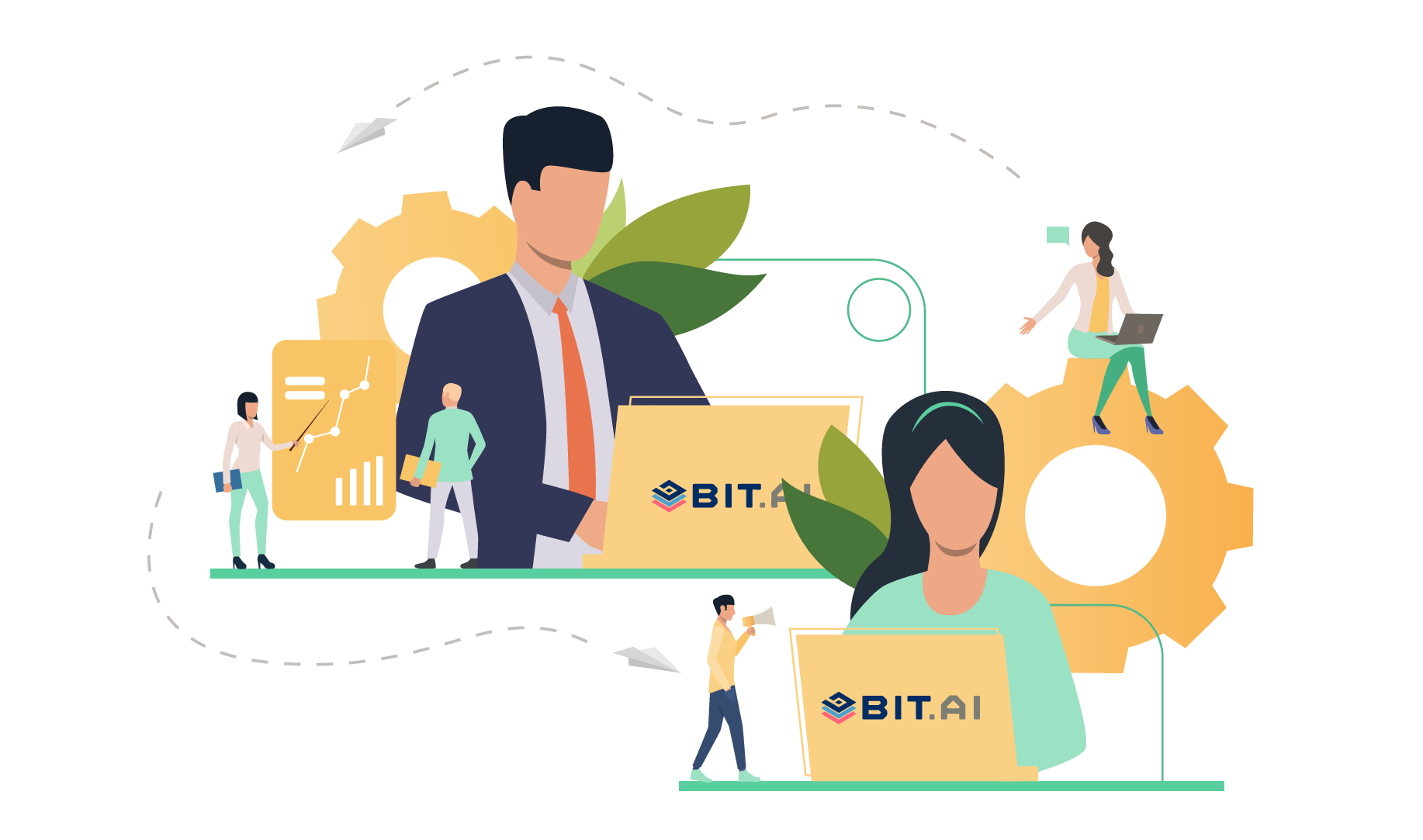 Simply stating that internal communication is important would be a massive understatement. In our world of the digital workspace and remote work, having an effective internal communications strategy can make or break your business.
If your business goals and roadmap is not effectively communicated within the organization, it could lead to chaos and confusion.
It's always the collective effort of the teams and departments in a company whose individual efforts lead to the overall success of the business. Having a healthy internal communications strategy and the necessary tools in place is a prerequisite to achieving that level of success.
Before we dive into the tools required to setup up effective internal workplace communication within your organization, let us first understand why having these tools in place is even necessary.
Benefits of Effective Internal Communication in the Workplace
Since communications form the base of all healthy relationships, having tools in place for effective internal communication leads to a happy work environment.
Teammates would be able to better communicate their needs and desires, be more productive, experience less staff turnover, and deliver better customer service. Some of the key benefits of having internal communications tools in place include;
1: Be on the same page 
Communicating goals and assigning tasks is the backbone of productive work. Every team member should know what they are supposed to do, at what time, and how their work fits in the big picture. Failing to do so would lead to a lot of chaos and guesswork. Effective internal communication helps individual members to be on the same page and achieve success. It ensures that everyone understands their role in the team, how their work affects the outcome, and what is expected of them to achieve the team goals.
2: Less Employee Turnover
Not being able to communicate freely with your manager or fellow employee creates an unpleasant environment for employees, leading to disengaged employees. According to Gallup, a whopping 87% of employees are disengaged at work.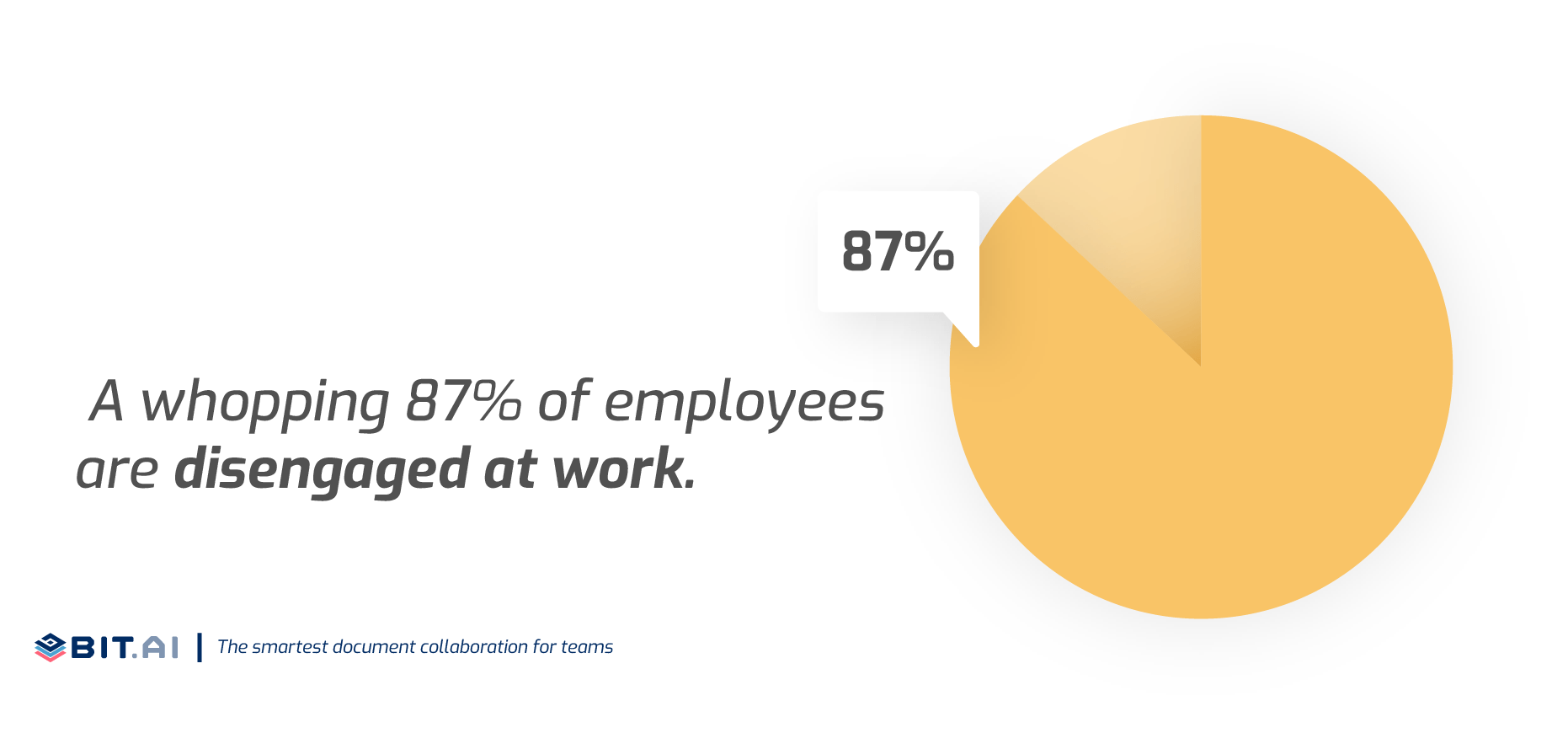 A study of managers by Interact Studio and Harris Poll revealed that the fear goes both ways; 69% of managers are just as afraid of communication as their teams. This lack of clear communication often results in employees leaving the company, ergo high staff turnover.
Having the ability to voice your opinions and converse freely leads to honest dialogue amongst team members and allows them to build deep, meaningful relationships.
3: Eliminates confusion
When tasks, roles, and responsibilities are assigned clearly with effective dialogue between the two parties, it brings clarity to the organization. Communication helps remove any confusion and enables team members to perform their roles with autonomy. This ultimately leads to higher employee productivity as they know exactly what to do and how.
4: Free flow of ideas
A culture of open and transparent communication within an organization leads to the free flow of ideas amongst team members and upper management. Team members feel comfortable sharing different, out of the box ideas without the feeling of being rejected, criticized or ridiculed.
Internal communication tools facilitate this by providing a means to share these ideas and establish an open, positive and supportive environment among team members.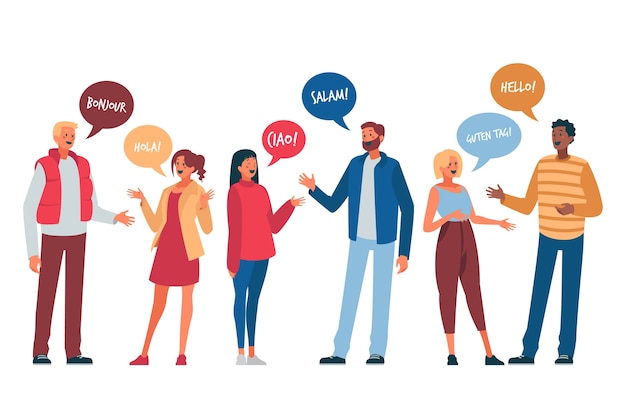 5: Knowledge Sharing made easy
Using an internal communications tool like an internal wiki or a knowledge base can facilitate knowledge sharing with the click of a button.
A good internal communications tool can help boost employee productivity and efficiency by providing them with what they need quickly, thereby saving a ton of time and money!
Now that we know why internal communication tools are crucial to an organization's success, let's take a look at some of the best internal communications tools out there.
For your convenience, we have broken down this list into 5 broad categories of internal communication tools- messaging apps, document management tools, video conferencing tools, project management tools, and digital whiteboards.
‍
Communication through Messaging/Chat apps
M‍essaging apps are essential to quickly share ideas or ask for help from a coworker without needing to draft an email (which will anyways get lost in the inbox mess!). Here are some of our favorite chat tools:
If you work in the startup world, there's a good chance you have heard about Slack. The new-age communications app that took office messaging by storm, Slack has gained significant popularity with over 35,000+ paid companies like IBM, Oracle, Airbnb and with over 8 million monthly active users.
Slack allows teams to create chat groups called 'channels' for transparent and open communication. It has an easy to use and 'fun' user interface, making it easy for first-time users to get a hang of the platform quickly.
Apart from just being an email replacement, Users can also use Slack to share files and conduct voice and video calls, making it an awesome internal communication tool.
Pricing:
Free plan with limited features
Pro plan starts at: Standard ($2.6/month), Plus ($5/month), Enterprise Grid (contact sales)
Fleep is a messaging app that combines internal communication with file sharing and task management. Users can set conversations around projects, teams or any specific topics to stay connected and discuss ideas.
You can create, assign, search and track tasks with Fleep's native task management which is extremely lightweight and contextual. No more jumping around different apps to assign tasks and have conversations.
The standout feature is 'pinboard', a place where users can highlight any decisions or plans and pin them to the side of each conversation for everyone to see and edit. This is extremely important for meeting notes, important links, contact details, etc.
Pricing:
Free plan with limited features
Pro plan starts at: Business (€5/month), Custom (contact sales)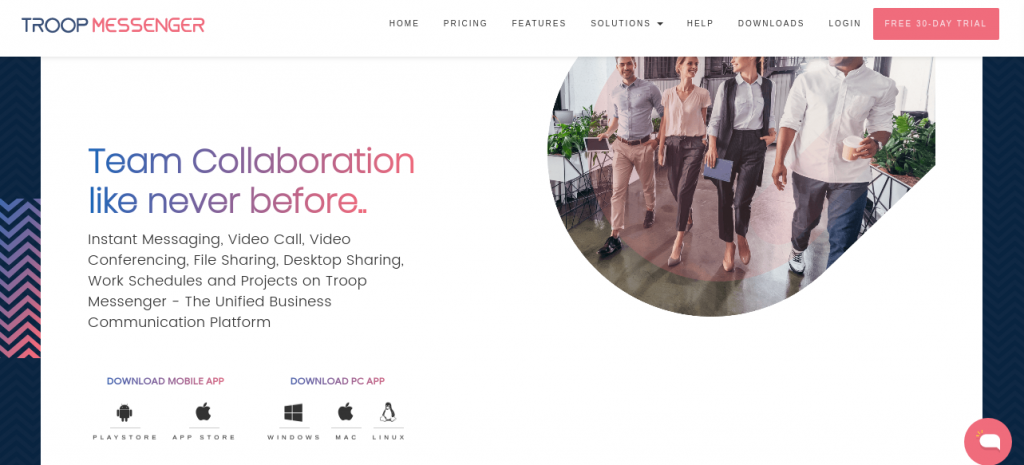 Troop Messenger is a Slack alternative which makes the team communication secure and flawless. You can send text, audio, and video either to an individual or group.
It streamlines the process of communication and collaboration of the teams with its advanced filters and exceptional features such as burnout, forkout, live tracking, splashboard, flagging, live chat, and many more.
It can be used as a video conferencing tool in which you can have video communication with multiple people at multiple locations along with audio access to many.
Pricing:
Free plan with limited features
Premium $1 per user/month
Use Microsoft products a lot for office work? Yammer would be perfect for you. A Slack competitor by Microsoft, Yammer is an enterprise social network that allows anyone in the organization to collaborate and work together. Apart from communication features, Yammer allows users to create and join groups relevant to their work and interest. People can send files, documents, spreadsheets, ask questions, plan meeting and get work done swiftly with Yammer.
Y‍ammer seamlessly integrates with other Microsoft products like Microsoft Teams, SharePoint, and other Office 365 apps, allowing users to take their conversations everywhere they go.
Pricing:
Free plan with limited features
Pro plan starts at: Enterprise ($3/month per user), SharePoint Online (Plan 1) + Yammer Enterprise ($4/month per user), SharePoint Online (Plan 2) + Yammer Enterprise ($8/month per user), Office 365 E Plans 1-4 + Yammer Enterprise ($8- $24/month per user)
Communication through document management tools
Documents are the building block for any business. A good document management system can help organize all of your files, documents, and data in one place, keep track of all of your information, reduce reliance on paper, and speed up your workflow.
Thus, choosing a document management system allows you to solidify your internal communication and provide all the information your employees need to do their work efficiently. Here are some of our favourite document management tools:

Bit is a new age, a cloud-based collaboration tool that helps teams create, manage and track documents.
Bit allows teams to create workplace documents like- project proposals, sales decks, training documents, how-to guides, company policies, process documentation, media kits, case studies, e-books, etc. and provides a safe and robust place to store these documents.
You can add all types of rich media into your documents like videos, files, visual bookmarks, code blocks, Google Spreadsheets and more. With over 80+ integrations your documents can tie together your information beautifully regardless of where it may live. If you want to send these documents to external partners, clients, customers or prospects, you can even track them to get intelligent engagement insights.
Bit also has a content library where you can save all your images, files and digital content you add to your documents so that you can access and reuse them easily, making your workflow smooth as ever!
Bit's real-time collaboration feature makes it easy for your team to get under one virtual roof, give their feedback and suggestions, add comments, and discuss work together like a cohesive group. It's one of our favorite internal communications tools out there as it does it all- document management, collaboration, content management and more.
Pricing:
Free plan with limited features
Pro plan starts at: Standard ($12/month), Plus ($20/month), Enterprise (contact sales)
Read more : Microsoft Word Vs Bit.ai : The Ultimate Showdown
[/vc_column_text]
Did you find your favorite tool for internal communication?
Having a clear line of communication is essential to your business growth. How well a message is communicated is equally important as to the message itself.
Internal communications tools help your organization in streamlining company-wide communication so that everyone's on the same page and work is done without any confusion.
Which internal communication tools are you using currently? Did we miss out on your favorite tool? Let us know by tweeting at us @bit_docs
Further reads: 
Further reads : 

Don't want to forget this information?
Pin it for future reference!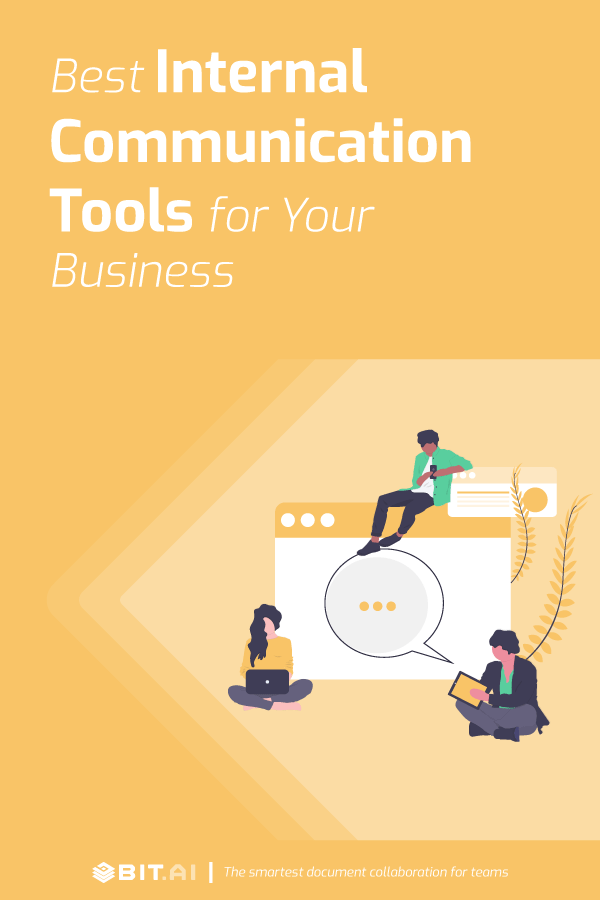 Related posts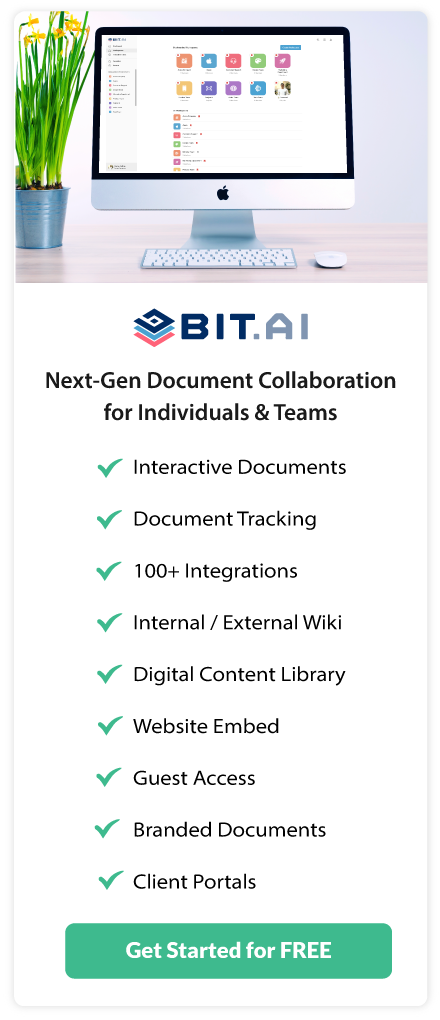 About Bit.ai
Bit.ai is the essential next-gen workplace and document collaboration platform. that helps teams share knowledge by connecting any type of digital content. With this intuitive, cloud-based solution, anyone can work visually and collaborate in real-time while creating internal notes, team projects, knowledge bases, client-facing content, and more.
The smartest online Google Docs and Word alternative, Bit.ai is used in over 100 countries by professionals everywhere, from IT teams creating internal documentation and knowledge bases, to sales and marketing teams sharing client materials and client portals.
👉👉Click Here to Check out Bit.ai.