In this blog post, we'll take a look at the benefits of having an internal communication strategy in the workplace and how your organization can benefit from having an internal communications tool. Let's get started!
All communication that goes inside an organization, whether amongst team members or across departments, comes under internal communication.
Simply stating that internal communication is important would be a massive understatement. In our world of digital workspace and remote work, having an effective internal communications strategy can make or break your business.
If your business goals and roadmap is not effectively communicated within the organization, it could lead to chaos and confusion.
It's always the collective effort of the teams and departments in a company whose individual efforts lead to the overall success of the business. Having a healthy internal communications strategy and the necessary tools in place is a prerequisite to achieving that level of success.
Before we dive into the tools required to setup up effective internal workplace communication within your organization, let us first understand why having these tools in place is even necessary.
Benefits of Effective Internal Communication in the Workplace
Since communications form the base of all healthy relationships, having tools in place for effective internal communication leads to a happy work environment.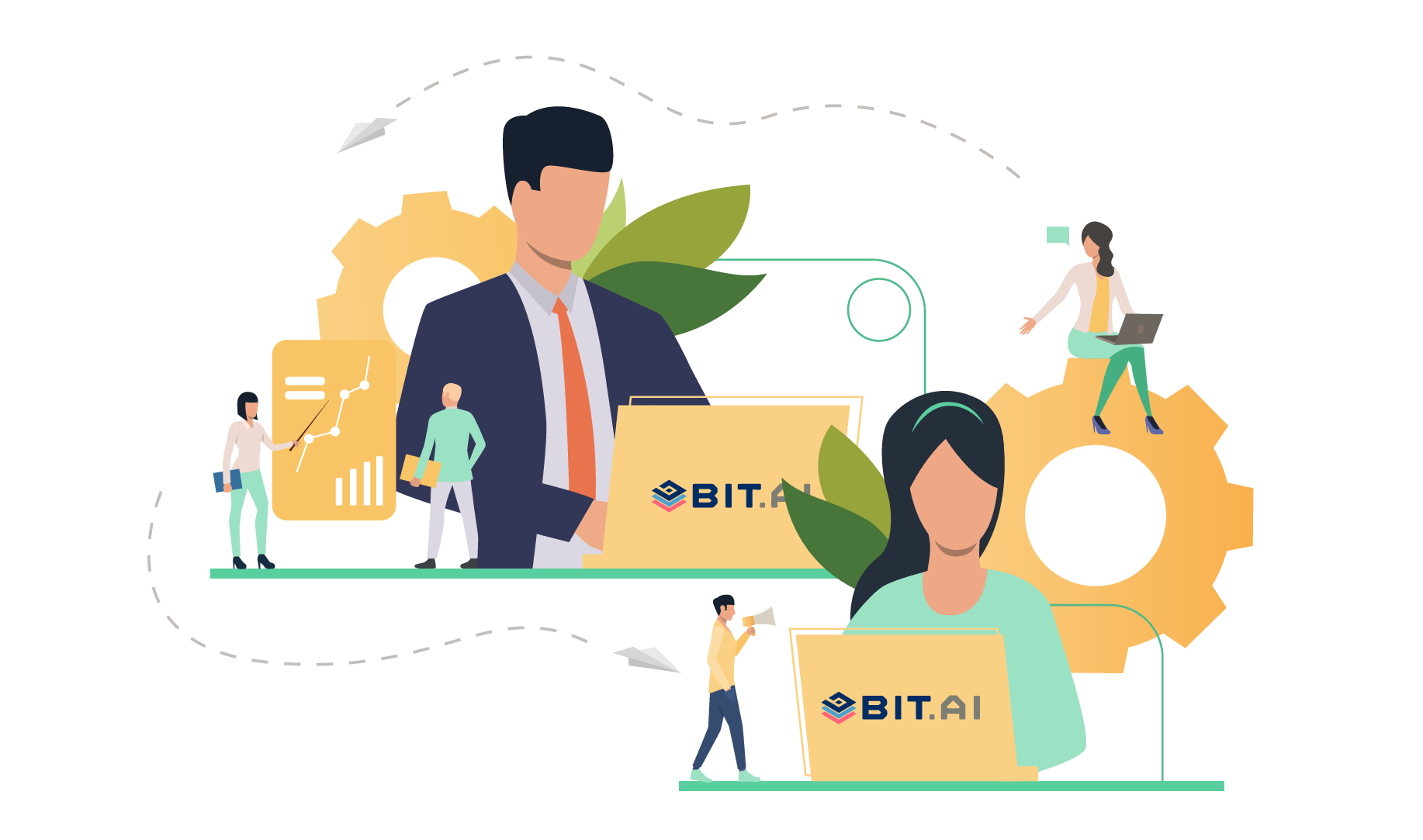 Teammates would be able to better communicate their needs and desires, be more productive, experience less staff turnover, and deliver better customer service. Some of the key benefits of having internal communications tools in place include;
1. Be on the same page 
Communicating goals and assigning tasks is the backbone of productive work. Every team member should know what they are supposed to do, at what time, and how their work fits in the big picture.
Failing to do so would lead to a lot of chaos and guesswork. Effective internal communication helps individual members to be on the same page and achieve success. It ensures that everyone understands their role in the team, how their work affects the outcome, and what is expected of them to achieve the team goals.

2. Less Employee Turnover
Not being able to communicate freely with your manager or fellow employee creates an unpleasant environment for employees, leading to disengaged employees. According to Gallup, a whopping 87% of employees are disengaged at work.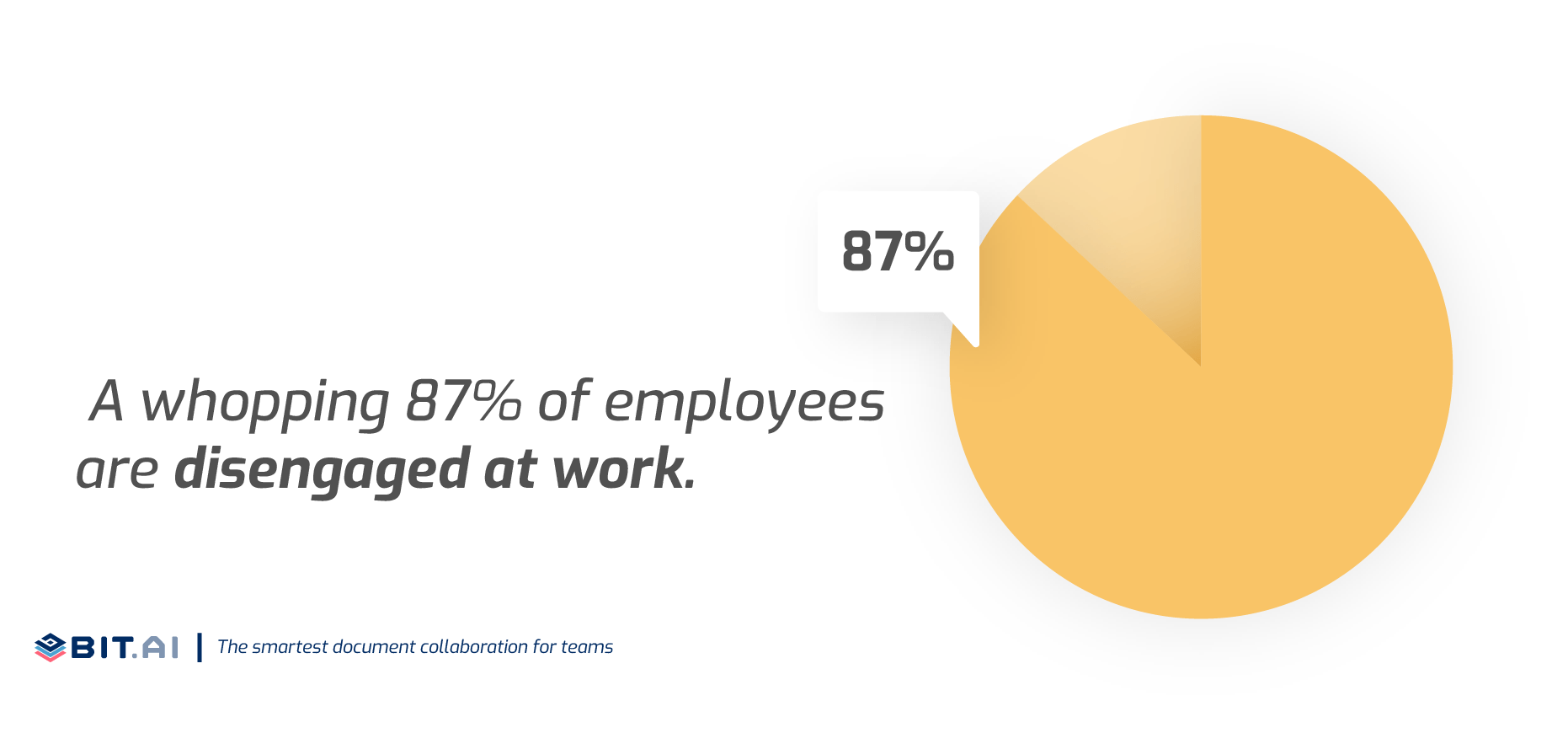 A study of managers by Interact Studio and Harris Poll revealed that the fear goes both ways; 69% of managers are just as afraid of communication as their teams. This lack of clear communication often results in employees leaving the company, ergo high staff turnover.
Having the ability to voice your opinions and converse freely leads to honest dialogue amongst team members and allows them to build deep, meaningful relationships.
3. Eliminates confusion
When tasks, roles, and responsibilities are assigned clearly with effective dialogue between the two parties, it brings clarity to the organization. Communication helps remove any confusion and enables team members to perform their roles with autonomy. This ultimately leads to higher employee productivity as they know exactly what to do and how.
4. Free flow of ideas
A culture of open and transparent communication within an organization leads to the free flow of ideas amongst team members and upper management. Team members feel comfortable sharing different, out-of-the-box ideas without the feeling of being rejected, criticized or ridiculed.
Internal communication tools facilitate this by providing a means to share these ideas and establish an open, positive, and supportive environment among team members.
5. Knowledge Sharing made easy
Using an internal communications tool like an internal wiki or a knowledge base can facilitate knowledge sharing with the click of a button.
A good internal communications tool can help boost employee productivity and efficiency by providing them with what they need quickly, thereby saving a ton of time and money!
Now that we know why internal communication tools are crucial to an organization's success, let's take a look at some of the best internal communications tools out there.
For your convenience, we have broken down this list into 5 broad categories of internal communication tools- messaging apps, document management tools, video conferencing tools, project management tools, and digital whiteboards.
‍
Communication through Messaging/Chat apps
M‍essaging apps are essential to quickly share ideas or ask for help from a coworker without needing to draft an email (which will anyways get lost in the inbox mess!). Here are some of our favorite chat tools: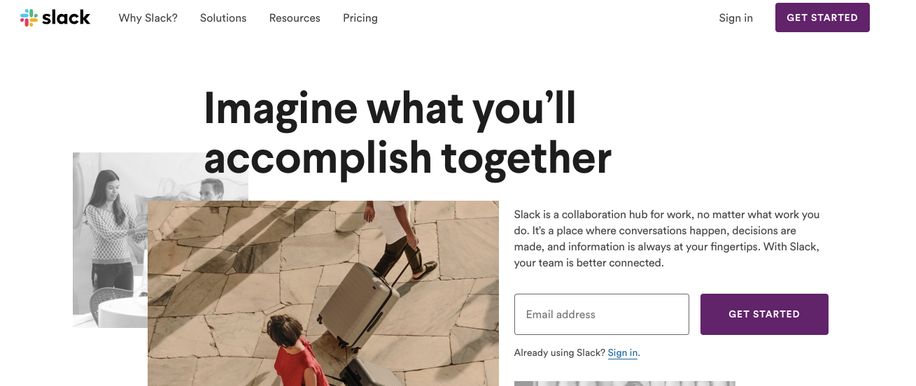 If you work in the startup world, there's a good chance you have heard about Slack. The new-age communications app that took office messaging by storm, Slack has gained significant popularity with over 35,000+ paid companies like IBM, Oracle, Airbnb and with over 8 million monthly active users.
Slack allows teams to create chat groups called 'channels' for transparent and open communication. It has an easy to use and 'fun' user interface, making it easy for first-time users to get a hang of the platform quickly.
Apart from just being an email replacement, Users can also use Slack to share files and conduct voice and video calls, making it an awesome internal communication tool.
Pricing:
Free plan with limited features
Pro plan starts at: Standard ($2.6/month), Plus ($5/month), Enterprise Grid (contact sales)

Fleep is a messaging app that combines internal communication with file sharing and task management. Users can set conversations around projects, teams or any specific topics to stay connected and discuss ideas.
You can create, assign, search and track tasks with Fleep's native task management which is extremely lightweight and contextual. No more jumping around different apps to assign tasks and have conversations.
The standout feature is 'pinboard', a place where users can highlight any decisions or plans and pin them to the side of each conversation for everyone to see and edit. This is extremely important for meeting notes, important links, contact details, etc.
Pricing:
Free plan with limited features
Pro plan starts at: Business(€5/month), Custom(contact sales)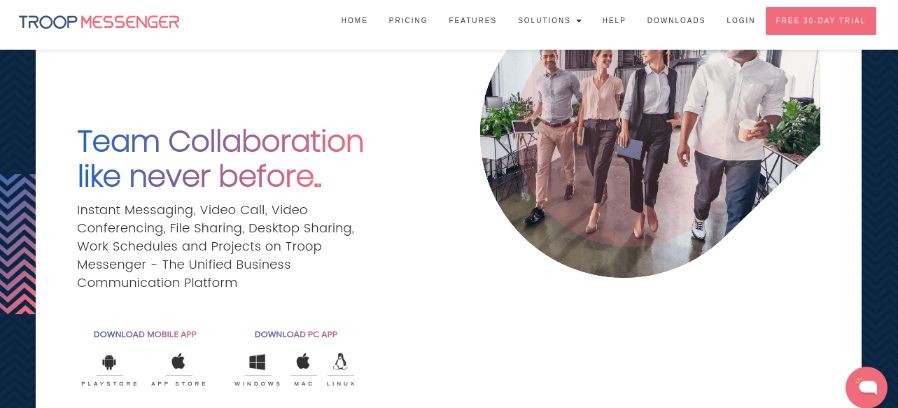 Troop Messenger is a Slack alternative that makes the team communication secure and flawless. You can send text, audio, and video either to an individual or group.
It streamlines the process of communication and collaboration of the teams with its advanced filters and exceptional features such as burnout, workout, live tracking, splashboard, flagging, live chat, and many more.
It can be used as a video conferencing tool in which you can have video communication with multiple people at multiple locations along with audio access to many.
Pricing:
Free plan with limited features
Premium $1 per user/month
Read more: Communication Plan: What is it & How to Create it? (Steps included)

Use Microsoft products a lot for office work? Yammer would be perfect for you. A Slack competitor by Microsoft, Yammer is an enterprise social network that allows anyone in the organization to collaborate and work together.
Apart from communication features, Yammer allows users to create and join groups relevant to their work and interest. People can send files, documents, spreadsheets, ask questions, plan meetings,s and get work done swiftly with Yammer.
Y‍ammer seamlessly integrates with other Microsoft products like Microsoft Teams, SharePoint, and other Office 365 apps, allowing users to take their conversations everywhere they go.
Pricing:
Free plan with limited features
Pro plan starts at: Enterprise ($3/month per user), SharePoint Online (Plan 1) + Yammer Enterprise ($4/month per user), SharePoint Online (Plan 2) + Yammer Enterprise ($8/month per user), Office 365 E Plans 1-4 + Yammer Enterprise ($8- $24/month per user)
Communication through document management tools
Documents are the building block for any business. A good document management system can help organize all of your files, documents, and data in one place, keep track of all of your information, reduce reliance on paper, and speed up your workflow.
Thus, choosing a document management system allows you to solidify your internal communication and provide all the information your employees need to do their work efficiently. Here are some of our favorite document management tools:

Bit is a new age, a cloud-based collaboration tool that helps teams create, manage and track documents.
Bit allows teams to create workplace documents like- project proposals, sales decks, training documents, how-to guides, company policies, process documentation, media kits, case studies, e-books, etc. and provides a safe and robust place to store these documents.
You can add all types of rich media into your documents like videos, files, visual bookmarks, code blocks, Google Spreadsheets and more. With over 80+ integrations your documents can tie together your information beautifully regardless of where it may live. If you want to send these documents to external partners, clients, customers or prospects, you can even track them to get intelligent engagement insights.
Bit also has a content library where you can save all your images, files and digital content you add to your documents so that you can access and reuse them easily, making your workflow smooth as ever!
Bit's real-time collaboration feature makes it easy for your team to get under one virtual roof, give their feedback and suggestions, add comments, and discuss work together like a cohesive group. It's one of our favorite internal communications tools out there as it does its all document management, collaboration, content management, and more.
Pricing:
Free plan with limited features
Pro plan starts at: Standard ($12/month), Plus ($20/month), Enterprise (contact sales)

If you have a small team and don't have a lot of content/documents to deal with, you can give Google Drive a try. It is a free collaboration suite by Google that offers all three office apps for document creation, spreadsheets, and presentations. The free plan offers 15GB of free storage to store all your spreadsheets, documents, and media files easily.
With smartphone apps available on both iOS and Android, Google Drive provides access to your documents and media files everywhere you go.
You can easily share files publicly with your team or privately with a particular team member, making communication a breeze.
If you are a heavy Google Hangouts user, it makes sense to join the Google ecosystem of apps and get your team on board for effective internal communication.
Pricing:
Free plan with limited features
Pro plan starts at: 100GB ($89/month), 1TB ($479/month), 10TB ($4799/month).

Another great document management tool for your team would be Dokmee. Since it's also cloud-based, there's no installation or setup required and you'll be up and running in minutes after signing up.
Users can upload their electronic files and documents to the Dokmee cloud and access it from anywhere and on any device with their mobile apps.
With collaboration features like multi-user access, version-control, auditing, track changes, check version history, and set document restrictions, teams can do a lot with their digital documents. Dokmee's scanning software allows the user to extract data from documents, including images, and organize them for easy and quick access.
You can also scan your documents in PDF, TIFF, or JPG formats and can get vital information like page count, page size, and compression type.
Dokmee provides enterprise-grade security – data centers with redundant storage, up-to-date backups, and 24×7 monitoring and power supply.
Pricing:
Pro plan starts at $29 per month or $313 per year for 10 gigabytes (GB), $99 per month, or $1,069 per year for 100 GB

If you are looking to replace the many apps you use to plan your projects, communicate with your teams and clients, share files and keep everything organized, then ProofHub is the perfect solution.
Loved by more than 85,000 teams from all over the world, ProofHub adds a flexible approach to project management with its multiple views — List view, Kanban board view, Gantt chart view (timeline view), and also Calendar view. You can assign tasks to your team members with deadlines.
It simplifies the review process with its powerful proofing tool that lets you share, review, proof, and approve files. The in-built chat app works like a breeze to streamline all your communications be its in-house teams, remote teams, or clients.
ProofHub app is available on App Store and Google Play Store. So, you can stay connected to your work on the go.
Pricing:
Free trial
Pro plans start at: $45/month
Communication through video conferencing tools
Video conferencing has revolutionized and sped up the way we communicate and interact with one another, especially in the office environment. As remote work rise, video conferencing tools are becoming the standard way of communicating, hiring, and having meetings over the internet. Here are some of our favorite video conferencing tools:

One of the most famous video conferencing tools out there is Microsoft-owned Skype. First released in August 2003, Skype has been in the video conferencing game for more than 15 years and is still one of the leading competitors in the category.
Skype is a great internal communication tool that has been the go-to communication app for millions of teams worldwide. Apart from video conferencing, Skype also offers various neat features for internal communication like screen sharing capabilities which allow users to share screens while they are on a call with one another, along with one-to-one and group messaging. Users can even share photos, videos, and files up to 300MB and quickly find shared content in the chat.
Other notable features include call recording, the ability to get a local phone number in another country or region and answer calls on Skype. An additional amazing feature is the ability to have live subtitles while talking!
If you have a large team, you can try out Skype for Business which brings features like unlimited meetings (up to 250 people), whiteboard capabilities, PowerPoint uploads and more.
Pricing:
Free plan with limited features
Pro plan starts at: Online Plan 2 ($5.50 user/month), Office 365 Business Essentials ($5.00 user/month), Office 365 Business Premium ($12.50 user/month)
Zoom was named 2018 Gartner Peer Insights Customers' choice for meeting solutions, making it one of the strongest competitors to Skype.
Zoom provides a ton of cool features to make your internal communications a breeze. Whether you want to conduct an online meeting, video webinar, conference rooms, or just need to share screens with your team, Zoom is the tool for you.
Zoom's free account lets you share screens with up to 25 participants and host an unlimited number of meetings. However, each meeting can be only 40 minutes long so that's something you have to keep in mind.
This internal communication tool also has cross-platform messaging and file sharing, which can be a welcome addition to simple screen sharing and video conferencing. With clients like Dropbox and Logitech, Zoom has proven it's worth as a worthy video conferencing software.
Pricing:
Free plan with limited features
Pro plan starts at: Pro ($14.99/month), Business ($19.99 /month), Enterprise ($19.99/month)

Collaborating on creative projects can be tough, especially if you are working remote. CloudApp is a visual communication tool that has everything from video walkthroughs and webcam recording to GIF creation and screen capture in an easy-to-use app.
A great internal communications tool, CloudApp allows you to quickly create video walkthroughs and send it over to your remote team for quick idea sharing or education.
Whether you want to explain a process or a product, annotate changes, or give visual feedback to your designer, CloudApp helps you do it all.
CloudApp has quickly surpassed 2 million users worldwide, thanks to its easy to use user-interface and great support.
‍Pricing:
Free plan with limited features
Pro plan starts at: Pro ($9/month), Team ($8/user /month), Enterprise (contact sales)
Communication through digital whiteboard tools
Whiteboard is the original team collaboration tool that has been used for decades to brainstorm ideas and think visually. However, if your team is not present in the same room, you often have to dive into back-and-forth emails to explain something to your peers. As you can imagine, this often turns out to be a huge mess!
To solve this crucial problem, we have some awesome digital whiteboard tools for you:
Not labeling itself as a simple whiteboard tool, Conceptboard is your visual workplace designed especially to get things done! From marketing and product development to strategy and project planning, Conceptboard gives you the much-needed virtual space to collaborate and bring ideas together with your team.
Conceptboard lets you speed up the review and approval process, saving you crucial time spent in the dreaded email chain. The ability to mark up files and add comments helps gather and compile everyone's feedback quickly and move forward.
Using the whiteboard, team members can images, documents, screenshots, files, sticky notes, etc and work together in real-time, making Conceptboard a powerful internal communications tool.
The whiteboard is ever-expanding, meaning that you can add as much content as you want without being cramped up for space. When you are done with your work, you can share the link to your whiteboard with people inside and outside of your organization anywhere, anytime, on any device.
‍Pricing:
Free plan with limited features
Pro plan starts at: Premium ($7/month), Business ($9.5/user /month), Enterprise (contact sales)

Microsoft Whiteboard is the result of Microsoft's acquisition of Intentional Software, a company by former chief software architect at Microsoft, Charles Simonyi. Microsoft Whiteboard is an awesome internal communication tool that allows teams to collaborate from any part of the world by simply logging into the Whiteboard app. The best part is that your whiteboards stay safe in the cloud and you can resume your work from your home device or mobile app.
If you own a Microsoft Surface stylus, you can use it for sketching or making diagrams, or doodle on the whiteboard app. Even if you don't have a stylus, the whiteboard interface designed for pen, touch, as well as keyboard.
‍Pricing:
The app is free to download. Microsoft Whiteboard is part of the office 365 suite starting at $6/month.

Google Jamboard, as the name suggests, is a whiteboard tool by Google. It is a 55-inch 4k display with a touchscreen. Built as a digital whiteboard for your office space, Jamboard allows teams to collaborate while benefiting from the access and connectivity of an interactive canvas. Team members can easily add notes, images, and pull assets from the web while collaborating with team members from anywhere.
This internal communication tool allows real-time collaboration- whether your team is in the same room using multiple Jamboards, or across the world. As Jamboard is a part of the GSuite, you can add work from Docs, Sheets, and Slides and even add photos stored in Drive to your Jamboard!
It can also double as a digital signage system in your office, used to display important company-wide messages, meeting schedules or performance dashboards to keep the team informed and motivated.
Pricing:
Jamboard starts at $4,999 (includes 1 Jamboard display, 2 styluses, 1 eraser, and 1 wall mount) + $600 annual management and support fee.
Communication through project management tools
Project management software is crucial to managing deadlines, keep tabs on the progress, and making sure that the company resources are being optimally utilized. These 3 project management tools are our top picks:

Used by over 80,000 companies including Uber, WeWork, and Buzzfeed. Airtable is an all-in-one project management software. Teams can organize work in different views like grids, galleries, kanban boards, and calendars to get an overview of their tasks at hand. Part spreadsheet, part database, Airtable give your spreadsheets superpowers by allowing you to do a lot more than a simple spreadsheet
The process of adding, managing, and collaborating data is a lot more intuitive with its colorful interfaces and easy-to-use mobile apps.
Though it has a steep learning curve, Airtable is an extremely powerful project management software if used correctly.
‍Pricing:
Free plan with limited features
Pro plan starts at: Plus ($10/month), Pro ($20/month), Enterprise (contact sales)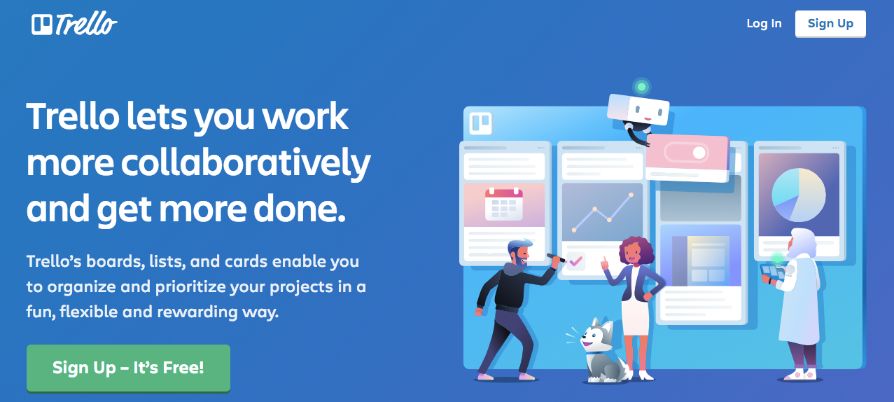 If you are looking for something simpler than Airtable that gets the job done, Trello might be the tool for you. This project management tool can improve your internal communication by making the process of adding and assigning tasks fun and interactive.
Trello lets you organize your work and tasks into visual boards. You can then add tasks (or cards) to these projects, make checklists, add labels., assign a due date, add descriptions, attach media assets, and assign tasks to fellow team members.
It is the internal communication tool that made Kanban-style boards famous by giving you a visual overview of all your tasks at hand. You can drag and drop your task cards around as you organize your workflow as per your requirement.
Trello also has native iOS and Android apps to take your work wherever you go.
‍Pricing:
Free plan with limited features
Pro plan starts at Business ($10/month), Enterprise ($20/month).
Read more: 13 Best Free Trello Alternatives In 2021

For software development teams, Jira by Atlassian is a great project management tool. Used by over 50,000 customers, boasting clients like Spotify and Airbnb, JIRA is one of the most popular project management tools for software development teams out there.
JIRA helps software teams plan, track and release software quickly. It makes internal communication a breeze as you can quickly evaluate your project timelines and progress by generating automatic reports.
JIRA users can assign tasks, track each project with complete visibility, and get real-time reports to make sure everything is on par with the software requirements. This internal communication tool integrates with thousands of add-ons including Confluence, Hipchat, Zephyr, Bitbucket, and many others. It also has mobile apps so that your software developers can stay connected.
‍Pricing:
Free plan with limited features
Pro plan starts at: Standard ($7/user/month), Premium ($14/user/month).
Read more: 7 Best JIRA Alternatives For Project Management In 2021
Did you find your favorite tool for internal communication?
Having a clear line of communication is essential to your business growth. How well a message is communicated is equally important as to the message itself.
Internal communications tools help your organization in streamlining company-wide communication so that everyone's on the same page and work is done without any confusion.
Which internal communication tools are you using currently? Did we miss out on your favorite tool? Let us know by tweeting at us @bit_docs
Further reads: 

Don't want to forget this information?
Pin it for future reference!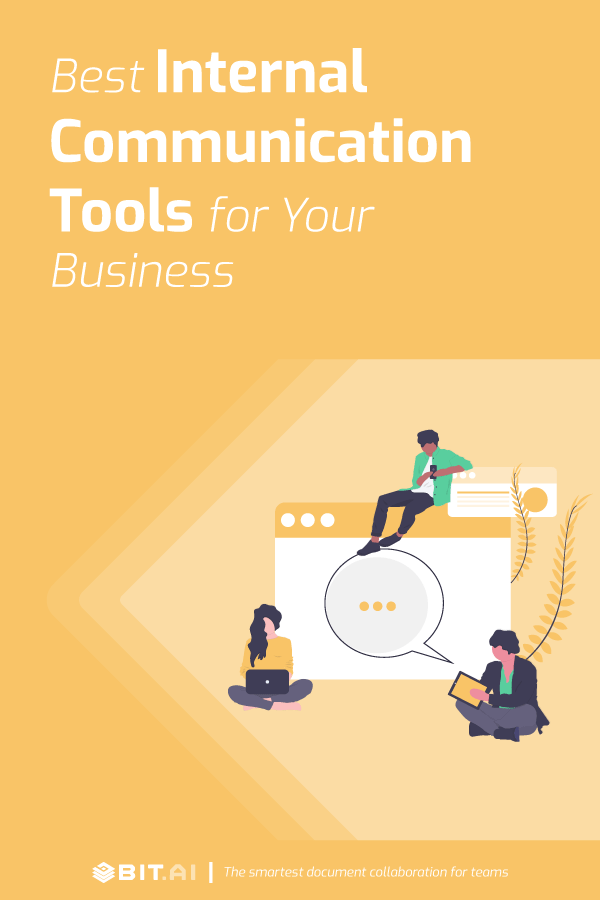 Related posts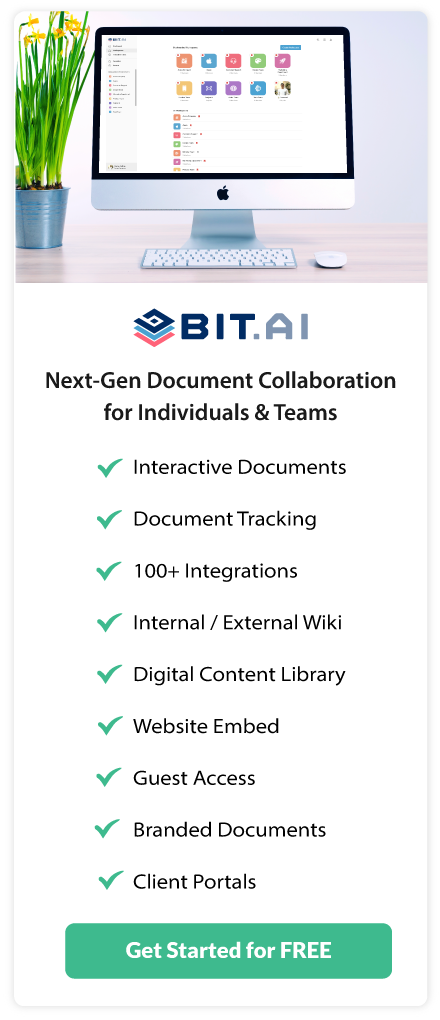 About Bit.ai
Bit.ai is the essential next-gen workplace and document collaboration platform. that helps teams share knowledge by connecting any type of digital content. With this intuitive, cloud-based solution, anyone can work visually and collaborate in real-time while creating internal notes, team projects, knowledge bases, client-facing content, and more.
The smartest online Google Docs and Word alternative, Bit.ai is used in over 100 countries by professionals everywhere, from IT teams creating internal documentation and knowledge bases, to sales and marketing teams sharing client materials and client portals.
👉👉Click Here to Check out Bit.ai.