Being in business and dealing with multiple projects can make you feel like you're lost in a crowded market with no way out. It's just chaos all around.
The good news is that, unlike in a crowded market, in business, you can keep track of your projects using a project calendar.
Yes, a calendar is all you need to streamline and organize your schedule so that you don't feel lost and confused. It's simply the best way to visualize the passage of time in an easy-to-understand style.
With project calendars, you can map out your timeline, keep up with progress, and ensure that there is no overlapping or duplication of your tasks.
If this is the first time you are coming across the term project calendar, then this blog might be useful for you! Here, we will discuss what project calendars are, why they are important, and how to create them!
Ready to know more about project calendars? Then dive right in!
What is a Project Calendar?
A project calendar is a calendar specifically dedicated to projects.
It gives a bird's-eye view of the overall project timeline and schedule so that you can keep track of when each project is due. It also details the working and non-working days and times for different tasks and activities as well.
Basically, it tells you exactly what you are doing today, tomorrow, next week, and beyond! This will help you make plans ahead and organize your work around the most important projects.
With all your project deadlines put together in a central location, it allows your entire team to view and access them whenever they want.
It's a great way to see what projects need to be completed immediately and keeps you updated about what's around the corner.
Now that you know what a project calendar is, let's check out a few reasons why you should create one!

Why is a Project Calendar Important?
1. Lays Out a Clear Path
A project calendar helps visualize all your project deadlines in a single view so that have an idea of your schedule. This lays down a clear path for you to follow so that you can manage your projects efficiently and keep up with your due dates.
2. Helps Organize Better
With a project calendar, you can illustrate schedules and display information in a consumable style and format. This will show you which projects are due when, how much time you have, and what the upcoming projects are in a single glance, and thus help you organize your tasks and activities in a better and more efficient manner.
3. Ensures Timely Completion
Through a project calendar, you and your team can easily keep track of all the project due dates and upcoming projects. You will be able to efficiently plan and manage your projects around your due dates, stay on track, and ensure the timely completion of your projects by hitting all your deadlines.
All-in-all project calendars are extremely useful and an excellent way to map out your project timelines. So let's take a look at how to create a project calendar!
Read more: 9 Project Documents You Must Create For Your Project!
How to Create a Project Calendar? Follow these steps: 
Step 1. Create Tasks and Set Deadlines
Needless to say, the first step is to create tasks and projects. Make a list of all the projects and tasks you have to do and then set due dates and deadlines for each of them.
Make sure that you are flexible in setting due dates so that you leave yourself with some breathing space to shift around your project workload in case it doesn't fit your initial deadline.
Step 2. Set Priorities
Once you have created your tasks and set deadlines for them, the next important element in creating a project calendar is setting priorities for each task.
Separate them into high, medium, or low priority. This will help you focus on the most important tasks and gradually help you build momentum in completing projects.
Step 3. Color-Code Your Projects
Color-coding your project calendar is not just about making it aesthetic or visually appealing, it's about making them easy to understand at one quick glance.
So while creating project calendars, you can color-code them according to your preferences and appoint each color you use to represent urgency, length, priority, milestone status, clients, and more. This is great for visual learning, makes work easier to grasp, and will also help improve your efficiency.
Step 4. Review Your Timeline
Before you lock in your project calendar, review your timeline from different angles. You can do this by using filters to view certain aspects of the calendar, such as filtering tasks based on your team member workload or task priority, to review the overall workload of each project.
This will allow you to create an equal balance of work whenever it is possible and will help with better results.
Step 5. Keep Optimizing The Calendar
Yes, the steps mentioned above are probably all you need to create a project calendar, but that doesn't mean that you leave it unattended after you are done creating it.
You need to make sure that you keep checking on your projects and its progress, and optimize your project calendar accordingly. This means that you make changes to your timeline or schedule as per the progress and requirements and update it on the calendar as well.
Step 6. Choose a Software or Tool
The thing about being in a technology-driven world is that you now have the luxury to create project calendars using tools and software. Software such as Google Docs, Excel, Trello, and many more are some of the amazing software you can use to easily create project calendars.
In fact, using tools and software is the best way to do it, so choose one that fits your needs in creating project calendars.
Speaking of tools and software for creating calendars, have you heard about Bit.ai, the smartest document collaboration tool to help you create the perfect project calendar?!
If you haven't, then now is the perfect time for it! Scroll down to find out more about Bit!
Read more: Project Outline: What is it & How to Create it for Your Business?
Bit.ai: A Tool for Creating Project Calendars

Bit.ai is a new-age document management and collaboration platform that helps teams collaborate, share, track and manage all information in one place. It offers an amazing user interface and an excellent user experience as things flow from documents to workspaces smoothly.
With Bit, you can easily create, manage and share your project calendar. Apart from calendars, you can also create everyday documents like meeting minutes, to-do's, ebooks, case studies, onboarding docs, fact sheets, sales decks, project proposals, media kits, and much more.
Let's check out some of Bit's cool features to understand how amazing it is!
1. Pre-Built, Fully Responsive Templates – Bit.ai has over 90 fully responsive and gorgeous templates. All you have to do is just pick one, add your content and let Bit handle the rest. It will help format and design your project calendar so that you don't have to!
2. Real-Time Collaboration – Bit allows multiple people to simultaneously collaborate on its smart document in real-time. You can suggest edits, work collectively and ask questions with real-time mentions, and comments.
3. Interlink Calendar Documents and Other Documents – With Bit, you can interlink your calendar with other important assets that are supposed to be posted like newsletters, blog posts, videos, and more on the web or inside the platform.
4. Minimalistic Design – Bit's has a minimalistic editor that allows you to focus on writing and the work you're implementing, without any distractions. The platform interface is easy to understand, making it easy for new visitors to get onboard quickly.
5. Fully Interactive Project Calendar – Bit allows you to embed over 100 rich media integrations, including Excel Sheets, Google Drive files, and more. Basically, on Bit, you can create media-rich and interactive, modern workplace documents.
6. Track Engagement and Get Insights – With Bit, you can track your documents and gain amazing insights, such as how frequently your calendars were viewed and how much time was spent on it.
… and more! In conclusion, there's nothing like Bit.ai out there when it comes to creating documents like project calendars!
Conclusion
A project calendar is one of the more important documents for managing a project efficiently. Without it, you will find yourself struggling to track all your projects and meet deadlines. In short, it can be chaotic.
That's why, in this blog, we have provided you with the steps involved in creating a simple and amazing project calendar for you and your team. Not to mention, with Bit by your side, things are only going to get a lot easier for you!
So what are you waiting for? Get Bit and create your project calendar right away! Ciao!
Further reads: 
Project Documentation: What is it & How to Manage it?
Project Summary: What is it & How to Write it!
Project Report: What is it & How to Write it?
Project Timeline: What is it & How to Create it? (Step By Step)
Project Budget Plan: What is it & How to Create it?
Editorial Calendar: What is it & How to Create a Solid One?
How to Create a Content Calendar?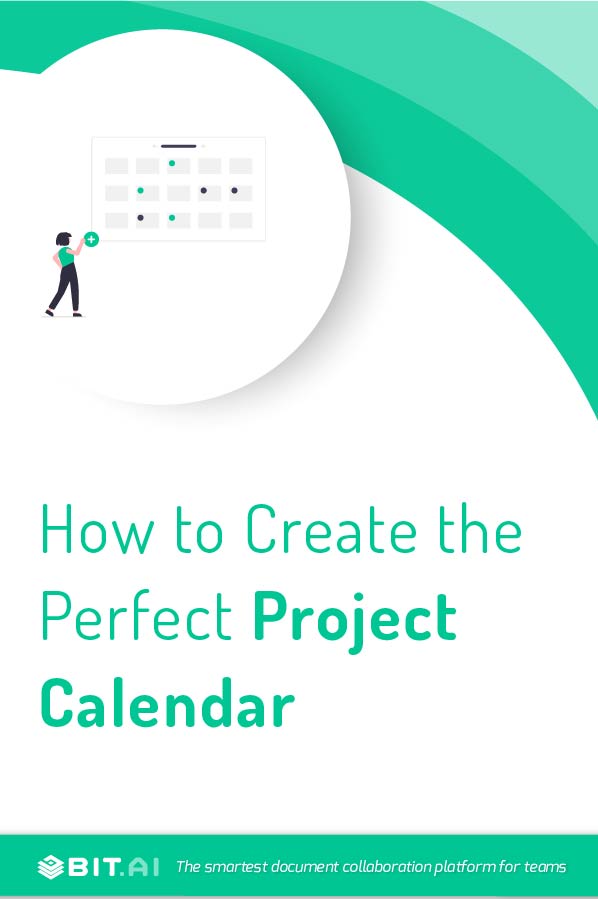 Related posts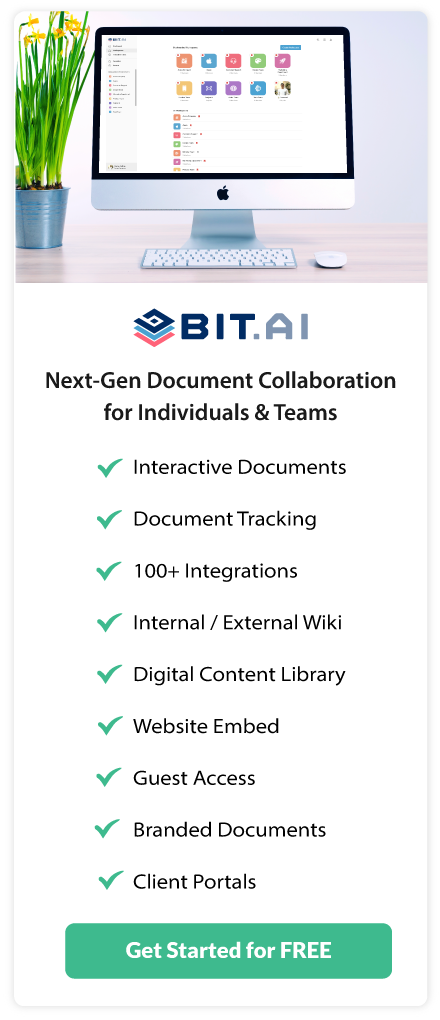 About Bit.ai
Bit.ai is the essential next-gen workplace and document collaboration platform. that helps teams share knowledge by connecting any type of digital content. With this intuitive, cloud-based solution, anyone can work visually and collaborate in real-time while creating internal notes, team projects, knowledge bases, client-facing content, and more.
The smartest online Google Docs and Word alternative, Bit.ai is used in over 100 countries by professionals everywhere, from IT teams creating internal documentation and knowledge bases, to sales and marketing teams sharing client materials and client portals.
👉👉Click Here to Check out Bit.ai.