Behind every incredible project, there's a ton of paperwork. Be it planning, execution, or closure – project documents are created in almost every phase of a successful project.
Even if it isn't a hotshot project, there are too many details that a human brain can't capture or remember accurately. That's why it is imperative to support your project with documents.
In a nutshell, proper documentation is the foundation of your project. In case you're still not convinced, here are some more reasons why you should not work on a project without creating documents:
They enable stakeholders and team members to get the required information quickly.
They can serve as a roadmap in the future.
They enhance the level of concentration, and therefore, they help in completing all the tasks on time.
They provide an understanding of all the deliverables of the project.
In this blog, we'll tell you about nine essential project documents that you should create. Select the documents that your project needs, and start working on them.
List of 9 Project Documents You Must Create:
1. Project Business Case
See, every project requires an investment in the form of time, money, or effort.
A project business case is mainly written to answer if the project is worth being carried out.
This project document is, undoubtedly, at the core of any project.
It explains why a project is taking place, its goals, and objectives. It identifies and weights the cost of undertaking the project, against the outcomes.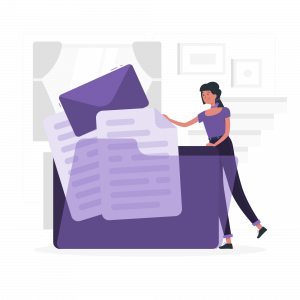 Simply put, a project business case highlights the reasons why someone should invest in the project. It can be a simple email or a 50-page document – entirely depending on the scope of your project.
2. Project Charter
A project charter is very much like a contract between you and the client. This document authorizes the project and formally gives the project manager the power to plan and execute the project.
This project document explicitly specifies the project objectives, internal and external stakeholders, budget, resources, proposed timeline, constraints, and success factors.

If your project is large and multi-phased, it's better to create a separate project charter for each phase. With a project charter document in hand, communication becomes much easier.
Read more: Feasibility Study: Definition, Types, Importance & Steps to Write!
3. RACI Matrix
Irrespective of the size of your project, you need to define the roles and responsibilities clearly. You need to make sure that every team member knows what they need to do.
The RACI matrix is the best way to ensure that. RACI is pronounced as 'Racey', and it outlines who is Responsible, Accountable, Consulted, and who should be Informed for each task.
Let's take a deeper look into each component of the RACI Matrix:
Responsible: This is the person who will be responsible for getting the work done. For each task, there needs to be at least one responsible person.
Accountable: This is the person who'd be accountable and answerable for every activity or decision that is made. This person delegates the work between the team members and reviews it once it's completed.
Consult: The person who is assigned to consult is generally someone who has experience in the subject. You can seek the opinion of this expert before making the final decision.
Informed: You need to keep them updated on your project's progress because these people might be affected by the outcome of the tasks. They are usually the stakeholders.
Mapping the roles and responsibilities using the RACI matrix can reduce confusion, ease the workload, and increase efficiency. This project document is really helpful when your tasks need multiple resources.
4. Work Breakdown Structure (WBS)
There is no project without a work breakdown structure. It is at the core of project planning and resource management. It ensures that no element of your project gets overlooked.
The WBS starts with listing down the required deliverables. Once that's done, you can break down all your work into manageable sections and set a deadline for all your tasks.
Creating this project document leads to better team productivity and easier management. Don't forget to involve your team while creating WBS so that you can get their buy-ins.
5. Risks and Issues Log
Once your project plan is in place, you need to mention all the risks likely to occur over the life cycle of your project.
Then, you need to put a system in place to monitor and track these risks.
In short, you need to create a risk and issues log. This project document is exactly what it sounds like – a log/record of all the risks and issues a project might face.
To create the perfect risks and issues log, mention the issue name or ID, description, impact, probability, proposed solution, and the person accountable.
Having a risk and issues log can help you and your team prepare for future uncertainties and have a solution in place – in case something unfortunate happens.
6. Project Communications Plan
We all know that good communication is critical for the success of any project. With a project communications plan, you can ensure that there's effective communication between the project team and all other stakeholders.
How often would the project team meet? When do you need to send out updates to the top-level management? These are just a few of the questions that are answered in the Project Communications Plan.
The major benefit of having a project communication plan is that it keeps everyone in the loop. Everyone who is associated with the project knows the status and what requires their attention.
7. Change Request Management
A change request is inevitable – whether it's made by your client or your manager. You might need to make a change at some point in the process of project execution.
Changes could be anything from scope and time to cost and deliverables. Yes, these changes can be troubling, but the best way to handle them is by managing them and dealing with them in a timely manner.
A Change Request document is used to track and manage all the alternations and additions to the agreed-upon deliverables. This document makes sure that the changes are sufficiently detailed and understood by all parties.
Once a formal change is authorized by the stakeholders, remember to check and update all the other project documents we've listed in this blog.
Read more: Types of Documents Every Business Should Create!
8. Project Schedule
A project encapsulates several different tasks, right? Each of these tasks has a start and due date so that it can be completed on time. That's why all the work associated with the project needs to be scheduled perfectly.
That's where a Project Schedule comes into the picture. As the name clearly suggests, the project schedule specifies what needs to be done and when. Simply put, it specifies the entire timeframe for the project.
It becomes easier to track late tasks and missed milestones when you have a solid project schedule with you. It ensures that all your tasks are right on track.
9. Lessons Learned Register
The format of the lessons learned register' varies from organization to organization, but one thing in common: it defines the learnings and insights you have gained from the project.
Using this project document, the senior management and all other project stakeholders can evaluate the level of project success. The report even tells you what practices you should implement in the future and vice versa!
Yes, even though you need to create the lessons learned register once your project is complete, you need to work on it throughout the project lifecycle. This will help you get better information and insights.
We've discussed all the important project documents that you should create. But what about actually creating these documents and tracking/reporting the results?
We know that creating project documents can be a complicated and cumbersome process. However, if you want to thrive in today's fast-changing world, you need to automate your processes and increase your productivity.
Fortunately, we have something to make your life easy. Whether you need to create basic project documents like a business case or super complicated ones, Bit.ai is just what you need.
Bit.ai – The Perfect Platform For Creating Project Documents
Bit.ai is designed to help you with your project documents so that your team has more room to focus on the project. This nifty platform has over 70+ stunning and fully responsive document templates. So pick a template that is closest to your needs, put your data in it, and leave the formatting and designing to Bit.

The best part? Bit lets you collaborate with your team members in real-time. That means, while creating your project documents, you can invite your team members to share their input. They can highlight changes, add comments, and even chat with you – without leaving the document!
What's more? Bit's workspaces are a smart way to keep all company knowledge in one place for your team to access. Oh, and you can create as many workspaces as you want. With a platform like Bit.ai, you don't have to spend hours jumping from one platform to another to find the right document.
Bit's superpower is that it can handle all the rich media content you throw at it. There are over 100+ rich media embed integrations on Bit right now. So you can untangle all the complex information in your project documents using rich media like videos, charts, graphs, spreadsheets, cloud files, and more.
That's not it! Bit even gives you real-time insights on your shared docs with its 'document tracking' feature. You can see how much time someone has spent reading your project documents, how often they come back to read the document, how far they've scrolled, and more.
All in all, using Bit.ai, you can quickly turn your dull and boring project documents into something awesome. By creating your project documents on Bit, you'll be able to garner attention more quickly, enhance the reader's experience with your documents, and add an extra dimension of helpfulness.
Read More: 24 Bit.ai Integrations to Make your Documents Powerful!
Wrapping Up
When it comes to project documents, there's no "one size fits all". You might need to create just one of these documents or all of them – it entirely depends on your expectations, requirements, goals, and resources.
However, no matter which project document you create, it needs to be clear, relevant, and up to date. This would ensure that all the project stakeholders are on the same page.
We hope that everything you've learned today will help you as you head out to work on your project. Now take a breath of relief, sip a cup of coffee, and start working on your project documents using Bit.ai.
Got a question for us? Any tips for writing excellent project documents? Let us know by tweeting us @bit_docs!
Further reads: 
Project Timeline: What is it & How to Create it? (Step By Step)
Project Calendar: What is it & How to Create it?
Project Kickoff: What is it & How to Create it?
Project Summary: What is it & How to Write it!
Project Outline: What is it & How to Create it for Your Business?
Project Report: What is it & How to Write it?
Project Budget Plan: What is it & How to Create it?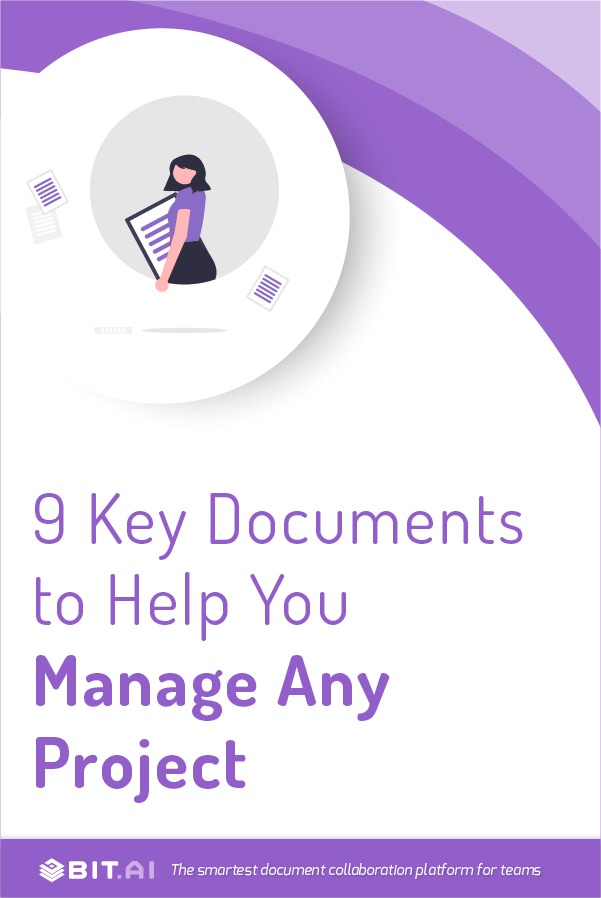 Related posts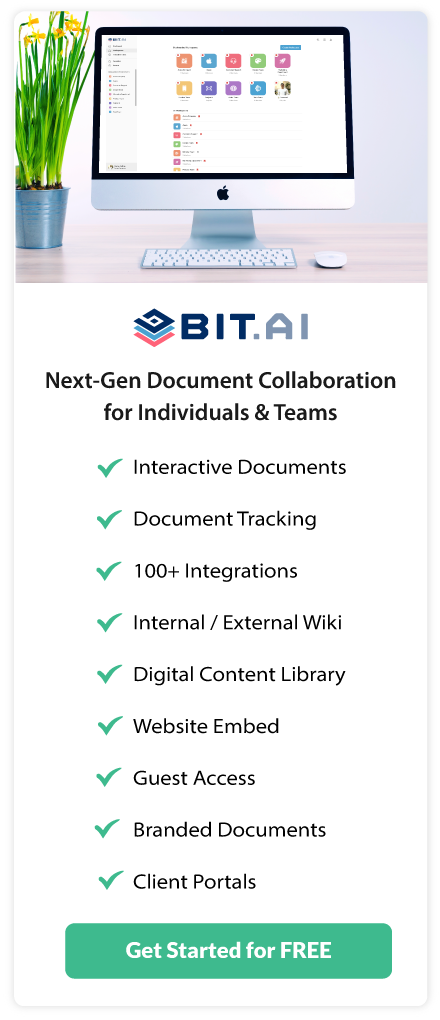 About Bit.ai
Bit.ai is the essential next-gen workplace and document collaboration platform. that helps teams share knowledge by connecting any type of digital content. With this intuitive, cloud-based solution, anyone can work visually and collaborate in real-time while creating internal notes, team projects, knowledge bases, client-facing content, and more.
The smartest online Google Docs and Word alternative, Bit.ai is used in over 100 countries by professionals everywhere, from IT teams creating internal documentation and knowledge bases, to sales and marketing teams sharing client materials and client portals.
👉👉Click Here to Check out Bit.ai.