Looking to create an awesome instruction manual? You've come to the right place! This blog post will make you a pro on how to create a stellar instruction manual. A free template is also there to make things easier for you!
One of the first things customers of your business do before reaching out to you with questions about your product review your instruction manual!
In order to make a customer journey as smooth as possible, the user manual should be an integral part of any product experience.
Companies often postpone the creation of these manuals until after the product is ready, which usually doesn't turn out so well.
Businesses should start planning these documents as early as possible in order to note down each and every step and minor problem that can cause a problem in the future.
So what exactly are instruction manuals and how can you create them? Let's find out!
What is Instruction Manual? (Definition)
An instruction manual, also known as a "user manual" is an important document that helps your customers get on board with your product or service quickly, or helps them solve an issue when they get stuck.
Almost all products, whether physical, hardware, or software, are aided with an instruction manual to help users get up to speed with their product quickly.
But the problem is not the value of the user manual, we all know it's extremely crucial to create one. The problem arises when you actually sit down to write an instruction manual for the first time.
That's why we're going to talk about the things you need to include in your instruction manual.
What to Include in Your Instruction Manual?
Instruction manuals are not novels. Customers don't read them for pleasure or to pass time.
They read them to get actionable advice on how to navigate your product or to overcome an issue when they encounter one.

Customers typically look at the table of content, find the topic or page they are looking for, and then quickly read the part in which they want to know more.
Nobody is reading manuals from start to finish, but everyone is reading parts of them.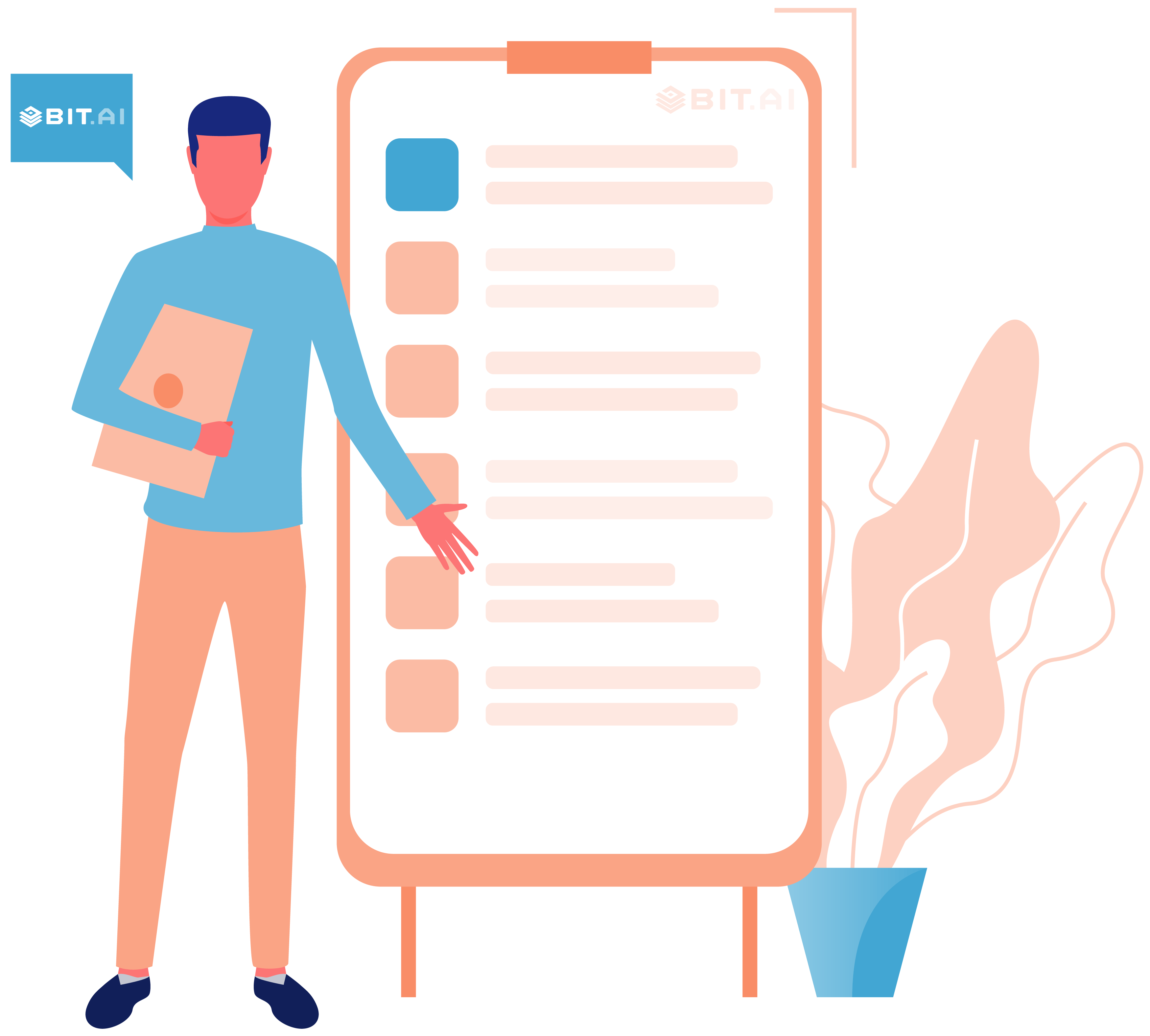 This is why you need to be extremely detailed while writing this technical document.
A successful user manual provides users with quick and detailed answers to the questions that they might have about your product.
Below are some tips on writing user manuals that will help you write an awesome instruction manual that your customers are bound to find useful!
1. Objective Of Your Instruction Manual
The first step in creating an effective manual is to have a clear objective in mind.
Answers to questions like "What's is the purpose of creating the instruction manual?" and "What activities should be included in the instruction manual?" should be thought of well before you begin writing.
Make sure you know exactly what your instruction manual needs to cover in order to avoid information overload or confusion.
2. Think About What You Want to Include
In order to create an effective user manual, you need to have a good idea of what type of content you want to include in it.
Compile all the information, knowledge, process, checklists, etc. that need to be included.
Make sure you are thorough with every point and have everything you need to write the instructions. Never, ever, rely on your memory!
Even skipping a small step may lead to confusion amongst the readers.
For example, forgetting to tell the reader about an important switch in a new piece of equipment can not only be misleading but can also be dangerous.
3. Keep Your Readers in Mind
When writing a manual, you need to think like a user. We know that you know everything about your product, but guess what, your customers don't.
When you begin to prepare instructions, you need to get out of your own head and start thinking from your customer's point of view who are engaging with your product for the first time in their lives.
Assume that your readers have absolutely zero knowledge of the subject matter and write away!
You are more likely to write an effective manual if you have a good understanding of who your customers are and what their major use cases are.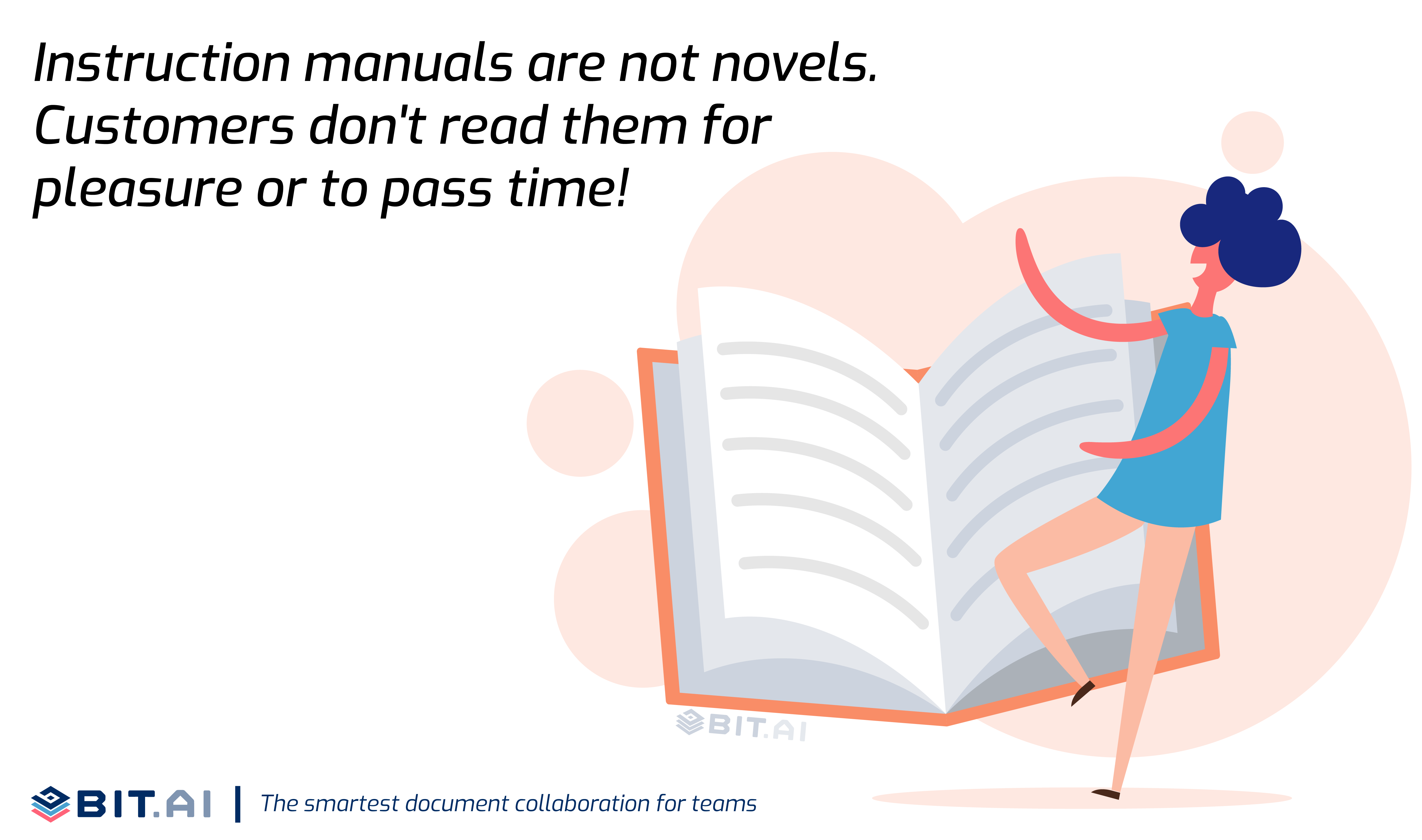 If you have the opportunity to watch a user test your product, it can help you in determining how customers are interacting with the product and where they get stuck and have problems.
4. Collaboration is Key
Writing these documents is not an easy task. You can't be casual about it.
Your customers are counting on you for help as they rely on the information present in the instruction manual.
A good way of making sure you don't miss out or miswrite some critical information is to get some help. Gather your peers around and start working on the document collaboratively.
One person could be in charge of writing it while others review it, help organize the information, and create visual assets for the user manual.
5. Get Organized
Once you have an idea of all the information you want to include in the instruction manual, it's time to organize that information. Outline the flow of the manual into different sections, or parts.
Think about breaking it up into categories based on what users may search for.
Make sure that the instruction manual is in a smooth flow and covers all in-depth processes from start to finish.
Organizing the information is important to avoid confusion amongst the readers and make it an easy read for them.
6. Write Clear Instructions
Now that you have everything outlined and organized with a clear structure in mind, the next step would be to start writing!
Always keep in mind that the primary purpose of user manuals is to help users complete tasks and solve problems.
Thus, giving clear, to-the-point instructions help your customers get up to speed with your product or solve their issues with it quickly.
Always using numbered lists for instructions and keeping the content concise are some great practices for writing a good manual.
7. Add Structure with Table of Contents
Adding a table of contents to your instruction manual is a must. If your instruction manual is heavy on pages, the importance of having a table of contents increases exponentially.
The table of content provides navigation to the reader and helps them go to a particular topic quickly.
Since customers are not looking to read your manual from start to finish and are just looking to solve a particular problem or learn about a topic, adding a table of contents helps them save time and effort.
Using a document editor that automatically creates a table of contents around headings and subheadings is a great way to go about it.
8. Add Visual Aid to Your Instruction Manual
Let's face it. Instruction manuals are well, boring. They are filled with text and are not very engaging.
Studies have shown that we can get the sense of a visual scene in less than 1/10 of a second! On top of that, visuals are processed 60,000 times faster in the brain than text.
It's clear, that images and videos convey a richer communication experience than text-heavy content alone.
Making your online manual interactive with how-to videos and audio instructions can be a great way to enhance engagement and help customers or clients effectively.
However, most document editors don't allow you to add a video or audio to your documents. Don't worry, we got you covered with a neat trick to add audio/video content to your instruction manuals at the end of this blog. Keep on reading!
9. Time for a test drive!
Since an instruction manual will play a crucial role in helping your users understand your product, it's important to always keep on improving the user manual and try to make it even more perfect.
Therefore, always ask employees, especially those who are unfamiliar with the product or have not worked with you in creating the instruction manual, to give their honest feedback and suggestions on how to make it more effective.
Read more: Technical Manual: What, Types & How to Create One? (Steps Included)
Create Instruction Manuals the Right Way with Bit.ai

After learning about all the key points to include in your instruction manuals, we know you are itching to get on with the work of creating one.
However, what good is knowledge if you don't have the means to deploy it? This is why we would like to introduce you to Bit, the smartest document collaboration tool to create instruction manuals and other digital workplace documents for free!
Bit is a new age cloud-based document collaboration tool that helps teams create, manage and track workplace documents including-

Bit helps you make sure your instruction manuals are more than just plain boring text and images.
Apart from allowing multiple users to collaborate on a manual, Bit also allows users to embed any sort of rich media like YouTube videos, Google Docs, One Drive Excel Spreadsheets, GIFs, Tweets, interactive charts, etc. by adding any web link in Bit's editor.
Bit will automatically turn it into a live visual web link or embed content that lives on your workplace documents!
Just copy-paste the URL of your content on a blank line of the document editor and hit enter. Bit then generates a live preview of your digital content within your document. Imagine how rich and interactive your instruction manuals can become!

Few Awesome Features Of Bit.ai
Not sure how Bit can help you write the perfect instruction manual? Let's see some of Bit's awesome capabilities!
1. A minimal yet powerful editor
Bit has a minimal document editor which allows you to write your instruction manual without the distraction of unnecessary buttons and tabs.
At the same time, it's powerful enough to format your document in any way you like.
2. Bring your staff under one roof!
Creating an instruction manual from scratch takes a lot of time and effort.
You have to research content, come up with an outline, add awesome visuals, and create an overall interactive experience for your readers. Doing this amount of work alone can be pretty daunting and time-consuming.
Thus, Bit allows you to work with your peers to get the instruction manual ready as quickly as you can.
Working in teams also allows you to brainstorm ideas together and get your content and design people together in a single workplace.
Bit allows teams to collaborate together, give real-time feedback, suggest changes and get work done quicker. Most importantly, say goodbye to back and forth emails.
3. Create an interactive and never-seen-before instruction manual!
In this digital age, you need more than just text to engage your readers.
All the other document editors limit your creativity by only allowing you to incorporate text and static images in your document.
Since instruction manuals are long-form professional documents, having to read so much text can be dull and ineffective.
This is why we empower you to add any type of rich media content, like YouTube videos, Google Docs Spreadsheets, PDFs, presentations, Spotify playlists, SlideShares, GIFs, Polls, Quizzes, etc.
With Bit, you can create smart instruction manuals by incorporating hundreds of file types and making them dynamic and interactive.
4. Save time with an automated table of contents
Bit also has an automated table of contents based on the headers you add to your instruction manual.
It's a fast way to scroll to different sections of your document as a creator, collaborator, and for your audience viewing the final published user manual!
5. Track those instruction manuals
Imagine if you were able to track the time spent by readers on these instruction manuals, how frequently they were viewed, and if they were viewed at all.
That way you know whether users have actually read the instruction material given to them.
Bit allows you to track your documents and gain amazing insights, helping you create an even better version of your documents.
Our team at bit.ai has created a few more templates to make your business processes more efficient. Make sure to check them out before you go, your team might need them!
🎥Watch this video to learn more👇
Conclusion
Bit allows various types of teams in marketing, sales, HR, technology, customer service, designers, etc. to work together, collaborate, brainstorm ideas, and create the best looking internal as well as external documents quickly and easily.
Since creating an instruction manual is no easy task- you have to research, write, and design it effectively to get the most out of it- we empower teams to get the work done in half the time and with more conviction. Have a great time crafting that instruction manual with Bit!
Further reads: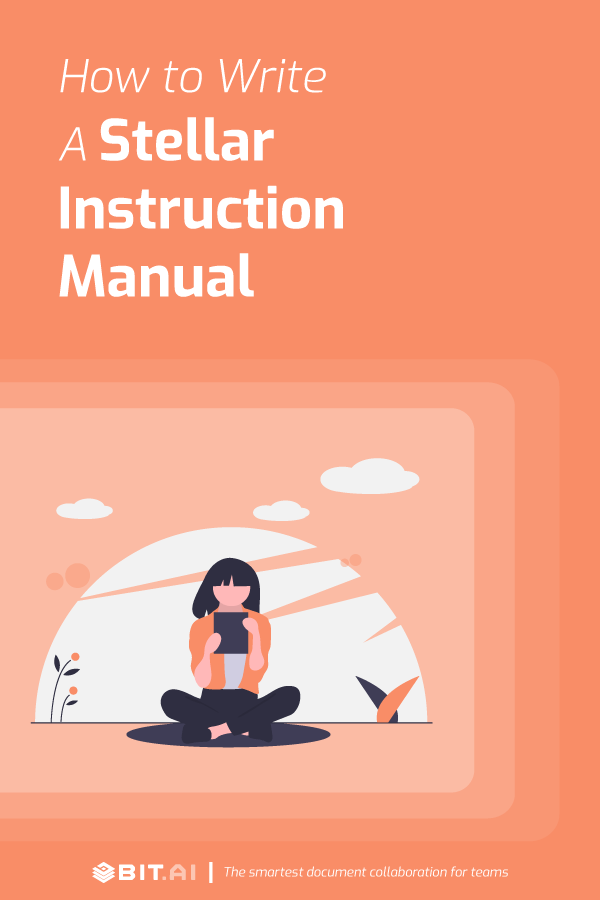 Related posts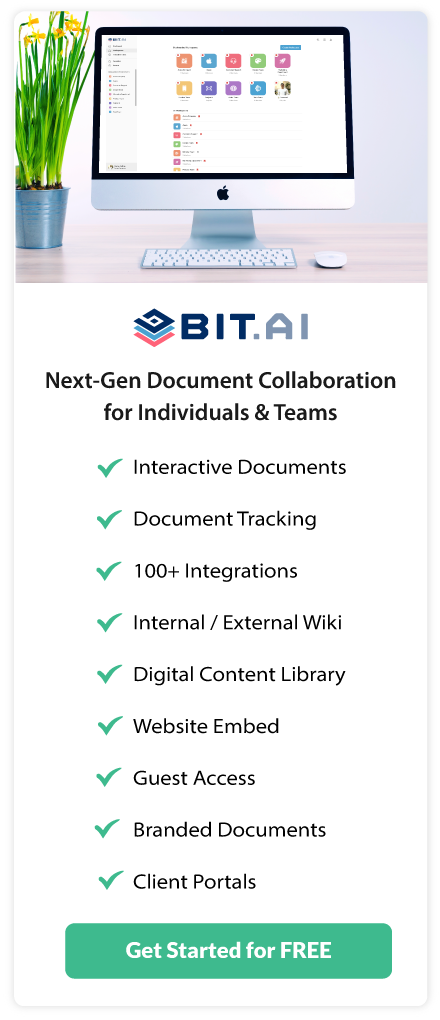 About Bit.ai
Bit.ai is the essential next-gen workplace and document collaboration platform. that helps teams share knowledge by connecting any type of digital content. With this intuitive, cloud-based solution, anyone can work visually and collaborate in real-time while creating internal notes, team projects, knowledge bases, client-facing content, and more.
The smartest online Google Docs and Word alternative, Bit.ai is used in over 100 countries by professionals everywhere, from IT teams creating internal documentation and knowledge bases, to sales and marketing teams sharing client materials and client portals.
👉👉Click Here to Check out Bit.ai.