Data is all around you, given the fact that over 2.5 quintillion bytes of data is created every day, and this number is increasing every day.
Interestingly, it is said that over 90% of this data has been collected within just the past 5 years.
If you are someone who is into any sort of business, this information is something that would definitely interest you.
Capturing, organizing, analyzing, and interpreting data, enables organizations to excel in their fields.
Only if the organizations are successful at all these levels, they would be able to improve their processes and execute their marketing strategies.
However, locating data is only one page of the book that you have read. There are several pages left out!
The most important step is presenting the data in an efficient manner. If this is not done properly, the time you spent on collecting and organizing data will be nullified.
But, how to present data effectively?
It's simple – using reporting tools and software.
These are the tools that an organization depends upon for its reporting needs. They help you present your data in an impressive way.
Want to learn more about reporting tools and software? Read on…
What is a Reporting Tool or Software? (Definition)
Reporting tools and software are used to present your data in a way, that makes it easy for the users to understand and interpret.
Rather than wasting a lot of time on reporting, reporting tools and software allow you to present the data in visualized forms easily.

While choosing a reporting tool, it is normal that you may come across the term 'BI Reporting tool'. A BI or Business Intelligence reporting tool is nothing but an application that comes within a business intelligence software suite.
Before choosing a reporting tool, is important to decide the level of interaction you need with the report. Some reports are very interactive in nature and allow you to deeply explore the data just by clicking a button. These are called Interactive Reports.
They also let you view the data for your specific needs, by navigating, filtering, or sorting out.
Then there are Static Reports, which do not allow much interaction by the users. Unlike interactive reports, they cannot be navigated or altered by the end-users.
You should be wise enough to choose a reporting tool that fits within the arena of your reporting needs. The business goals of your firm must go hand in hand with the reporting in order to be beneficial for your organization.
Benefits of using Reporting Tools and Software
Reporting tools allow companies to score new opportunities; build customer satisfaction based on data-driven reports. They help you in increasing productivity by optimizing client services and monitoring data in real-time. The benefits are plentiful, and goes on to include the following:
Reduces time-consuming manual tasks
Improves accuracy
Gives valuable business insights
Provides quality and accurate data
Provides holistic insight and analysis
Assists in managing workload
Increases productivity and cut costs
…and more!
Want to know what are the best reporting tools and software out there in the market? Read on…
List Of Best Reporting Tools & Software
1. Izenda's Embedded Analytics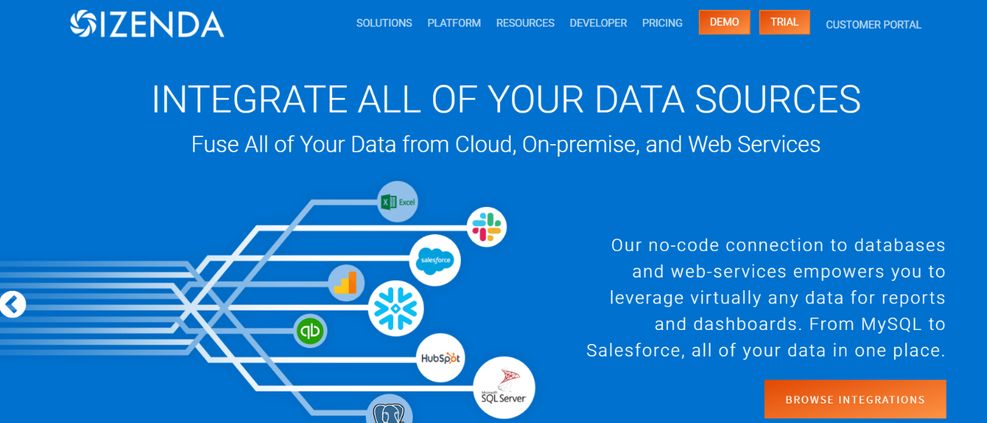 Izenda's Embedded Analytics helps you to integrate into an already existing framework. It is the most easily embedded BI platform for web applications.
The tool helps to enhance your application with end user-friendly reports, dashboards, and visualizations. Izenda does not require the deployment of a new or proprietary data warehouse. Instead, Izenda uses its existing databases to build reports. This is done with the help of its automated query building engine.
Pricing: Available upon request
Read more: Virtual Data Rooms Guide For Better Data Management
2. Sap Crystal Reports

SAP Crystal Report is a business intelligence tool. It helps in creating reports from a variety of sources like Oracle, SQL Server, MySQL, XML Data Source, Microsoft Excel, etc. It is best suited for small and medium-sized businesses.
With the assistance of Sap, you can easily create advanced level reports, and make profitable decisions for your business. Sap includes a variety of features like content distribution in PDF, spreadsheet, and HTML.
The platform supports reports in multiple languages. Formatting is changed according to the language chosen. Above all, the safety and security of the data are ensured with Sap.
Pricing: $495 per license.
3. Planful

Planful is a cloud-based tool, designed for performance management. It is an automated solution for assisting individuals or teams with financial processes.
Planful includes a handful of features. Dashboards, workflow management, and financial reporting are some of them.
It is Planful's Reporting Cloud that helps to generate automated reports. It is equipped with built-in support for modes of reporting that require firm adherence. For example, US GAAP, and IFRS-compliant balance sheets.
Planful is an apt tool for a variety of industries, ranging from healthcare and education to advertising and distribution.
Pricing: Available upon request
Read more: 9 Powerful Mind Mapping Software & Tools You Need to Check Out!
4. ProWorkflow

ProWorkflow is a reporting tool that is designed for project management. It takes care of your reporting needs efficiently. Its Standard reports provide you all the information on projects, tasks /works, financial data, time, and workload performance. You can even build shareable reports on your own with the 'Custom Reports' option.
ProWorkflow has various additional features like providing resource reports on staff and time, time summary reports, and workload breakdown reports, individual and general project reports, task reports, and more.
ProWorkflow is made to integrate with many tools and software like Xero, Kash Flow, Box Storage, DropBox, Fresh Books, Google Drive, One Drive by Microsoft, and many more.
Pricing: From $10/user per month, which includes a maximum of 10 active projects.
5. Hive

Hive is not exclusively a reporting tool, it is made to assist you with project management and task coordination, along with reporting.
Hive has the feature of dashboards that provides insights into the team's productivity levels. This is done by employing artificial intelligence and machine learning.
The tool lets you manage your team through the allocation of resources, as per real-time-data. It also estimates the time spent on resource allocation and project planning, along with client billing.
Hive's timesheet report makes it easy to record the time spent on each task or project. The platform offers integration with Google Drive, Zoom, Salesforce, One Drive, and a lot more tools through Zapier.
Pricing: $12/user per month.
Read more: 15 Business Intelligence Tools & Software Every Business Needs!
6. Workday Adaptive Planning

Workday adaptive planning is a cloud-based software employed for corporate performance management. It helps you to forecast budget and report tasks with the help of its web-based SaaS suite. It offers a user-friendly interface, familiar to that of Microsoft Excel.
Also, the drag and drop feature of the tool is designed to enable direct integration to Microsoft Office. This is highly beneficial for new users since they do not have to leave the Office ecosystem in order to start with a new product.
Thus, if you are well-accustomed to the Microsoft Office features and interface, Workday adaptive planning is the best choice for you.
Pricing: Available upon request.
7. DBxtra

DBxtra is also a cloud-based tool, serving your reporting needs. The automation feature makes the tool a good choice since it saves a lot of your time.
You can customize input parameters, data filters, and reporting format, using its report designer feature. Your company's reports can be uploaded on a web database, which can be accessed by your customers.
Both local databases and popular cloud databases can be connected with the tool.!
Pricing: Starts from $980.
8. ClicData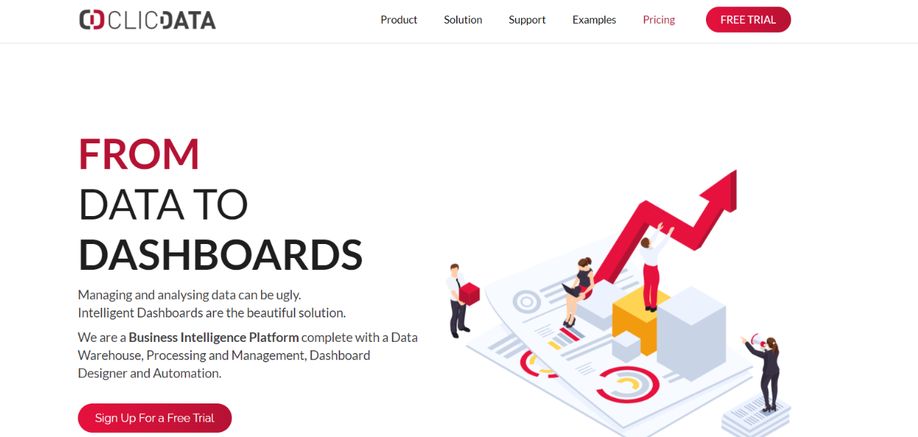 ClicData is a cloud-based BI tool that is very easy to use. Its dashboards allow performance tracking.
ClicData's data warehouse collects all the user's data, and the ETL system works in cleaning and processing the data. The reports are then generated through a simple drag-and-drop interface.
The reports can be shared in a variety of ways: they can be sent by email, attached as PDFs, shared to the web and social media sites, or can be published on company intranets.
ClicData can be integrated with both iOS and Android devices. This makes it easy for the users as they can view the reports, no matter where they are.
Pricing: Depends on the license-type, and ranges from $25 to $439 per month.
9. Tableau

Tableau is a popular tool, assisting in data analysis and visualization.
Tableau's user-friendly dashboard helps in generating easy-to-understand graphics from the data provided. Even non-technical analysts can easily interact with the platform.
Thus, it becomes easy for anyone to interpret complicated data.
Apart from this, Tableau has a wide range of built-in functions, that assist the users in data analysis and calculations. Sharing is also made easy: users can share the reports while maintaining control over who has access.
Pricing: Ranges between $35 and $70 for a user per month.
10. TapClicks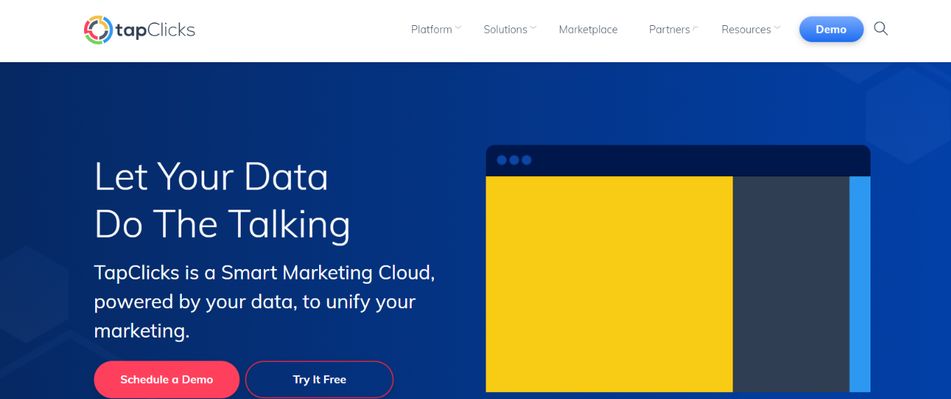 TapClick helps you in creating automatic reports and generating dashboards. The platform enables you to import data from various sources, using its ImportWizard.
It also guides users from non-technical backgrounds in the whole process, making it easy for them. New users are provided the assistance of an 'onboarding wizard'. TapClicks supports white-label custom branding so that you can generate customer-facing reports, true to the identity of your brand.
Pricing: Available upon request
Summing Up
Creating good reports is essential for the smooth functioning of your business.
If you fail at it, the consequent decisions or actions would also be a failure.
Therefore, it is necessary to ensure that your business always creates comprehensive reports, that provide you with ample and accurate information.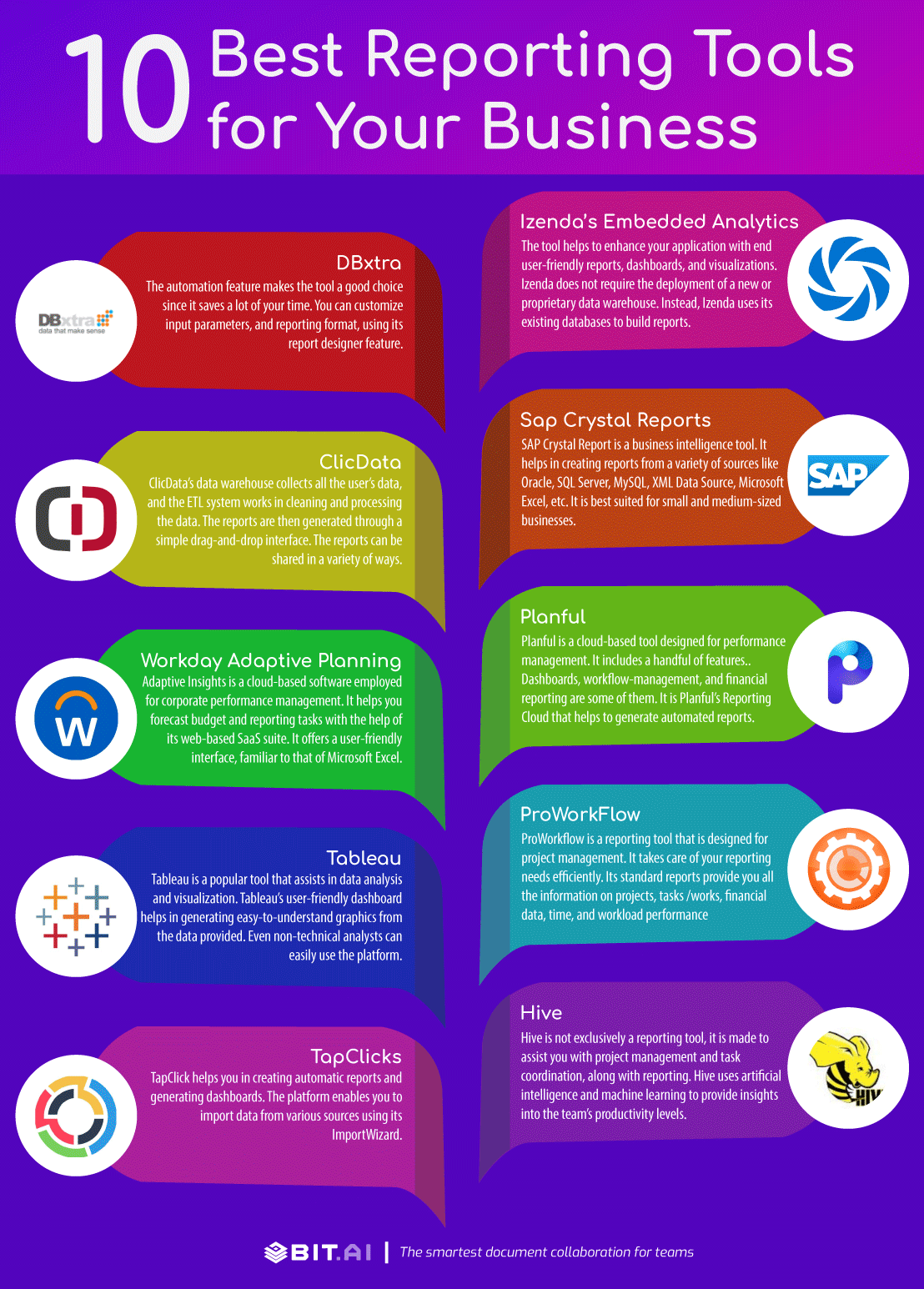 Only if your company/organization has installed the necessary tools and software, you would be able to compete with your competitors.
Thus, it is essential to make an informed choice about selecting the right tools and software for reporting, and thereby make your company/organization stand out among the crowd.
Did we miss out on any of your favorite reporting tools and software? Tweet at @bit_docs and let us know!
Further reads:
7 Types of Reports Your Business Certainly Needs!
KPI Dashboard: Definition, Tools, and Tips!
16 Best Business Tools Every Business Needs in 2022
Top 9 HR Software and Tools for Human Resource Departments!
Client Portals: Communicate with Clients the Right Way
What are Smart Documents and How To Create Them!
Best Time Tracking Software and Tools in 2022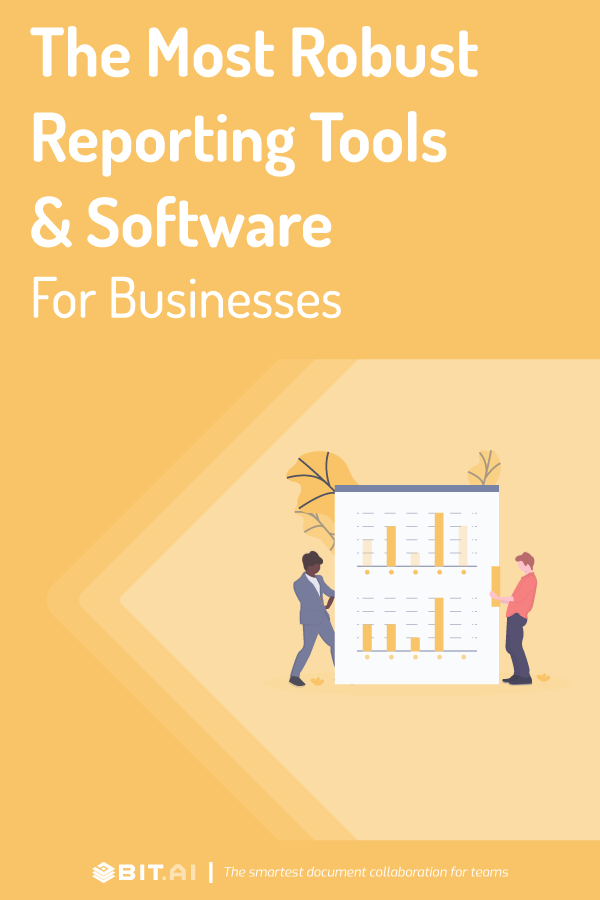 Related posts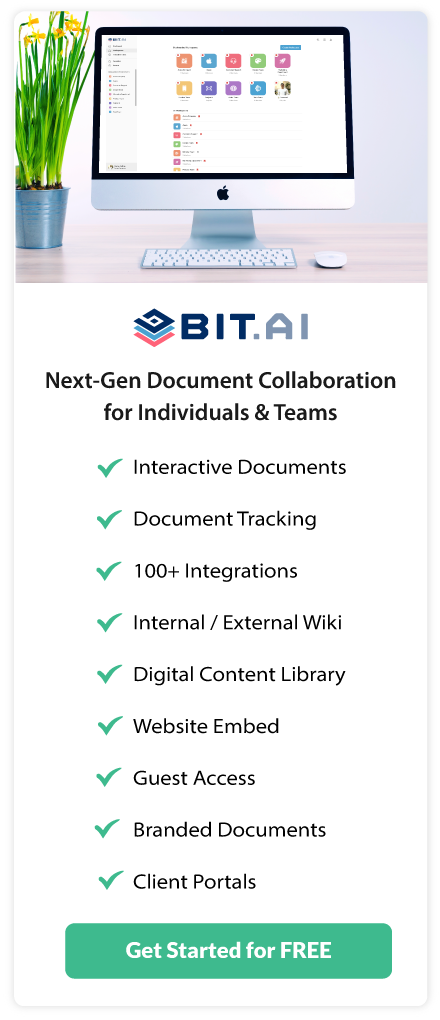 About Bit.ai
Bit.ai is the essential next-gen workplace and document collaboration platform. that helps teams share knowledge by connecting any type of digital content. With this intuitive, cloud-based solution, anyone can work visually and collaborate in real-time while creating internal notes, team projects, knowledge bases, client-facing content, and more.
The smartest online Google Docs and Word alternative, Bit.ai is used in over 100 countries by professionals everywhere, from IT teams creating internal documentation and knowledge bases, to sales and marketing teams sharing client materials and client portals.
👉👉Click Here to Check out Bit.ai.