The work environment today is dynamic and ever-changing. Earlier, employers used to hold all the power and the employees would just comply. However, times have changed for the better.
Employees have become more empowered than ever. They have choices, options, and expectations.
What does this mean in the case of employee development?
In the case of employee development, there lies an expectation of a reciprocal relationship wherein the employees expect that if they invest their time and resources in their employer, then their employer must invest in them, as well.
What happens if this expectation is not fulfilled?
Well, if employees don't feel valued in their workplace, they are just likely to quit. This ends up in the company facing significant losses and losing out on a valuable employee.
Don't just take our word for it, let's take a look at some of these statistics (source)…
68% of employees believe that training and development is one of the most important policies of a company.
74% of employees don't think that they are reaching their full potential.
76% of employees are looking for career growth opportunities.
Companies that invest in training and development programs generate 24% higher profit margins.
40% of employees who receive poor training are likely to end up leaving the company within the first year.
Only 13% of employees feel that they are being engaged in their work.
Over $500 billion is lost every year due to employee disengagement.
As you can see, the importance of employee development in the eyes of employees is tremendous.
In that case, it would be foolish to not invest in the creation of an employee development plan. So without any further ado, let's dive into the full details of an employee development plan…
What is an Employee Development Plan? (Definition)
First off, let's take a look at what employee development plans are…
An employee development plan is a method for helping employees improve their skills for their current job and allows them, to acquire knowledge and skills for new functions and responsibilities in an organization.
It can alternatively be defined as the process of working with your employees to improve, enhance, refine, their existing skills. Additionally, it can also mean developing new skills, which are convergent with the organization's mission and goals.
In some cases, this can mean that you train and teach your employees to be future leaders. However, that depends on the individual's abilities and interests and the needs of your organization.

This also means that you can't use a one-size-fits-all approach when training employees and use the same strategy of training and development for all your employees. Every employee will have a different skill requirement and abilities and will require a unique approach to training.
Before we get into the steps of creating an employee development plan, let's take a look into the why's of creating employee development plans…
Why is an Employee Development Plan Important?
Investing your time and resources in the creation of an employee development plan can be beneficial for both your employees and your organization in the following ways…
It can help you attract talented applicants.
It can increase your employee engagement and motivation.
It can also improve your employees' performance.
It can increase your organization's efficiency and profitability.
It can help you nurture promotable employees.
It can also help you improve employee retention and satisfaction.
It can help your organization plan for the future.
Let's take a look at some of these benefits in detail…
1. Performance Enhancement
The business environment today is extremely competitive and there's constant pressure to outperform the competition in the market.
Employee development can not only help you meet performance expectations, but also exceed them in certain cases because you're equipping your employees with the necessary skills to cope up with the competition.
2. Handle Unexpected Situations
Apart from the crazy competition, today's business environment is also marked by an era of change. For an organization, every step of the way is full of challenges and uncertainties.
If handled properly, it can open up unexpected opportunities for the organization. Thus, it becomes extremely important for your workforce to be able to handle ever-changing situations quickly and effectively.
Employees who are trained and developed to be more adaptable are better at improvising solutions whereas, employees with less-developed skills would just simply accept the status quo and not adapt to the change.
One of the prime benefits of having a well-defined employee development plan is the fact that it equips employees to better handle unexpected situations.
Read more: Performance Report: What is it & How to Create it? (Steps Included)
3. Attract New Employees and Develop Loyalty
The culture that you develop in the organization is one of the crucial things that determine whether or not you'll be able to attract new employees.
It has been found that companies that foster a culture of learning and knowledge-sharing are more competitive and agile. Moreover, their workforce is more engaged and loyal (source).
When you help employees develop their talent through methods like personalized employee development plans, you end up creating a highly attractive working environment.
4. Employee Retention
We already showed you some of the statistics that highlight the importance of employee development plans for employees. The more you invest in your employee, the more likely they are to stay for the long term.
5. Enhance Employee Engagement and Motivation
For an organization's success, it's important to have a workforce that is fully committed and engaged with the organization at every level.
Employee engagement is linked to multiple factors such as the working environment, employee recognition, communication and training, and development plans. The more an employee is engaged, the more motivated they are towards the company's mission.
6. Gives Company Flexibility
To have an edge over the rest of the competitors in the market, an organization needs to be flexible and accommodative towards the needs of its customers and partners.
When your workforce is balanced, which means that they have the skills to innovate and compete for new business opportunities, you're able to meet the requirements of the customers.
Well-developed employee development plans can not only hone an employee's existing skills but can also deliver long-term competitiveness by teaching newer skills that might be needed by the employee in the future.
With that, we've covered the what's and why's of an employee development plan. The next step is to look at the process of creating a beautiful employee development plan.
Let's have a look!
Read more: Onboarding Checklist: What is it & How to Create it?
How do you create an Employee Development Plan? (Steps)
Here's the step by step of how to create an employee development plan…
1. Identify your business goals
To start with the process, try and find the answers to the following questions —
Where is your company right now?
Where do you want your company to be?
What are your major goals?
Where do the opportunities and challenges lie?
How do you need to strengthen your employees to achieve your business objective?
Always remember that it is the employees that power your business and to keep them motivated and inspired, you need to invest a considerable amount in engaging and supporting your employees.
Once you've identified specific goals for your business, you can now identify the necessary skills, knowledge, and competencies that support these goals.
2. Converse with your employees
Every employee development plan is dependent on an employee's motivations for their career paths and positions. If you can meet an employee's needs, it can lead to strong, capable individuals.
Getting to know whether or not an employee's motivations lie with the organization or not is a crucial step of the process. After all, communication is key.
3. Make an Action Plan
Like we mentioned in the previous point, creating an employee development plan is dependent on every employee's specific motivations for their career paths.
Your job as an employer is to encourage and expect your employees to take responsibility for their own career development by researching tools, resources, or training that they'd like to explore. In turn, you, as an employer, are expected to provide guidance, resources, feedback, and support.
With the help of your employees, create a plan of short-term, mid-term, and long-term goals —
Short-term goals – These are goals that can be achieved in the next few weeks to a month. They should be highly attainable, and similar to the employee's current responsibilities.
Mid-term goals – These are goals that can be achieved in the next 6 months. These goals are also supposed to be realistic and attainable. Ask your employee what steps do they think they need to take to meet their end goals, and then provide them with the tools and resources that you think might help them.
Long-term goals – These are the goals that can be achieved in a year or more. You should ask your employees where they see themselves a year from now with your company. You can even ask them what steps do they think they need to take to meet their vision.
An employee development plan is a way for your employees to feel valued, recognized, and appreciated by you.
If you're able to meet your employee's needs, you ultimately promote the growth of strong and talented individuals who bring tremendous value to your team and the company as a whole.
Read more: Action Plan: What, Why & How to Write it?
4. Determine the skills and training needed to achieve employee goals
The creation of employee development plans helps you become aware of your current employees' needs and whether or not they have an interest in acquiring the needed skills to achieve business goals.
Enhancing the skills of an internal candidate to bridge the gap between a current employee skillset and a skill set that will be needed for the future is an intelligent business strategy. You end up saving a lot of time and effort that you were going to otherwise spend on recruiting, interviewing, onboarding and training a new individual.
Lastly, take into consideration how your employees are going to achieve their goals.
You need to think about the opportunities available, like coaching and mentoring, cross-training your employees, succession planning, or even group training classes, etc.
5. Review employees' progress
Keep yourself regularly updated on your employees' development. Organize meetings with your employees where you review their progress, acknowledge and rewards their accomplishments, and talk about what's next in store for them.
This is also a great time to discuss any difficulties or obstacles and that your employees are facing in achieving their current goals and provide them with resources to overcome them.
This gives you the chance to change and evolve your employee development plan, as you're constantly communicating.
6. Look for growth opportunities
Since change is constant, your employee development plan cannot remain stagnant. You should always encourage your employees to continue looking for growth opportunities.
You can even look for learning opportunities outside of the company where you can get exposed to unique, different skills and learnings that you can implement within your own organization.
Always take the time to assess the progress that you've made, measures the outcomes, and consider the kind of new opportunities or barriers that would bring value to both your employees and the organization.
Before you go, we have to ask you this question —
Do you have the perfect tool for creating employee development plans?
What do we mean by the 'perfect tool'?
Aren't MS Word and Google Docs enough?
Let's find out!
Read more: Employee Training: Definition, Importance & Tools to Use!
Bit.ai: The Ultimate Tool for Creating Employee Development Plans
We've already spoken about how employee development plans are dynamic and evolving in nature. You can't ever have a constant plan for employee development, and that's a fact.
If it's stagnant, you're doing it wrong!
Thus, you need a tool where you can constantly work with the rest of your team and continuously build upon your employee development plans.
That's where bit.ai comes into the picture!
What is bit.ai?

Bit is a new-age virtual workplace and a document collaboration platform. It is built for teams and individuals to create, collaborate, and organize all your knowledge in one place from anywhere in the world. How cool is that?
Bit allows you to create fast and dynamic employee development plans, sales reports, documents, wikis, knowledge bases, projects, client deliverables, client portals… and the list is endless!
Why should you use bit.ai for creating employee development plans?
Multiple Workspaces – The first and the most primary benefit of using bit.ai for creating employee development plans is that you get to organize your entire team in a single workspace. This way, all the people who are a part of your team can access the employee development plan at any time and make edits, which ends up reducing the effort of sending documents back and forth over email, which happens when you use MS Word for creating employee development plans.
Real-time Collaboration – You can invite colleagues and partners to join you and work together in real-time. You can edit the content of the document and add comments as you go on creating reports. This makes the creation of employee development plans extremely fast and easy! You no longer have to struggle with the messy interface of Google Docs. Easy breezy!
Auto-Formatting – Another important feature of bit.ai is the fact that it automatically formats all your documents! This saves you the time and energy of formatting documents on spaces, unlike MS Word where you need to constantly ensure that the document is looking great!
Document Templates – Readymade templates? That's right! Bit has an extensive template gallery that makes it easy for you to create and get started on your work. You don't need to think about how to create the content anymore!
Supports 100+ File Formats – Bit gives you the liberty to add hundreds of file types to your documents. You can put in any type of graphs, charts, tables, etc. seamlessly into your document without any hassle!
Live-Sharing – You can choose to share your employee development plan in a live state with anyone that you want. This way, all the changes that you make to the report will get updated in real-time in your documents!
Wrapping Up!
There you have it, folks! Our A-Z guide on everything that you need to know about employee development plans! Investing in your own employees is quite possibly one of the best investments that you can make in your company's future, take our word for it!
Do you have any doubts or queries about employee development plans? Feel free to reach to us on Twitter at @bit_docs! We'd love to hear from you! Best of luck!
Further reads:
Business Development Plan: What Is It And How To Create A Perfect One?
Employee Training Software for More Efficient Employees!
Top Employee Management Systems You Should Be Using in 2021
Employment Contract: What is it & How to Make it? (Free Template Included)
Best Employee Onboarding Tools Out There!
How to Create an Employee Handbook?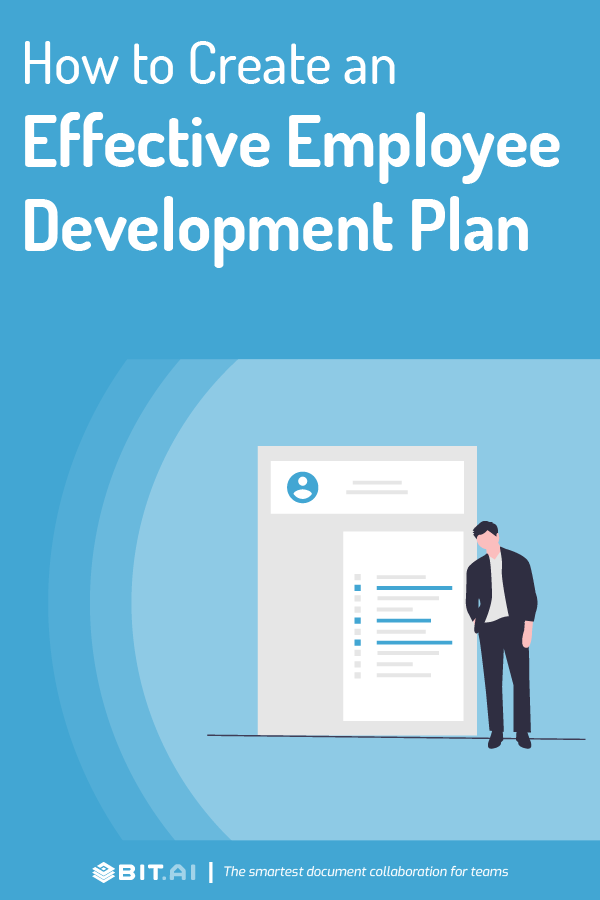 Related posts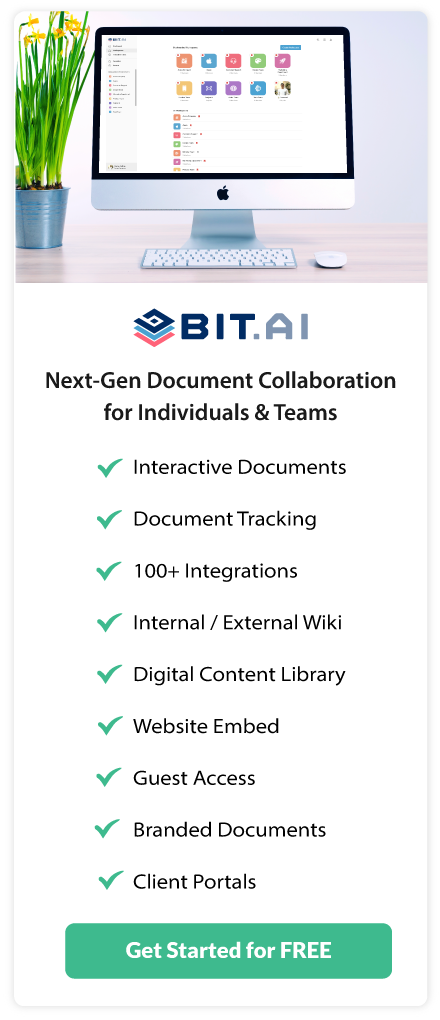 About Bit.ai
Bit.ai is the essential next-gen workplace and document collaboration platform. that helps teams share knowledge by connecting any type of digital content. With this intuitive, cloud-based solution, anyone can work visually and collaborate in real-time while creating internal notes, team projects, knowledge bases, client-facing content, and more.
The smartest online Google Docs and Word alternative, Bit.ai is used in over 100 countries by professionals everywhere, from IT teams creating internal documentation and knowledge bases, to sales and marketing teams sharing client materials and client portals.
👉👉Click Here to Check out Bit.ai.