Let's be honest. We feel good when people go out of their way to make us feel special or help us out. And, what better way to show your appreciation and gratefulness than to say thank you, right?
But, if we can't be there in person to thank someone, sending a thank you letter is the next best thing. Why? Because a thank you letter gives a sense of warmth that can't be conveyed through text messages or calls.
Whether you want to show your gratitude for someone's help, thank someone for a gift, or follow up after a job interview – writing a thank you letter is the way to go.
Thank you notes can be traced back to the 15th century, and the reality is, appreciating and acknowledging someone's efforts will never go out of style.
Now, here is the million-dollar question: Where to begin? What needs to be written in a thank you letter? How long does it need to be? How do you make sure that it doesn't seem forced?
Don't worry! By the end of this blog, you will learn everything you need to write your own thank you letters. Are you ready to master the craft of writing thank you letters? Let's go!
What's a Thank You Letter?
Also referred to as a letter of thanks, a thank you letter is used when one person wants to express appreciation and gratitude towards the other person.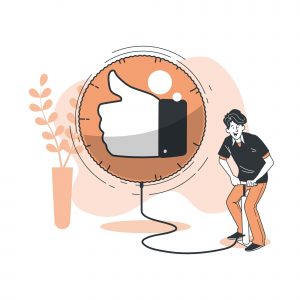 A thank you letter can be classified into two types: personal appreciation letters and professional appreciation letters. Personal appreciation letters include letters to friends and neighbors, whereas, professional appreciation letters include letters to employees, boss, colleagues, the speaker of a seminar, etc.
It is always a nice gesture to write a thank you letter to anyone who has provided assistance to you – whether it is your family member, manager, ex-boss, client, team member, or anyone else!
Now that you know what a thank you letter is, it's time to write them. In the next section, we have shared a format that will work for every kind of thank you note.
The Structure of a Thank You Letter
1. Salutation/Greeting
This is the first line of your thank you letter. It's just the classic 'Dear XYZ'. If you're writing a professional letter, you can use 'Dear' along with the person's full name and title.

If it's a personal note, it's better to just say 'Dear' along with the person's first name. You could even include a greeting, as in, "Hey Janet". Use your best judgment here!
Read more: Business Letters: Definition, Types, Format, and Tips!
2. A Message/Thought
When you're meeting someone in person, you won't straightaway start with the thing you have to come to talk about, right? You would first make a little small talk to ease into the conversation.
The same goes for a thank you letter. In the first couple of sentences, just write a thought or a message. For instance, "I had a lovely time with you at the event yesterday" or "It was a pleasure to meet you yesterday".
3. What Are You Thanking For?
This is undoubtedly the heart and soul of your thank you letter. In this section, you need to express everything that you want to say thank you for.
For instance, you can write "Thank you for taking the time to teach me how to use the software." OR, "I'm so thankful for all the support you have shown me during my time in the office."
4. Conclusion
Once you've thanked the recipient, it's time to conclude your thank you letter. The conclusion entirely depends on your intent for the note, as well as the formality of the situation.
For instance, if you're close to the person you're sending the letter to, you can write "Much love' and then your name. If you're sending it to someone at your company, you could write, "I'd love to help you in any way I can."
A thank you letter is an important piece of document, so you need to make sure that it's perfect! Let's explore some tips and tricks that will help you write a solid letter.
6 Tips For Writing The Perfect Thank You Letter
1. Vary your language
Saying 'thank you' is perfectly fine, but there are many more words and phrases that you can use to express yourself. For instance, after saying "thank you", you can say "I am really grateful for…" or "I deeply appreciate…". Remember – your thank you note needs to be as wonderful as it can be!

2. Be Specific
In your thank you letter, you need to show that you appreciate what the other person did for you or gifted you. Yes, you might have received loads of gifts at your birthday party, but make sure that you jot down a specific reference to the gift the person gave you.
3. Timing Matter
While everyone loves receiving thank you notes, they only make sense if they're sent at the right time. For instance, sending a thank you note for a Christmas gift in April is just wrong. Similarly, after an interview, it's best to send the hiring managers a thank-you note within three days – while you're still fresh in their mind.
4. Add Details
Don't just tell the recipient that their anniversary party was amazing or the gift they gave you was out of the world – explain the reason behind it. By getting into details, you will make the reader feel good that the effort they put into their gift/party was valued.
5. Add a Little About Yourself
Your friends and family always want to know how you are doing. After saying 'thank you' in the letter, you can talk a little about what's going on in your life, and keep your friends up to date. No, it doesn't need to be a detailed essay on your life – just a few sentences would work!
6. End With Something Positive
If the reader is someone who lives near you, you could write, "Let's catch up for coffee soon". In case, it's someone who lives far away, you could say, "Let's meet next time you're in town.". Including a clear, positive action at the end of your letter would help you in sustaining your relationship with the reader.
Okay, your thank you letter is almost ready. But wait! Before you hit the send button, make sure that you eliminate some common errors. Want to know more? Read on!
Read more: Invitation Letter: What is it & How to Write it Perfectly!
5 Mistakes You Should Avoid While Writing a Thank You Letter
1. Too Wordy
You need to remember that you are writing a thank you letter – not an article or a research paper. The point is, you need to keep the letter short and sweet. Two-three paragraphs are enough for most situations!
2. Impersonal
Don't just buy a ready-made thank you card and sign it off. Make it clear that you know and respect the person you're writing to by adding personal touches in the letter.
3. Incorrect Tone
If you're sending the letter to your friend or family member, it's okay to use casual words like 'hey'. However, if you're sending it to a hiring manager, you need to keep things professional.
4. Grammatical Errors
When you're writing something this short, you probably won't make many grammatical errors. However, it's still something you need to look out for, especially if you're using it for professional purposes.
5. Spelling The Reader's Name Wrong
This goes without saying – make sure that you spell the recipient's name properly, particularly if it's a hiring manager. You don't want to come off as a careless person, right?
By the way, do you want to simplify this complicated and intimidating process of creating a thank you letter? Luckily, there is a platform out there that helps you do just that!
Bit.ai – The Platform That Helps You Create a Beautiful Thank You Letter

Bit.ai is a new-age cloud-based document collaboration platform that helps you create awesome interactive documents. Through its intuitive and integrated tools, Bit.ai has simplified the often complex and long process of writing a thank you letter.
With 90+ pre-built, fully responsive, and gorgeous templates, Bit has made the entire process of creating documents super smooth. Just pick a template that fits your needs the best, and you're good to go! You can easily share this letter with the recipient and anyone else! ✨
The most amazing feature of Bit is that it gives you the ability to work collaboratively with others on your documents in real-time. So, if you need someone to help you out in writing your thank you letter, you can work with them using inline comments, @mentions, and more!
Moreover, Bit lets you add images, videos, charts, surveys/polls – basically any rich media you can think of in your document. That means you can make your thank you letter much more comprehensive and effective. You can add an image of the gift that you received, or a video from the anniversary party!
All in all, using Bit.ai, you can create a thank you letter that highlights your text, has the perfect format, and is great to look at. So, are you ready to write a thank you letter using Bit.ai? We know you are!
Wrapping Up
Keep in mind that a thank you letter that you write to your Calculus professor is going to be way different from the one you will write to your childhood friend.
Simply put, before you start writing the letter – make sure that you understand why you're writing it. It will make the entire process much easier. Moreover, it will set the tone of your letter!
We know that there's a lot of information to digest here, so if you have got any queries or concerns, hit us up on Twitter @bit_docs! We would be more than happy to help you out.
Further reads: 
Letter of Authorization (Authority Letter): Definition, Examples & Steps!
Confirmation Letter: Definition, Importance, and Format!
Letter of Interest: What is it & How to Write it? (Format Included)
Complaint Letter: What is it & How to Create it? (With Examples)
Formal Letter: What Is It & How to Create it?
Apology Letter: Definition, Format, Tips & Examples!
Sales Letter: What is it & How to Create it?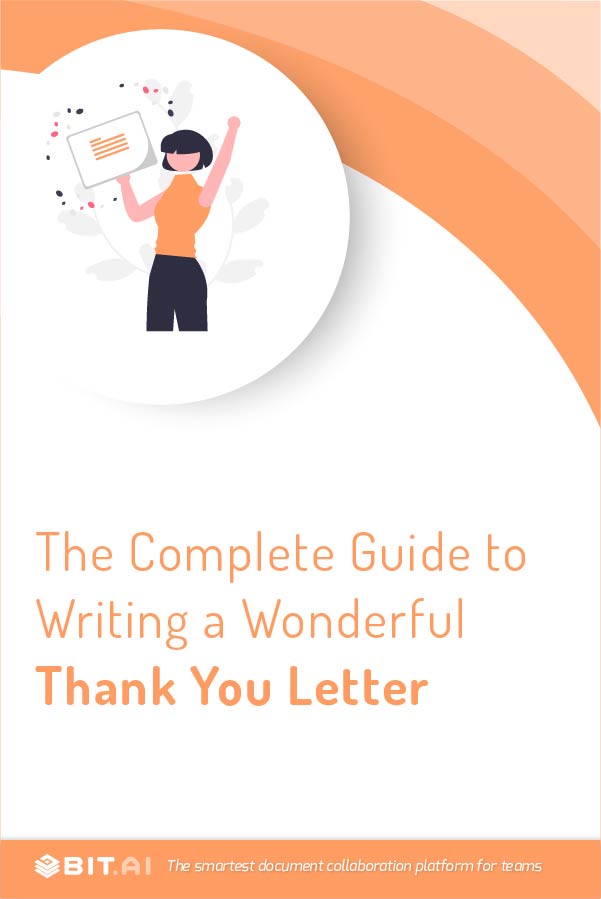 Related posts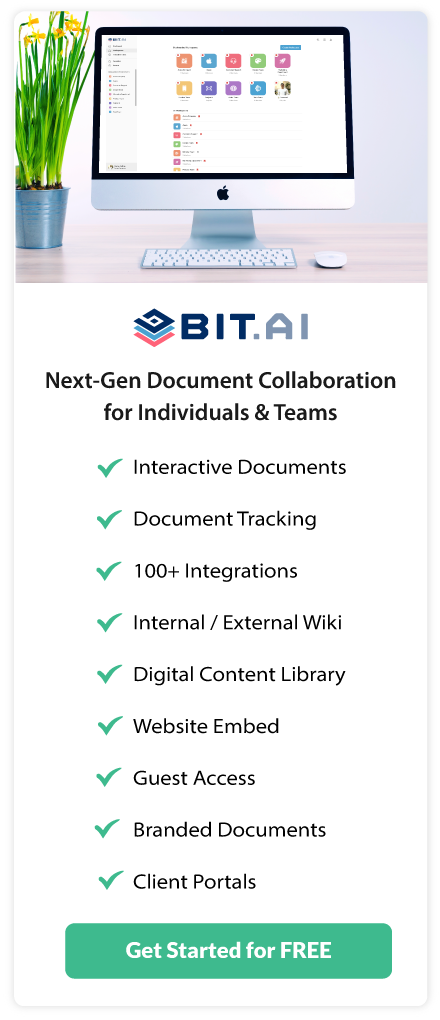 About Bit.ai
Bit.ai is the essential next-gen workplace and document collaboration platform. that helps teams share knowledge by connecting any type of digital content. With this intuitive, cloud-based solution, anyone can work visually and collaborate in real-time while creating internal notes, team projects, knowledge bases, client-facing content, and more.
The smartest online Google Docs and Word alternative, Bit.ai is used in over 100 countries by professionals everywhere, from IT teams creating internal documentation and knowledge bases, to sales and marketing teams sharing client materials and client portals.
👉👉Click Here to Check out Bit.ai.