You're going through a job listing, and everything looks great. You meet all the criteria, you have got a solid portfolio and you feel like you're going to ace this job-recruitment process.
And then you come across something that confuses the hell out of you – "Kindly submit a letter of interest along with your resume and portfolio."
Wait, what? Letter of Interest? Was that some sort of a typo? Do they want a cover letter?
Well, spoiler alert: No, that wasn't a typo. Also, a letter of interest & a cover letter are two different things. Well, you're the star in both the letters, but they're used in different situations.
There might be a hundred questions running across your mind right now, right? Don't worry, because we're going to get into the nuts and bolts of everything.
Since the hero of this blog is a letter of interest, let's start with it first.
What is a Letter of Interest? (Definition)
As the name suggests, a letter of interest describes your 'interest' in working for the organization you are applying to, along with your skills and qualifications.
You can send this letter when the company asks for it in the job posting. You can also write one when you want to show your interest in working for a company even if there aren't any job openings at the moment.
No matter when you're writing it, always make sure that the letter communicates your desire and intention to become a part of the company, and why they should consider you when an appropriate opening comes up.
Now, let's get to one of the biggest questions in the world – what the hell is the difference between a letter of interest and a cover letter?
Letter of Interest VS Cover Letter – What's The Difference?
Letters of interest, cover letters – all these titles make everyone's head spin!
The thing is, you can only write a cover letter when you're applying for a particular position at the company. It describes why you're an excellent fit for this specific job.

On the other hand, you can send a letter of interest when you want to show your interest in working for a company – even if they haven't really listed any job.
What do we mean by that?
Let's say that you want to work for Google, but they are not hiring at the moment.
But, you want them to know what types of jobs you're interested in, why you'd be the right fit for the company, and that you really want to work there. That's when you'll send a letter of interest.
In short, a letter of interest is always more focused on the company, and you write more about the company than the job in it.
In contrast, the cover letter focuses more on the position because there's a specific job that has been posted and you want to apply for it.
While writing a cover letter, you can say: "I'm very interested in a marketing executive role at XYZ for the following reasons.".
Whereas, in a letter of interest, you can write "I'm very interested in an executive role at XYZ for the following reasons."
Read more: Proposal Letter: What is it & How to Write it?
What Goes Into Your Letter of Interest? (Format)
1. Greetings
This one is a no-brainer.
You can't begin any letter without a professional salutation.
But, because you don't exactly know what you're applying for and who'll get the application, having a personalized opening gets difficult.
If possible, try to find out who gets these letters and use that name for the greetings. You'll probably find that information on the company's website, or their Linkedin page.
If you can't, no worries!
Be general, but cordial, professional, and polite. By being general, we don't mean you've to write "Hey" or "Dear hiring manager." Simply write, "To Whomsoever It May Concern" or "Dear XYZ Team".
Easy peasy!
2. Introduction
Start your letter off by introducing yourself, your skillset, and explaining why you are writing the letter.
If you are writing it for a specific job, mention that. Otherwise, simply write that you are interested in working for the company and give a basic idea of the position you would like to take in the company.
For example, you can write:
"My name is Jessica Scott. I've recently completed my Master's in Marketing, and I am writing to express my interest in your company."
Remember, don't get too specific. The more generalized it is, the more room you'll get in which the employer can fit you in terms of roles.
3. Your Skills
This is the place where you need to shine, but this is also the tricky part.
When you're writing a cover letter, you already have a good idea of what the job opportunity is and how to sell yourself for it. But writing a letter of interest gets a little complicated because mostly, you need to position yourself for a job that hasn't been listed.
To do that, explain how your skills and experience would make you the most suitable fit for the company. Let them know what you can bring to the company and what sets you apart from the other applicants.
As a letter of interest is more company-oriented, make sure that you show that you're passionate about your industry and that you admire the company.
Pro Tip: In the letter, you can mention something you know about the company you're applying to (for example, one of their products) and show that you're keeping up with all the industry trends.
Writing these things will personalize your letter and will make it stand out!
Also, be very clear about your skill set and experience. If you have years of experience, you probably don't want to end up being considered for an entry-level role, right?
4. Your Interest in the Company
For a second, put yourself in the employer's shoes.
Every employer wants to hire someone who believes in the company's vision. They want someone who can make a positive impact on the company and its customers. 
This is why it becomes super important to demonstrate exactly why you are interested in working for the company, and how you can help the company succeed. 
For instance, you can write something like:
"Your company is internationally known for making the best healthcare products. You have set a benchmark in the field of healthcare. Moreover, the passion for innovation that drives your company has always impressed me. With over 7 years of experience in healthcare, I am confident that I can contribute greatly to your future ground-breaking projects."
To write this section in the best possible manner, spend some time researching the company. The 'about us' section of the company's website is a good place to start!
5. The Follow-Up and Conclusion
Always conclude your letter with a paragraph on how you would like to follow up. It's very simple – just say that you "look forward to their response".
Give your contact details, and ask them to contact you without coming off as overbearing or demanding. You might never get a response from the hiring manager if you don't mention your contact details.
In the end, thank the reader for their time, write a professional closing such as "Best" or "Sincerely" and add your signature. (Do not use anything like "love" or "warmly". It's highly unprofessional!)
Now, that you have learned everything about writing a solid letter of interest, the question you should ask yourself is…are you equipped with the perfect tool that can help you write it? Confused? Not sure what we mean by 'the perfect tool'? Read on!
Read more: Grant Proposal: What is it & How to Write it?
Bit.ai – The Best Platform for Writing a Letter of Interest (Or Any Other Letter)
Bit.ai is the world's most powerful document collaboration platform. It is built for teams and individuals to create, collaborate, and organize all the documents and company knowledge in one place.
See, if you actually want your letter of interest to leave an impression, you have to make sure that it highlights your text, has the perfect format, and is great to look at.
However, writing a letter of interest takes so much of your time, that you might not have the energy to make it look appealing. We totally understand!
Luckily, Bit takes care of the formatting and designing aspects for you. With over 90 pre-built, fully responsive, and gorgeous templates, Bit has made the entire process of creating documents super smooth.
Pick a template that fits your needs the best, and you're good to go. You can even change the entire look of the document with the click of a button. Basically, all you need to do is add the content and leave the rest to Bit.
Oh, and do you need someone to help you out in writing the letter of interest? Well, multiple people can simultaneously collaborate on a Bit smart document in real-time. They can highlight changes, add comments, and can even chat with you – without stepping out of the document.
What's more? Bit lets you add videos, social content, charts – basically any rich media you can think of in your document. In addition, you can get real-time insights on your shared docs with Bit's document tracking feature.
That's right! You can see how much time someone has spent reading your letter of interest how often they come back to read it, and more.
All in all, having Bit.ai in your toolkit might make the difference between landing your dream job or landing your application in the rejected pile.
Final Words
Writing a good letter of interest isn't a walk in the park. Nonetheless, it is something that can help help you stand out during the recruitment and selection process.
A letter of interest is the secret door to getting a job…and now that you know everything about it and the tool that can help you create it, your application game will be unbeatable!
We know that there's a lot of information to digest here, so if you have got any queries or concerns, hit us up on Twitter @bit_docs! We would be more than happy to help you out.
Further reads: 
Letter of Resignation: Definition, Examples, and Format!
Formal Letter: Definition, Importance, Steps & Format!
Succession Planning: What is it & How to do it?
Competitive Strategy: Definition, Types, Importance & More!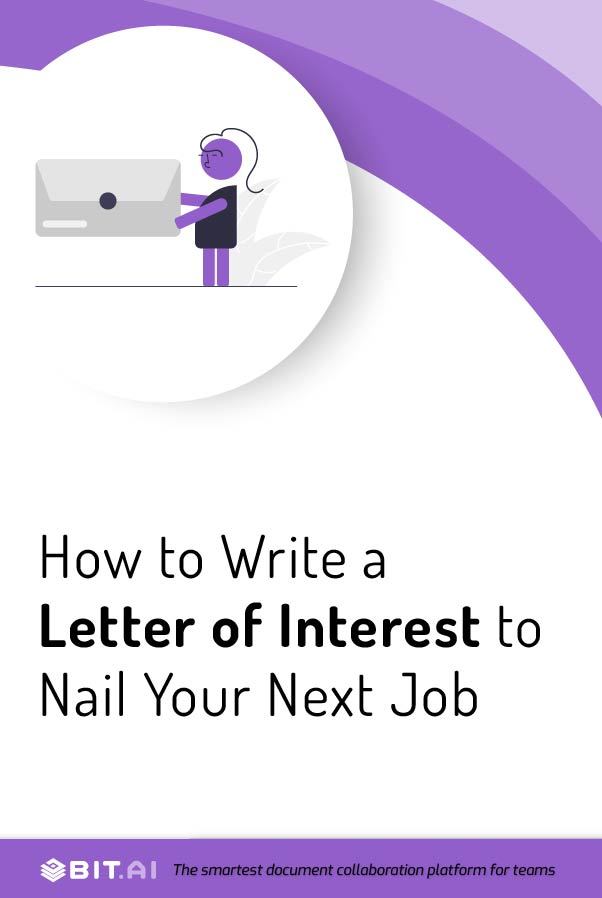 Related posts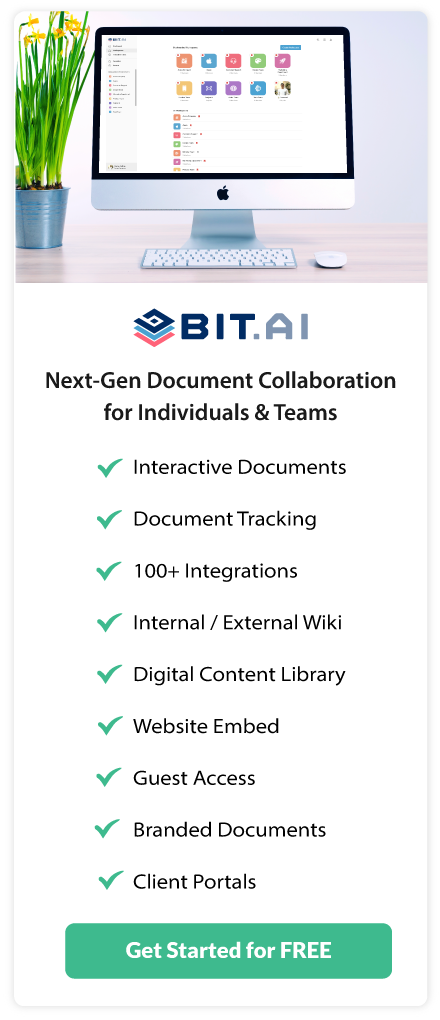 About Bit.ai
Bit.ai is the essential next-gen workplace and document collaboration platform. that helps teams share knowledge by connecting any type of digital content. With this intuitive, cloud-based solution, anyone can work visually and collaborate in real-time while creating internal notes, team projects, knowledge bases, client-facing content, and more.
The smartest online Google Docs and Word alternative, Bit.ai is used in over 100 countries by professionals everywhere, from IT teams creating internal documentation and knowledge bases, to sales and marketing teams sharing client materials and client portals.
👉👉Click Here to Check out Bit.ai.