Here's the bad news: social media can be a really tough nut to crack.
Now, here's the good news: by planning and scheduling your social media posts in advance, you can nail your social media game effortlessly and efficiently.
That's exactly where social media planners come in! They help you schedule your posts across all your social media profiles and avoid the last-minute rush to find content to share.
The result? You would be able to reduce your stress, cut down on your time commitment, and improve the quality of your social presence. Tempting, isn't it?
Honestly speaking, not using a social media planner puts you on the fast track to failure. That's why, in this blog, we have compiled for you a list of the best social media planners that you can use this year.
So, what are you waiting for? Let's dive right into it.
List of Top 9 Social Media Planners You Need to Check Out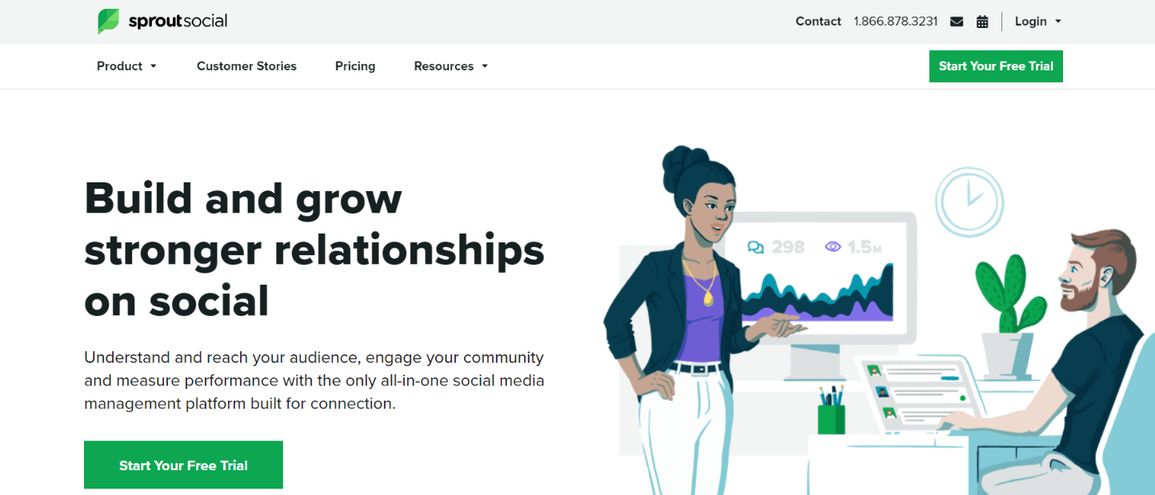 Sprout social is a famous, all-in-one social media planner. The tool allows you to schedule and post across multiple social media platforms smoothly.
The tool offers user-level permissions, which means you can provide specific access to marketing managers, writers, and everyone else in your team. The result? More efficient collaboration!
Moreover, Sprout Social has a calendar feature that provides your team with a birds' eye view of what's being shared and promoted every single day.
That's not it! This nifty tool also has a wide range of social media analytics, so you can easily see how your content is performing and make changes accordingly.
Pricing: The plans start from $99 per month. There is also a 30-day free trial!
Read more: 7 Social Media Trends To Watch Out For in 2021


Sendible calls itself "The #1 Social Media Management Tool for Agencies." You can connect your Sendible account to almost every social media platform and share everything quickly.
This social media planner has a powerful 'compose box', using which you can plan, schedule, and publish anything you want to multiple social media platforms simultaneously.
The tool also lets you post directly to WordPress, Medium, Tumblr, or Blogger. How cool is that? Furthermore, you can use this tool's geo-targeting feature to reach particular sections of your target audience.
What's more? Sendible has an integrated dashboard and many tools related to collaboration, analytics, CRM, and more. It even integrates with Canva so you can design amazing visual content swiftly.
Pricing: It has a $29/month plan for solopreneurs, a $99/month plan for small businesses, a $199/month plan for growing agencies, and a $299/month plan for large teams.

The next social media planner on our list is Buffer! Buffer allows you to schedule social media posts across Twitter, Facebook, LinkedIn, Google+ (page), and Pinterest.
The best part? Buffer even suggests the best times to post on each of your social media platforms and offers analytics showing how successful each of your posts were.
This robust tool also has a mobile app and a browser extension, making it super easy to add web links, titles, and images to the Buffer schedule.
Pricing: Buffer has a freemium model, so you can schedule 10 social media posts for free. However, to post as much as you want, you need to purchase the paid plan.

Technically, this social media planner is called 'Edgar', and the webpage/app/tool is where you "meet" Edgar. Very interesting, isn't it?
Just like most other social media planners, MeetEdgar allows you to queue relevant posts on a wide range of platforms, including Twitter, Facebook, and LinkedIn. They might soon add Instagram & Pinterest to the list.
On MeetEdgar, you can create different categories for different types of content, such as quotes, questions, facts, blog posts, promotional materials, and more.
Edgar automatically re-shares your content over time, so your posts don't go to waste after you publish them once. Instead, it becomes visible to more people, without you doing any extra work.
Pricing: MeetEdgar only has one plan – $49 per month. It offers discounts to military and non-profit users.
Napolean Cat has been in business for over 7 years, and they have got a pretty impressive clientele that includes brands like Avon, Allianz & World Wildlife Foundation.
According to Napolean Cat, they can help social media marketing teams to "save up to 70% of their energy and time". Even if that doesn't happen, just interacting with this amazing tool can make work feel less dreadful.
Once you sign up and set your social media accounts, you also get the option to keep tabs on your competitors. You can just type in your competitor's social media username and add it to your "watch list".
Apart from helping you post and schedule your social media posts, this social media planner also offers performance analytics so that you can monitor your engagement, reach, and click-through rates.
Pricing: The prices depend on the number of social media profiles you want to manage and the number of users. The basic plan starts at $21/month.

SocialPilot allows you to craft and schedule your posts, reshare and reschedule your post, and a lot more. It even allows you to create and schedule videos for Tiktok seamlessly.
This social media planner has a clean, simple, and organized interface. You can sort each social media account into relevant groups (channels, clients, etc), which makes posting to multiple channels easier.
For instance, you can set up a group of social media channels that you regularly post to. Then, you can just select that particular group, and your post will be published where you want it to be.
Pricing: The tool offers plans ranging from Professional at $30/month up to Agency at $150/month.
Read more: Top 11 Social Media Management Tools for Marketing Teams!

ContentCal is the ultimate social media planner that can help you manage multiple accounts in one central place, collaborate with your team members, and streamline the entire social media marketing process.
This social media planner also has an 'Analytics & Respond' feature which helps you keep tabs on how your content is performing and how you can improve it.
Some other features of ContentCal include keyword filtering, feedback analysis, project management, and more. It also gives you the ability to create custom workflows and approvals.
Pricing: The plans start from $30/month. They also offer a 14-day free trial.

Crowdfire claims to be the first-ever social media planner that allows posting to TikTok. You can use Crowdfire to post to almost every major social network, and many blogging platforms, video sites, etc.
Crowdfire puts a lot of focus on 'content curation'. You can tell Crowdfire about the topics that interest you, and it would suggest you a wide range of articles, images, and posts that you can share.
Crowdfire automatically schedules your posts at optimal times. However, it also gives you the option to set the times yourself, network by network.
Pricing: Crowdfire offers four plans, starting from a free plan to the $99.99/month VIP plan. The free plan has limited features, while the higher plan offers much more advanced analytics.
Read more: Social Media Proposal: What is it & How to Create it?

This social media planner lets you enter all your posts in one calendar and schedule them in advance. These posts will automatically be published at the time you've mentioned.
In short, you can use Promo Republic to automate your entire social media publishing and scheduling process. The tool integrates with Facebook, Twitter, Instagram, LinkedIn, and Pinterest.
But, Promo Republic offers more than just scheduling posts. It gives you access to 100,000 post ideas, graphic editing tools, analytics, reporting, and smart posting using AI.
If you would like more features, you can check out the two other products of Promo Republic:
Social Monitoring: To manage your brand reputation and keep track of your social mentions.
Intelligent Ads: To improve your social media advertisements.
Pricing: They offer a range of plans, catering from the 'Solo Plan' for personal use, and an 'Advanced Plan' for large businesses and agencies.
Wrapping Up
Even though planning and scheduling your social media posts can seem like a lot of work at first, in reality, it's actually quite straightforward.
Once you start planning and scheduling your posts properly, you will be able to improve your social media presence and grow your businesses in a jiffy.
That's exactly why you need to choose a reliable social media planner to help you organize your posts across all social networks. We hope this comprehensive list helps you pick one that fits your needs!
By the way, do you have your own favorite when it comes to social media planners? Did we mention your favorite social media planner in our list? Hit us up on Twitter @bit_docs and let us know.
Good luck and rock your social media game! We're rooting for you.
Further reads: 
Marketing Funnel: What is it & How to Create it? (Steps included)
12 Marketing Goals You Must Include In Your Plan!
Social Proof: 8 Ways to Use it to Get More Sales!
How to Embed Social Media Posts into Your Documents?
10 Social Media Marketing Podcasts That Will Inspire New Ideas!
20 Social Media Marketing Quotes to Inspire Your Team!
Learn How to Create a Social Media Report Like A Pro!
Related posts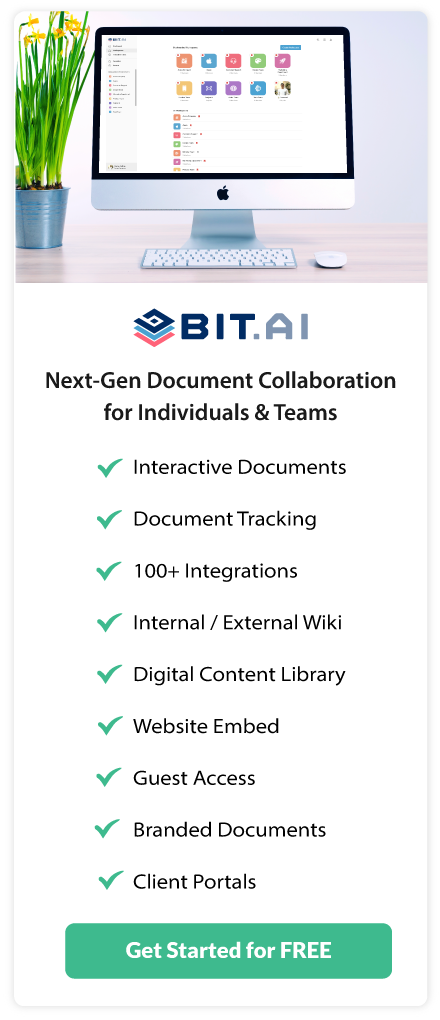 About Bit.ai
Bit.ai is the essential next-gen workplace and document collaboration platform. that helps teams share knowledge by connecting any type of digital content. With this intuitive, cloud-based solution, anyone can work visually and collaborate in real-time while creating internal notes, team projects, knowledge bases, client-facing content, and more.
The smartest online Google Docs and Word alternative, Bit.ai is used in over 100 countries by professionals everywhere, from IT teams creating internal documentation and knowledge bases, to sales and marketing teams sharing client materials and client portals.
👉👉Click Here to Check out Bit.ai.