Having the right social media management tools in place can help your business reach audiences like never before –  growing your business exponentially. Let's take a look at some of the best social media management tools on the market.
Marketing on social media seems like an easy enough job. It's simple right? Hire a tech-savvy social media ninja to share your blog article, video, and podcast links on your social media platforms, add some trending hashtags, and people will come!
Well, actually it's a bit more complicated than that…
You see, the barrier to entry into the market to promote your business on social media is literally zero.
0
Unfortunately, this free-for-all leads to a lot of noise on these social media management platforms.
That's why it's imperative for successful social media marketing you need to have the…
Right team
Create the right content and
Use the right social media management tools
List of Social Media Management Tools To Up Your Marketing Game
In this blog post, we'll take a look at some of the best social media management tools out there that will help you do the following:
Create awesome content
Strategize on effective marketing campaigns
Stay on top of scheduling social media posts
Create efficiencies by automating social media tasks
Measure and analyze the effectiveness of your social media campaigns
These social media management tools will help your business grow by simply using the power of the internet.
Ready to find out which social media management tools will make your social media marketing bloom?
Let's dive in…

Get more out of social media with Edgar!
Isn't it frustrating to spend a lot of time and effort creating that perfect piece of content for your social media marketing campaign, only for it to be seen by a handful of people? Most of the content we produce gets lost in the sea of new updates, never to be seen again!

Advanced algorithms on these platforms are taking over and are dictating what people see in their feed.
It's important that your awesome content gets a good amount of engagement for the algorithms to know that people love the content you're producing!
Edgar tries to solve this problem by re-posting your old content 'automagically'. Edgar re-shares older posts that people might have missed the first time around.
With Edgar, you create a categorized library of content and create a schedule that tells Edgar when to post from each category.
When Edgar reaches the end of your content queue, it automatically starts re-sharing the best pieces of your older content. This way, your social media followers never experience a dull moment!
Read more: 10 Social Media Marketing Podcasts That Will Inspire New Ideas

Save time managing social media for your business.
If your marketing strategies revolve heavily around social media, you most likely have heard of Buffer!
With over 230 million posts being created in 2019, Buffer is a well-known social media management tool that allows you to manage multiple social media profiles from a single dashboard. Buffer is a useful tool to help marketers:
Schedule posts
Track the performance of the content
Manage multiple social media accounts in one clean place
The app allows you to post content to all your social media profiles with a single click. With smart analytics, Buffer determines which content is performing the best and helps you to adjust your strategy accordingly.
Buffer's browser extension which integrates with WordPress, Chrome, and RSS readers, is a handy addition that allows you to save content on the go and schedule it for later.

All-in-one content marketing tool.
elink.io is an amazing all-in-one content curation & content marketing tool that helps marketers and content creators publish email newsletters, web pages and embed web content by just adding web links! Turn a collection of web links (articles, video, etc.) into visual content in seconds.
Some awesome features include:
Convert weblink collections to email newsletters and export to MailChimp, Gmail & all third-party email providers that allow HTML code (including Campaign Monitor, MadMimi, Active Campaign, etc.)
Users can also track content performance and engagement levels on the content created and shared.
elink offers 19 beautiful pre-built responsive layouts, so you never have to worry about design and can just focus on collecting awesome content.
You can think of elink as a professional Pinterest! This smart time-saving tool will change the way you create and share content!

Real-time media monitoring.
Mention is a social media analytics tool that helps you monitor activities online. You can monitor:
Your brand
Competitors
Campaigns and
Your customers…
anywhere online!
Mention allows you to monitor over a billion sources online including social media posts, blogs, forums, etc. You can easily see what people are saying about your brand in real-time. This monitoring allows you to act and respond quickly.
Boolean alerts make it really easy to target and monitor a keyword or competitor in your target market and adjust strategies accordingly. All-in-all, Mention allows brands to:
Attract customers
Build brand awareness
Help improve brand reputation online
Read more: Digital Marketing Tools That Will Help Every Marketer

Find the key influencers to promote your content.
Content plays a major role in establishing your brand value online. If you can create value-adding and at the same time, entertaining content, it can go viral and can lead to greater exposure for your business.
However, knowing what clicks with audiences online is the tricky part. This is where Buzzsumo comes in. A top social media analytics tool Buzzsumo is the go-to tool for content research as it provides deep insights into what keyword or content is performing the best online.
Buzzsumo is perfect for you if you have a hard time coming up with good content ideas for your blog or website or are just wondering why your competitors are receiving awesome engagement levels. Marketers can use Buzzsumo to:
Find content that is most shared, liked, tweeted across different social media platforms depending on your location or time
Find influencers
Get alerts based on keywords, brand names, and authors
With Buzzsumo, it gets a lot easier for you to plan and create engaging content for your target market.

Next-Gen Document Collaboration for Teams & Clients
Bit is a new-age collaboration tool that helps marketing, sales, customer support, and tech teams to work together effectively.
Social media marketers can use Bit's next-gen document collaboration platform to collaborate around all types of digital assets and social media posts by giving them a simple free virtual roof to collaborate on:
Social Media campaign ideas (Integrations with Google Sheets, etc.)
Social Media designs (Integrations with Canva, etc.)
Marketing proposals (Integrations with Google Slides, etc.)
Influencer campaigns (Integrations with Facebook, Pinterest, Twitter, Instagram, etc.)
Interactive training guides
Bit is the smartest way to work with your social media team on internal work, and marketing materials for the outside world!
Marketing, sales, and customer service teams are loving the ability to collaborate across the digital work they do and save valuable time communicating internally and externally!
Bit's smart, new-age, time-saving tool will forever change the way you communicate. Stop getting work lost in a sea of emails and chat channels! This is the one place everyone should be getting work done!
Read more: 20 Social Media Marketing Quotes to Inspire Your Team!

Put Content Curation on Autopilot
Quuu is a one-stop shop for all your social media curation and sharing needs. What makes it different is the fact that all the content suggestions made by Quuu are hand-curated by an expert.
This human involvement in the curation process means that there are no algorithms involved! This cherry-picked content ensures that all of the content in Quuu's content library is high-quality and relevant.
Just select the topics you are interested in, select the number of times and the time you want Quuu to share content, and hit done! You also have the option to manually approve each piece of content Quuu decides to share on your behalf.
Read more: 10 Growth Marketing Podcasts To Take Your Business To The Next level

A world that works for you
So many social media management tools mean that you have to have a schedule or structure in place to get work done without missing a step. That's what IFTTT is for. I FTTT is an acronym that stands for "if this, then that".
IFTTT allows users to link various apps and services to create "recipes" or a set of instructions that IFTTT then carries out automatically. For example, you can set it up to send a tweet every time you publish a new blog post.
Apart from social media apps, you can also connect your smart devices like Alexa, Google Home, Smart lights, and so on. IFTTT is a great app to manage your complex workflow and automate tasks to save time and effort!

Create engaging infographics and reports in minutes
When asked which type of visuals had the highest engagement, 42% of marketers reported that infographics and other original graphics were the most engaging.
If you are looking to create engaging social media content, infographics just might do the trick. Infogrames is an easy, interactive, and fun way to design infographics. You can create stunning infographics that are engaging and visually appealing.
If your job involves presenting spreadsheets and boring data visually, information might just turn out to be your best friend. You can even design charts and graphs by importing your data or.csv files and customizing it to make them more personal and branded.
Infogram's mapmaker allows anyone to make interactive maps in minutes. It is being used by major organizations like LinkedIn, Intercom, Fast Company, etc.

Manage all your social media in one place
If you are not a Buffer fan, you might want to take a look at Hootsuite. Another popular social media management tool out there, Hootsuite allows you to integrate across 35 social media platforms including – Twitter, Facebook, Linkedin, and even Google Plus, and manage them from a single dashboard.
With HootSuite, you can automatically:
Find and schedule your social media content
Create engaging campaigns
Manage teams
Interact with customers and prospects in real-time.
HootSuite's real-time analytics help you make smart, data-driven decisions to improve your social media strategy. With over 10 million users worldwide, HootSuite is widely popular and trusted.

Generate great titles for articles and blog posts.
Your content might be the best piece of content ever written or recorded, but if your titles aren't catchy enough, it won't reach their full potential.
Tweak Your Biz Title Generator is, as the title says, a headline generator to use for blog posts, articles, e-books, and more.
Just enter whatever topic you are writing about, select whether it is a noun or a verb, and choose how you would like to get your results (title case, sentence case, or all caps) and hit submit. You are presented with a huge list of headline ideas to choose from. The results are categorized as:
Lists
Questions
How To's
Best
Celebrities
Business
Love
Secrets
and much more!
Conclusion:
Social media marketing can feel a bit overwhelming. Trying to make a name for your brand in a crowded space takes a lot of work, skills, and patience. With so much good content out there, businesses have to fight to attract consumer attention.
However, having the right social media management tools in place can significantly reduce that labor and save you time!
Did we miss an awesome social media tool? If you use any killer app or tool not mentioned above, let us know about it by tweeting us I have an awesome social media tool suggestion for your blog post! ❤️
Further reads : 
Related posts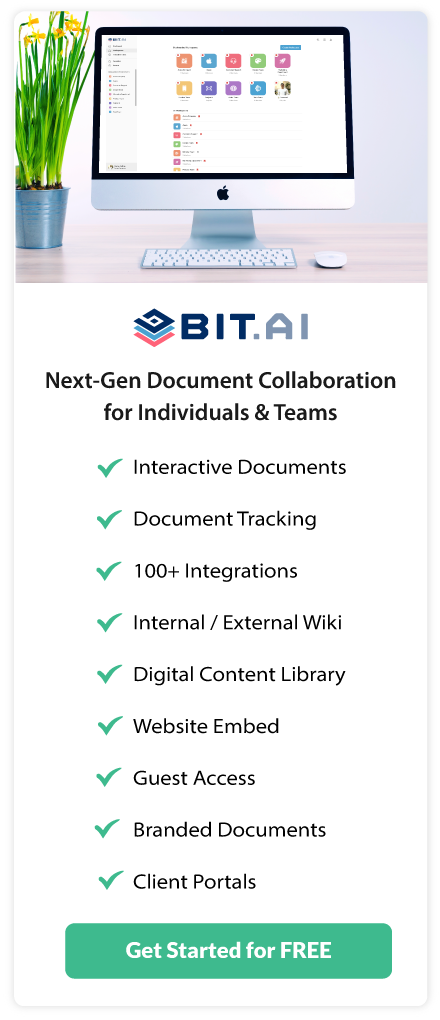 About Bit.ai
Bit.ai is the essential next-gen workplace and document collaboration platform. that helps teams share knowledge by connecting any type of digital content. With this intuitive, cloud-based solution, anyone can work visually and collaborate in real-time while creating internal notes, team projects, knowledge bases, client-facing content, and more.
The smartest online Google Docs and Word alternative, Bit.ai is used in over 100 countries by professionals everywhere, from IT teams creating internal documentation and knowledge bases, to sales and marketing teams sharing client materials and client portals.
👉👉Click Here to Check out Bit.ai.