Creating an ebook for distribution is a great idea to gain fans and followers in our ever-increasing digital landscape. Creating Ebooks are a great idea because they cover a particular topic or explore an idea in-depth, requiring a level of expertise not everyone can have. This is what makes ebook authors stand out from the blogger-crowd.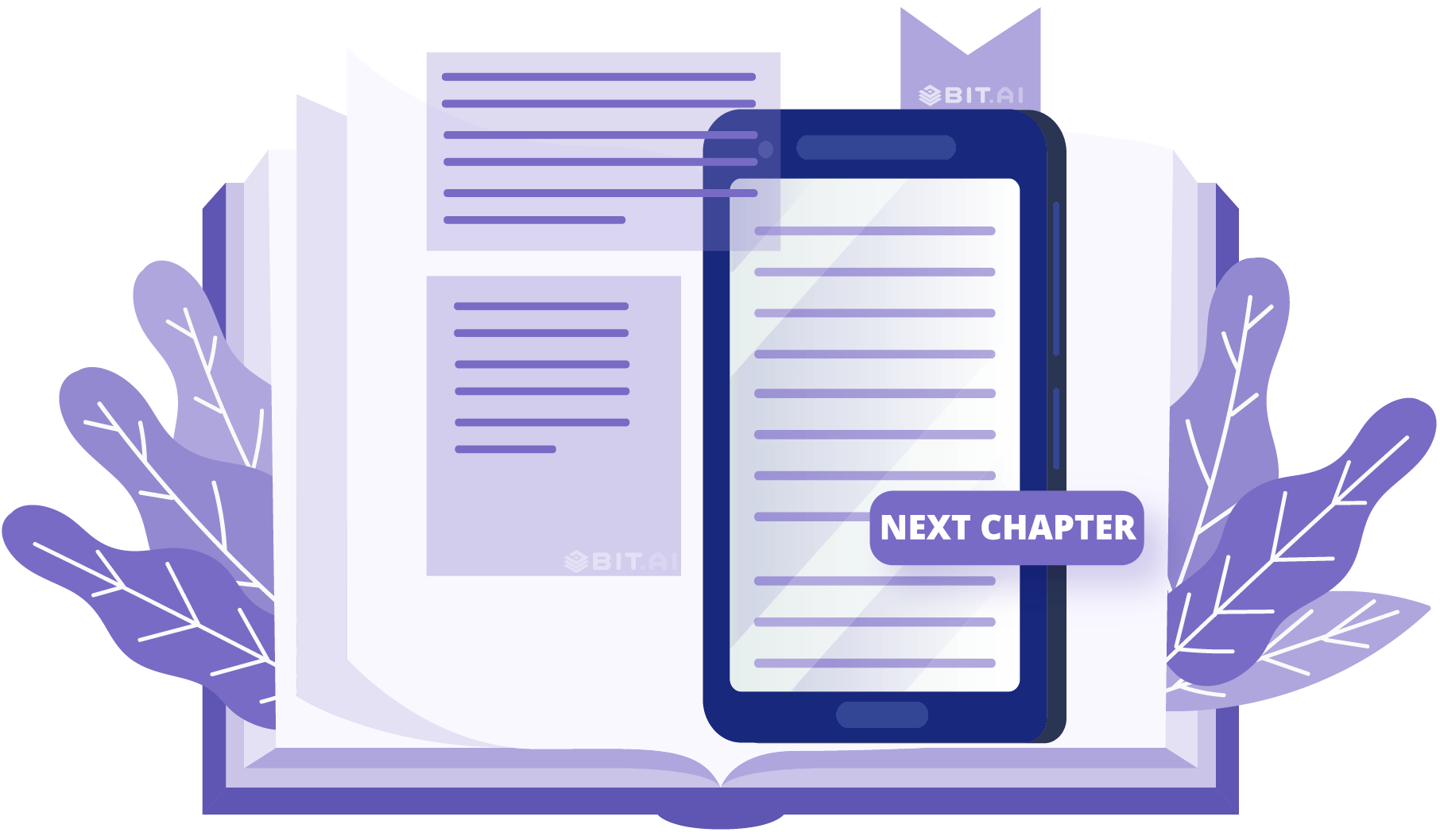 Ebooks have exploded in the past few years. Not the devices, but sales. According to data,  Amazon generated around $3.9 billion solely from Kindle sales in 2013. According to Techcrunch, between 2010 and 2015 alone, the number of ISBN registered titles jumped 375 percent, from 152,978 to 727,125. But why?
Why Creation Of Ebooks Have Gained Traction in Recent Years?
Ebooks have gained significant traction in recent years and show no signs of stopping. The reason for this explosion is two-fold.
One, the cost of writing, editing, publishing, distributing, and marketing an ebook has gone down dramatically. You no longer have to spend thousands of dollars and years dealing with publicists, editors, and media and distribution houses.
Secondly, ebooks are simply awesome! They provide a handy way of carrying hundreds of titles in your pocket, which is useful especially when you are traveling. Moreover, the ability to highlight text, look up for words via an inbuilt dictionary and internet, buying ebooks in seconds as compared to driving to a book store, and the sheer convenience of the whole reading experience has led to the massive growth of e-readers and the downfall of their physical counterparts.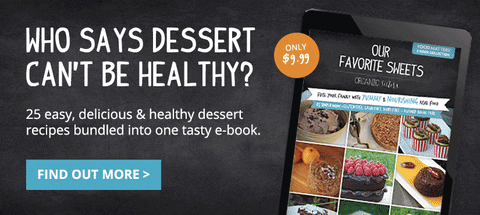 According to Nielsen Bookscan, print sales dropped 9 percent in both 2011 and 2012, while digital sales continued to increase. By 2010, Amazon was selling more e-books than hardcovers — in the two years prior, ebook sales climbed up a monstrous 1,260 percent.
Apart from authors, ebooks have also been an ally to content marketers, who are churning out ebooks as a lead magnet tool. For marketers, creating an ebook provides an opportunity to showcase quality insight into an area of expertise, build credibility amongst their target audience, and generate new leads in the process. Which is why a staggering 38% of content marketer consider ebooks as their most critical tactic for content marketing and lead generation.
Read more: How To Create An Interactive Ebook That Gets High Downloads
Let's explore and find the best ebook creator from the list of best ebook creation tools:
The rise of ebooks has also given birth to new software and tools that make it extremely easy to create a full-fledged ebook. Since there are many such ebook creators on the market, all claiming to be the best, we decided to go through each and every one of them and find out the best of the best. The list you will now read contains the top 5 ebook creator software on the internet right now. Read on…
Bit is the first ebook creator on our list. It is a cloud-based document editor that helps anyone create, manage, share, and track their ebook with ease. Bit documents come alive and help you share documents like ebooks that are more than just plain boring text.

You can add rich media like YouTube videos, Google Docs, One Drive, Excel Spreadsheets, SlideShares, etc. Basically, anything on the internet with a link can be shared and Bit will automatically turn it into visual content. With Bit, you can add code blocks, math equations, add files that can be downloaded by your audience, GIFs, and more!


You can collaborate in real-time with peers and friends as you fine-tune your ebook. Bring in your copywriters, editors, designers, creative heads, etc. all in one central workspace and work with their valuable feedback and suggestions.
Users can also add comments to their document, providing a space for discussion and feedback. The minimal editor makes it easy to simply jump inside a blank page and start writing, instead of suffocating you with a bunch of buttons and formatting tools.
Bit generates an automated table of contents based on the headers you add to your ebook. This is a fast way to scroll to different sections of your ebook as a creator, collaborator and for your audience viewing the final published ebook!
Once you're satisfied with your ebook and are ready to share it, you can create a trackable link. Your trackable link once shared will provide you with information on how often it's viewed, how far it was scrolled, how much time was spent on it, etc.
 Bit also allows you to gate access to your ebooks by adding a lead capture form and make the ebook available on when the person has added their contact details!
Key Features
Export ebook in PDF, DOCX, EPUB, and other formats.
Real-time collaboration with team members.
A minimal editor that supports Markdown.
Pricing: 
Free with limited functionality
Paid plans start from: Standard ($12/month), Plus ($20/month), Enterprise (contact sales).
Read more: 10 Best Writing Apps To Make You A Better Writer
Scrivener is another perfect tool for ebook creation. A writing tool used by novelists, students, academics, screenwriters, non-fiction writers, journalists, lawyers, translators, and more, Scrivener is a fine tool to create anything from ebooks to screenplays.
Scrivener sees itself as a tool for long-writing projects and knows the importance of structuring content to tell a coherent story. This is why Scrivener allows users to jump right in and start writing their characters, outline, and create their manuscripts organically while leaving the structure to Scrivener.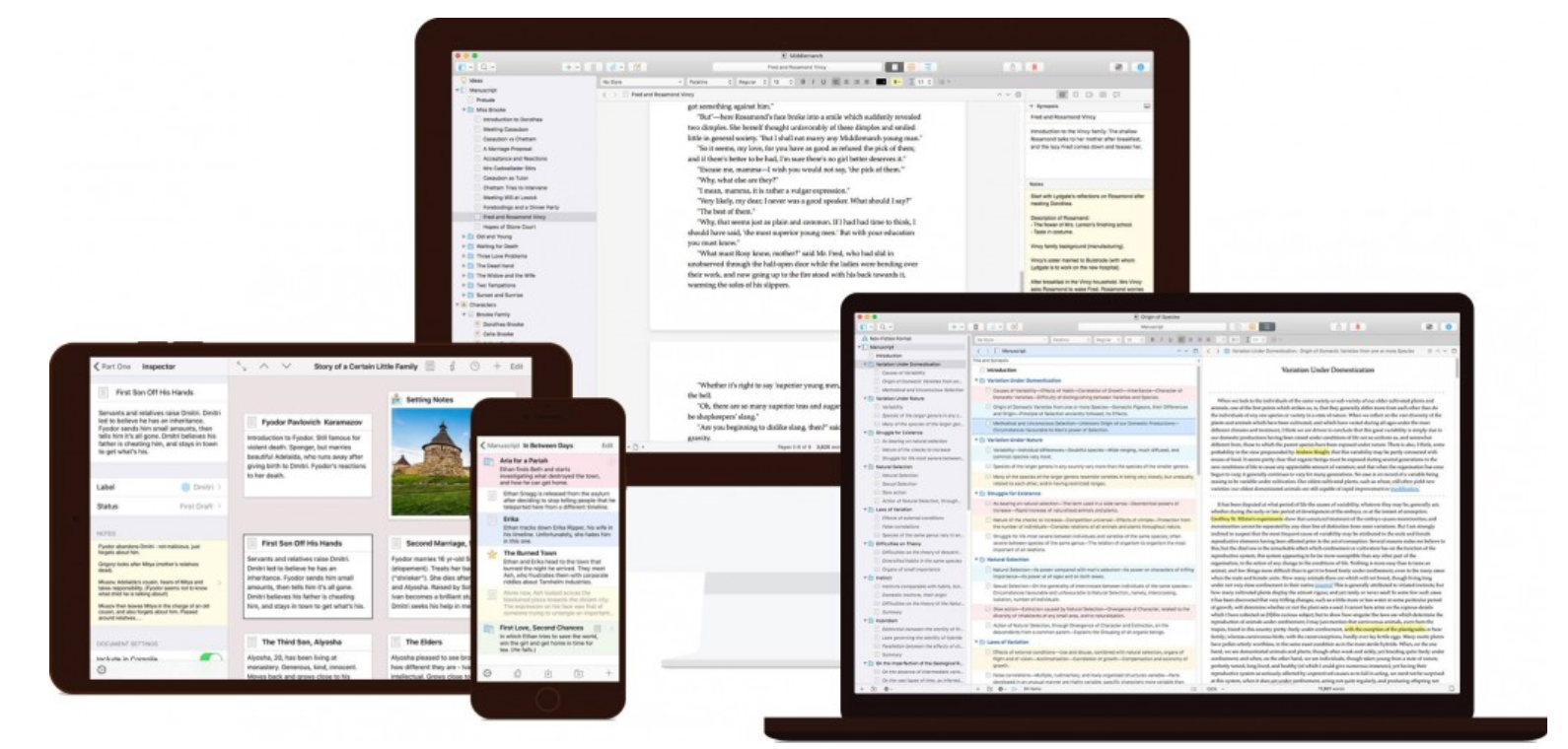 With the ability to see your project outline, you will never lose track of your manuscript and can easily drag and drop sections or paragraphs anywhere.
Whenever you get stuck and need help, you can refer to your research content as it can be opened up in the same window as your draft. This allows you to quickly transcribe an interview, take notes from a PDF, or write a description for a photograph and more.
Once done, you can quickly compile everything into one document and export it to any of the popular formats like PDF, Word, ePub, Final Draft, or just plain text.
You can even share using different formatting so that you can write in your favorite font and still satisfy those submission guidelines. If you are a beginner, Scrivener can feel a bit intimidating with all its bells and whistles. Having said that, it's a remarkably powerful tool once you get familiar with it.
Key Features
Word like editor
Copy-paste formatting from one text section to another or save complex formatting to quickly apply later.
Import Word documents, Final Draft scripts, plain text files, images, movies, sound files, and web pages.
Pricing: 
Free with limited functionality
Paid plans start from $40.84/one-time
Read more: Power Words To Make You Stand Out From Competition
The third ebook creation tool on our list is Microsoft Word Online. Anyone familiar with a PC probably knows how to work on Microsoft Word. If you don't want to learn any other software and are a bit old school, Microsoft Word remains to be a decent editor for creating your ebook.
Microsoft has also introduced a web version of Word called Microsoft Word Online, aimed at competing with products like Google Docs. With Word Online, you can create your documents and ebooks in the cloud without having to worry about storing it securely in your PC and can even collaborate with fellow writers and editors to get work done more effectively.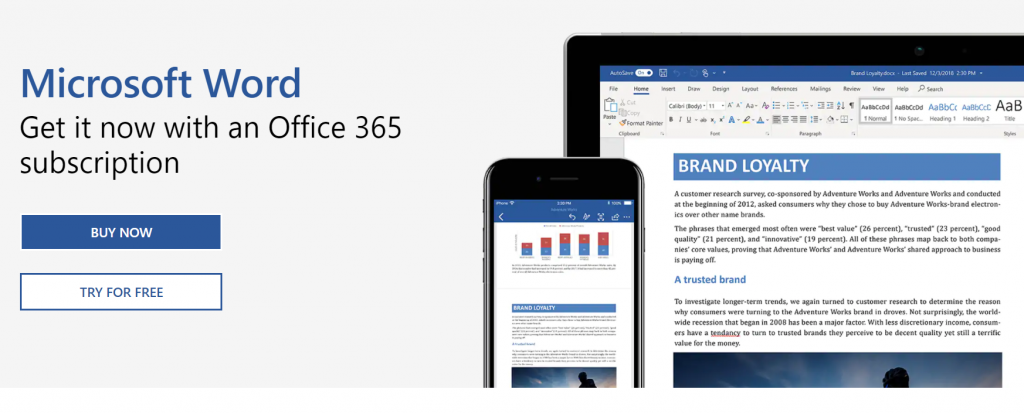 All you need is an internet connection, a web browser, and a Microsoft account to access its productivity suite which has some cool apps like Excel, PowerPoint, OneDrive, OneNote, and more in addition to Word. Word online lets you co-author and co-edit your ebook and work simultaneously on a document with ease.
Users can give highlight sections, add chat comments, and give their feedback. There are many free templates to kickstart your work along with formatting tools like APA, Chicago Style, and MLA, and other free add-ons.
If you have already created a draft in your PC, you can upload it online with one click. You can also upload documents from your computer through the OneDrive integration or can directly open documents through Dropbox. Once done, you can download your ebook in PDF or ODF format.
Key Features
Familiar interface and editing options.
Real-time collaboration with peers and add comments.
Word templates in over 40 categories.
Pricing: 
Free with limited functionality
Paid plans start from: The base price per user for Office 365 Business and Enterprise Plans range from $5 to $30
Read more: How To Create an Ebook That'll Get High downloads
Next up on our list of awesome ebook creators is ZohoWriter, a writing tool by the Office competitor Zoho. Zoho writer presents a minimalistic approach to writing, providing you a blank page to start with the writing process without hiccups.
If you are using or have previously used Microsoft Word in the past, you can easily import and work with your existing MS Word documents, keeping the style, format, and flow intact.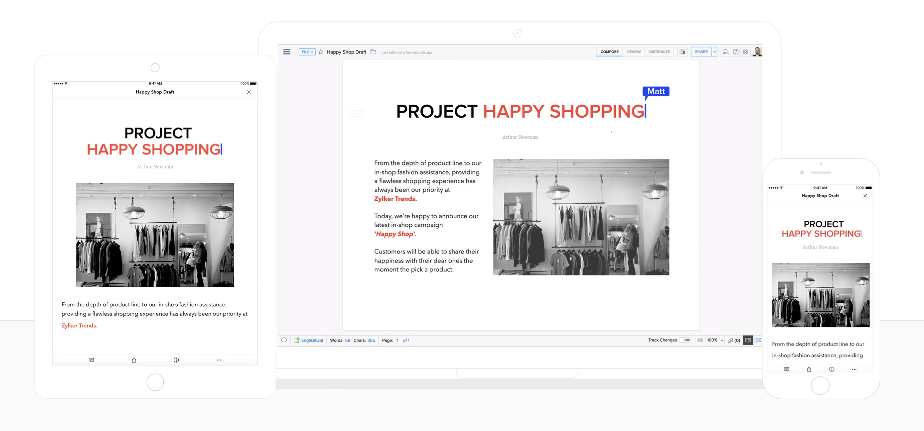 Zoho writer also allows real-time collaboration with peers, making the tiresome process of creating and editing an ebook, a lot easier. While collaborating, you can lock portions of a document that you don't want your collaborators to edit or can even hide your changes from others by turning off collaboration, and reveal them once you're satisfied with your work.
A really neat feature of Zoho Writer is the 'focus mode' that helps you concentrate on your current paragraph while dimming the visibility of the rest of the text. There's also a 'night mode' to keep it easy on the eyes. Meanwhile, there are "writing modes," which include- compose, review and distribute modes, all of which can be used to make the process of ebook creation and distribution a breeze.
Want to send your ebook to your editor for review? With Zoho's Writer advanced document review system, users can track version history, search and filter through comments, get email updates, and reply to the comments from the email.
Key Features
Awesome tools for editing and has over 350+ fonts to make your text stand out.
It has an AI-powered writing assistant called Zia which helps correct grammatical errors and provides suggestions.
Lock a document to prevent it from further edits.
Pricing: 
Free with limited functionality
Paid plans start from: Standard Edition ($12/user/month), Professional Edition ($20/user/month), Enterprise Edition ($35/user/month)
Read more: How to Write an Effective Creative Brief
The last tool on our list is Calibre, an ebook creator and management tool with a ton of cool features. Apart from providing you a bunch of tools to create your ebook, Calibre can also be used to edit your existing ebooks, magazines, comics, newspapers, and much more.
A complete ebook solution, Calibre lets you add new ebooks to the platform, edit metadata of those books, convert books into multiple output formats, and even get new books from the internet directly into Calibre.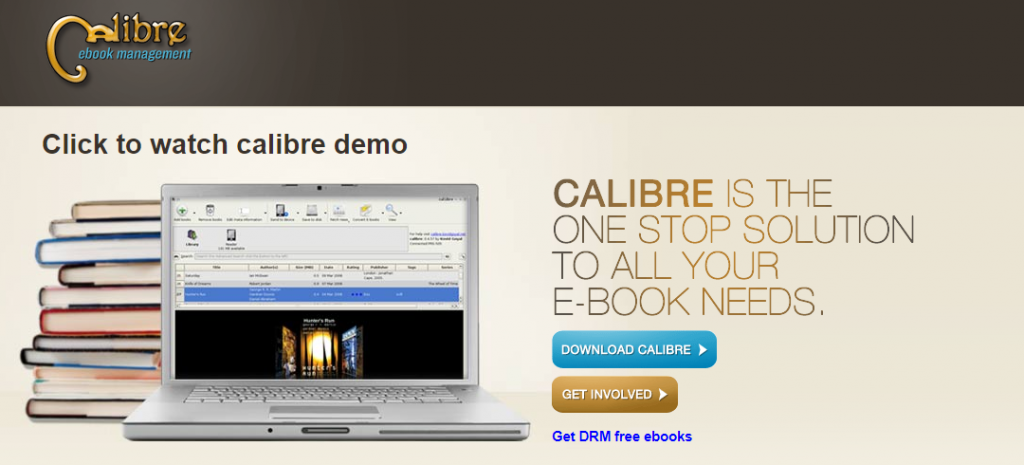 Once you click the "add ebook" button, you can add ebooks in multiple formats including PDF, HTML, EPUB, MOBI, DOCX, PML, CBZ, AZW3, and more. If you want to convert those ebooks, you can click on the "convert ebook" button which presents you with a ton of options along with converting the ebook into DOCX, HTMLZ, AZW3OBI, ZIP, TXT, PDF and other formats.
The "edit metadata" button can help you edit the look and feel of your ebook by allowing you to change its cover image, the title, the publisher, add series, tags, and description. You can also change the font, play around with different font sizes and length, and can even add and link the table of contents to their respective sections in the ebook for easy scrolling.
You can add a customizable cover to your ebook but there's also an in-built cover creator to do the job for you. Calibre is a great tool and has almost everything you need to create, edit, and share your ebook and works on Windows, Linux, as well as Mac.
Key Features
Search and replace tool to rectify errors.
Structure detection to remove additional margins or auto add metadata wherever missing.
Inbuilt ebook viewer to check whether everything appears as intended.
Pricing: 
Read more: 10 Best Apps For Writing A Book
Which Ebook Creator is Your Favorite?
Creating an ebook is no easy task- you have to do the research, formulate your ideas, design a structure, write, design, and market it effectively to get the most out of your hard work. A simple word processor can give you the space to write, but will not be able to help you out with the other aspects of creating and distributing an ebook which is equally important.
This is why we recommend you to try out Bit. Bit empowers writers, authors, researchers, marketers, and everyone else to bring all their content in one place and collaborate with their peers to get work done quickly.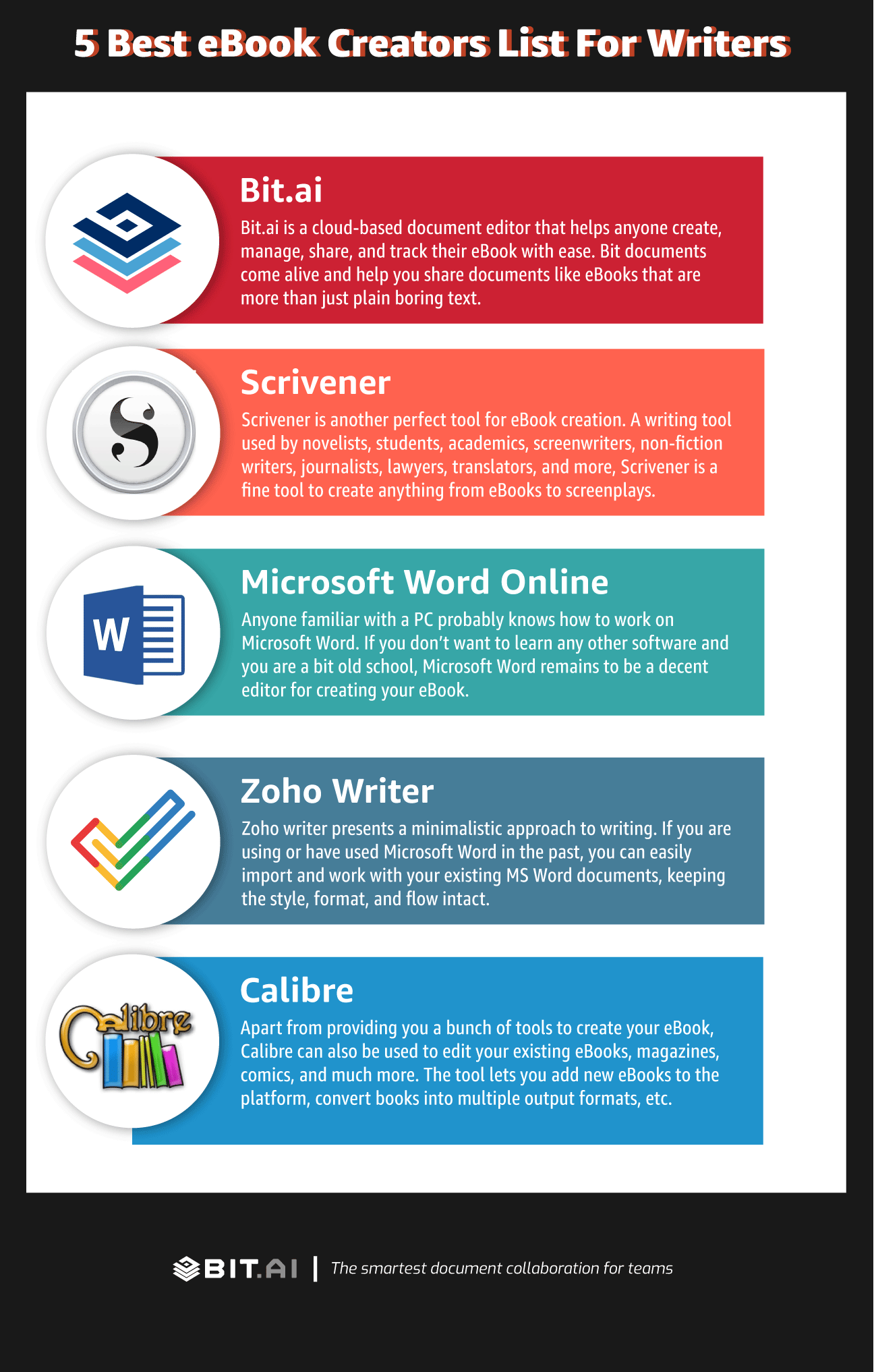 If we missed out on your favorite writing or ebook creator tool, do let us know by tweeting us @bit_ai.
Further reads: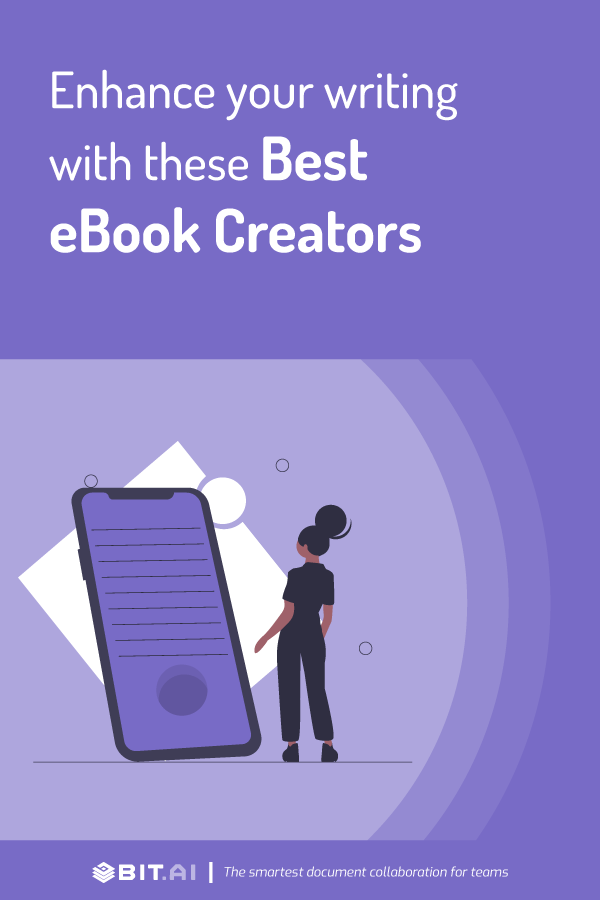 Related posts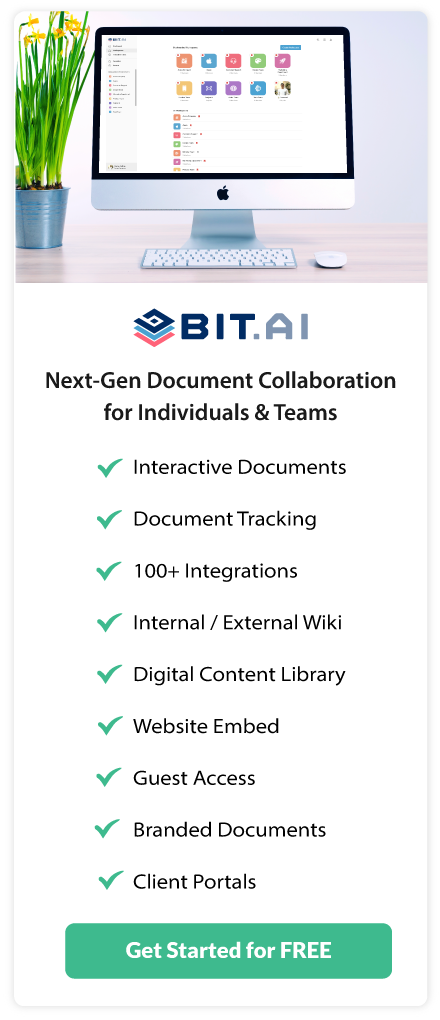 About Bit.ai
Bit.ai is the essential next-gen workplace and document collaboration platform. that helps teams share knowledge by connecting any type of digital content. With this intuitive, cloud-based solution, anyone can work visually and collaborate in real-time while creating internal notes, team projects, knowledge bases, client-facing content, and more.
The smartest online Google Docs and Word alternative, Bit.ai is used in over 100 countries by professionals everywhere, from IT teams creating internal documentation and knowledge bases, to sales and marketing teams sharing client materials and client portals.
👉👉Click Here to Check out Bit.ai.