Ever since the American multinational computer software company, Adobe, developed and released a file format called PDF in the year 1992, it has grown to be one the most popular and highly used file formats in the world!
Whether it is corporate companies, educational institutions, e-commerce businesses, banks, or any other sector, PDF documents dominate the scene in sending and receiving messages securely.
A PDF format usually includes texts, images, fonts, graphics, and multimedia, and is the perfect format for protecting your documents from any sort of modification or interference.
Since most browsers have a built-in PDF reader, you would think that it would meet all your needs, however, we're here to tell you that a reliable PDF reader often has more advantages than a built-in one.
There are various free PDF readers and editors available in the market and, in this blog, we have rounded up a list of some of the very best!
Want to know what they are? Then jump right in!
What is a PDF Reader?
PDF, when expanded, stands for Portable Document Format, a commonly used file format that is easy to print and share. However, a PDF file cannot be modified or converted back to its original format.
To read these PDF files or documents, you need to download a PDF reader. What's that, you ask?
Like its name suggests, a PDF reader is an application that is used to open and read a PDF file. It's as simple as that!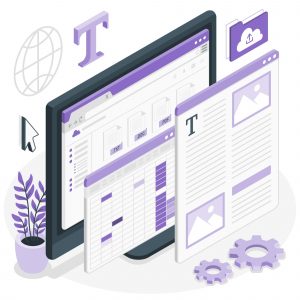 The functionality of a PDF reader is to work with the necessary code to interpret the data within a PDF file, which then instructs the software on how to display the various elements of each page of the PDF. They are basically the key to interpreting and view all the data that files hold.
In addition to this, a PDF reader is great if you want to keep your content secure and share your files with others.
Read more: How to Create an Interactive PDF in Minutes?

Why Use a PDF Reader?
Since a PDF reader allows you to read, edit, convert PDF files, it comes with various advantages and benefits, such as:
Decline in the usage of paper-based processes, making it cost-effective and eco-friendly.
The opportunity to design and create sleek reports, files, brochures, and more.
Include different multimedia files like video and audio, in addition to building electronically fillable forms
Enabling the creation of fully searchable documents
Getting a quicker and more secure way to sign documents electronically.
Allowing complete control over the PDF documents and files that enter your business.
Ability to encrypt and password-protect documents, lock files, and grant permissions.
Safe to say that a PDF reader is universal, interactive, searchable, easily accessible, and highly secure.
Want to know some of the best free PDF readers available in the market? Then scroll down right now!
List of 11 Free PDF Readers You Must Explore!
Let's start off the list with Adobe Acrobat Reader DC, a free PDF reader that is compatible with a majority of operating systems and various devices. It lets you view, read, comment, and share PDFs and easily handles opening multiple files at once without risking a crash.
An interesting feature of Adobe Acrobat Reader DC is that it has a text-to-speech mode that allows you to read your texts aloud and guide you along with documents that are challenging to read. Using this PDF reader, you can view your documents in tab view. It even lets you highlight texts, add comments, and fill and sign forms.
Adobe Acrobat Reader DC integrates with Adobe Document cloud and other cloud storage systems, like Microsoft OneDrive, Box, Dropbox, and more.
If you're looking to collaborate on your PDF files, then Foxit Reader is a great option for you. It is a cloud-based PDF reader that lets you create PDFs by uploading scans or converting Excel sheets, Word documents, or PowerPoint presentations.
Foxit Reader allows you to merge multiple PDFs into a new file and share them securely on the cloud. It has amazing security features that include encryption, passwords, and digital signatures to keep your files safe and private. It even has a safe reading mode that disables JavaScript embedded in PDFs.
With Foxit Reader, you can grant readers access to your document, authorize them to edit or comment on the file and effortlessly collaborate with them. The coolest part is that you can track and view their activity and find out who opens your document and what changes they are making.
What's more? Foxit Reader integrates with top cloud storage facilities and CMS services and is compatible with Android, macOS, Linux, and web browsers.
Another powerful PDF reader like Adobe Acrobat DC and Foxit Reader is Nitro Reader. It has ribbon-style menu software with a clean interface that is easy to navigate. It allows you to view, create, review, share and secure PDF files.
With Nitro Reader, you can easily create new PDF files by simply dragging and dropping the files into the reader. It even allows you to change the orientation and colors of your files.
A remarkable feature of Nitro Reader is that it provides a touchscreen mode for working on a tablet. This is great for reading e-books as it allows you to flick through the pages. With regards to security, this PDF reader works with digital certification and features a digital signature to sign into or open documents.
Nitro Reader comes with excellent collaboration features that allow you to annotate documents through highlighting, underlining, and strikethrough. It even lets you comment in the form of sticky notes within the document. Furthermore, Nitro Reader allows you to convert between PDF and other document formats.
Looking for a lightweight PDF reader because you have limited space in your hard drive? Then Slim PDF is an excellent choice for you. It is one of the smallest desktop PDF readers available in the market with only a 1.43MB download size.
Slim PDF has a very intuitive, simple, and distraction-free design. It allows you to read, view, and even print your PDF files. It provides other standard features, such as rotating, text searching, zooming-in, and zooming-out.
Because Slim PDF reader is incredibly lightweight, it has a comparatively faster loading time than its competitors. It also gives you the option to choose between light mode and dark mode.
Slim PDF keeps a record of the most recently accesses PDFs allowing you to easily pick up where you left off with the last one. Furthermore, Slim PDF reader is available for Mac, Linux, and Windows.
Next on the list, we have PDF XChange Editor, a free PDF reader and editing program for Windows. It offers standard features like reading, viewing, creating, annotating, saving images, printing, and adding signatures, notes, and texts in the PDF file.
What makes PDF XChange Editor unique is that comes with the Optical Character Recognition (OCR) tool, which scans and recognizes the text in printed documents and photocopies and helps with editing and converting them into searchable documents. It even lets you reformat text and convert it into different fonts.
In addition to this, PDF XChange Editor allows you to merge and split your individual PDF files and record and attach audio or other files to your documents. You can also utilize its autosave and auto-recovery features to safeguard your documents.
Moreover, the fact that this PDF reader is a lightweight application makes it deliver a very fast and smooth loading and closing time.
Here's Javelin PDF Reader, another lightweight application with a download size as small as 2 MB. It is simple and fast with a clean and easy-to-understand interface that allows you to read, annotate, and bookmark PDFs. It even lets you print standard and encrypted PDFs.
A unique feature of Javelin PDF Reader is that you can view your files using any of the several screen-viewer functions like full-screen, side-by-side, and continuous mode. This application is also a reader for Digital Rights Management (DRM) encoded PDF files which means that it can open secured files that require decryption keys for access.
Since the Javelin PDF reader does not come with editing features, it is best used for simple reading and taking notes. This PDF reader has a mobile version that lets you access and manage metadata. Furthermore, it runs on Windows, Mac, iOS, and Android.
Who doesn't know the famous Google Drive? It is one of the most widely used and most accessible PDF converter and storage systems in the market. It is a great platform for converting documents, presentations, and sheets into PDFs and uploading them on online platforms.
As Google Drive does not offer editing features, it is only useful if you simply want to view and read PDF documents. However, it being a default PDF reader for Google Chromes makes it extremely easy for you to connect to external Google apps.
On Android, Google Drive allows you to scan your documents with your phone camera and convert them into PDFs. Once it is scanned and saved to your drive, it becomes searchable by using Google Drive's search tool. This is great for scanning and recording certificates, receipts, and official forms.
The best part is that you probably already have a Gmail account with Google, which means that you can instantly and easily use it without any hassle!
Xodo PDF Reader and Annotator is a powerful PDF reader that you can use to read and annotate PDF files. Like all other PDF readers, it allows you to open, review, and edit PDFs and offers other standard features, like search, bookmark, rotation, chapter and section jumps, high-end zooms, and more.
With Xodo PDF Reader, you can open the most complicated files in just a matter of seconds. It lets you open different file formats, such as PPT, Doc, Docx, and more as editable PDF files. It also gives you various options to view your documents on a single page, double, page, or as a continuous scroll.
This PDF reader comes with collaborative features that allow you to convert PDFs into a virtual workspace, where you can edit, write, highlight, and comment in real-time. You can even sync your PDF files with your Dropbox or Google Drive to access other documents.
Xodo PDF Reader is supported on Windows and Android, available as a Chrome extension, and a web app on Chrome, Firefox, and Internet Explorer. What's more? It is devoid of any advertisements or in-app purchases.
For all you Apple users out there, we have here for you PDF Expert, a PDF reader and editing platform for Mac, iPad, and iPhone. It lets you read, edit, and annotate your PDF files and automatically detects the font, size, and opacity of the original text.
PDF Expert is powerful, fast, and intuitive, and lets you seamlessly transfer documents between your Apple devices. You can choose between light, dark, or sepia mode to have an amazing read experience and instantly find things with search indexing.
With PDF Expert, you can collaborate with others by adding notes and comments to your documents. It allows you to save relevant information into your search history and lets you sign contracts as well.
Some other features of PDF Expert include, page number, merging files, cropping pages, and split view mode. Furthermore, It allows you to protect all your information with a password.
If you're an avid reader with a collection of E-books, then we have for you Sumatra PDF, a simple, lightweight, open-source PDF reader that is designed to help with PDFs and E-books of all kinds. It has a clean interface that comes with various keyboard shortcuts, command-line arguments, and fullscreen and presentation modes.
A special thing about Sumatra PDF is that it not only treats PDF files but also supports other formats, like MOBI, EPUB, CHM, XPS, FB2, and DjVu. It allows you to easily create your own customized digital library within the application.
Another thing about Sumatra is that it is a multi-lingual PDF reader that supports over 69 different languages and translations. Since is it small in terms of size, it is super fast compared to many of its competitors and takes up less waiting time.
Lastly, we have EasePDF, an online PDF reader and an all-in-one solution that comes with functionalities for converting, editing, compressing, splitting, and merging PDF files.
EasePDF supports universal conversion, which means that it allows you to convert several file formats, such as Excel, PPT, jpg, HTML, etc. to PDF formats and vice-versa.
This platform is regularly updated and performs automatic deletion of links and files in 24 hours. In addition to that, it provides security to your documents through 256-bit SSL encryption, making it a highly safe and secure PDF reader.
Moreover, as EasePDF is an online platform, it removes the need to download and install the software and can be used on platforms like Windows, Mac, Linux, iOS, and Android.
Conclusion
We all come across PDF files in our professional and personal lives on a regular basis. That's why PDF readers are essential tools that we need to have on our phones and computers.
We hope that this blog has been helpful in equipping you with the knowledge of some of the best free PDF readers out there!
And now that you know about the various options available to you, you can choose the one that fits your needs! Hope you find what you're looking for! All the best!
Further reads:
How to Embed PDF in Your Documents?
15 Free Online Notepads You Need To Check Out This Year!
How to Track PDF Engagement Levels in 2022
11 Secure File Sharing Sites to Upload, Store & Transfer Files!
Top 12 Content Collaboration Platforms In 2022
The Best Way To Organize All Of Your Work And Get Rid Of Chaos!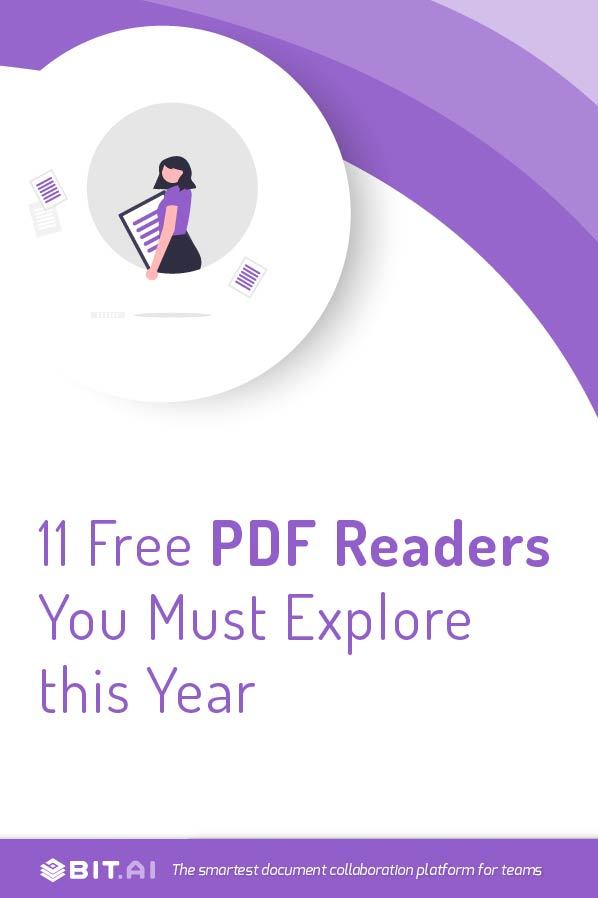 Related posts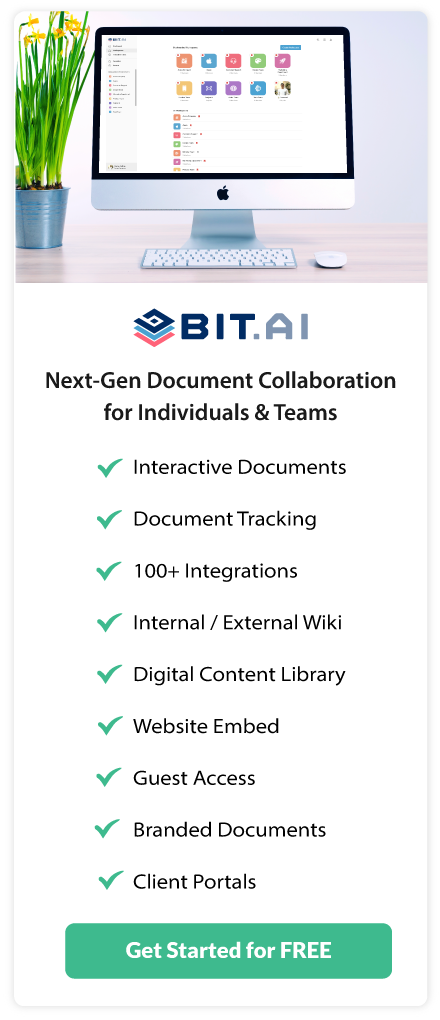 About Bit.ai
Bit.ai is the essential next-gen workplace and document collaboration platform. that helps teams share knowledge by connecting any type of digital content. With this intuitive, cloud-based solution, anyone can work visually and collaborate in real-time while creating internal notes, team projects, knowledge bases, client-facing content, and more.
The smartest online Google Docs and Word alternative, Bit.ai is used in over 100 countries by professionals everywhere, from IT teams creating internal documentation and knowledge bases, to sales and marketing teams sharing client materials and client portals.
👉👉Click Here to Check out Bit.ai.