It's not what we do once in a while that shapes our lives. It's what we do consistently. – Tony Robbins
You're driven and persistent. You don't want to waste your existence on something ordinary. You want something out of your life. You want to achieve your goals.
Do you know how we're so sure about the kind of person you are? Well, if you didn't have any goals and you were non-driven, you won't be out here looking for the best goal tracking apps and tools.
Now, here is the thing about goals – it is easy to set them, but it is much easier to lose sight of them. So, to actually make progress towards achieving your goals, you have to be really careful about what you do.
You have to keep checking in with yourself and your goals. You've to figure out a way to keep yourself focused on your priorities. In short, you must keep track of your goals.
Because if you don't have any system in place for tracking your goals, you will neglect them. You will struggle to achieve them. You will end up spending time on things that have nothing to do with your goals.
The result? A chaotic life! That's exactly where goal tracking apps and tools into the picture because sometimes, all you need is a nudge to get going.
Hey, don't worry! You don't need to spend your precious time searching for the best goal tracking apps and tools available. We have done it for you. 🙂
We totally understand that when it comes to your goals, you want something simple, flexible, and reliable. Something that isn't too flashy, and yet works super effectively.
…and that's exactly the kind of goal-tracking apps and tools we've mentioned in the list. Interested? Of course, you are! Keep reading!
Platform: Play Store
Pricing: Free
This powerful goal tracking app is all about one-tap goal setting. Basically, through this app, you can create and manage your goals – without going through a lot of fluff. Dreamfora has a planning wizard using which you can set up new goals and track them instantly. You can choose a goal from the list, or write down one from scratch.
You can also head over to Dreamfora's 'day mode' to see your daily checklist and figure out what activities need to be completed on a particular day. In addition, there's a progress page that shows an in-depth analysis of your progress. It even highlights the areas that you need to work on.
Moreover, to guide you on your goal-tracking journey, Dreamfora provides features like habits, tasks, notes, and milestones. The app also has a collection of thousand motivation quotes and tips to keep you inspired.

Platforms: App Store, Play Store, Web
Pricing: $47.99/year. A free version is also available.
Tracking your goals doesn't have to be a difficult task, and Habitica proves just that. This one-of-a-kind goal tracking app makes the entire process super fun with a role-playing game (RPG).
Here's how it works: as you complete your daily tasks, your character in the game levels up. Your character can also go to parties and other adventures with other users.
So, if you love playing games, you're definitely going to love Habitica! However, if you're not a gamer, this app might seem a little overwhelming, as it presents your goal tracking data in the form of character stats.
Read more: 13 Business Goals You Must Set In 2022
Platforms: App Store and Play Store
Pricing: $6 for Premium. It also has a free version with limited functionality.
From picking your goals to encouraging you to follow them, the app guides you throughout the way. It is super easy to use and has a minimalistic interface. Also, to help you get a bigger picture of your habits, the app lets you view your weekly, quarterly, or yearly progress.
Moreover, 'Way of Life' offers a daily checklist, an in-depth analysis of your progress, and note-taking functionality. It also has an accountability tool that tells you why you failed to meet a particular goal on a particular day. The more you will use this goal-tracking app, the more you will love it!
Platform: App Store
Pricing: $4.99
If you're an Apple user looking for an affordable, yet super useful goal-tracking app, then this app is just for you. Streaks has everything you need to plan and track your habits & goals.
A well-designed app, Streaks lets you track 12 habits at a time, and 3 types of tasks – positive, negative, and timed. Negative tasks comprise the habits that you want to change, and timed tasks are the tasks that you want to count – like your calorie intake.
To get deeper insights, you can simply tap on a particular habit. The app will automatically switch to calendar mode where you can see your progress. Streak also integrates with 'Apple Health', which can certainly be useful if you want to track your workouts or you're trying to get fit.
Platform: App Store
Pricing: $59.99/year. There's a free version with limited features.
If you're new to goal tracking and using productivity apps – Done is perfect for you! This goal tracking app has a clean, color-coded interface, and is extremely easy to use. Using this app, you can track your habits daily, weekly, monthly, or yearly. You can even track one habit numerous times per day.
As soon as you open the app, you can take a quick peek at the number of cupcakes you've eaten this week, workouts you have done, books you have read, and all other habits that you are currently tracking. All in all, Done makes it really easy for you to develop good habits and leave the bad ones.
Platforms: App Store, Play Store, Web
Pricing: $68/year (A 30-day money-back guarantee)
Goals on Track is a comprehensive, fully customizable goal tracking tool that comes with ready-made templates with built-in habits, as well as some really motivational eBooks! All in all, this app has everything you need to boost your productivity, develop good habits, and reach your goals.
Using this nifty app, you can build a solid action plan for your goals, with milestones, actions, and schedules listed under one single page. The app even provides you with all the guidance you need to break your big goals into milestones or small tasks.
What's more? The app gives you updates regarding your progress in real-time. It also has an offline time tracker that shows how you spend your day, along with a journal for writing down your thoughts.
Read more: 11 Task Manager Apps You Must Know About!
Platforms: App Store, Play Store, Web
Pricing: Free
Another feature-rich goal tracking app on our list, Toodledo helps you organize your entire personal and professional life, including your daily schedule and hobbies.
If you're already somewhat familiar with productivity tools, using Toodledo would be a cakewalk for you. It even lets you import your existing data from other applications. You can then organize all the information under one roof using the 'search' tool.
Additionally, you can share your to-do list, tasks, and folders with other people, and track your progress as a team. Not to forget, Toodledo lets you personalize your dashboard the way you want!
Platform: Web
Pricing: $1/week (Individuals). There's a free version with limited functionality.
A web-based goal-tracking app, Lifetick helps you set SMART goals and track them easily. This nifty app encapsulates features like due dates, charts, reminders, and journaling.
It's extremely easy to get started with Lifetick. All you have to do is decide what's important to you, set SMART goals, jot down things in the journal, and track your progress.
The best part? You can share your goals and habits with your friends and family. This will definitely give you some extra motivation. Also, Lifetick donates $1 from every first subscription payment to an organization called Halo Trust, which removes landmines around the world.
Platforms: App Store, Play Store, Web
Pricing: There's a free version with limited functionality. The pro version is for $4.99 (one time) or $2.99/month.
This goal-tracking app focuses mainly on time-tracking. So, in case you want to know how you spend most of your day, and the things that you waste the most time on – start using Atracker!
To get started with Atracker, you just need to enter a name or an icon for each task, and you're good to go. The app gives you an overview of your to-do list for the day, as well as an overview of your time.
At the end of the day, you can take a look at the pie chart to understand how and where you spent your entire day. This would help you cut back on all the time-wasting activities and spend more time on things that matter.
10. Goals
Platform: Web
Pricing: For personal use, a free account with basic features and a free trial is available. There's a paid version for teams and businesses. To get the pricing details, you need to contact the vendor.
Goals has made creating, managing, and tracking goals as easy as ABC. Whether you want to get in shape or double your sales by next year – this app can keep you focused and motivated.
This powerful app offers many goal templates that you can use to save time. Besides that, you can create colorful to-do lists and vision boards with photos and videos. You can even access the list via your mobile device and track your progress on the go.
What's more? Goals will send you text and email notifications about high-priority tasks. That's not it! You and your team will also get motivational quotes and messages that will inspire you to accomplish your goals.
Platform: App Store
Pricing: Free, or $4.99/month, $29.99/year, $79.99/lifetime access
Want deeper insights into your habits and goals? Look no further than Strides! It is certainly one of the most feature-rich and data-driven goal tracking apps on our list.
Strides comes with four different trackers – namely Target, Average, Project, and Habit. It also offers various charts using which you can visualize and monitor your goals and habits. To keep you motivated, Strike shows your rankings, success rates, and streaks.
Furthermore, Strides organizes your goals in a neat list on your dashboard. You can customize this list to see the areas that you need to put the most focus on.
Wrapping Up
You set goals, you neglect them and ultimately, you fail to complete them. Then, you set the same goals again – with a renewed but temporary resolve to achieve them!
Don't worry. You are not alone. At some point in our lives, we have all been stuck in the same cycle, haven't we? Luckily, the goal tracking apps that we have mentioned in the list can help you break the cycle.
Whether your goal is to wake up earlier, drink a certain amount of water every day, or achieve a 10% increase in sales – these goal tracking apps and tools can keep you accountable.
So, what are you waiting for? It's time for you to put in the work. Just pick one of these apps and tools, set your goals, get up and take charge of the day.
By the way, have you used any of these goal-tracking tools ever? Do you know about any other tools that help you track your goals? Don't forget to let us know by tweeting us @bit_docs.
Further reads:
Growth Plan: What is it & How to Create One? (Steps Included)
Tactical Plan: What is it & How to Create an Effective One?
Top 7 OKR Software You Need To Use This Year!
11 Best Focus Apps to Eliminate Distractions!
RAID Log: What is it and How to create one? (Steps Included)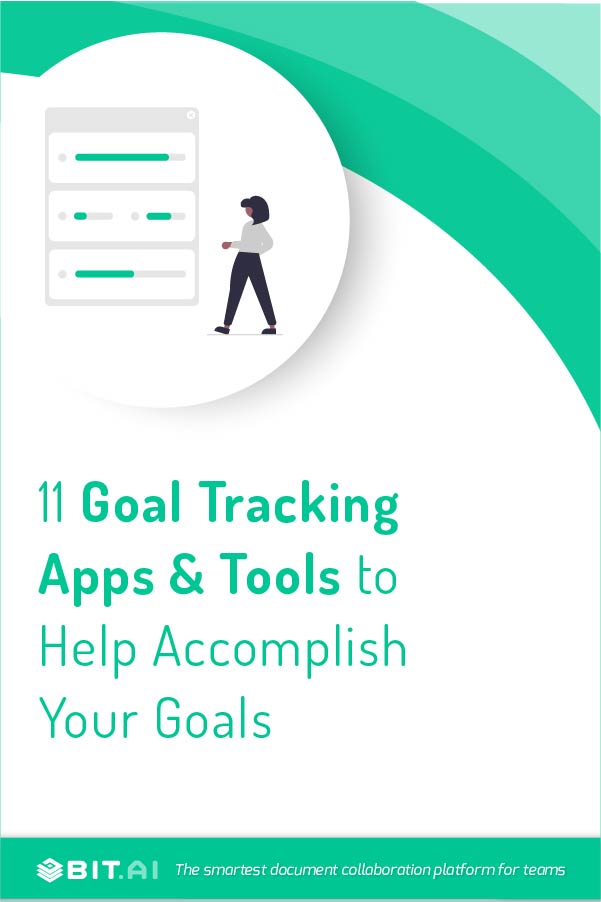 Related posts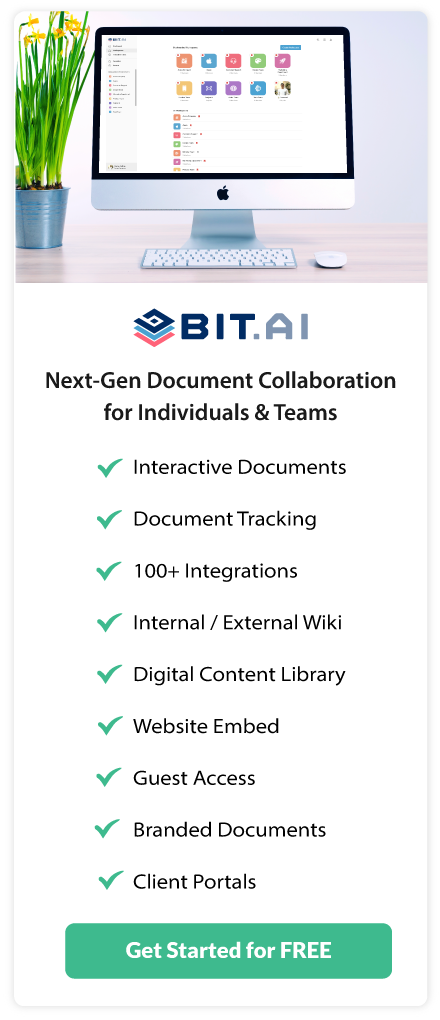 About Bit.ai
Bit.ai is the essential next-gen workplace and document collaboration platform. that helps teams share knowledge by connecting any type of digital content. With this intuitive, cloud-based solution, anyone can work visually and collaborate in real-time while creating internal notes, team projects, knowledge bases, client-facing content, and more.
The smartest online Google Docs and Word alternative, Bit.ai is used in over 100 countries by professionals everywhere, from IT teams creating internal documentation and knowledge bases, to sales and marketing teams sharing client materials and client portals.
👉👉Click Here to Check out Bit.ai.