Did you know that according to a study conducted by London Business School, only one-third of the 11,000 senior executives surveyed could list down the top three priorities of their companies?
This is a huge problem. If senior executives can't focus on company goals, then how will their teams know what to work towards?
Here's where the OKR framework comes in handy. It's a simple and effective method to communicate goals and highlight achievements for communicating priorities and responsibilities.
OKRs are all about turning good ideas into great execution. And for that to happen, you need OKR tools and software to help you along the way.
So if you are looking for some of the best OKR software available in the market, then you have landed in the right place!
We know that there are several OKR software available on the market and you might not know which is the best one.
That's why we have gone through the trouble and compiled for you some of the best OKR software solutions for businesses of different sizes and industries.
But before we get down to that, let's take a look at what exactly OKR software is and why it is important for your business!
Ready? Then dive right in!
What is an OKR Software?
First off, let's understand what OKR means.
OKR is an acronym that stands for Objectives and Key Results.
It is a management technique to help companies set specific strategies and goals, and implement them over a specific period of time. After this, an evaluation is done to see the success rate in meeting those goals.
OKR basically helps you define your objectives, track your progress, and finally analyze the results.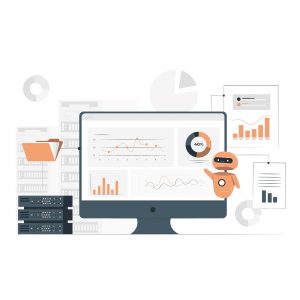 An OKR software is a tool that allows businesses to define and visualize goals, track progress, communicate with team members, and receive feedback from peers. It's devoted to setting, communicating, tracking, and measuring goals and results.
An OKR software provides a centralized platform to record goal progress, road blockers, and completion, thereby allowing you to measure the overall productivity of the organization.
In short, we can say that OKR software is more like an online goal tracker.
Now that you know what OKR software is, let's take a look at why you need one!
Why Do You Need an OKR Software?
Using OKR software provides many benefits. What are they? Let's take a look!
An OKR software:
Provides clarity and direction in the goal-setting strategy from the outset
Helps combine qualitative and quantitative goals so that it can continuously help your teams align with the company goals and objectives.
Provide transparency by making everyone's OKRs visible and accessible to the company and teams
Promotes teamwork and collaboration, thereby establishing a healthy and positive work culture
Fosters a sense of innovation
Increases manager productivity by giving a birds-eye-view of the team's work and progress
Keeps everyone involved in the goal-setting process, consequently improving employee engagement, motivation, and performance
Helps track and measure the goals and results, thus allowing the team to understand their progress, which drives discipline and adds a sense of responsibility
The bottom line is that OKR software provides a clear direction for your business and gets everyone to contribute and focus on realizing the purpose and adding value by achieving business goals.
Now that you know how useful OKR software can be to your business, let's take a look at some of the best OKR software available in the market, shall we?
Read more: SMART Marketing Objectives: What are they & How to Write them?
List of OKR Software You Must Explore!
Let's kickstart this list with Profit.co, an OKR software that allows you to focus and track team and individual OKRs and team engagement on goals. It lets you focus, measure, and achieve your strategy.
With Profit.co, you can plan your OKRs at the beginning of the quarter, promote employee engagement using collaborative features, and use a highly structured reflect and reset process. It also has other features, such as task management, strategy tracking, employee development, templates, OKR coaching and certification, and more.
Furthermore, Profit.co integrates with Microsoft Teams, Slack, Salesforce, HubSpot, and several other popular business applications. It also allows you to use its Profit Integration Engine to develop your custom integrations.
Pricing:
The startup plan is free of cost
The Growth plan costs $7/month/user
If you're someone who is just starting out or just looking for simplicity, then Simple OKR is a great OKR software for you. It offers solutions for the company, team, and individual use.
Simple OKR is very intuitive and helps you visualize objectives and progress. It shows data on a single, simple dashboard where each objective is bundled with associated key results, and the current year, quarter, and progress are presented as percentage and bar graphs.
In addition to that, Simple OKR provides solutions for OKR alignment for all team members, progress tracking with OKR targets, 360 performance reviews, unlimited users, and lots more.
Pricing:
Simple OKR is available for $49.99/month
Here we have Betterworks, an OKR software that handles transparency and alignment to unify your organization and empower employees. It is suitable for midsize and enterprise organizations.
Betteworks combines OKRs, coaching conversations, and real-time feedback, and helps your members to track cross-functional objectives. It also allows you to praise progress and get updates as well.
Some other features of Betterworks include a comprehensive company organization chart, gamification and social tools for engagement, insights and analytics, easy milestone setting for each goal, and best practices for program design, change management, and adoption.
Furthermore, it also supports various integrations with multiple popular business applications.
Pricing
Betterworks costs $8/user/month.
Engagedly is an OKR tool that offers performance review software with elements of employee engagement to provide automated and regular reviews, and actionable feedback to help motivate and improve your employees.
With Engagedly's advanced analytics and reporting, it uses OKRs to create intuitive graphs to understand your company's progress. It shows OKRs on a company level and breaks them down to an individual level to present how employees are doing their tasks.
What makes Engagedly stand out is its user interface because it is modern, colorful, organized, compartmentalized, and eye-catching.
Moreover, Engagedly offers other features, such as goal setting, peer praise, objectives alignment, idea generation, and more. It also includes multiple integrations as well.
Pricing
Engagedly starts at $6/user/month
Up next we have Lattice, a performance management software that includes OKRs and employee engagement features. It helps create both individual and company goals.
With Lattice, you can set measurable objectives using a range of goal-setting methods, and track your goals to monitor both personal and overall company performance and progress.
Lattice allows you to save past performance reviews within its system. You can use its 'People' tab to view individual people, teams, milestones, OKRs, company updates, and more.
Furthermore, Lattice offers features such as 360 feedback, engagement surveys, employee recognition, one-on-ones, employee growth plans, and lots more.
Pricing
Performance plan costs $9/user/month when billed annually
Performance & Engagement plan costs $12/user/month when billed annually
Enterprise plan pricing depends on your company's size and needs
Weekdone is another premium OKR software and it combines professional OKR coaching services with weekly check-in functionality. It facilitates conversation, feedback, and recognition. It is a great choice for small to medium-sized teams or companies.
With Weekdone, you can easily educate and seamlessly onboard your team with OKRs and also engage in conversation using its weekly check-ins, comments, likes, and reactions.
Weekdone allows OKRs to be set as personal, team, or company objectives. It also lets you define and track your objectives and OKR progress in addition to showing how your employees are performing.
Pricing
Weekdone is free for up to 3 users
$108/ten users/month
Finally, we have Perdoo, a user-friendly OKR software that is also a great tool to evaluate KPIs and OKRs. It is suitable for teams and businesses of all sizes.
Perdoo has a centralized platform that allows your entire team to monitor their week's work and achievements in a single view and helps them understand how their work and objectives contribute to the company's goals.
With Perdoo, you can set goals, share real-time strategies, align resources, and evaluate progress with reports. Furthermore, their solution is available in multiple languages.
Pricing
The Starter plan is free forever.
Premium plan costs $7.60/user/month.
Conclusion
As a project manager, there are plenty of things that you can do with OKR tools and software. It helps you measure and monitor your goals until you accomplish them.
With OKR software, you'll know that you are always in the right direction, and by investing in it, you are helping your company take its performance and productivity to the next level.
We only hope that we have provided you with a list of OKR software that will help your company reach that next level!
Now all you have to do is, pick the one that fits your company's needs and you're good to go! That's all, folks! Adios!
What Are SMART Goals: A Quick Overview With Examples
9 Client Management Software You Must Check Out!
11 Bug Tracking Software to Check Out in 2022!
11 Dashboard Software You Should Explore in 2022
10 CRM Tools and Software You Should Explore Right Now!
Top Employee Management Systems You Should Be Using in 2022
OKRs Vs. KPIs: Breaking Down The Types and Differences!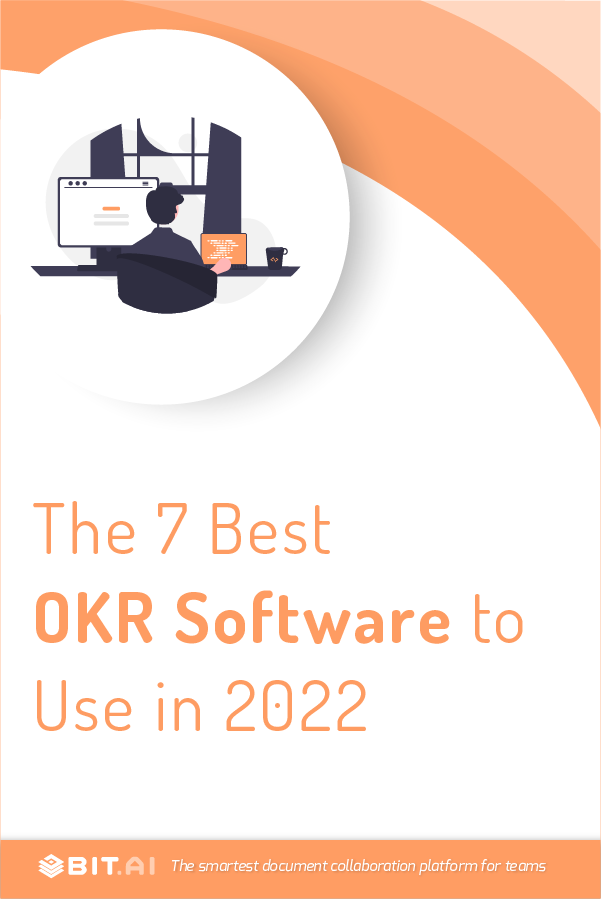 Related posts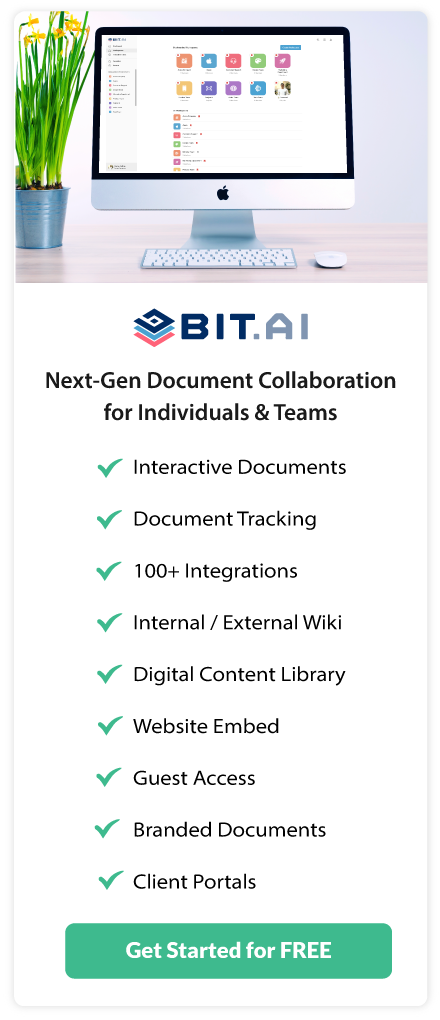 About Bit.ai
Bit.ai is the essential next-gen workplace and document collaboration platform. that helps teams share knowledge by connecting any type of digital content. With this intuitive, cloud-based solution, anyone can work visually and collaborate in real-time while creating internal notes, team projects, knowledge bases, client-facing content, and more.
The smartest online Google Docs and Word alternative, Bit.ai is used in over 100 countries by professionals everywhere, from IT teams creating internal documentation and knowledge bases, to sales and marketing teams sharing client materials and client portals.
👉👉Click Here to Check out Bit.ai.