Have you wanted to make sure important company information and emails aren't missed? One of the best ways to communicate important updates within your organization is with a business memo or memorandum.
A memo is a brief document that generally contains urgent information. The nature of this document is can be used not only to inform but to form a legally binding agreement, for a proper transmission structure.
Well-defined memos can organizations successfully implement new policies, problem-solve, and support transparency in the workplace. However, crafting a memo can take time.
This is why we built a memo template to help you structure the memo, communicate your message, and capture valuable insights. But before we dig into the template, it is important to understand what exactly is a memo, why is it important, and what are items should include in this document.
Let's go!
What is a Memo? (Definition and Meaning)
A memo is an important message that typically comes from management, CEO, the board, legal department, compliance department, human resource department, etc.
It's more official than a simple email and the purpose is to shine a light on something very important and get the audience to take notice. The writer is supposed to focus on one topic while writing a memo.
A constructive memo should be:
Brief
Easy to navigate
Direct to the point
Why is a Memo Important?
The primary purpose of a memo is to allow prompt communication to employees or other members of the organization. The memo is generally used in place of a typical email for internal communication.
There are a variety of purposes where organizations need to send memos. They may be used to share management structure changes, policy changes, mergers and acquisitions, negative press, industry changes, market impacts, etc.
As organizations grow across geographic locations, time zones, and remote work, it's vital that important information stands out. Employees get inundated with all types of communication during their workdays and memos help reduce the likelihood that important information is missed.
Read more: How To Write Effective Meeting Minutes?

What You Should Include in Memos?
Title: Head of the memo
Company Name: Registered name of the organization
To: Credentials of the recipient
From: Credentials of the addresses
CC: Credentials of the other recipient
Date Sent: Date of the memo being sent.
Subject: An introduction that identifies the memo's intent
Confidential – only for the intended parties (optional)
Opening: Get to the point in the opening paragraph. Keep things simple and short.
Summary: Provide enough background for all readers to understand, but keep it simple.
Conclusion: End with a call-to-action.
Sincerely,
[Name of Sender]
[Job Position, Company Name]
[Email address, Phone number]
Create an Impactful Memo the Right Way with Bit
All set to create a memo document to drive effective communication for your business? Well, we have got the perfect tool for you!
Bit.ai is a smart new-age document and workplace collaboration tool that helps everyone in the organization collaborate, create, and share knowledge. Bit's platform starts with workspaces that can be structured around departments, teams, projects, clients, and partners.

Each workspace can be customized with its own set of collaborators so that knowledge is protected and shared with those that need access to it. Inside of each workspace collaborators can create smart documents and store any type of digital access.
Bit's smart documents allow anyone to weave in all types of digital content inside of their documents to communicate effectively. Whether you're creating memos, training manuals, marketing strategies, competitor research, client reports, etc. you can add Google Spreadsheets inside, code blocks, file attachments, videos, and much more!
Bring any type of digital content inside of your documents and watch it come alive! If you're creating a document for the outside world you can track engagement levels.

Bit's platform is easy to use and navigate making it easy to scale across the entire organization. Let's see some more of Bit's awesome capabilities:
Collaborate in Real-Time: Multiple users can simultaneously collaborate on a Bit smart document in real-time. They can work together, make inline comments & @mention collaborators. Questions get answered quicker, decisions are made sooner and feedback makes things better!
Minimalistic Editor: Bit's distraction-free editor allows teams to focus on the work they are doing. As you write simply highlight your text to turn it into a heading style, quote, checkmark list, and much more.
Markdown Support: Bit supports Markdown inside the editor to help developers and writers quickly write without having to touch their mouse:) In addition, you can import Markdown files and turn them into Bit documents and you can export Bit documents to Markdown. This is helpful for technical documentation that is coming in and out of platforms like GitHub.
Smart Widgets: While you work in the editor a (+) icon will be following you around. Click that icon anytime to bring any type of digital content into your documents:
File attachments
Weblinks and turn them visual bookmarks
Rich embeds like Google Sheets, YouTube videos, Typeform surveys, and content from nearly 100 popular applications.
Tables
Code blocks
Math Equations and more!
Automated Table of Contents: Bit also has an automated table of contents based on the headers you add to your document. This helps you and your audience scroll to different sections of your document quickly.
Multiple Sharing Options: Bit documents can be shared in a live state meaning that all changes that you make to the document will update in real-time. Moreover, options like link tracking, password protection, expiration dates, and embeds open up multiple avenues to share knowledge.
Here are some of the man benefits of using Bit:
Smart search, which allows anyone to search and find any files, images, documents, etc. quickly.
Interlink your memos and other documents
Fully responsive documents that look great on all devices
Create private memos only visible to yourself or your team
Track engagement on shared memos with colleagues, clients, partners, etc.
100+ rich media integrations.
Now, that you have learned everything about a memo and how to create one it's time to take a look at a sample template from Bit.
To make the process of crafting a Memo easy, we have created a ready-made template for you! Check it out below: 

How to Use a Memo Template with Bit
The process of creating a memo on Bit is really easy! Just follow these four simple steps to create a memo. document quickly:
Step 1: Create a Bit Account
Go the home page of Bit.ai and click on Get Started for Free or Sign Up to get started. Enter your email address to sign up. Once in, you can create your personal profile.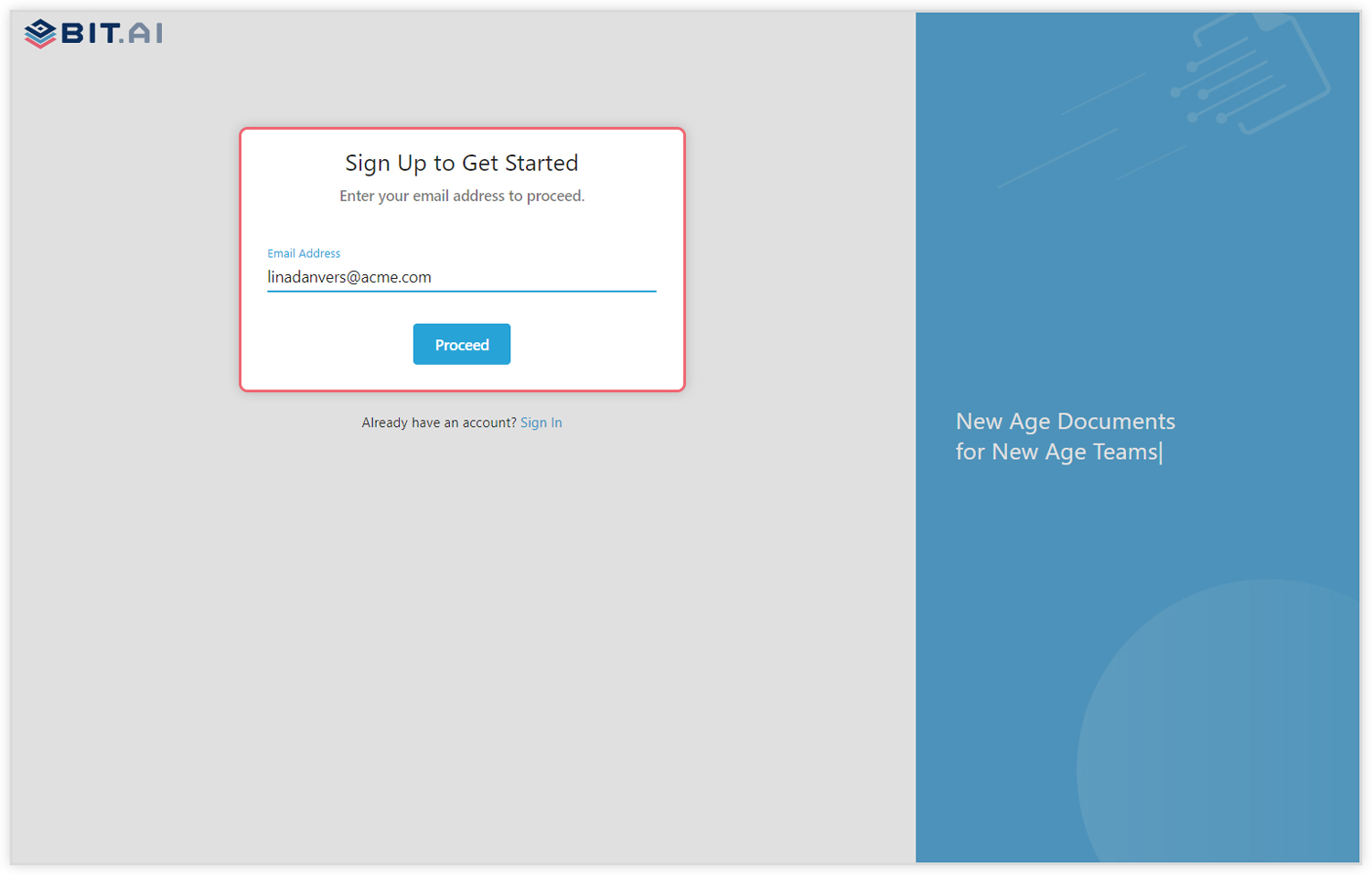 Step 2: Create a Workspace
Workspaces are where the work gets done. Click on the 'Create Workspace' button on the right. A popup will show up prompting you to add a name for your new workspace.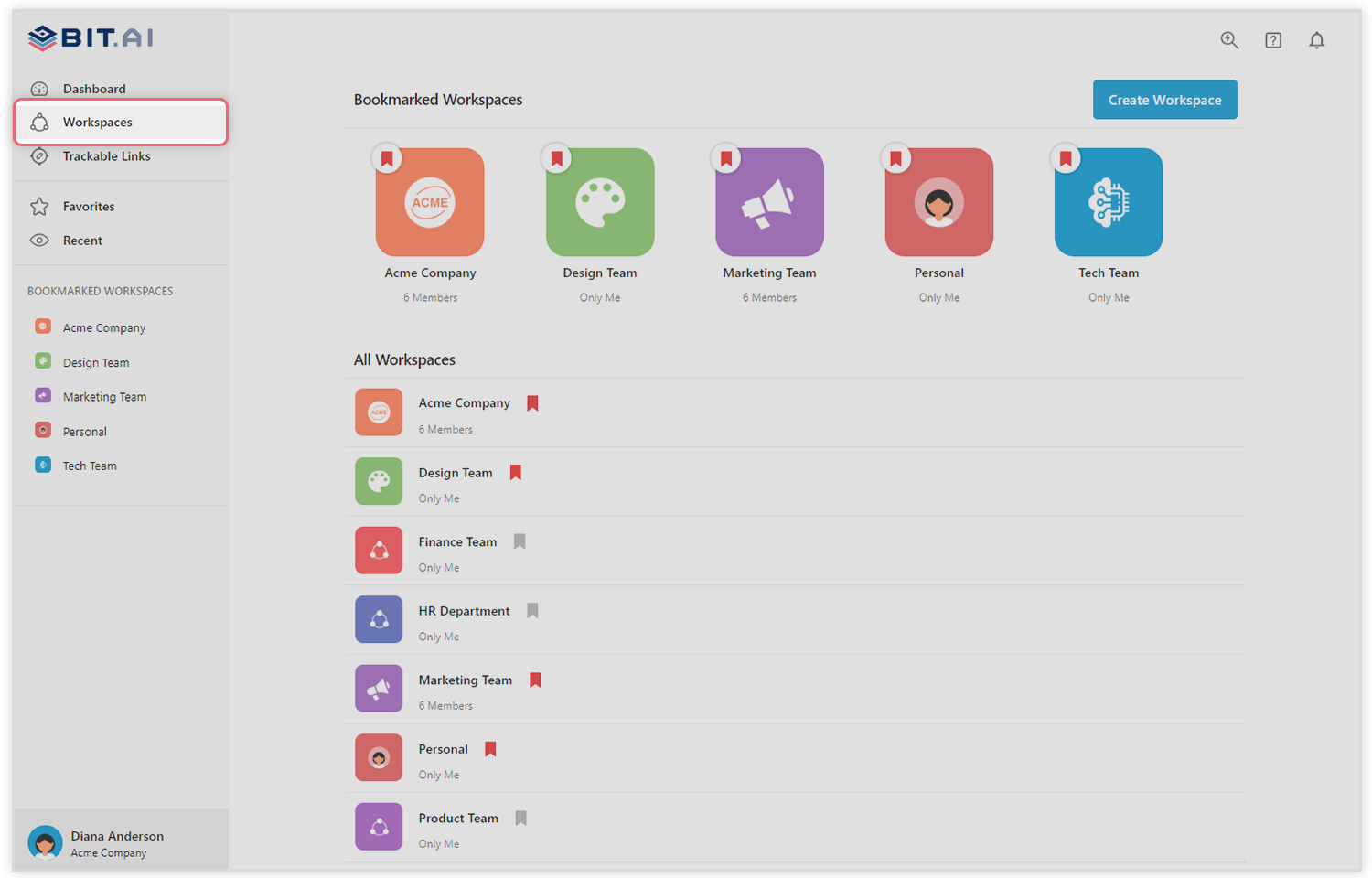 You can create a workspace around a team, department, large project, client, partner, etc. Inside each workspace, you can create an unlimited amount of Bit documents and access your content library (storage area for all of your digital assets – web links, files, cloud files, rich embeds, etc.).
Step 3: Add Team Members
Bit allows your team members to collaborate in real-time and get work done. Collaboration starts at the workspace level.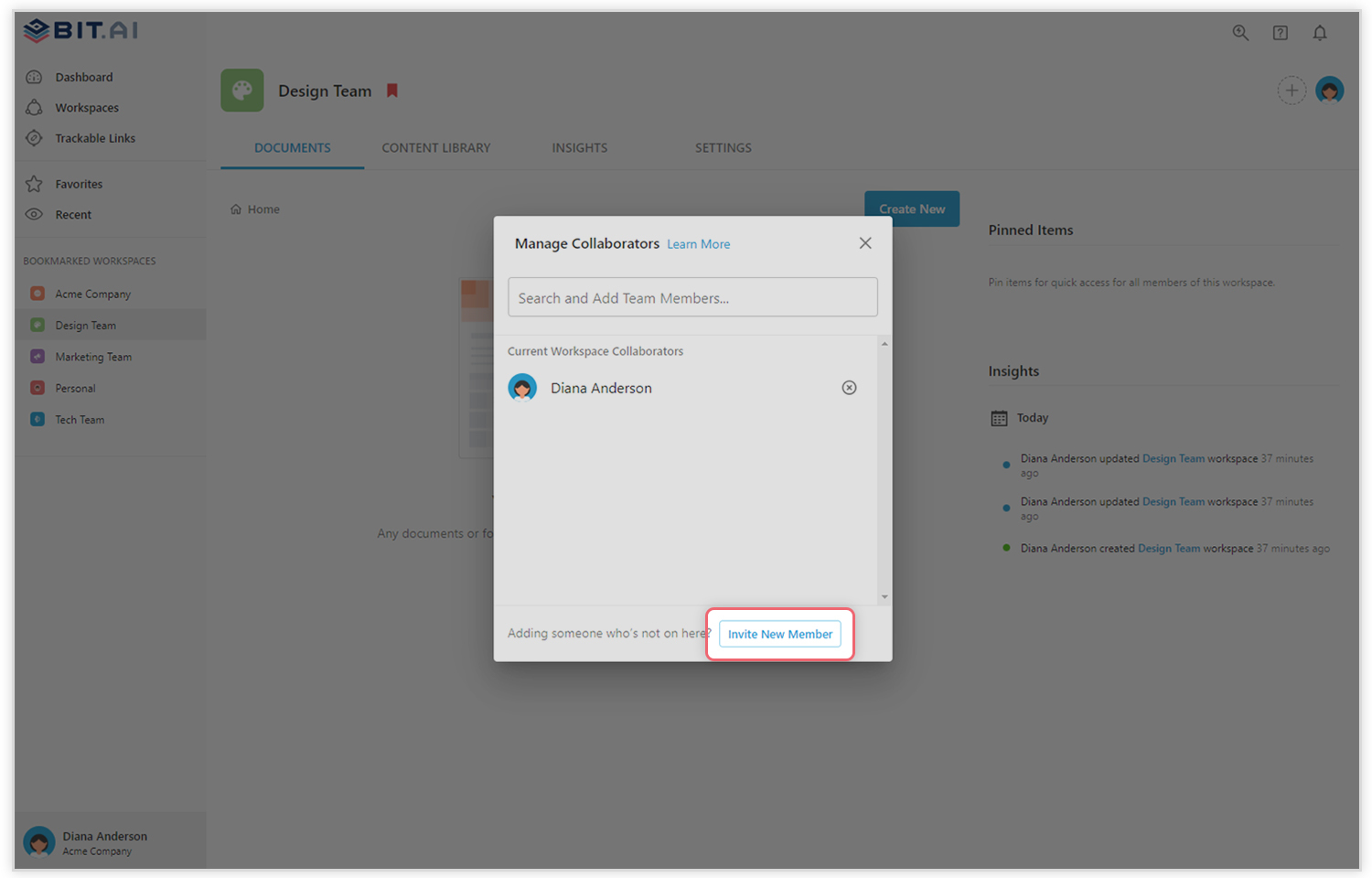 You create private workspaces by default. However, you can invite others to join you inside of a workspace and collaborate together with the knowledge, projects, documents, and content inside of the workspace.
Step 4: Create Your Desired Document
Once you are in the workspace, click on the 'Create New' button. Select 'From Template' in the dropdown. A pop up will display allowing you to select a template from the gallery.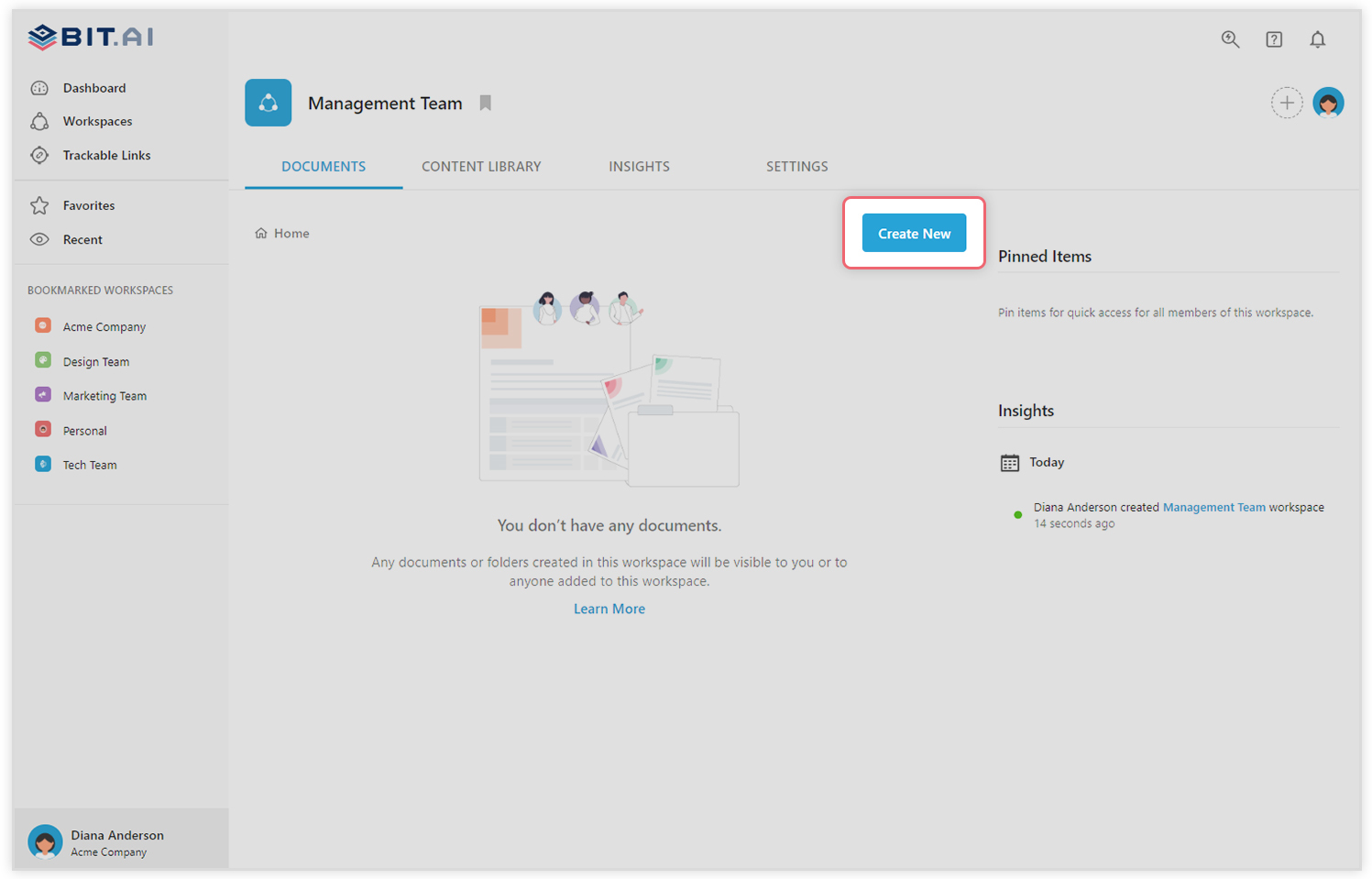 In the search box on the top left corner, you can search for the "memo template". Once your desired template pops up, click on it and click on the "Use Template" button on the bottom right corner.
That's it! Your memo document is ready for use!
Conclusion
Whether you are updating staff or detailing new policy change, memos are a powerful way to distribute information across your company. Keep the body of your memo concise, with a strong subject line, and the message should stay professional despite sharing negative news!
Bit makes creating memos easy and helps you create brand consistency. Using the memo template can significantly reduce the time and energy required to create these important documents, especially if you are pressed for time. If you need any help with the memo template or want to know how Bit can help your business, let us know by tweeting us @bit_docs. Cheers!
Further reads: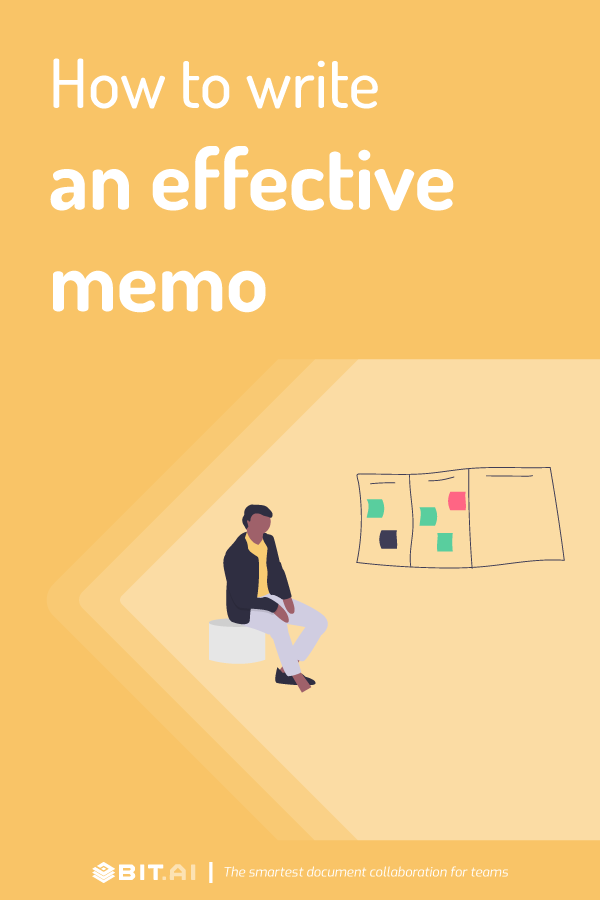 Related posts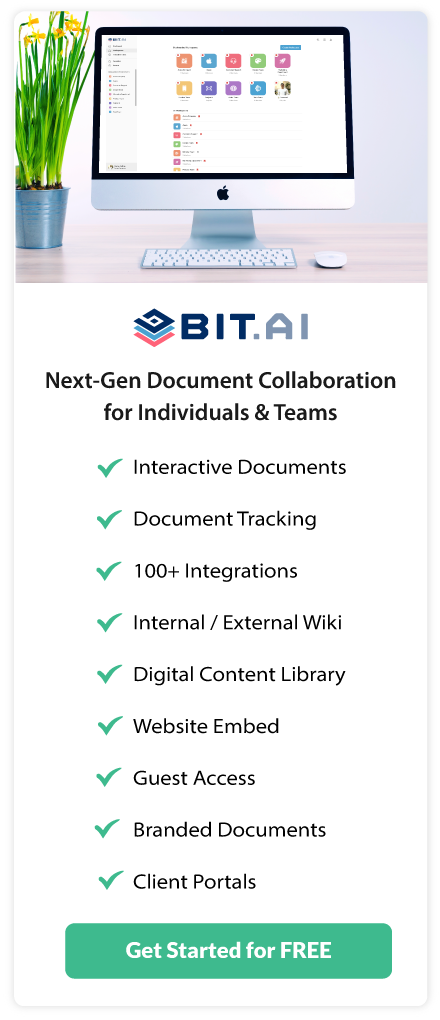 About Bit.ai
Bit.ai is the essential next-gen workplace and document collaboration platform. that helps teams share knowledge by connecting any type of digital content. With this intuitive, cloud-based solution, anyone can work visually and collaborate in real-time while creating internal notes, team projects, knowledge bases, client-facing content, and more.
The smartest online Google Docs and Word alternative, Bit.ai is used in over 100 countries by professionals everywhere, from IT teams creating internal documentation and knowledge bases, to sales and marketing teams sharing client materials and client portals.
👉👉Click Here to Check out Bit.ai.