As long as we have tools and software, we need proper communication to successfully articulate the use, creation, functionality, or architecture of these products to other people. WHY? Simply because the knowledge of technical communication is essential to capture information and help the audience with a better understanding of the product or technology.
While communication in the real world is done through words or expressions, technical communication in the virtual world is done via Technical Documentation!
Technical documentation is created for the sole purpose of making it simple for the end-user to understand the work dynamics and architecture of a product or technology they use. It is more like – a detailed description of the nuts and bolts of a product – a "how-to-use" guide for your new employees, users, and anyone else who needs to know how it works!
However, as easy as it sounds, technical documentation can be a little baffling! Most technical documents involve multiple phases starting from "How to use: If you're new and have limited experience", " An unedited summary: Of everything that developer provide via API" to "How to troubleshoot: In case of a bug or error!"
While one document will get you going with the product in no time, the other will make you go mad as a hatter! So, if you don't know where to start, here's a comprehensive guide that will help you answer what, why, how of technical documentation, and make the whole process easy!
Let's dig in!
What is Technical Documentation?
Technical documentation refers to the documents that involve product-related information and data; it holds the details about a technical product or service that is either under development or already in use.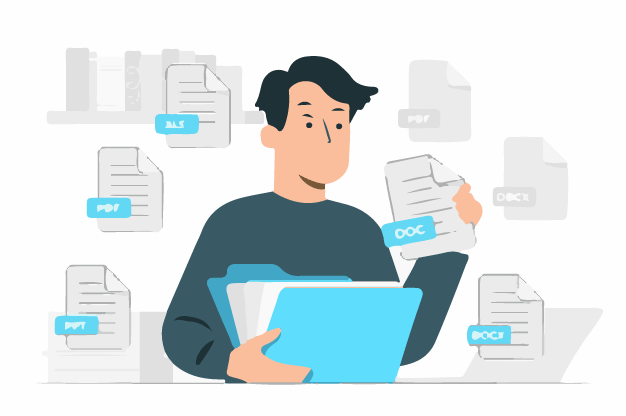 Simply put, technical documentation is all about presenting the product in a way that's easy to use, read, understand, and actually help your audience. These documents are created in various industries, for example, in engineering, medicine, IT, marketing, and so on.
Read more: What is the Scope of Work Document & How to Create One Effectively?
Where and How Can You Use Different Types of Technical Documentation?
Following are the types and areas of documentation created to achieve the demands of different people using your product or technology:
End-user support: This means documents like user guides, online help systems, release notes, training manuals, installation manuals, or operating procedures—anything that supports users with your product.
Marketing support: Documents that are product-focused and used to market your company like computer-based training videos, presentations, online help, or technical landing pages.
Development support: This could include technical and functional specifications, software product development guides, glossaries, or simple procedures and tools to help your tech teams do their jobs.
Organization support: Information about your company, structure, procedures, quick reference guides, workflows, policies, maintenance manuals, and anything else employees need to know to do their jobs.
Read more: Technical Report: What is it & How to Write it? (Steps & Structure Included)

Benefits Of Technical Documentation For Your Business
Great technical documentation guides your audience and empowers them to use your product, without frustration and difficulties! Whether that audience is end-users, managers, administrators, employees, or technicians don't really matter. What matters is that the documentation is clear, searchable, and helpful for them.
Along with that, technical documentation is not only important for customer support but plays an integral part in building your brand and trust. Users seek out technical documentation when they're most in need! It helps the intended audience understand the processes and solve difficulties when using your product.
Furthermore, well-defined technical documentation also helps in:
1. Technical Documentation Improves Customer Retention
Well-written technical documentation is worth the effort because it refines the user experience and resolves possible issues when using the product. If customers feel good about your product, they might want it again when the need arises in the future!
A recent survey by SDL on technical documentation shows the increasing significance of documentation in the global markets-
53% of customers tend to use technical documentation to understand the product before making a purchase.
94% of customers believe that it's important and useful to have product information in one single place.
Hence, nowadays every company is equally focusing on the documentation along with the development or testing of a product!
2. Good Technical Documentation Saves Time and Effort
With the absence of well-defined and clear documentation, you might end up spending extra hours dealing with the technical difficulties of your product. Eventually, waste time & energy for both- you and the user.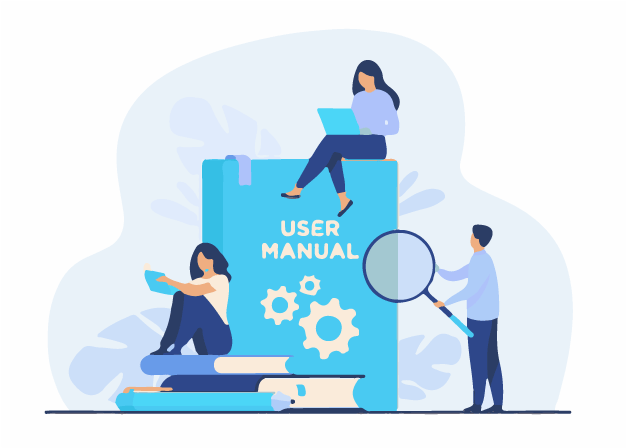 Whether the organizations are small, medium, or large, a structured technical document can do wonders in heed of saving time and boosting productivity. Thus most product-based organizations are investing a good amount in recruiting technical writers and technical documentation.
3. Technical Documentation has the Potential To Elevate Your Sales
You probably think that documentation needs just a token of importance, but believe it or not, it's one of the best ways to let the product talk to your users and solve all queries at their convenience.
Creating technical documents that are attractive, interesting, and easy to navigate will help users understand the product better in less time, helping them to set up the product faster and use it with optimization. This, in turn, results in higher ratings, more positive reviews, and – increased sales!
Read more: Scientific Paper: What is it & How to Write it? (Steps and Format)
How to Plan, Write, and Deliver Technical Documentation that Works in 6 Simple Steps!
Technical documentation can get quite high-tech, dry, and boring! So, the key point is to make sure you keep it relevant, accurate, and engaging for your audience by following these 6 simple steps :
1. Define your audience:
Learning about your audience is very important to identify if your documentation is aimed at developers, employees, users, etc! This is to make users understand the background, goals, and knowledge of the product or technology to help you adapt to your audience.
2. Be clear about what you want your reader to do after you end:
Technical documentation is all about the subsequent behavior of the reader.
Express your intent so the user is clear about what they will be able to achieve after they are done reading. If you are clear about the final objective of the document, you will find it easier to write your piece.
3. Use an outline for the documentation:
Writing technical documentation without a structured outline can be tricky to follow. Therefore, having a skeleton around which your documentation grows is highly recommended. You can use headings, categories, sub-categories, and topics to organize and club your documents logically.
4. Use illustrations & captions in your content:
An illustration or diagram provides directions on 'how to use a particular product or technology' in technical documentation and without proper captions, the purpose of these images goes in vain!
Images also help break the constant monotony of words and make the document interesting. Captions can help bring context to the product diagrams and illustrations with clear directions.
5. Re-read and revise:
Re-read and revise your technical documentation again & again to ensure you have got everything right! You can also ask a colleague or a superior to proofread your work to make sure that you haven't missed out on anything. A review and revision process would guarantee the accuracy of the material getting published.
6. Use a good technical documentation tool like Bit.ai to help manage your documentation:
Investing in a robust solution like Bit for technical documentation is a great way to save time, minimize efforts, and empower users' understanding of the products!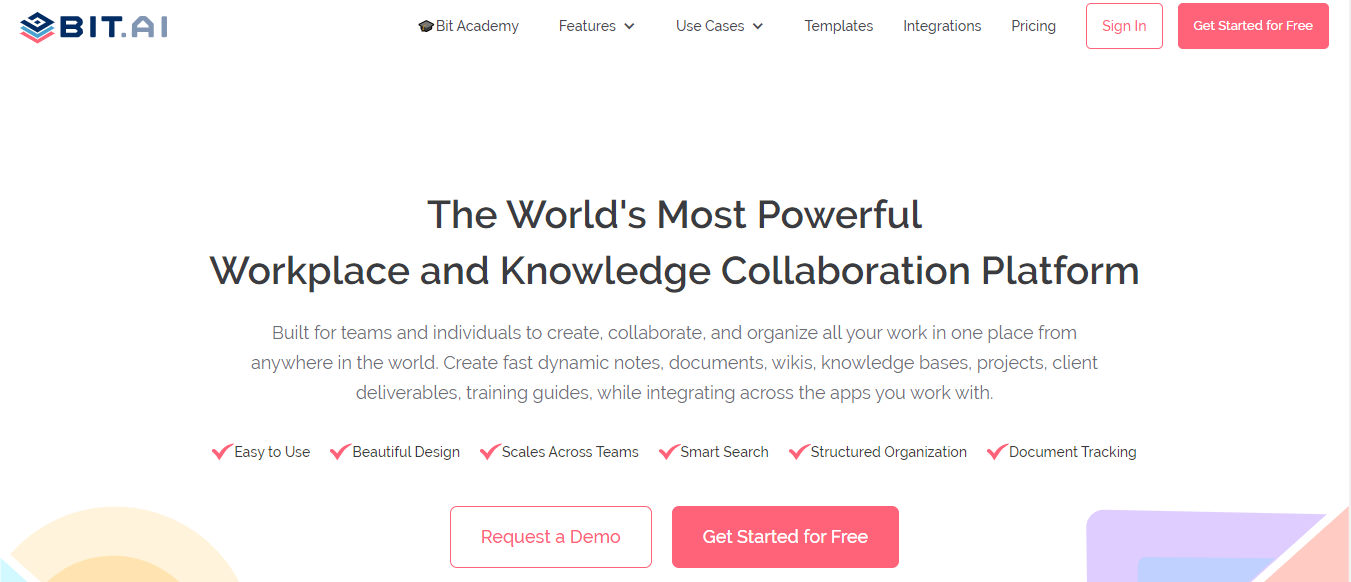 It is a new-age documentation and knowledge management tool that provides a common workplace for technical writers, managers, and developers to collaborate, document, track and share their knowledge, brainstorm ideas, store digital assets, and innovate together.
Unlike your standard Notepad, MS Word, and Google Docs, Bit documents are interactive. This means, whether your team is creating technical documentation, training manuals, technical specs sheet, best practices, product catalogs, etc., they can easily add code blocks, training videos, presentations, etc. directly into a Bit document within seconds.
Once you are done documenting, you can simply export them as PDFs, Markdown, Word file, and much more. Bit's sleek, minimal, and distraction-free editor makes it the perfect tool for technical documentation.

Some features in a knowledge base solution like Bit.ai for technical documentation are:
Content management capabilities
Real-time team collaboration
100+ rich media integrations
Document tracking
Wiki/interlinking documents
Few technical documents templates you might be interested in:
Wrapping Up!
Technical documentation is more than just a task that is to be ticked off from your checklist. It plays a crucial role in supporting the people that support you! Well-crafted technical documentation is a big chance for you to present your product in front of others in a good light. It makes everything user-specific and insightful so that readers gain value while reading through it.
Also, beautifully-engineered and carefully-designed technical documentation is your go-to strategy for increased sales figures, customer satisfaction, as well as enhanced productivity. So, what are you waiting for? Follow this guide, create an accurate structure, use our tool, and write awesome technical documentation that turns your users into tech- superheroes!
Further reads: 
How To Create API Documentation In Minutes?
Technical Description: What, Why & How to Write it?
Project Documentation: What is it & How to Manage it?
Technical Manual: What, Types & How to Create One?
Top 11 Code Editors for Software Developers
IT Documentation: A Comprehensive Guide
Top 10 Technology Blogs You Must Subscribe to
The Best Online Software Documentation Tools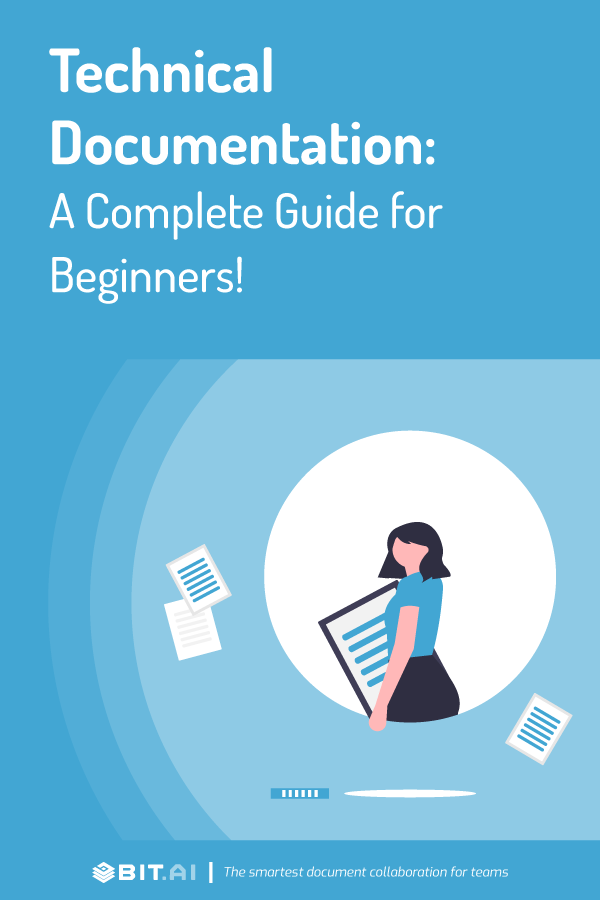 Related posts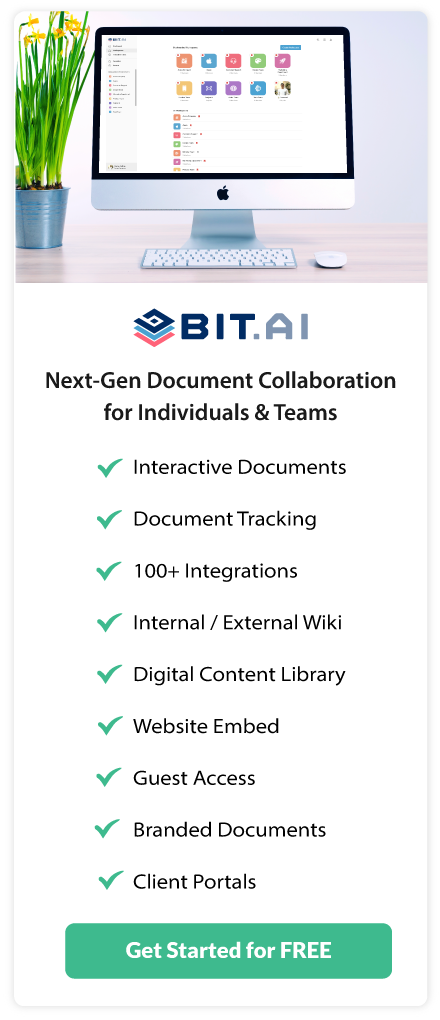 About Bit.ai
Bit.ai is the essential next-gen workplace and document collaboration platform. that helps teams share knowledge by connecting any type of digital content. With this intuitive, cloud-based solution, anyone can work visually and collaborate in real-time while creating internal notes, team projects, knowledge bases, client-facing content, and more.
The smartest online Google Docs and Word alternative, Bit.ai is used in over 100 countries by professionals everywhere, from IT teams creating internal documentation and knowledge bases, to sales and marketing teams sharing client materials and client portals.
👉👉Click Here to Check out Bit.ai.