Project documentation refers to the process of recording and collecting essential details and information related to a project and maintaining them in a set of documents.
If there's anything that we all collectively hate doing, it is paperwork.
But, unfortunately, every single initiative comes with its own load of paperwork. Yes, the same applies to any new project you decide to start.
Writing everything down or documenting every stage of your project lifecycle comes with a lot of benefits and is, in fact, a vital part of project management. Without proper documentation, executing a project will become difficult and near to impossible to make successful. It will deter productivity and mess up your team alignment.
And even though it may seem monotonous and tedious, well-written project documentation is what can make a difference between the success and failure of your project.
So, let's try and understand what project documentation is, why it is important, and how exactly to create one for your project.
Ready to learn about project documentation? Then jump right in!
What is Project Documentation? (Definition)
Project documentation refers to the process of recording and collecting essential details and information related to a project and maintaining them in a set of documents.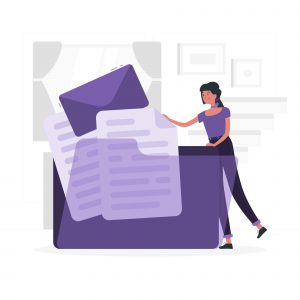 Simply speaking, it includes a collection of officially written documents containing important information about a project. This can include various types of documents, such as project plans, project proposals, project status reports, project team meeting minutes, and more.
Project documentation provides you with a multitude of information, which you can use for:
Maintaining evidence about project-related activities
Comparing the expectations and standards set in the beginning
Evaluating overall performance
Setting standards for future projects
Who puts together project documentation? It is normally done by project managers or project management professionals and their project team. But sometimes, they take the help of other parties, such as the stakeholders, HR, interested parties in the documentation process, and more. But, ultimately, the project managers have the final say in it.

Types of Documents Included in Project Documentation:
1. Project Proposal
A project proposal is a written document that outlines all the information the stakeholder should know about the project. It aims to sell the project idea to the stakeholders so that they buy into the proposed initiative.
It usually contains a description of the proposed project, its purpose, goals and objectives, timeline, budget, and the steps that will be taken to complete it.
Read more: 3 Project Proposal Examples You Must Check Out!
2. Project Charter
A project charter is a document that officially authorizes the project. It formally gives the project manager the power to plan and execute the project and acts as a source of reference for the future.
It usually specifies the project objectives, internal and external stakeholders, resources, budget, proposed timeline, constraints, and more.
3. Project Outline
A project outline is a document that contains a brief description of a project, its goals and objectives, a timeline, potential risks and problems, items required, and all the other essential details of the project in a bite-sized format.
It provides an overview of the project at a single glance and ensures that the team and managers are on the same page.
4. Project Summary
A project summary is a document that provides a concise and comprehensive overview of an entire project. It usually contains project objectives, background information, requirements, problems, analysis, and conclusion. Typically, it is the first element written in a project proposal.
5. Project Schedule
A project schedule is a document that lays out a timetable to organize tasks, resources, and due dates in a sequential manner so that the team knows what work needs to be done and when it needs to be done.
This document decides the timeframe for the entire project and makes it easier to track late tasks and missed deadlines and milestones.
6. Project Budget
A project budget document includes all the costs required to finish a project over a specific period of time. It allows you to track all the project costs and helps determine what the costs of the project will be for each phase.
Usually, a project budget includes all the project costs, such as labor costs, operating costs, resources and material procurement costs, and more.
7. Project Status Report
A project status report is a document that summarizes the overall progress of a project within a defined timeframe and then compares it against the project plan. This document helps communicate and keep the stakeholders updated about the project progress, accomplishments, issues, risks, and the next steps.
These are not all, there are various other project documents, such as project business case, work breakdown structure (WBS), risks and issues log, change request management, and the list goes on!
This makes us wonder why all these documents are so important? Why does project documentation matter so much? Let's find out in the next section!
Read more: Types of Documents Every Business Should Create!
Why is Project Documentation So Important?
As a project manager, you know that projects are incredibly complex and involve various tasks, processes, and procedures. And your job is to ensure that you deliver all your projects with the desired expectations and benefits.
For that to happen smoothly, having a set of useful project documents are what will help you and your project team. How? Take a look:
1. Offers Information
Documentation is all about keeping a record of or maintaining data and information. With proper project documentation, you can ensure that everyone involved in the project is always informed. This not only increases transparency but also helps teams work together more effectively.
2. Breaks Down Project
Since project documentation involves creating various documents, it essentially helps break down complex projects into smaller, comprehensible parts. This means that you have key documents with bite-sized information that are easier to understand and track.
3. Facilitates Communication
With proper project documentation, you can easily and accurately communicate important information with your project team members, project stakeholders, clients, and top management. It makes assigning roles and prioritizing tasks much more efficient and accurate. This guarantees effective communication within the project.
4. Tracks Performance
Project documentation helps evaluate the performance of your project and keeps track of its progress. It checks whether all the requirements, standards, and expectations are being met. It also helps identify issues and risks before they affect your project and provide you with needed information to solve them.
5. Helps Stay Organized
The best part about having effective project documentation is that it divides the project into multiple sections and documents to keep information organized. This helps you keep tabs on all the important paperwork and weed out what you don't need.
With so many benefits, project documentation is not something you cannot just push to the side and ignore. As a project manager, it becomes your duty to ensure that it is done properly.
So, let's find out how to create effective project documentation!
Read more: Project Timeline: What is it & How to Create it? (Step By Step)
How to Manage Project Documentation? Follow these steps: 
Since every project is different from another, there is no one-size-fits-all when it comes to project documentation. However, here are a few steps that you can follow to make sure that you manage the perfect documentation for your projects:
Step 1. Start with Project Initiation
A project lifecycle starts with project initiation. It is the very first phase of the project as it is here that you establish your project manager, decide the formation of a project team, address issues of feasibility, determine project objectives, allocate initial funding, and outline the scope and key actions required to bring the project to life.
By the end of the project initiation phase, the project is formally and officially approved and ready to be made a reality.
The different types of project documentation required at this stage include project proposals, project scope statements, team structure documents, and project charter.
Step 2. Create a Plan
Once your project is formally approved, the next step is to create a plan. The planning phase is the second phase of your project's life cycle and it is extremely crucial to the success of your project.
In this phase, you outline all the different requirements and actions needed for your project to come to life. Make sure that you logically and comprehensively create a plan that will allow you to accomplish your project's goals and objectives.
The various project documentation involved in the planning phase includes project management plan, project communication plan, project roadmap, and financial plan.
Step 3. Implement the Project
With the plan in place, the next phase of your project documentation is the implementation or execution. This is where all your planning finally gets put into action, and because of that, it is also usually the longest phase of your project.
Here, you go from preparation mode to complete action mode and actually complete your project work. In this phase, it is important that there is proper communication and alignment.
The project documentation required at the implementation phase of your project includes Risk & Issues Log or RAID logs, Project Status Reports, and various other reports.
Step 4. Observe and Make Changes
The next phase of project documentation involves observing the steps taken in the implementation phase, identifying the necessary changes required, and bringing about those changes as you execute your project.
This phase is often considered as a part of the execution phase, however, it purely focuses on making changes to the implementation as it comes up.
The documentation required at this stage is the project change request log, where all the changes requested for the original plan are recorded.
Step 5. Wrap Up the Project
With that, we have come to the last and final phase of a project lifecycle to be included in the project documentation – the conclusion. It is where you officially close and wrap up your project.
At this stage, you conduct meetings with the team and present the finished product so as to reflect upon what worked, what did not, and what could be improved in the future. This will help streamline your project documentation and management processes.
The project documentation required at this phase includes a project review document and a project closure document.
And that's about it! But before you go, you should know something.
Organizing project documentation into a centralized area provides a single source of truth to the project team regarding the aims, status, and results of the project in question. It brings otherwise scattered documents into one place, increasing alignment and ensuring goals are achieved.
For this, you need a proficient tool that can help you create, share, and collaborate with stakeholders and get work done efficiently. This is where Bit comes in!
What is Bit, you ask? Scroll down to find out!
Bit.ai: Your One-Stop Destination for All Project Documentation Needs!
Bit.ai is a new-age documentation and knowledge management tool that helps teams to collaborate, share, track, and manage all company knowledge in one place.
Project managers can use Bit to create project status report documents, collaborate with the team in real-time, and store all project assets in one place for easy and fast access.
Ready-made Templates: Bit has an extensive template gallery that offers over 70+ professionally designed templates from which you can choose your favorite one! Your team can easily create various project documents like project plans, project outlines, project proposals, project summaries, project roadmaps, and more! All you have to do is fill in your customized content and you'll get the whole draft ready in a few minutes!
Smart Workspaces: With Bit, you can create infinite workspaces and folders to help you manage and organize information related to your project. It allows you to bring all your documents, media files, and other important project data in one place.
Real-time Collaboration: With Bit, you can seamlessly collaborate with your team and work together on the same document in real-time, chat privately, make inline comments, co-edit, and do so much more to ensure that you do not miss out on any important details to be included in your project documents.
Media Integration: If want to include rich media integrations like charts, graphs, tables, excel sheets, etc. in your project documents, then Bit helps you do just that! It allows you to embed and seamlessly add over 100 rich media integrations to help you enhance your document.
Smart search:  Bit has very robust search functionality that allows anyone to search and find their documents swiftly. You can search workspaces, folders, document titles, and the content inside of documents with Bit's rich-text search.
Simple, Clean UI: Bit has a very minimal design aesthetic to it, allowing anyone to quickly get on board with the platform.
Tons of other features: Bit has a plethora of amazing features like document tracking, cloud-upload, templates, and themes, document locking, live-state sharing, document expiration, and much more, making it a well-rounded documentation tool.
In short, Bit provides a common workplace for project members to collaborate, document, share their knowledge, brainstorm ideas, store digital assets, and innovate together.
The best part is that this knowledge is safely secured in your workspaces and can be shared (or kept private) with anyone in your organization or the public!
So what are you waiting for? Do yourself a favor and get Bit today!
Read More: 24 Bit.ai Integrations to Make your Documents Powerful!
Conclusion
Project documentation is more than just a task that is to be ticked off from your checklist. It plays a crucial role in simplifying your projects, ensuring clarity, keeping them organized, and making sure that they are carried out smoothly.
Well-crafted project documentation is a big chance for you to make your project user-specific and insightful so that the readers gain value while reading through it.
So, what are you waiting for? Follow this guide, create an accurate structure, use Bit, and write perfect project documentation right away! Good luck!
Further reads: 
Employee Documentation: What is it and Types?
Project Summary: What is it & How to Write it!
IT Documentation: What is it & How to do it Right?
Project Summary: What is it & How to Write it!
The Ultimate Guide To Process Documentation (Template Included)
Technical Documentation: What is it & How to Create it? (Steps Included)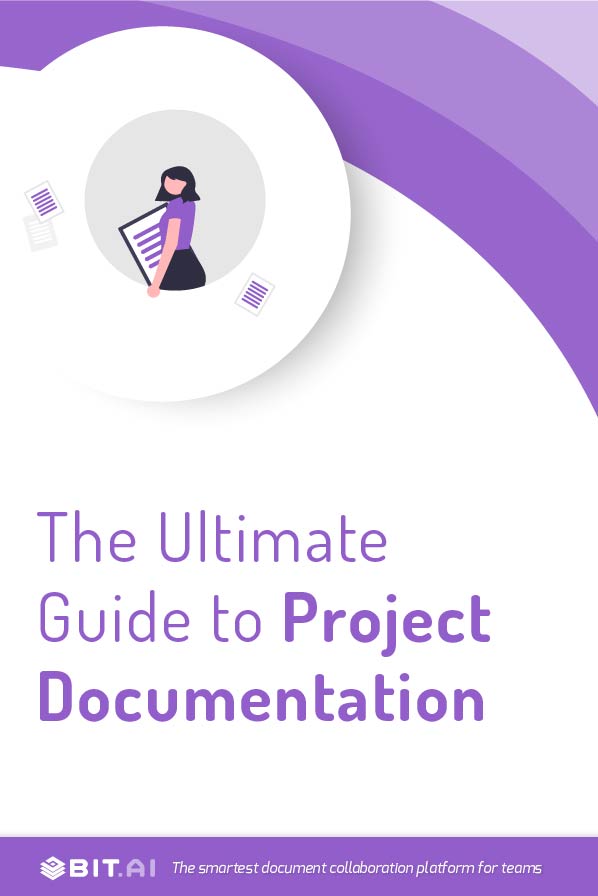 Related posts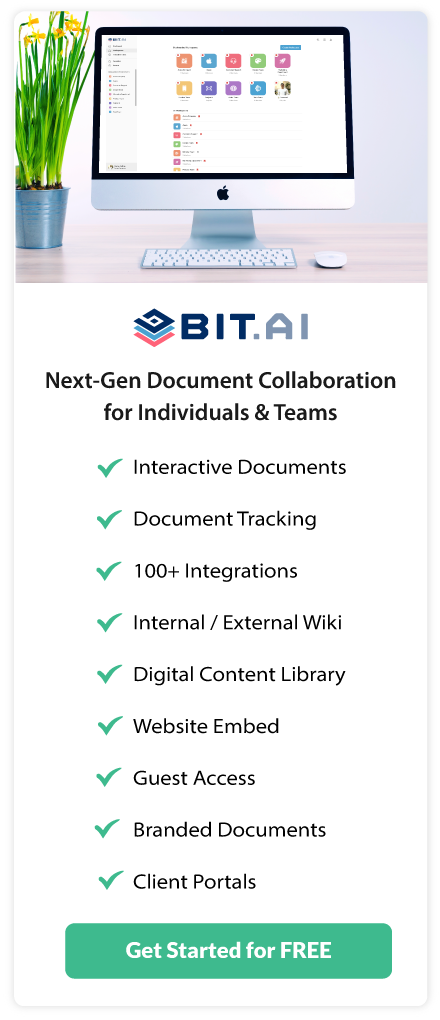 About Bit.ai
Bit.ai is the essential next-gen workplace and document collaboration platform. that helps teams share knowledge by connecting any type of digital content. With this intuitive, cloud-based solution, anyone can work visually and collaborate in real-time while creating internal notes, team projects, knowledge bases, client-facing content, and more.
The smartest online Google Docs and Word alternative, Bit.ai is used in over 100 countries by professionals everywhere, from IT teams creating internal documentation and knowledge bases, to sales and marketing teams sharing client materials and client portals.
👉👉Click Here to Check out Bit.ai.