Employees form the foundation of any successful organization. It's their collective hard work, expertise, skill, and years of experience that allow them to work in tandem and lead the company towards success.
However, if your company information- the knowledge your employees use to do their work and manage customers- lives inside your employee's heads, you are preparing yourself for a massive disaster.
What if your most experienced software developer or IT sales rep retires? What if he moves to a different company? What if she goes on a long vacation? Yep, they are also going to take their skills, experience, and knowledge with them. Once they leave, you would have to start your work from scratch, training, and onboarding new employees and getting them up to speed with the rest of the organization.
Not only will this process waste a tremendous amount of time and effort on your end, but it is also bound to cost your business a fortune in training and onboarding costs alone.
Sounds horrible right? It is. According to a recent study by Training Magazine, companies spent an average of $1,286 a year on training per employee in 2019. This is just the tip of the iceberg though as the cost of hiring and training a new employee also involves the cost of paperwork, loss of productivity for all parties involved in the hiring and training process, cost of premature turnover, and more.
So, that's bad news. The good news is, all of this horribleness is completely avoidable at a fraction of the training cost via documentation.
What is IT Documentation?
Documentation is a critical part of any organization, especially those that focus primarily on IT. IT Documentation is a detailed description of how to execute a process, method, task, or program and outlines the exact steps needed to do it efficiently.
Documentation works as a guide for internal (employees, management, etc) as well as external (customers, clients, partners) stakeholders, helping them understand a process easily and getting them up to speed without the requirement of proper training.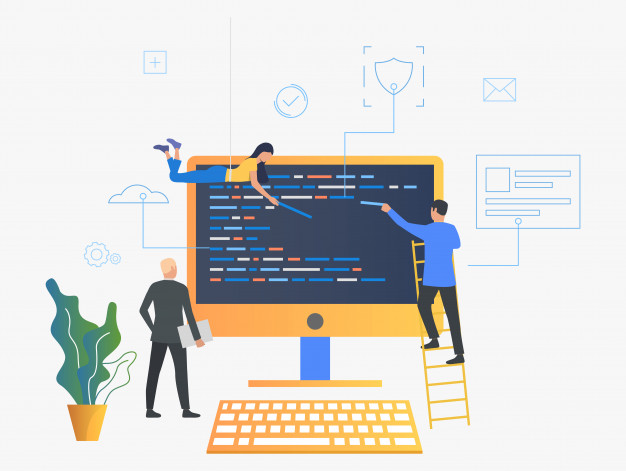 In the IT and software industry, documentation is used for a variety of purposes:
Gathering requirements for a software
Documenting the steps involved for future reference
Creating project proposals and SOPs (standard operating procedures)
Creating training manuals to train new employees and get them up to speed with the software quickly
As a contract between the customer and the client and deliver what was agreed upon.
As a self-service customer manual to help them teach the proper usage of the software and troubleshooting.
To think through the entire process before committing costly resources and avoid future changes
Documenting the source code and other key technologies involved in creating the product
At its core, IT documentation is the proper organization of information to help teams do their job more efficiently and subsequently, be more productive.
Read more: Software Requirements Document: Definition, Steps, and Template Included!
Why IT Documentation is Important?
There are many reasons as to why businesses should take IT documentation seriously and do it often. Here are a few great ones:

1. To preserve organizational knowledge
When your star employee moves on to another company or retires, their job experience is lost, leaving a gaping hole in your workflow. This is why it's important for organizations to document the experience and technical know-how of senior managers so that the knowledge of the organization does not leave when the employee leaves.
2. Save time and effort
If you don't have proper IT documentation in place, employees are going to carry out the task in a different manner. While some may do the job quickly, others are likely going to waste time and effort figuring stuff out from scratch.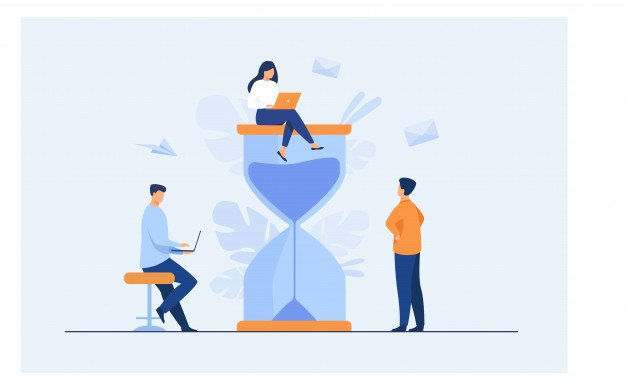 Having clear and concise documentation ensures all employees carry out the same task in a set period of time. This is especially useful when creating standard operating procedures. This promotes uniformity and consistency across the organization and improves workflow.
3. Training for new employees 
Since documentation preserves the experience of current employees, it acts as a valuable resource for new hires. When a new hire joins the company, training them becomes immensely easy as they can simply go through the documentation and get themselves educated on different business processes, policies, and overall workings of the organization. They can learn at their own pace, with detailed step-by-step instructions, rather than relying entirely on a busy employee to train them.
4. Fewer errors
With clear documentation, everyone knows exactly what to do and expect what outcome. This reduces the chances of making errors while working significantly and keeps everyone accountable.
5. Increased efficiency
When documentation is in place, searching for information becomes streamlined and quick. Thus, less time is wasted in shoulder-tapping and asking for help, as employees can quickly refer to the existing documentation and solve their queries. This removes redundancy in the system and avoids unnecessary communication related to routine tasks.
Read more: The Ultimate Guide To Process Documentation (Template Included)
The Best IT Documentation Tool on the Market Right Now: Bit.ai
Now that you know what IT documentation is and why its crucial to have documentation in place for smooth business workflow, it's time to find you the perfect documentation tool on the market right now.
Ask yourself this: "What does my ideal documentation tool looks like?"
We bet your ideal tool has the following features:
is easy to use
has an amazing user interface and experience
is easy on the pocket
has a clean editor that supports fast documentation
has a place to store all your documentation in one place
ability to rope in peers in a document for real-time editing and collaboration
Well, guess what? Today we are going to introduce you to a tool that has all the above features and more. Enter, Bit!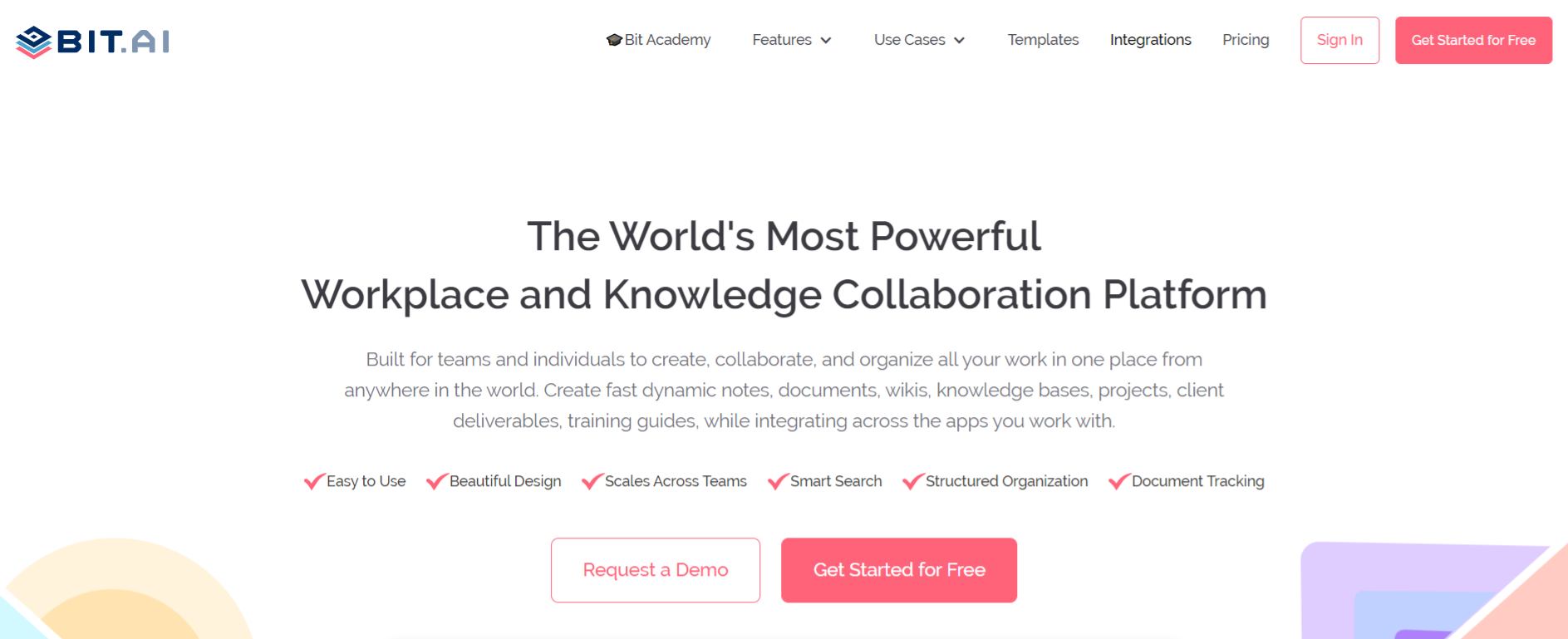 Bit.ai is new-age software documentation and knowledge management tool that helps employees collaborate, share, track, and manage all company documentation in one place.
Nothing like your standard Word Docs, Bit docs are I-N-T-E-R-A-C-T-I-V-E! Add code blocks, math equations, videos, screenshots, PDFs, GITHUB files- or any other rich media you can think of!
Whether your IT team is creating software documentation, training manuals, best practices doc, technical specs sheet, client support material, etc, they can easily embed snippets of GitHub Gists and Pastebin code directly into a Bit document, providing a smart way to add context to the code snippets you are sharing.
Take that, Microsoft Word! 
This is only the tip of the iceberg though as Bit has so much more to offer:
Collaboration: Multiple people can simultaneously collaborate on a Bit smart document in real-time. It's a great way for developers and IT teams to handle different aspects of a project together under a single roof.
Sleek Editor: Bit's minimal and distraction-free editor makes a great tool for documentation. The best part is Bit's support for Markdown which allows employees to quickly create and format text without any distractions. Once you are done creating your documents, you can easily export them as PDFs, Word files, Markdown, and much more.
Content Management: Need a place to store your media? Bit has a robust content library to save and access all your videos, images, files, and digital content you add to your documentation so that you can access and reuse them easily. No more hopping around different cloud-storage services or going through pesky email attachments.
Smart workspaces: Gather your IT team and create workspaces around projects, teams, departments, and clients to keep your documents, data, and knowledge organized. Pin important items to the top, add new members to a workspace, and take your content organization to the next level with hierarchical folders!
Permissions: Bit allows users to manage permissions and information access that suits your organizational needs. It supports features like document tracking, password protection, file access restrictions, etc. that help keep your important company information safe.
Templates: Want to create a training manual? There's a template for that! Want to create API documentation? There's a template for that! Want to create a roadmap document? Yes, you guessed it- there's a template for that!! With so many pre-built templates, creating workplace documents was never this quick and easy.
We think we have made a pretty solid case here. There's nothing like Bit out there that does it all- from document creation and collaboration to document sharing, managing, and tracking. With a free account for up to 5 members, there's no reason why you should not give Bit a try and feel its awesomeness yourself!
Read More: 24 Bit.ai Integrations to Make your Documents Powerful!
Over to you!
In today's face-paced world, productivity is key. Every business wants to get ahead by doing work swiftly and efficiently, use minimum resources, and maintaining top-notch quality. Documentation thus becomes a driver of success for any organization as it preserves company knowledge, trains new employees, and reduces the ambiguity of operations. A great documentation tool like Bit can help you do just that, and more.
So, what are you waiting for? Go ahead and start documenting your IT knowledge today! If you need any additional tips or want to learn more about how Bit can help your business, feel free to tweet us @bit_docs. Good luck!
Further reads: 
Technical Documentation: What, Why, and How?
Project Documentation: What is it & How to Manage it?
9 Project Documents You Must Create For Your Project!
API Documentation: What is it & How To Create them?
Technical Description: What is it & How to Write it? (Steps Included)
Employee Documentation: What is it and Types?
Everything You Need To Know About Project Management
The Best Online Software Documentation Tools of 2021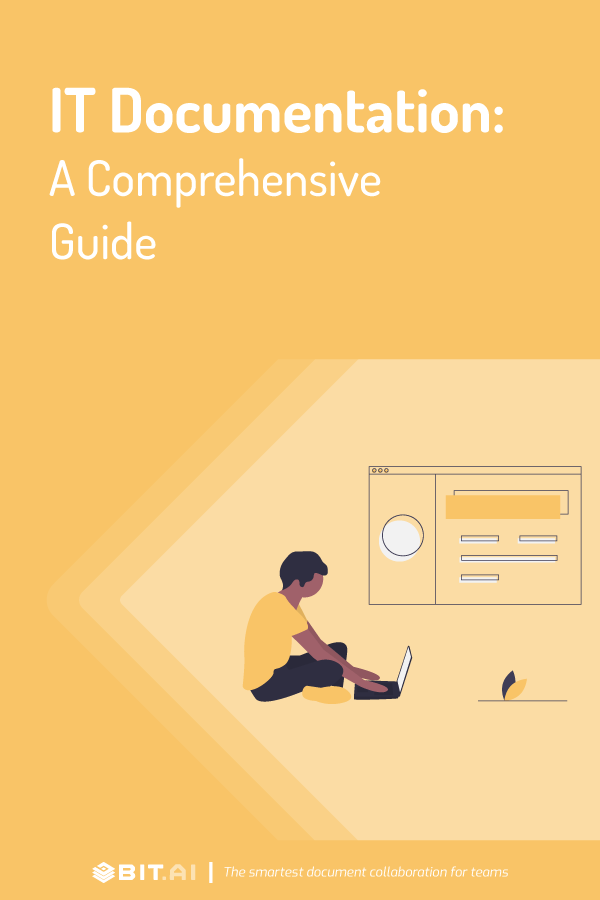 Related posts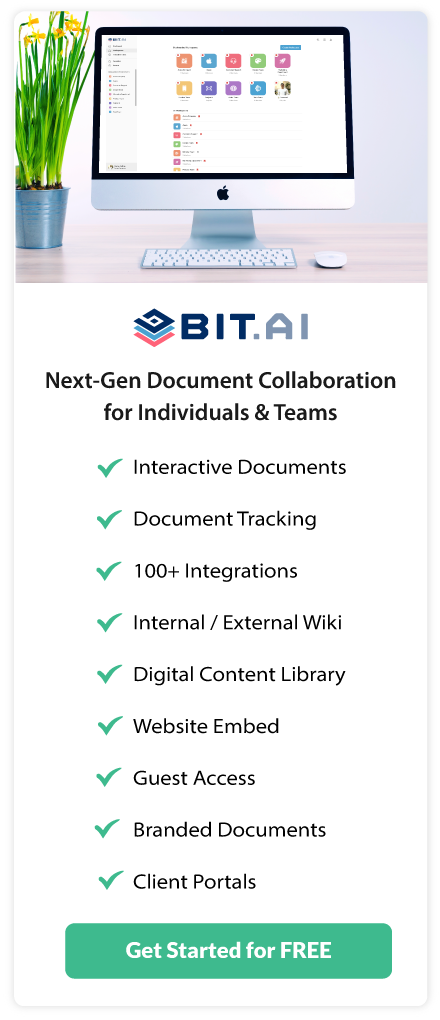 About Bit.ai
Bit.ai is the essential next-gen workplace and document collaboration platform. that helps teams share knowledge by connecting any type of digital content. With this intuitive, cloud-based solution, anyone can work visually and collaborate in real-time while creating internal notes, team projects, knowledge bases, client-facing content, and more.
The smartest online Google Docs and Word alternative, Bit.ai is used in over 100 countries by professionals everywhere, from IT teams creating internal documentation and knowledge bases, to sales and marketing teams sharing client materials and client portals.
👉👉Click Here to Check out Bit.ai.