A wise man once said
"Prevention is better than Cure"
This happens to be true in every aspect of life! Even when managing possibilities in a project's lifecycle. Projects face difficulties in execution, whether related to costs, schedules, or operations.
In fact, at least 1 in 6 IT projects turns into a "black swan" due to a cost overrun of 200% or schedule overrun of 70%!
These events are negative risks that occur unexpectedly, causing issues. And, if not managed proactively might hamper the overall success of a project!
So, what can be done to find, manage, and encounter such unexpected risks? Well, implementing an effective risk management plan might help!
Today, more than 27% of the organizations widely use risk management practices in their project management wheel because having planned risk management can decrease the level of issues affecting the project by 80% – 90%!
Hence, an excellent risk management plan can overcome unexpected risks that occur, considering all the possible situations that can go wrong while executing a project.
In this blog post, you will learn how to create a well-thought risk management plan for all your project in just a few simple steps!
What is the Risk Management Plan? (Definition)
A risk management plan also called a "risk mitigation plan" is a well-defined document that tells how to deal with specific risks and what management actions must be taken against those risks in order to mitigate or remove threats to the project tasks and outcomes.
The risk management plan gives teams a sense of measures they need to take in order to identify, analyze, and respond to all the risks running around within the project wheel.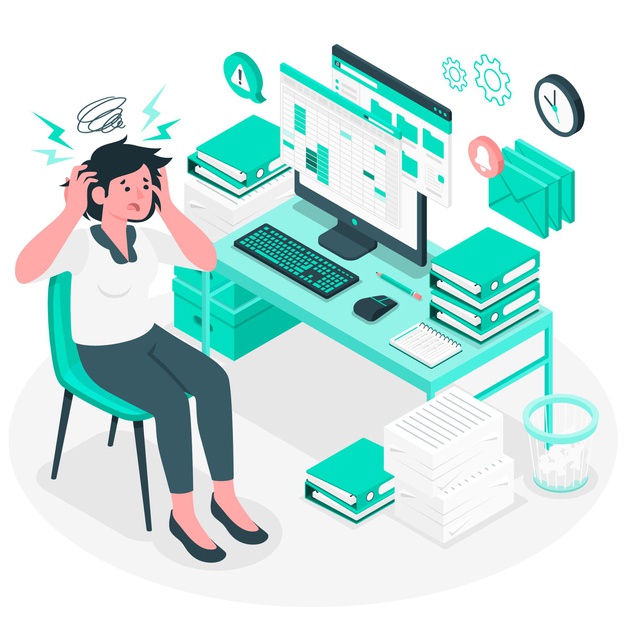 Note: The given risk management plan definition is generic and relevant to most kinds of projects, including IT or business projects!
This plan is part of a common risk management process that exists during the whole life-cycle of a project. The risk management process brings together all the driving forces that cause the project management team to take some action for treating risks.

4 Ways to Handle/Manage Risk:
We all know that when planning a project, risks are uncertain. Yet, some of the risks that you plan to power through do happen, and that's when you really have to deal with them.
So, there are several potential responses to handle risks. The response you choose will be based on the probability of the risk happening and the gravity of its impact on a project.
Avoid: The best thing to do with risk is to avoid it! If you can easily prevent it from occurring, it definitely won't hamper your project.
Mitigate: Now, if you can't avoid risk, you sure can mitigate it. This means taking some action against it that will do as little damage to your project as possible.
Transfer: Another great way to deal with a risk is by transferring it to a third party. The best and most common process to do this is to buy insurance.
Accept: Finally, if nothing works then you have to accept it. By accepting the risks, you can work in the direction to treat them in advance.
However, by the time a risk occurs, it is already too late to take action! This is when you require an effective plan for managing risks from the very beginning.
Read more: Crisis Management Plan: Definition, Types & Steps to Create!
How to Create a Risk Management Plan? Follow these Steps!
With every new project comes new risks waiting in line. While your business can't entirely avoid risks, you can mitigate and anticipate them through an established risk management plan.
By following these steps you can streamline your team to have a successful risk management plan in place and make them more responsive and agile when managing negative events.
Step 1. Identify the risk
Foreseeing possible pitfalls of a project does not have to feel like a dead-end for an organization. On the contrary, identifying risks is a positive experience that your whole team can learn from and take part in.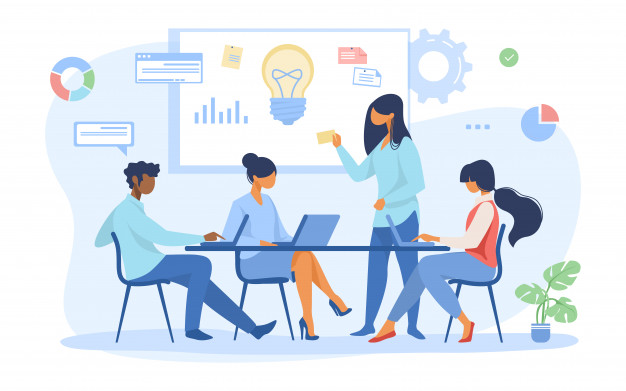 You can easily leverage the collective experience and knowledge of your entire team in risk management. Ask your team members to identify risks they have insight into it or experienced before. This step encourages cross-functional learning and fosters communication.
Step 2. Analyze the risk
Once you and your team identify potential issues, it's time to delve a little deeper.
How often do these risks happen?
And if they do, what will the consequence be?
During this step, your team will evaluate the fallout and probability of each risk to figure out where to focus first.
Risk analysis includes factors such as possible financial loss to the organization, time lost, and severity of impact.
By processing each risk under the microscope, you'll also uncover any common issues across a project and further refine the risk management plan for future projects.
Step 3. Prioritize the risk
After the in-depth analysis of your risks its time to prioritize. Rank each risk by considering both the probability of its happening and its possible effect on the project.
This step provides you a holistic view of the project at hand and points out where the team's focus should be. Most importantly, it will assist them in identifying workable solutions for each prioritized risk. This way, the project itself is not delayed or interrupted during the treatment stage.
Step 4. Treat the risks
Once the risks come to light, execute your treatment plan. Begin with the highest priority risk, assess your team with either mitigating the risk or at least solving it so that it's no longer a threat to the project.
Effectively mitigating and treating the risk also means utilizing your team's resources optimally without hampering the project in the meantime. As time passes by and you generate a larger database of your past projects along with their risk logs, you can predict potential risks more proactively rather than reactively for better treatment.
Step 5. Monitor the risk
While as the project proceeds, the risk management plan simultaneously takes care of all the risks that you might encounter on the way. Since all the proceeds of the risk management plan are documented, keeping tabs on those moving targets becomes important! It's crucial to review this document at regular intervals of time.
Read more: Change Management Plan: What, Why, and How to Write?
Benefits of Writing a Risk Management Plan!
Risk management plans provide various benefits that make the document a worthwhile endeavor for every organization. From helping businesses to identify the potential risks they may face to treating them. Being aware of these risks allows companies to make plans and deal with them when they arise. But majorly, a risk management plan:
1. Boosts Results
By defining a risk management plan for your organization, your chances of a successful project are more likely as it minimizes and eliminates negative risks such that projects can be completed on time.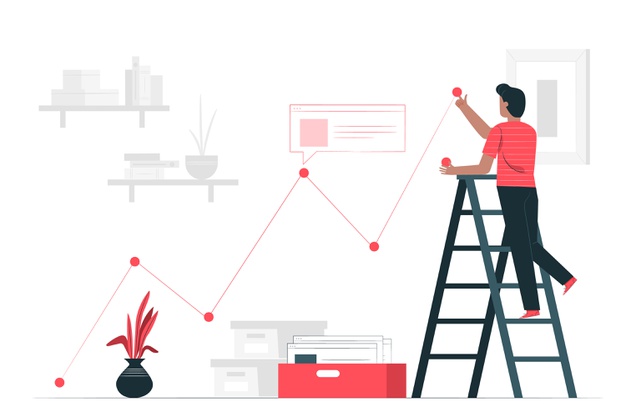 This enables your team to meet the budget and fulfill targeted goals. When you don't have well-defined risk management strategies in place, your projects become vulnerable and get exposed to problems.
2. Help you be Proactive, and Not Reactive
Having a clear management plan lets you be proactive and take steps to reduce potential issues before they arise, instead of constantly fire fighting. Your team can take the risk that has been recognized and transfer them to workable steps that will reduce the likelihood of them happening.
3. Help you Evaluate the Entire Project
With the help of a devised risk management plan, you can assess the impact of your tasks by mitigating exposure to risks and exploiting opportunities that capitalize on your organizations' strengths. In other words, it helps you evaluate your current project's success and to helps you build best practices for the future.
Read more: Objectives and Key Results (OKR): What, Why, and How?
Create a Collaborative Risk Management Plan with Bit
Ready to create your risk management plan document? Well, we have got the perfect tool for you!
Bit.ai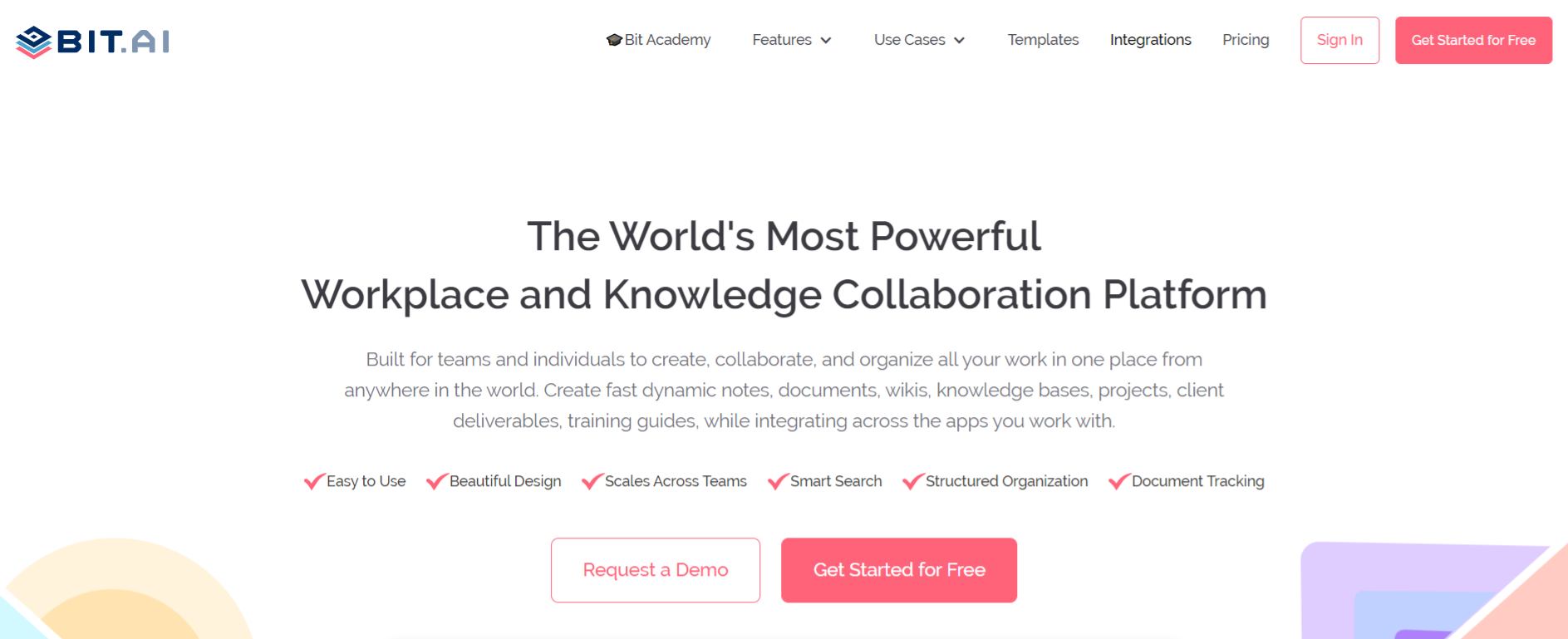 is a new age online document collaboration tool that helps anyone create awesome risk management plan documents, project management plans, product plans, and other company documents in minutes. Bit is the dream tool to help teams transform the planning process, by making it interactive and collaborative.
Bit provides a commonplace for employees to simultaneously collaborate and manage projects, and most importantly, share knowledge. It also has a content library where you can save all your images, files, and digital content and access them easily, making your workflow smooth as ever!
Simply create a workspace, add your team members, and start creating your workplace documents like product plans quickly! You can further share these documents with external clients, partners, agencies, etc., and get detailed insights on how they interacted with your documents! Cool, right?
Here are some key reasons to use Bit to create management or planning documents: 
Collaborate with teammates in real-time and create plan risk management together.
Content management capabilities allow teams to store their PDFs, videos, images, charts, and more inside one platform for easy access. Say goodbye to Google Drive and Dropbox!
Get management feedback in real-time using @mentions and highlight features as every document comes with its separate comment stream.
Create, share, and store documents related to the project in one place without going back and forth to your cloud storage services.
Bit documents are nothing like you have ever seen. Create interactive docs and embed Airtable blocks, Google spreadsheets, PDFs, video tutorials, Typeform surveys- basically anything with a link inside your document.
Bit has a plethora of amazing templates to kickstart your work.
Our team at bit.ai has created a few awesome business templates to make your business processes more efficient. Make sure to check them out before you go, your team might need them!
Final Words
Risks are bound to happen in all kinds of projects. But if you have a clearly defined risk management plan to help you navigate the process, you can mitigate error more effectively.
Note that the risk management plan is a living document that needs to be monitored and improved upon as the situation demands. This is why document collaboration tools one like Bit are perfect for creating such documents so you can edit any document in real-time and make changes as needed and use them as guides before starting a project.
So, what are you waiting for? Start creating your risk management plan documents today, with a little help from Bit.ai! Good luck!
Further reads:
Implementation Plan: What is it & How to Create it?
Contingency Plan: What, Why, and How to Create it?
9 Risk Management Tools & Techniques You Must Try!
Information Security Plan: What is it & How to Create it?
How to Write a Request for Proposal (RFP)?
How to Create a Killer Sales Plan Document?
Resource Management Plan: What, Why, and How to Create It?
How to Create a Project Management Communication Plan?
RAID Log: What is it and How to create one? (Steps Included)
Disaster Recovery Plan: Definition, Importance & Steps!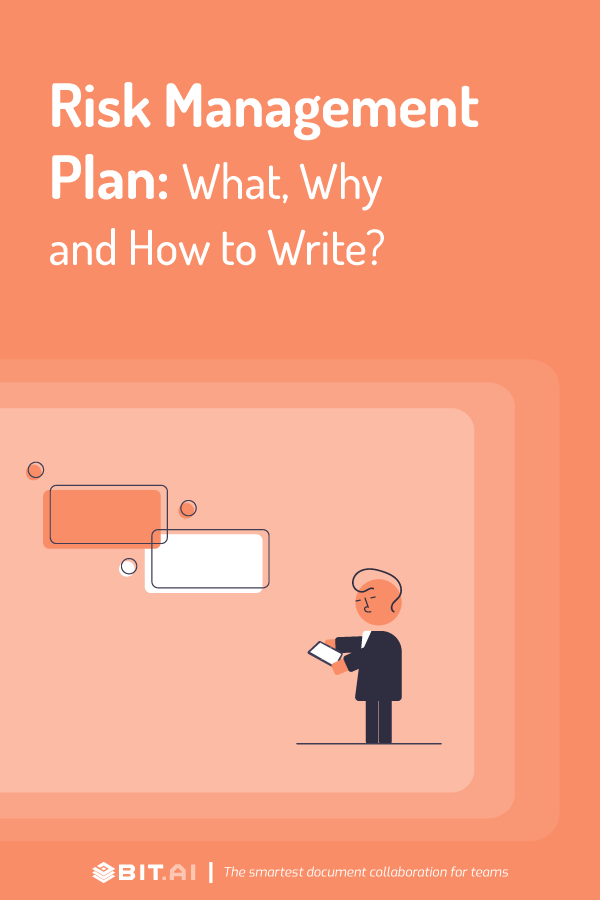 Related posts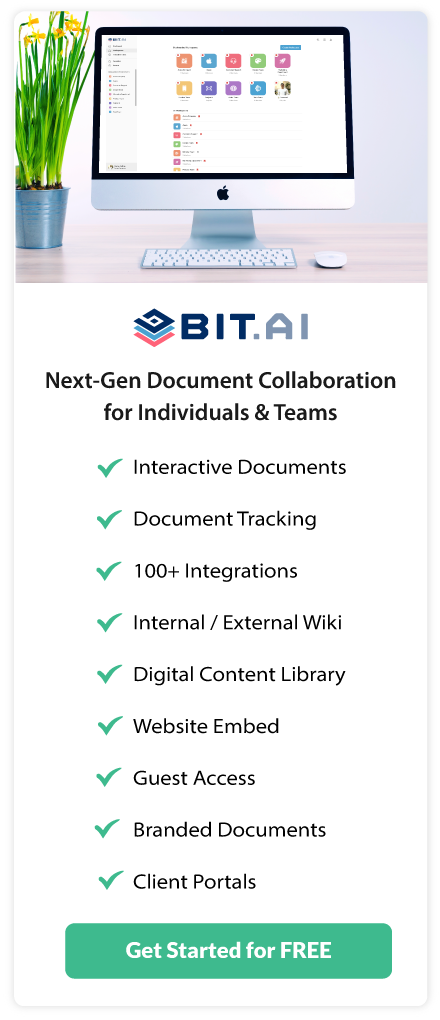 About Bit.ai
Bit.ai is the essential next-gen workplace and document collaboration platform. that helps teams share knowledge by connecting any type of digital content. With this intuitive, cloud-based solution, anyone can work visually and collaborate in real-time while creating internal notes, team projects, knowledge bases, client-facing content, and more.
The smartest online Google Docs and Word alternative, Bit.ai is used in over 100 countries by professionals everywhere, from IT teams creating internal documentation and knowledge bases, to sales and marketing teams sharing client materials and client portals.
👉👉Click Here to Check out Bit.ai.