The crazy thing about running a business is that absolutely anything can happen at any time. And, unfortunately, emergencies and disasters are more common than you think.
And the thing about crises is that they can come in multiple forms.
Be it natural disasters, human errors, technical glitches, power outages, or even a global pandemic – crises are out there to ruin your organization's operations, finances, and reputation and sometimes even jeopardize your health, safety, and life.
So how exactly do you deal with these crises? By creating a strong crisis management plan! Not very familiar with crisis management plans? Then you can learn all about it on this blog!
From definition and importance to the various steps involved in creating an effective crisis management plan for your business, we have it all. Wait around longer and we even have a special surprise for you at the end!
Ready to get started? Let's go!
What is a Crisis Management Plan? (Definition)
First off let's try to understand what crisis management is. It is a process that involves identifying a threat or negative event and monitoring, planning, and implementing strategies designed to help solve them.
It's basically all about dealing with a crisis and coming up with ways to respond to it.
A crisis management plan is defined as a detailed plan that outlines the various actions that a company needs to take during a crisis or critical situation.
Essentially, it tells you how you must react or respond to a crisis, including who will take the actions and what their roles will be.
Since this plan can help you deal with any form of crisis, including personal, financial, technological, natural, and many more, it may also be called a business continuity plan, disaster recovery plan, or contingency plan.
A crisis management plan aims to minimize the impact of a crisis on an organization's profits, business operations, and reputation.
It provides guidelines for personnel, resources, and communications, and helps businesses get back on their feet as quickly as possible.

Types of Crises that You Might Face
A crisis is something that can happen at any time and can affect your business in different ways. The nature of a crisis can vary and these usually include the following:
1. Natural Crisis
A natural crisis is one that is often caused due to natural disasters, such as earthquakes, hurricanes, floods, tornadoes, or an epidemic.
If your company is situated in an area prone to these natural disasters, then you'll always need to be prepared for it and create a crisis management plan in response to it.
2. Technological Crisis
Technological crisis often includes issues or problems brought on by the technology you use.
This can include various crises, such as power shutdowns, website crashes, system breakdowns, malfunctioning machines, and more.
3. Financial Crisis
A  financial crisis happens when there is a loss of value in the assets of a business which can often lead to debt.
Generally, this is could be due to a drop in demand for the product or service. Financial crisis includes bankruptcy, huge debts, loss of money, and more.
4. Crisis of Malevolence
A crisis of malevolence is a type of crisis that happens when an opponent or an employee within a company uses illegal or criminal methods for personal gains or for the purpose of destroying or harming a company's reputation.
This often includes cyberattacks like hacking, kidnapping, resorting to violence, spreading rumors, and other forms of negative acts.
5. Confrontational Crisis
A confrontational crisis occurs when there is a fight among employees or there is a public outcry caused due to discontent. This often includes resignations, sit-ins, boycotts, and other forms of public protests.
Now that you know the various types of crises that can affect your business, let's try and understand why you must create a crisis management plan.
Why You Must Create a Crisis Management Plan?
Running a business comes with its fair share of risks and crises. And sometimes things can go out of hand and result in the unintentional worsening of a crisis. Or something even worse like the closing down of your company.
So, in the wake of a crisis or a disaster, planning is the one thing that can help your company contain and mitigate its adverse impact on your business operations, sales, and reputation.
Without a proper plan in place to deal with a crisis, people will be under immense stress and pressure and they will often end up making poor decisions.
This is why having a crisis management plan is critical, as it helps your teams of employees to fight the uncertainty and fear and helps them stay focused on the company's top priorities.
With a crisis management plan, you will know exactly what you have to do because it will tell you exactly what you have to do. It will keep you prepared through training so that you have enough experience to deal with the crisis.
By setting up a plan in advance, you'll be able to predict the possible outcomes, the potential crisis triggers, and the chain reactions that may set off, and be prepared to prevent it or face it effectively.
In short, a crisis management plan helps with the identification of threats, minimizing their possibility, and improving your response to a crisis. It's the key to your company's survival, especially in the midst of a crisis.
Now that we know how important it is to set up a crisis management plan, let's take a look at the steps involved in creating one!
Read more: 9 Risk Management Tools & Techniques You Must Try!
How to Create a Crisis Management Plan? (Steps & Process)
Step 1. Choose a Crisis Management Team 
The first step in creating a crisis management plan is to pick a group of leaders and create a crisis management team to collaborate with during the crisis planning process.
For your team, you must choose a set of people who will take action during a crisis or negative event.
Make sure to create the crisis management team at the very beginning of the crisis management planning process so that all the members are aware of the entire nitty-gritty of your crisis strategy.
Step 2. Identify and Assess Risks
Now that you have a crisis management team to help you out, brainstorm with them to identify potential risks, threats, issues, and crises that could disrupt your business function and adversely impact your company.
Here, you and your team need to be able to differentiate or distinguish between what a crisis is and what it isn't. For this, you'll need to define what exactly a crisis means to you.
A crisis can be:
A single occurring event that may or may not affect the business too much
An emergency situation that may be stressful, but not threatening to your business
A highly critical situation that can have a huge impact on your business.
So, it could be anything from cyberattacks to social media gaffes to even natural disasters.
Once you've identified the possible crisis scenarios, you need to analyze the probability of these risks occurring so that you can start planning on how to respond to them. If you want, you can create a risk register to visualize this process.
Step 3. Determine Business Impact
Once you've identified the high-probability risks, the next step in creating a crisis management plan is to determine the potential impact certain events can have on your business.
Important questions to ask during this stage include:
How will a crisis or issue affect the business?
Which areas or sectors will suffer the most?
What will be the approximate financial loss each crisis can cause?
For this, you need to carry out a business impact analysis or BIA and use available resources to draw conclusions about the potential impact of an issue or threat. It is done to ensure that you are considering every angle of a threat or crisis.
Completing a business impact analysis helps uncover the various potential business impacts, such as customer dissatisfaction or attrition, damaged reputation in the public eye, lost or delayed sales or income, increased costs, or regulatory fines.
Step 4. Identify Contingencies
When you've assessed the possible impact a crisis can have on your business, you need to identify contingencies and actions that can help your company respond effectively to each crisis.
It's important to analyze them separately so that you can respond appropriately.
To do this, you need to think about the various steps required to resolve or mitigate each issue, the resources that would be required, how the employees can get involved, and plan how to respond to specific scenarios.
For example, if your organization faces a cyberattack, then you'll need to involve your IT and digital teams to secure your network and prevent it from getting worse, while your customer support/service team and PR team work together to handle your customer queries.
Step 5. Create a Plan
The next step is to create the actual crisis management plan with the help of your crisis management team.
Here, it would be great if you could lay out separate detailed plans of action for each type of risk as each situation will be different from the others and will require different steps to solve. This way you'll be prepared for many more possibilities.
In addition to the guidelines and detailed action plans, your crisis management plan must include an internal and external communication plan.
Your internal communication plan must have a system or method for your crisis management team members to communicate with each other.
For this, you need to collect contact information from all team members, set up a notification provider to send texts and automated calls, and establish a schedule or timetable and a mechanism for sharing updates.
Your external communication plan must detail the communication method with the public, customers, external stakeholders, and other third parties.
For this, you'll have to appoint a spokesperson, provide detailed instructions, draft holding statements, or even set up a special website or helpline number to answer queries
Make sure to keep in mind any relevant regulatory requirements while creating the plan. For example, if your organization must remain HIPAA or GDPA compliant, then be sure to take that into account as well.
Step 6. Familiarize Users
Once you have created a crisis management plan, make sure that all relevant employees familiarize themselves with the plan because it is critical that all employees understand their roles during a crisis.
Make sure that everyone has easy and equal access to all the information they need. You can do this by regularly staging rehearsals, drills, and other crisis management-related training.
Step 7. Revisit and Review
Finally, it's time to revisit and review your crisis management plan to ensure that there are no errors and that everything is up to date.
This is because new changes can happen over time, such as changes in the environment, implementation of new technology, onboarding of new employees, and more, and along with this, the nature of the potential risks can also change.
So it's important that you identify the new changes, analyze what went well and what did not, and make necessary changes and updates at least on an annual basis.
There you have it! All the steps involved in creating a crisis management plan are now right in front of you.
But before you go, we want to introduce you to a tool that can make creating crisis management plans or any other plans as easy a breeze! Yes, you heard that right!
Don't believe us? Then scroll down and see for yourself!
Read more: Action Plan: Definition, Importance & How to Steps!
Bit.ai: The Perfect Tool to Create All Types of Plans
Bit.ai is a new-age document collaboration tool that helps teams create, manage, share, and track documents.
It provides a commonplace for teams to simultaneously collaborate and manage projects, and most importantly, share knowledge.
Bit is the dream tool to help teams transform the planning process, by making it interactive and collaborative.
But why should you use Bit to create your crisis management plan? Check out these amazing features of Bit and decide for yourself:
1. Ready-made Templates: Bit has an extensive template gallery that offers over 70+ professionally designed templates from which you can choose your favorite one.
All you have to do is fill in your customized content and you'll get the whole draft ready in a few minutes. They are all fully responsive on every kind of device and make your process super easy!
2. Auto-Formatting – While creating a crisis management plan, the last thing you want to worry about is the format of your document.
With Bit's auto-formatting feature, your entire document will be uniformly formatted for you! It even provides you with its own collection of themes and you can change the color of the document with a click too!
3. Real-Time Collaboration: Creating a crisis management plan is a team effort. In moments like those, Bit's real-time collaboration feature is truly an asset.
With Bit, you and your team can collaborate and work together on the same document, making changes and edits in real-time. It even lets you highlight sections, leave comments and mention people as well.
4. Smart Workspaces: Creating a crisis management plan requires you to work with multiple teams, which is why it is important that everything is organized.
Bit lets you create infinite workspaces and folders around projects and teams to keep all your work organized. This lets you store all your information in a neat and orderly manner, thus making your work more efficient.
5. Interactive Documents: Want to make your crisis management plan interesting and fun? With Bit, you can do just that!
Its smart integration allows you to seamlessly add rich media elements like images, charts, videos, audios, pdfs, and lots more to your document within a few seconds and make them come to life!
6. Simple UI: Even though Bit is jam-packed with features, it has a simple and easy-to-understand user interface, which makes it extremely easy for new users to get on board with the platform.
Multiple Sharing Options: Bit documents can be shared in a live state meaning that all changes that you make to the document will update in real-time.
All-in-all Bit is the one-stop solution for all your documentation and collaboration needs! So, what are you waiting for? Do yourself a favor and get Bit right now!
Conclusion
The lack of crisis management can immensely cost you your reputation and revenue. So, whether you have a small business or a multinational company, you need to have an effective crisis management plan.
With a well-developed crisis management plan in place, your business will always be one step ahead of the crisis. You'll be able to anticipate and assess potential threats and quickly get back on your feet.
Use Bit combined with the above steps to create a crisis management plan that equips you to navigate any type of crisis successfully.
Now if a crisis hits your company, you'll be ready to face it and emerge stronger and better! Adios, amigos!
Further reads: 
Management Plan: Definition, Benefits & How To Create One?
Information Security Plan: What is it & How to Create it?
Risk Assessment Matrix: What is it and How to Create it?
Cost Management Plan: What is it & How to Create it the Right Way?
Risk Management Plan: What is it and How to Create it?
Mitigation Plan: What Is It & How To Create One?
Capacity Management: Definition, Importance & Process!
Disaster Recovery Plan: Definition, Importance & Steps!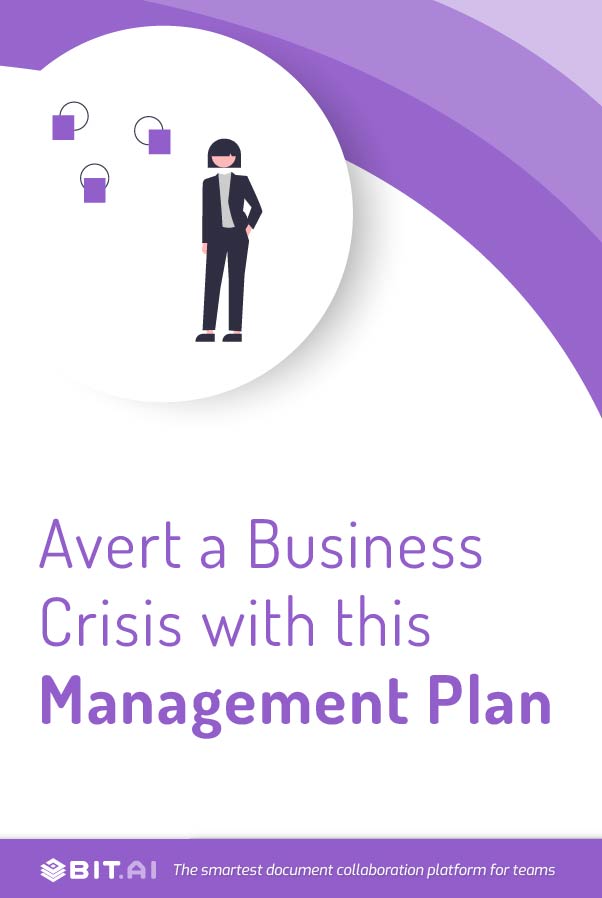 Related posts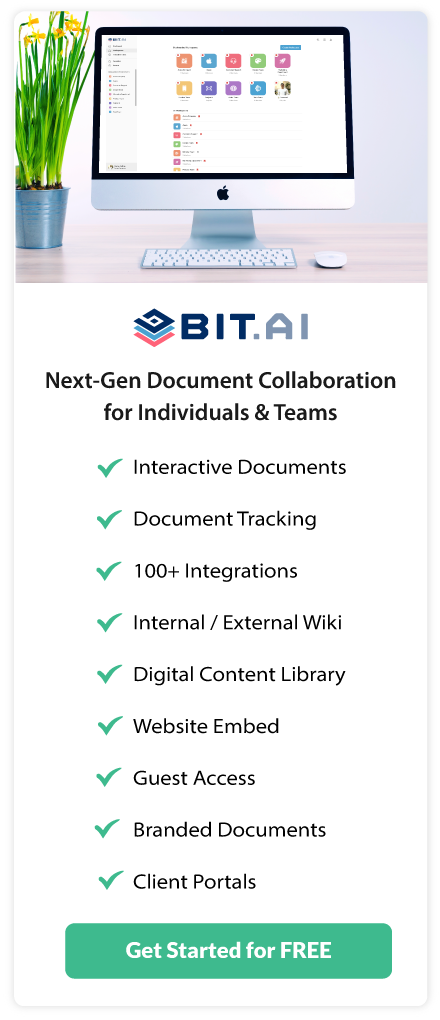 About Bit.ai
Bit.ai is the essential next-gen workplace and document collaboration platform. that helps teams share knowledge by connecting any type of digital content. With this intuitive, cloud-based solution, anyone can work visually and collaborate in real-time while creating internal notes, team projects, knowledge bases, client-facing content, and more.
The smartest online Google Docs and Word alternative, Bit.ai is used in over 100 countries by professionals everywhere, from IT teams creating internal documentation and knowledge bases, to sales and marketing teams sharing client materials and client portals.
👉👉Click Here to Check out Bit.ai.