In today's fast-changing technological environment, strategy is still an important aspect of identifying clear companywide goals and determining how to attain them.
It's like having a fire exit in buildings. Most buildings never use the fire exit, but they need to have one just in case. A fire exit would be a physical equivalent of the information security plan.
Organizations need to have a plan in place for emergencies because just having this plan in place will prevent a great deal of avoidable damage if and when the need arises.
Setting long-term goals, determining the directions and restrictions that will drive the tactical accomplishment of these goals, and identifying the assets and competencies that the organization will require to carry out the plan are all part of strategic planning.
An information security plan wouldn't be any different. Executives, managers, and employees are guided to where they are expected to go, how they are to focus their efforts in the proper direction and know when they have met their objectives with the help of a clear and comprehensive security strategic plan.
Unfortunately, many firms do not have at all or have an outdated information security strategic plan. This causes a lack of concentration and consistency in the actions conducted throughout the organization. Not to mention the risk of something negative happening becomes much higher as well
That's why it is crucial that you create an information security plan for your business!
If you don't know what an information security plan is or how to create them, then you have come to the right place to learn about it!
So let's dive right in, shall we?
What is an Information Security Plan? (Definition)
An information security plan is a document where a firm's plan and procedures for protecting personal information and sensitive company data are documented in. This document helps your company to safeguard the integrity, confidentiality, and availability of its data while also mitigating threats.
An information security plan usually includes the scope of the plan, the classification of all the information involved, management goals in case of a security breach.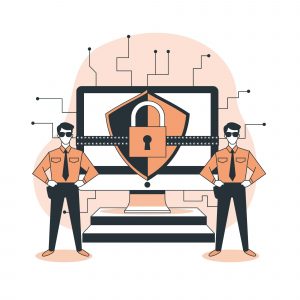 It also provides the context for your information security plan, provides specific instructions regarding the plan of action in emergencies, complete with individual responsibilities and consequences of non-compliance, and provides access or references to related or supporting documents.

A strategic plan for information security can help a company minimize, transfer, accept, or prevent information risk connected to people, processes, and technologies. A well-defined plan also aids the company inadequately protecting information's confidentiality, integrity, and availability.
Benefits of Writing an Information Security Plan
A successful information security plan has considerable economic benefits and can provide a competitive advantage. Complying with industry standards, preventing a damaging security incident, maintaining the company's reputation, and upholding commitments to shareholders, customers, partners, and suppliers are just a few examples.
However, an information security plan mainly provides three major benefits, commonly referred to as CIA:
1. Confidentiality
An information security plan plays an important role in protecting the privacy of company information and content by preventing unauthorized users from obtaining it.
Access limits help to retain confidentiality. Human error, intentional sharing, or malicious intrusion can all lead to breaches of confidentiality.
2. Integrity 
This vital document ensures the accuracy and validity of your data. The capacity to alter or modify information is restricted, and that helps to retain integrity.
When analog information isn't protected from the elements, digital information isn't conveyed properly, or users make unapproved changes, integrity is lost.
3. Availability
Having an information security plan in place helps you ensure that authorized users can access information with confidence. Continuity of access processes, data backup or duplication, and hardware and network connectivity upkeep all contribute to availability.
When networks are assaulted due to natural disasters, or when client devices fail, availability might be lost.
Now that you know the benefits of writing an information security plan, let's go over the steps involved in writing one!
Read more: Two-factor Authentication: What is it & Why is it Important?
How to Write an Information Security Plan? Follow these steps: 
Follow these steps to ensure your information security plan is thorough and fits your company's needs:
Step 1. Create a Security Team
The first step is to put together a dependable team. Without the people to execute the plan, there isn't much a plan can do on its own.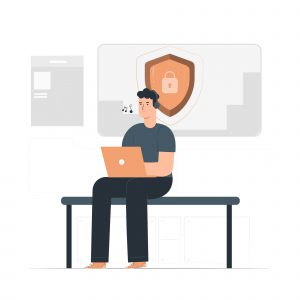 Organize a team that is solely focused on information security. They'll be in charge of developing and executing your policy, as well as responding to an ever-changing panorama of cybersecurity threats, defining risk thresholds, and even coordinating funding.
Make sure that your team knows their stuff and is constantly updated about all the things that are happening, both in your organization and in the fast-evolving world of cyber security.
Step 2. Evaluate Security Risks, Threats, and Vulnerabilities
Examine how your existing system is vulnerable to threats to get a sense of the situation. What does your data consist of? Where is it stored, and how can it be compromised?
Look out for and make note of flaws, such as outdated software and inadequate training, and test your system to ensure it is operating as it should and doesn't have loopholes or gaps that can be taken advantage of.
Step 3. Identify Current Protective Measures
Assess how well your present system protects your data and that of your clients, as well as the scope for any improvements you can make.
Security features in your business software, physical security such as guarded access, and procedural procedures such as having representatives log out while leaving a computer are all useful safeguards to have in place.
Make sure the security measures that you already have in place are enforced and do not get ignored as time passes. Remind your employees and other stakeholders of the importance of these protective measures.
Step 4. Conduct a Cyber Risk Analysis
Examine the impact of cybersecurity issues and breaches on your company. Would a breach put the company's operations on hold? Would damage control be required? Are you in a position to take care of these damage control procedures? What about regulatory penalties?
Determine which elements are linked to the cybersecurity dangers that your company faces. Make note of these issues so you can create an information security plan that fits your needs and requirements as an organization.
Step 5. Conduct Risk Assessment
While it's important to keep an eye on internal risks, third-party providers can also be dangerous. Check that their policies and procedures are in compliance with your information security plan at least once a year.
Make a list of requirements that potential partners must meet in order to work with your company. The essentials, such as System and Organization Controls (SOC) II compliance, should be included on this list and turned into regular policy.
Step 6. Manage and Classify Data Assets
If you don't know what you have, you can't protect it.
Identify and categorize your assets based on variables such as the vulnerability of the information, the mediums of access and the people who can access it, and storage needs for that particular kind of information.
This classification data is used to design rules and procedures that account for the relative risk and handling requirements of various assets.
Step 7. Determine Regulatory Standards
The Securities and Exchange Commission (SEC) has several requirements that financial institutions must follow. These include stringent documentation requirements as well as a variety of measures for safeguarding client confidentiality and minimizing risk.
Depending on where you are located and based on the work you do, keep in mind the requirements and standards that relevant regulatory boards and institutions expect.
Examine the regulations and determine which ones apply to your company. You should also think about what your stakeholders require.
Step 8. Develop a Compliance Plan
Following the identification of regulatory requirements, you'll need to create an information security plan in compliance with it that also fits your needs.
These two will rarely ever clash and in fact, regulatory board requirements often help cover elements in an information security plan that you may have missed out on in the other stages of planning.
Outline how you'll meet regulatory requirements and your own organization's needs and gather all of the required paperwork.
Step 9. Create Disaster Recovery and Incident Management Plans
Begin developing your reaction strategy once you've evaluated your needs and hazards. Make a detailed outline of the procedure so that your team can respond to cybersecurity breaches in a calm and orderly manner.
Include diverse departments, third parties, and clients in your plan so that everyone can do their bit to remedy the breach. This is the most important stage of creating an information security plan as all the previous stages lead up to this point where you make the actual plan.
Step 10. Train and Evaluate Employees
Employees are a great asset in the fight against cyber threats, but if they aren't properly trained, they can also end up becoming a threat. So, once your plan is in place you need to make sure your team knows how to execute it.
It is necessary to organize ongoing training for staff and personnel and test them on a regular basis to ensure they understand what to look for and how to deal with any issues that they find.
You are now fully equipped to write a well-structured information security plan. But before you go, we'd like to introduce you to a tool that helps you create information security plans in a jiffy!
Don't believe us? Scroll down to find out more!
Read more: Essential Cybersecurity Guidelines to Protect Your Business!
Bit.ai: The Ultimate Tool to Create Any Type of Plans
Bit.ai is a new-age document collaboration tool that helps teams create, manage, share, and track documents. It provides a commonplace for teams to simultaneously collaborate and manage projects, and most importantly, share knowledge.

Bit is the dream tool to help teams transform the planning process, by making it interactive and collaborative.
Why should you use bit to create your information security plan? Check out these amazing features of Bit and decide for yourself:
1. Ready-made Templates: Bit has an extensive template gallery that offers over 70+ professionally designed templates from which you can choose your favorite one! All you have to do is fill in your customized content and you'll get the whole draft ready in a few minutes! They are all fully responsive on every kind of device and make your process super easy!
2. Auto-Formatting – While creating an information security plan, the last thing you want to worry about is the format of your document. With Bit's auto-formatting feature, your entire document will be uniformly formatted for you! It even provides you with its own collection of themes and you can change the color of the document with a click too!
3. Real-Time Collaboration: Creating an information security plan is a team effort. In moments like those, Bit's real-time collaboration feature is truly an asset. With Bit, you and your team can collaborate and work together on the same document, making changes and edits in real-time. It even lets you highlight sections, leave comments and mention people as well.
4. Smart Workspaces: Since creating an information security plan requires you to work with multiple teams, which is why it is important that everything is organized. Bit lets you create infinite workspaces and folders around projects and teams to keep all your work organized. This lets you store all your information in a neat and orderly manner, thus making your work more efficient.
5. Interactive Documents: Want to make your information security plan interesting and fun? With Bit, you can do just that! Its smart integration allows you to seamlessly add rich media elements like images, charts, videos, audios, pdfs, and lots more to your document within a few seconds and make them come to life!
6. Simple UI: Even though Bit is jam-packed with features, it has a simple and easy-to-understand user interface, which makes it extremely easy for new users to get on board with the platform.
All in all, Bit is the perfect tool for creating your information security plan. So, what are you waiting for? Do yourself a favor and get Bit right now!
Conclusion
While technological advancements have made our information much safer, our data is still susceptible to threats, which could be both internal or external and accidental or in some cases even deliberate.
Having an information security plan will help you recover data quickly in case of a security breach. Having a plan will ensure your team knows how to identify the issue and how to fix it at the earliest.
With the tips and tools shared in this blog, you have everything you need to create a comprehensive and effective information security plan. As the saying goes, it's always better to be safe rather than sorry!
Further reads: 
Risk Management Plan: What is it and How to Create it?
Crisis Management Plan: Definition, Types & Steps to Create!
13 Types of Plans Your Business Must Have!
Mitigation Plan: What Is It & How To Create One?
Contingency Plan: What is it & How to Create it? (Steps and Format)
Disaster Recovery Plan: Definition, Importance & Steps!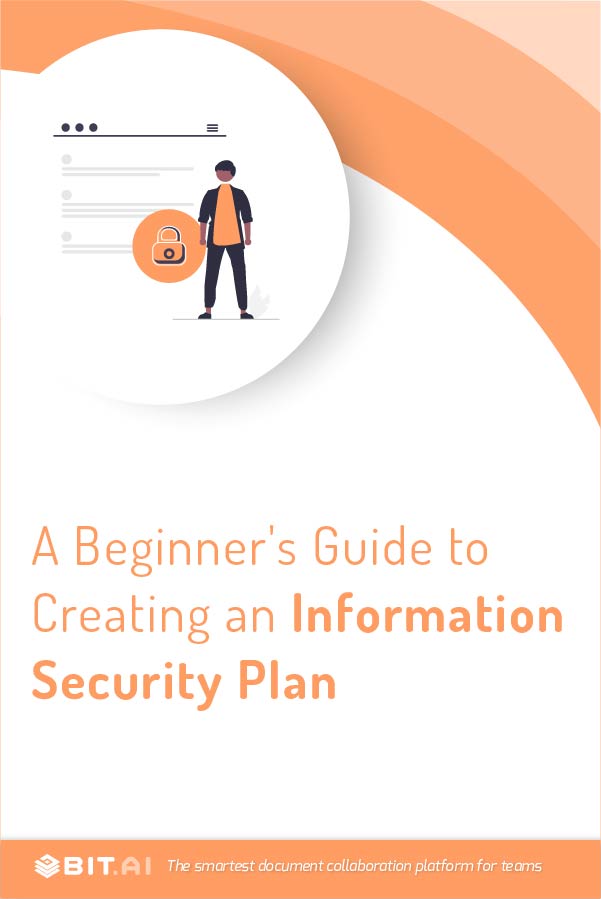 Related posts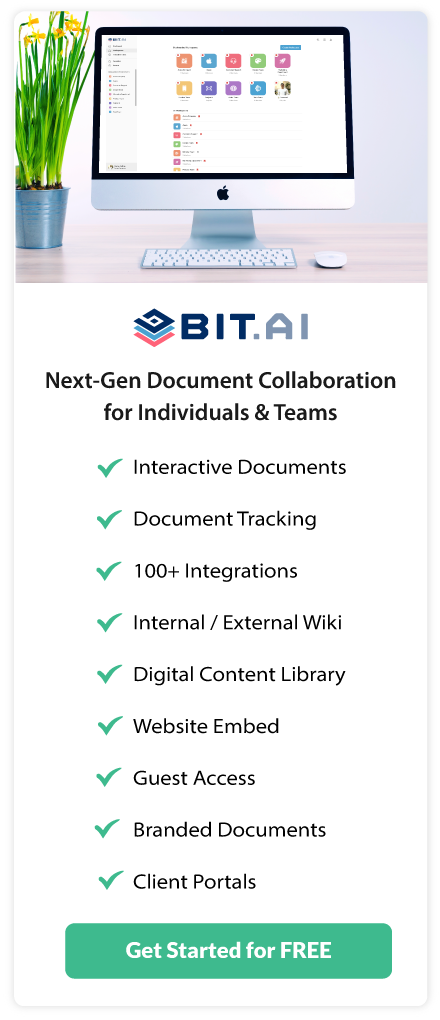 About Bit.ai
Bit.ai is the essential next-gen workplace and document collaboration platform. that helps teams share knowledge by connecting any type of digital content. With this intuitive, cloud-based solution, anyone can work visually and collaborate in real-time while creating internal notes, team projects, knowledge bases, client-facing content, and more.
The smartest online Google Docs and Word alternative, Bit.ai is used in over 100 countries by professionals everywhere, from IT teams creating internal documentation and knowledge bases, to sales and marketing teams sharing client materials and client portals.
👉👉Click Here to Check out Bit.ai.