If you wanted to build a building, you wouldn't just walk over to an empty plot and start nailing planks together. You will need a blueprint or a plan!
The same goes for businesses – you can't just enter an industry and expect to reign over all the others by simply wishing to sell a product.
Without efficient plans, you will get nowhere!
But unlike a building, the landscape of a business keeps on changing and growing. Meaning that one single plan can't help you throughout the lifetime of your business.
And that is the reason there are so many effective and powerful plans you can create for your business for every single sphere of operations. Be it marketing, finance, human resources, or anything at all, there is a plan for every single one of them!
Don't worry if you don't already know about these plans – because we are here to do just that!
We have handpicked a list of the 13 best plans that your business may definitely need, so without further ado let's jump straight in…
1. Marketing Plan
A marketing plan is a business plan that describes and suffices your marketing strategy, tools, and tactics to reach your target audience over a period of time. A marketing plan is a comprehensive document that incorporates a variety of details, such as marketing goals, marketing strategy, advertising budget, and action steps.
Our team Bit.ai has created a few marketing plan templates that will help your team reach your goals, make sure to check out our marekting plan templates that you might be interested in:
Partnership Marketing Plan Template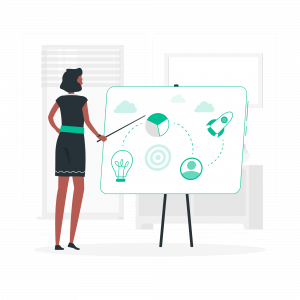 Marketing plans have multiple sub-types like:

Paid Marketing Plan
Content Marketing Plan
Social Media Marketing Plan
Relationship Marketing Plan
This plan will act as a guide for all your campaigns, provide clarity whenever required and help you achieve success from all your marketing endeavors.
2. Sales Plan
Sales are inevitable, it is a part and parcel of any business. And sales have evolved with changing trends and become more than just selling but about building connections.
That is why you need a clear sales plan!
A sales plan is a document that outlines how a sales department will contribute to the overall goals of a company. With a robust sales plan, you can identify potential risks and put effort into tackling them beforehand.
Few Sales Templates that you would be interested in: 
3. Product Plan
Product rollouts are not a walk in the park, and thus, you definitely need a plan that steers you clear of any roadblocks and obstacles.
A product plan, also known as a product roadmap, is a broad overview of the upcoming product, its timelines, budget, resources, tasks, and much more These plans enhance your communication within teams, help keep track of deadlines, and keep everyone in the loop with the objectives too.
With a product plan by your side, you can rest assured of all your new product launches!
Check out product plan templates that have been curated by our team at Bit.ai: 
Product Requirements Document Template
Product Launch Marketing Template
4. Financial Plan
When it comes to sticking to budgets and saving, all of us fall short – 34% of all Americans have $0 in savings.
Thus, it goes without saying you need a financial plan!
A financial plan outlines a person's current financial situation and long-term financial goals. The document also consists of strategies and tactics to achieve those monetary goals.
Financial plans can be both for an individual or an entire business, the main objective of a financial plan is to keep you on track with your finances.
Read more: 9 Most Successful Business Models You Should Know About! (With Examples)
4. Implementation Plan
"Knowledge is not power; implementation is power!"
Only when you start implementing your ideas into action, can you map how much success it is, and for this, an implementation plan plays a pivotal role in helping you do so.
The implementation plan facilitates the execution of a plan, idea, model, design, specification, standard, algorithm, or policy by presenting clear implementation steps that need to follow.
Simply, an implementation plan will divide all your tasks into simple tasks, assign roles and responsibilities, and establish a clear timeline for everyone to follow.
This is another great plan for businesses to effectively put all their strategic initiatives into action!
5. Operational Plan
Every business undertakes multiple projects while simultaneously running daily tasks, and to keep it all afloat, you either need to be a great multitasker or just create an operational plan!
An operational plan is a strategic document that defines how different teams or departments like recruitment, marketing, and finance, contribute to reaching different company goals and objectives. It summarizes the daily activities required for running a successful business.
Operational plans are an awesome way of assessing team efficacy and productivity!
Here's an operational plan template made by our team at Bit.ai!
6. Action Plan
"A goal without an action plan is a daydream."
For your goals to be successful, your business needs to strike the iron when it's hot!
An action plan is essentially a document or a checklist outlining the steps or tasks one needs to complete in order to achieve the goals they have set. When you spend time creating an action plan, you're clearly weighing down all the pros and cons, and not setting yourself up for huge losses.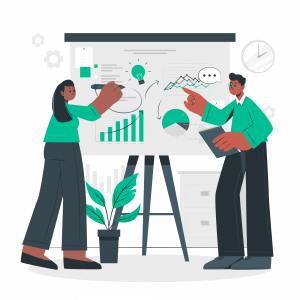 This is a great plan to keep your teams keep focused and increase their productivity!
7. Tactical Plan
No matter what the size and type of business you run, you are probably dreaming big and have already set long-term goals for years from now!
But how are you going to get there? Yes, you guessed it right, with a tactical plan!
A tactical plan is defined as a clear outline of the actions you are going to take in order to achieve a short-term goal. These short-term goals in time will take you to the big picture goals. With tactical plans, your teams will have a defined set of rules about what is expected of them and how to get there.
8. Contingency Plan
Unprecedented situations arise all around us, just take the ongoing pandemic as an example. And given such drastic, life-altering changes, the face of your business could go completely sideways!
But good entrepreneurs always have a "Plan B" – one that keeps them safe and doesn't let their business go down the drain, and this plan is called a contingency plan.
A contingency plan is a guide created by executives or management to help a business tackle an unfavorable event that may or may not happen in the future. This plan is a must-have as it ensures the smooth functioning of the business from such risks!
9. Change Management Plan
Embracing change is vital for growth yet it doesn't come easily for most businesses.
Harvard Business Review suggests 60-70% of all the change initiatives undertaken in organizations fail!
A change management plan helps you avoid that! It is simply an outline that defines the use of tools and processes for managing people towards changing the environment.
Change management plans are adopted by organizations to embrace and encounter changes within their workflow. And it works wonders – 81% of the study participants that implemented change management techniques completed their projects on schedule.
10. Quality Management Plan
"Quality is never an accident, it is always the result of intelligent effort."
Quality in terms of both product and customer service is of top priority for any business and a quality management plan will be super-helpful in attaining that!
Quality management planning involves the project manager defining and codifying the standards that a particular project will be required to meet to be successful, and how those standards will be achieved. This way you can ensure consistency in your offerings.
11. Business Continuity Plan
We're always told to expect the unexpected – it's because being prepared means your business can continue with its operations.
Almost 75% of small businesses have no disaster recovery plan objective in place. For such times, a business continuity plan comes to your rescue!
A business continuity plan contains contingencies for business processes, assets, liabilities, human resources, and business partners. In short, it covers every single aspect of the business that might be affected.
Having a business continuity plan will mean all the difference between bouncing back from a disaster or going out of business completely.
12. Employee Development Plan
Your employees are a valuable resource for your business. And for all the work they do, they expect their employer to do more than just pay, they want you to help them grow!
68% of employees believe that training and development is one of the most important policies of a company.
40% of employees who receive poor training are likely to end up leaving the company within the first year.
An employee development plan is a method for helping employees improve their skills for their current job and allows them, to acquire knowledge and skills for new functions and responsibilities in an organization.
One of the many reasons you need an employee development plan in place is because it'll not help you keep your current employees satisfied, it'll also help your organization in the long run. Trust us, the benefits of this plan are endless!
Make sure check out these amazing employee development templates for more efficient employees:  
13. Business Development Plan
Last but not the least, it's obviously the ultimate goal of any business to grow and expand into new horizons. And to set your business into the growth phase, you definitely need a business development plan!
A business development plan is a long-term plan that outlines tactics and strategies for steady and sustainable business growth over the coming years.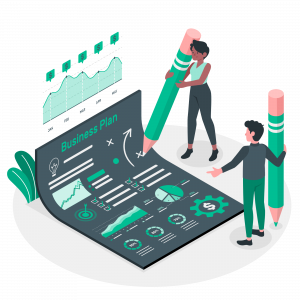 Business development plans are key to expansion, generating goodwill, boosting sales and so much more!
And don't just take our word for it, check out this stat – A business development plan creates a 30% greater chance of growth!
Our team at bit.ai has created a few awesome business templates to make your business processes more efficient. Make sure to check them out before you go, your team might need them!
Final Words
All these business plans are super-effective and will surely optimize your business process. But we do agree that writing these plans can be time-consuming and boring!
And that is why we want to introduce you to – Bit.ai!
Bit.ai is a next-generation document collaboration tool that helps you to create, manage, edit, and share all your documents with ease. And not to mention, that it has most, if. not all, of these plans that we've mentioned as fully responsive and interactive templates, to save you not only time but also give you top-notch results!
With so many intuitive features like real-time collaboration, smart editor, media integrations, client portal, and more, you'll have an exhilarating time creating these plans!
Trust us, the list above is power-packed, and with Bit, you're in for a wonderful ride – we leave the rest to you!
If you have any queries regarding the plans we've mentioned here today, do tweet us @bit_docs and we'd love to help you out!
Further reads: 
Growth Plan: What is it & How to Create One? (Steps Included)
Resource Management Plan: What is it & How to Create it?
Marketing Campaign Plan: What is it & How to Create it?
Communication Plan: What is it & How to Create it? (Steps included)
Financial Plan: What is it & How to Create an Impressive One?
Reasons Why You Should Write a Business Plan!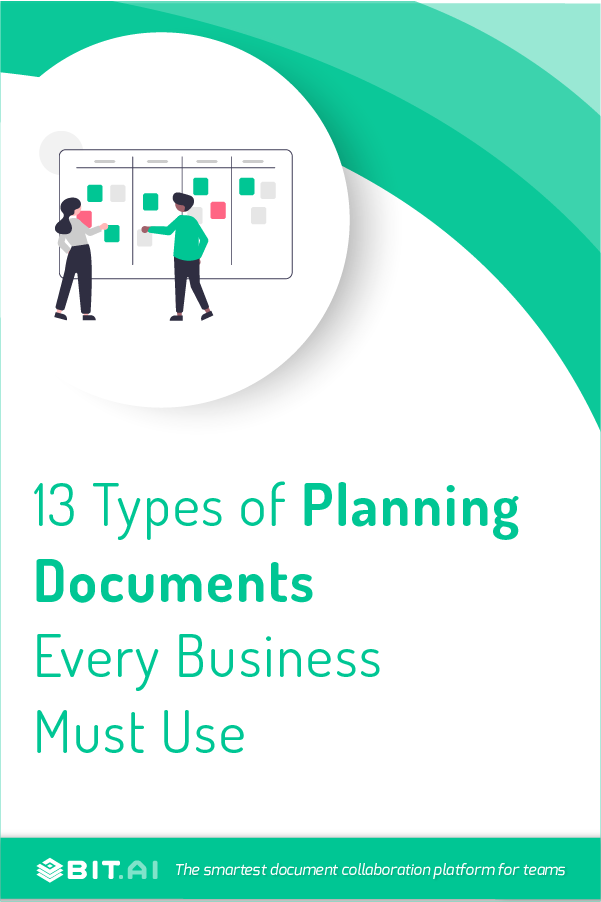 Related posts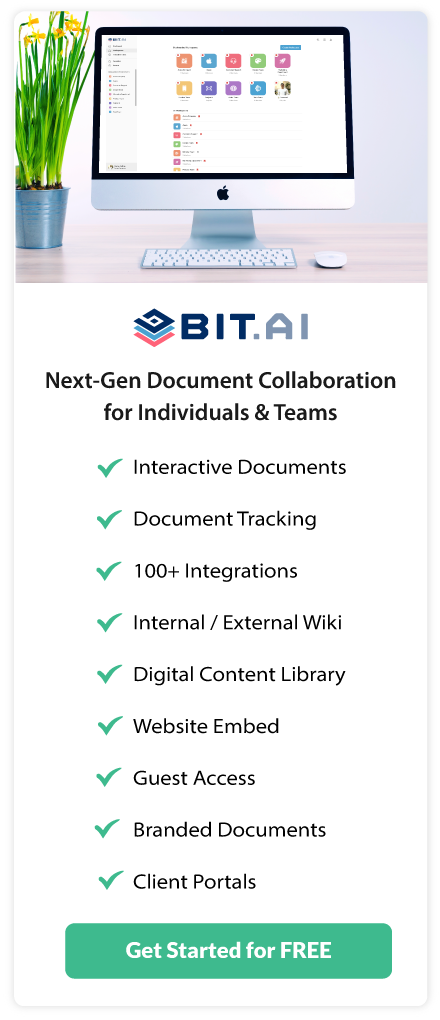 About Bit.ai
Bit.ai is the essential next-gen workplace and document collaboration platform. that helps teams share knowledge by connecting any type of digital content. With this intuitive, cloud-based solution, anyone can work visually and collaborate in real-time while creating internal notes, team projects, knowledge bases, client-facing content, and more.
The smartest online Google Docs and Word alternative, Bit.ai is used in over 100 countries by professionals everywhere, from IT teams creating internal documentation and knowledge bases, to sales and marketing teams sharing client materials and client portals.
👉👉Click Here to Check out Bit.ai.