When you're delivering goods and services to your customers, the importance of quality and quality management is undeniable.
Quality isn't just about maintaining high standards of your products, but more importantly, it's about consistently delivering a great customer experience.
Quality helps you get more customers. More often than not, people are looking for a good quality product or service, regardless of the price that they have to pay for it. If you deliver good quality products or services, chances are – you're likely to keep gaining new customers.
Apart from that, quality is the key to ensuring customer satisfaction. There's a ton of competition in the market, and the only thing that sets you apart from the rest of the crowd is the quality of your product. Good quality products help you satisfy customers and earn their loyalty.
When you consistently deliver good quality products, you also end up establishing a good reputation for your company and becoming more credible as a brand. It's free PR!
The importance of maintaining the quality standards for your product and services can't be ignored.
How do you do that?
To ensure consistency and quality, you need quality management in place! It involves a lot of planning and organization. That's where quality management plans come into the picture!
Before we extensively discuss the steps of creating a quality management plan, let's brush over the basics of what they are and why we need them.
Let's read ahead!
What is a Quality Management Plan? (Definition)
To put it in the simplest of words, quality management planning involves the project manager defining and codifying the standards that a particular project will be required to meet to be successful, and how those standards will be achieved.
Thus, a quality management plan becomes a well-defined set of documents and information that helps you efficiently manage the quality throughout a product development project, starting from the planning to the deployment of the product.
Let's move onto the next section where we discuss the importance of quality management plans!

Scroll ahead!
Why Should You Create a Quality Management Plan?
Although we've already mentioned how important it is for you to maintain the quality and consistency of the goods and services that you deliver, let's take a couple of more reasons why you must invest your time and resource in quality management planning…
1. Consistent Quality of Products & Services
Companies and brands need to plan, design, execute, and manufacture products for their target audience keeping quality management in mind.
A quality management plan helps you maintain the quality of a product on a consistent and continuous basis.
2. Ensures Efficiency
Efficiency in the case of quality management plans is not limited to the working efficiency of the staff members involved in the manufacturing process of the products, but also of every employee of the company and the machinery involved.
When all the employees working for you understand and follow the quality management plan, it improves their efficiency because they understand the overall process of making the product.
3. Boosts Customer Loyalty
With tremendous competition in the market, the only way in which a business can survive is if it can retain a non-exhaustive list of loyal customers.
Customers, nowadays, are presented with a lot of options and alternatives when it comes to the purchasing of goods and services. Thus, it becomes very important for companies to invest their time in creating quality management plans to ensure good quality.
Good quality ends up attracting and retaining a loyal set of customers and brings in profits!
4. Compete in the Market
To successfully survive the competition that is present in the market, companies need to realize the importance of quality management and make it one of the most integral parts of their work objectives.
We've seen many brands and companies who had to shut their stores and business operations in a very short span of time simply because they were unable to adhere to the quality standards that other products had.
Quality management plans help you beat the competition in the market and allows you to carve a distinctive identity for your brand in the market.
5. Improved Brand Value
Quality management plans also help you enhance your brand value. Following the principles of quality management helps brands and companies improve their brand value and make their equity soar amongst prominent competitors in the market.
6. Reduces Human Errors
When you create a quality management plan, you create a set of guidelines and principles framed for each business operation. The best part? It has to be followed by everyone, from the top-tier management to the trainees.
The result? There are fewer human errors which ultimately enhances the productivity and work efficiency levels.
7. Profits! Profits! Profits!
Creating a quality management plan is one of the sure-shot ways of achieving your business aims and objectives.
Quality management planning helps you ensure a high level of customer satisfaction, high market share, good brand value, a loyal set of customers, and a competitive edge. All of these ultimately convert into profits and revenues!
Without any further ado, let's dive into the step-by-step process of creating a quality management plan…
Read more: Implementation Plan: What is it & How to Create it?
How to Create a Quality Management Plan? (Steps)
Here are all the steps to creating a good quality management plan…
1. Generate a Quality Baseline
The first step in the process of creating a quality management plan is to develop a quality baseline. This would involve revising and revisiting policy, procedure manuals, and any quality data reports that are currently in use.
You should invest your time gathering information on returns, rework, or lost productivity. To get an idea of what your customers say about the quality of your product and services, go back and examine customer feedback, surveys, emails, and social media posts under your company's name.
All of these processes help you get a good picture of where you stand i.e. what your current position is in terms of the quality of the product and services that you're delivering.
2. Find your Customers' Needs
When you're going through customer feedback, take the time to take note of what your customers like. What drives them to buy your products and services over the rest of the competition present in the market?
You can even survey to gather feedback on your current product and service's quality. You could even use examples of some of your successful competitors to figure out what best practices could apply to your organization.
3. Perform a Gap Analysis
Once you have a fair idea of what your customers' needs are, compare your baseline information to it to identify the gap between your present position and where you aspire to be.
You can even create a quality management team that could talk to the people involved in the manufacturing process – in operations, production, customer services, accounting, logistics, etc. – to get a deeper insight into where quality improvement needs to occur.
4. Identify Weaknesses in Your System
After you've gathered all the intel, you are now equipped to identify the weaknesses in your present quality management system. You can even compare your quality management system to an established industry quality system.
This will help you identify any missing or weak elements in your quality system.
5. Brainstorm and Improve!
With the help of your quality team, brainstorm ideas for quality improvements based on the findings of the gap analysis that you initially conducted. You could discover a variety of things through this process. For instance, you could have discovered that your company has outdated procedures and documentation.
The findings and recommendations of this analysis become the quality management plan that is reported to senior management for implementation.
Before you go, we have the perfect tool in store for you to create your own quality management plan.
Want to know more about it?
Have a look!
Bit.ai: The Ultimate Tool for Creating Quality Management Plans
Quality management plans are extremely important documents, setting the guidelines and framework for the manufacturing process of your products and services. The process of making a quality management plan is not an easy one, which is why you need your entire team on board in completing the process.
That's where Bit.ai comes into the picture!

Bit is a new-age virtual workplace and a document collaboration platform. It is built for teams and individuals to create, collaborate, and organize all your knowledge in one place from anywhere in the world. How cool is that?
It allows you to create fast and dynamic quality management plans, sales reports, documents, wikis, knowledge bases, projects, client deliverables, client portals… and the list is endless!
Why should you use bit.ai for creating quality management plans?
Multiple Workspaces – The first and the most primary benefit of using Bit.ai for creating quality management plans is that you get to bring your entire quality management team in a single workspace. This way, all the people who are a part of your team can access the quality management plan at any time and make edits, which ends up reducing the effort of sending documents back and forth over email.
Auto-Formatting – Another important feature of bit.ai is the fact that it automatically formats all your documents! This saves you the time and energy of formatting documents on spaces, unlike MS Word where you need to constantly ensure that the document is looking great!
Document Templates – Readymade templates? That's right! Bit has an extensive template gallery that makes it easy for you to create and get started on your work. You don't need to think about how to create the content anymore!
Document Themes – Branding and brand image are extremely important when it comes to sending important documents like quality management plans to external clients and investors. Bit makes it easy for you to customize the theme of the document to suit your needs and the company's image.
Supports 100+ File Formats – Bit gives you the liberty to add hundreds of file types to your documents. You can put in any type of graphs, charts, tables, etc. seamlessly into your document without any hassle!
Real-time Collaboration – You can invite colleagues and partners to join you and work together in real-time. You can edit the content of the document and add comments as you go on creating reports.
Live-Sharing – You can choose to share your quality management plan in a live state with anyone that you want. This way, all the changes that you make to the report will get updated in real-time in your documents!
…and the list is endless!
Final Words!
There you have it, folks! Everything that you need to know about quality management plans on a single page along with the perfect tool that'll help you create a stunning quality management plan!
What are you waiting for? Go ahead and create your own quality management plan!
Do you have any doubts or queries on how to create quality management plans? Feel free to tweet to us at @bit_docs! We'd love to hear from you!
Further reads:
Knowledge Sharing at the Workplace For Enhancing Productivity
Reputation Management: What is it & How to Do it?
Tactical Plan: What is it & How to Create an Effective One?
Cost Management Plan: What, Why, and How?
Procurement Management Plan: What, Why, and How to Create?
Process Improvement Plan: What, Why, and How to Make It?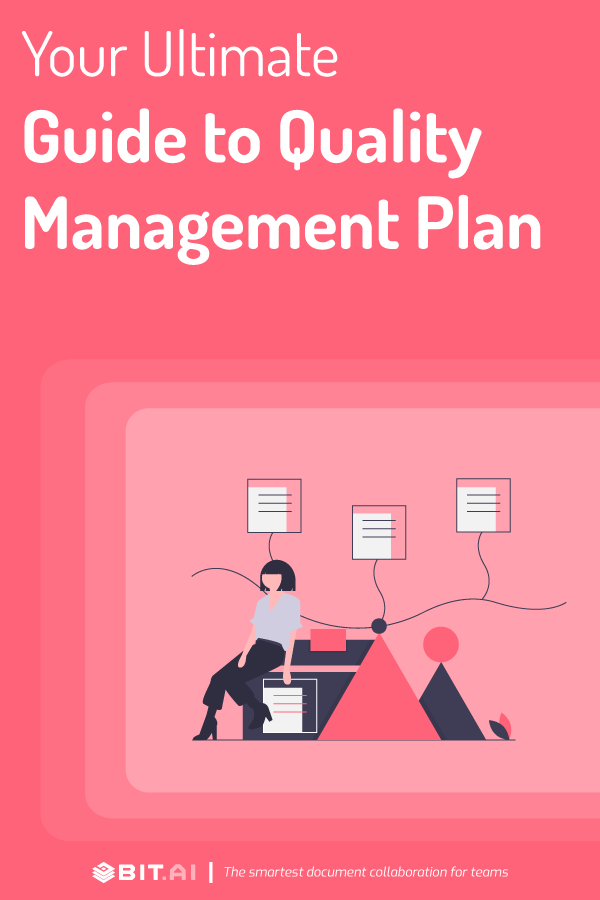 Related posts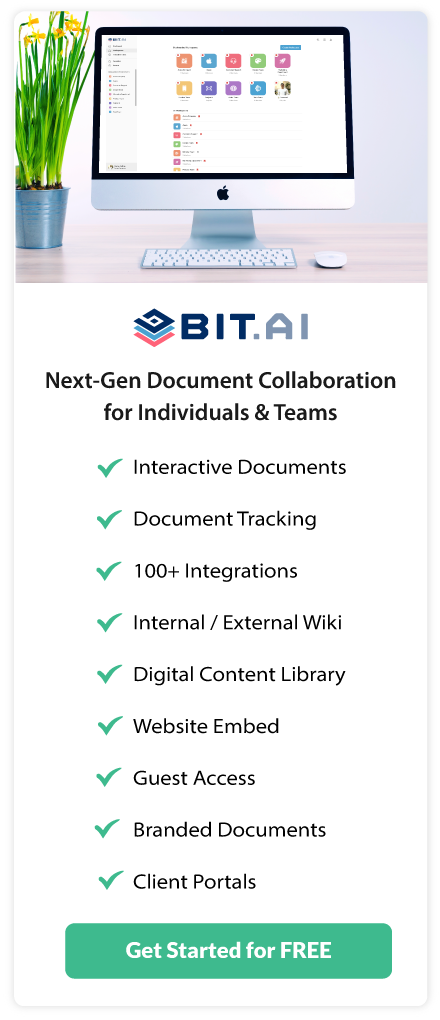 About Bit.ai
Bit.ai is the essential next-gen workplace and document collaboration platform. that helps teams share knowledge by connecting any type of digital content. With this intuitive, cloud-based solution, anyone can work visually and collaborate in real-time while creating internal notes, team projects, knowledge bases, client-facing content, and more.
The smartest online Google Docs and Word alternative, Bit.ai is used in over 100 countries by professionals everywhere, from IT teams creating internal documentation and knowledge bases, to sales and marketing teams sharing client materials and client portals.
👉👉Click Here to Check out Bit.ai.