Improving your business and its functioning isn't always a piece of cake. In fact, it's a lot like driving- Highly strategic!
You start with the idea of reaching from one place to another, turn on the engine, and begin the journey. At first, everything seems fine, you are halfway down the road, you feel pretty good. Then the inevitable happens: you miss a turn, stop, and remap the way to your destination!
Similarly, striving to improve your business follows the same pattern: you introduce a great idea that will improve your business and its processes. You communicate the plan to your manager, get approval, and then implement it.
However, fast-forward a few weeks, and you find that things have gone back to the old ways! Thus, no matter how good an idea is, without a solid improvement plan in place, the idea won't last!
"A rule of thumb is that a lousy process will consume ten times as many hours as the work itself requires."-Bill Gates
This is where a process improvement plan comes in! A process improvement plan identifies, analyzes, and improves existing business processes to meet new standards and goals!
Let's quickly get started with learning everything about a process improvement plan, why it's important, and how to create one!
Read on…
What is the Process Improvement Plan? (Definition)
Everything we do in our professional or personal lives involves some kind of a process. These processes require constant development every step of the way, which is why businesses create a process improvement plan for better management of processes!
In other words, a process improvement plan is a document defining how to improve your processes after analyzing and identifying them to help you get better at what you do!
"If you can't describe what you are doing as a process, you don't know what you're doing."- Edwards Deming
This plan is part of a broader, overall project management plan. It guides the project manager and team on how to examine the project processes and outlines the areas for measurable improvements. Creating a process improvement plan is itself a process that occurs throughout the project's life cycle.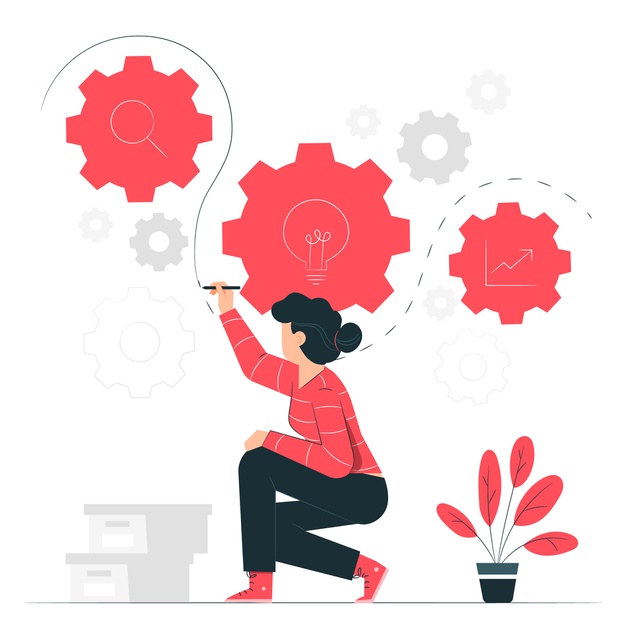 A process improvement plan aims to eliminate bottlenecks or weak points in business operations. By identifying these bottlenecks, you help your business:
Minimize process completion time
Improve process efficiency and quality
Eliminate wasted efforts
Minimize friction in business processes
Meet regulatory compliance
Read more: The Ultimate Guide To Process Documentation (Template Included)

Why is a Process Improvement Plan Important?
Businesses need to remain constantly agile to respond to a changing dynamic externally and internally such as technology changes and demand shifts along with competitors entering the market.
Therefore, they must look for ways to improve, these improvements will result in higher-quality products & services that can be distributed and developed in increasingly cost-efficient ways. Process improvement plans can help businesses identify areas for potential improvement, plans for implementation, and measures of success!
Anyone who's been in the business world has heard of process improvement plans. They not only add workplace efficiency but naturally results in reduced time to complete a given task. Furthermore, these are many of the benefits of having a continuous improvement plan, such as:
1. Engaged employees
Inefficient processes can be highly disruptive for employees. Weak business processes can lead to frustration and cause the morale of employees to decline if they feel that their efforts are being overwhelmed by a broken system. A well-crafted process improvement plan changes the employee's role and responsibilities from being a passive actor to being an active participant in the business processes.
2. More Efficient Operations
The most obvious benefit of a process improvement plan is to have more efficient operations. When you remove wasted motion, time-consuming components, and unnecessary tasks, your processes become more effective and efficient.
3. Communication and involvement
Functional process improvement plans involve a team effort. Even those not involved in the project management team need to be informed of the plan and the intended results. The more clearly and thoroughly employees can be informed of process improvement goals and their roles, the greater the likelihood of successful implementation.
4. Increased Innovation
Improving processes is not only about removing waste. Often, you'll be finding a better way to do something.
Many of these innovations are small, but sometimes you'll invent a completely new way of doing something. This can create a seismic shift in how you do business.
5. Better Customer Service
Effective process improvement plans take an inside as well as an outside perspective, with a clear focus on specific customer needs. These plans consider the aspects of a process that are most valued by end-user customers and then take steps to increase that value.
Read more: Top 5 Business Process Management (BPM) Tools
How to Create a Process Improvement Plan? Follow these Steps!
In case you have a new way to improve any business process, you should work on it. To ensure that your idea becomes a reality, you need a well-defined process improvement plan. Here are the steps to create one:
Step 1. Map the process
The first step is to identify and select the process that needs to be improved. Then visually map out the existing steps to see the process as a whole. This will help you find areas that have scope for improvement.
Step 2. Analyze the process
Once you've mapped out the process, take a closer look at different aspects in each step. Note areas where problems occur, delay happens, or where you spend a lot of money.
One of the most crucial aspects in this section is tracking down a problem to its origin. You must find out exactly what part of the process causes issues, to figure out how to fix them!
Try and investigate the problems within the process and as part of the evaluations, consider the following factors:
What difficulties are getting team members or customers frustrated?
Which steps are building bottlenecks?
What is causing quality to decline or costs to rise?
Which steps need the most time to complete or cause the most delays?
Step 3. Redesign the process
Now is the time to redesign the process and eliminate the problems you've identified. It's best to finish this step with your team. They will ensure that you hold an in-depth understanding of the old process and effectively work on the new one!
Collaborative working will help you come up with potential solutions and keep track of them. You must think about how the team would carry out each idea, identify potential risks, and estimate how long it would take for implementation.
Step 4. Draft your plan
When a solution is chosen and resources are assigned, it's time to create an implementation plan. List all the specific tasks that each of your team members will be working on and allocate other resources accordingly. Creating a detailed process implementation plan ensures that your plan is being carried out until the end.
Step 5. Communicate and execute
Before you move into the execution stage of the process, communicate the plan with your team. Even if you have previously discussed the new steps, communicate your plan for a transparent workflow.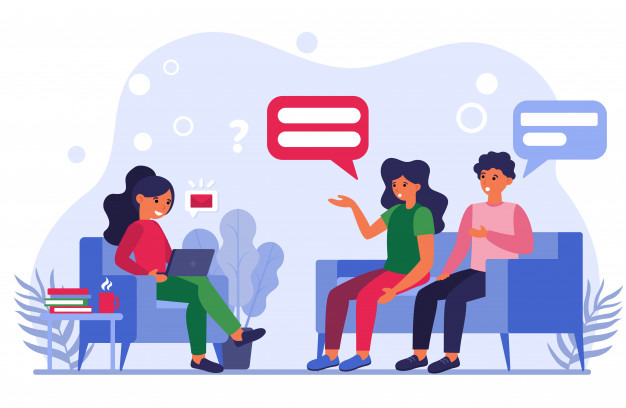 Once you've discussed the new process and plan with your team, it's time for execution. Wisely follow the plan you collaboratively created and start making improvements to your process.
Step 6. Monitor and optimize
Process improvement is a continuous effort!
Even after you've made improvements to a process, you need to make sure that employees follow the new process by closely monitoring the results. Regularly improving your business process ensures that the changes you made last long!
Read more: Risk Management Plan: What, Why, and How to Write?
Important Recommendations Before You Start Creating Your Plan!
1. Continue to improve!
You should remember that process improvement plans are supposed to themselves improve on a regular basis. There is always room for a process to be more effective and efficient.
Create feedback loops for your business to gather further actionable data. Your work to improve will not stop with a single loop of a process improvement plan, it is bound to be repeated as a part of your business processes. Define metrics to get a real picture of your process improvement plan.
2. Choose the right software!
From process analysis to communicating changes, using software for planning out process improvement and its levels is an excellent way to make sure that everything is flowing in the right direction.
This software will not only help you document a well-defined process improvement plan but will encourage collaboration, usage, and flexibility while improving your business processes! One such software, designed for the modern-day workplace is Bit.ai.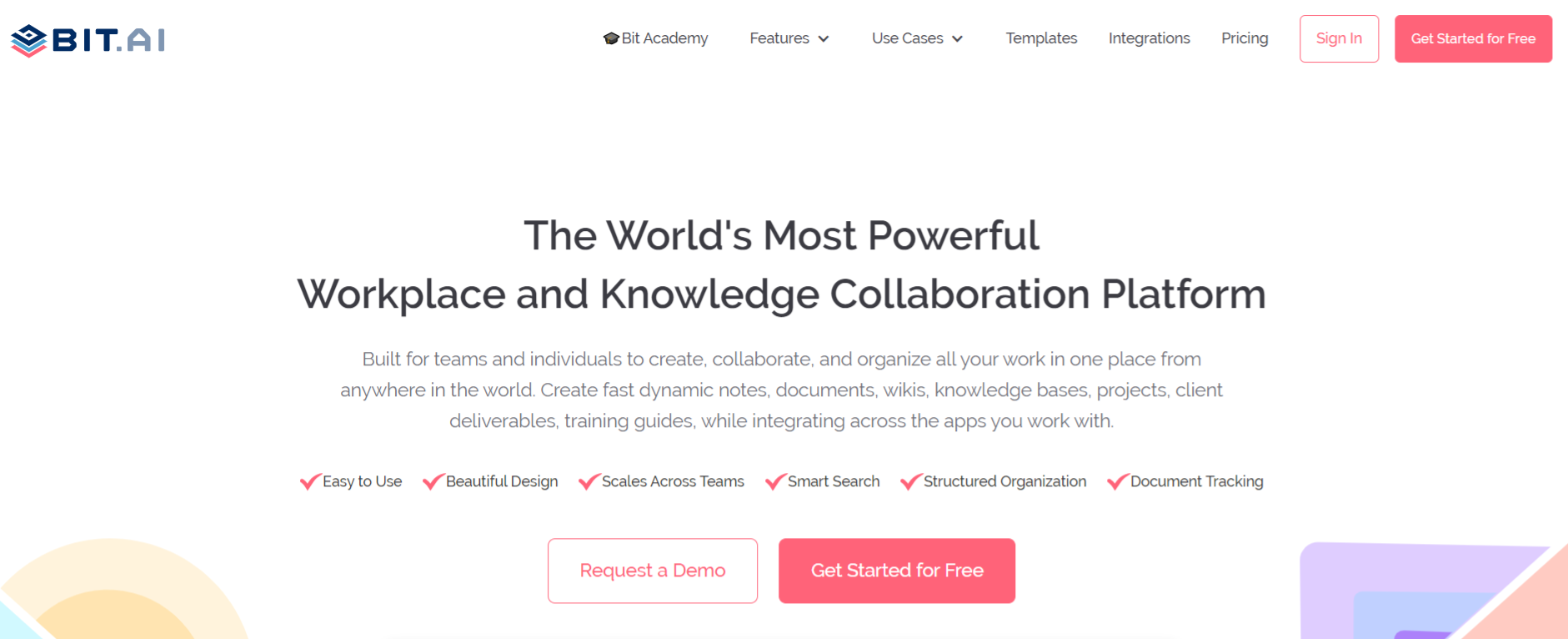 Its a cloud-based document collaboration platform that provides a central place for teams to simultaneously create, collaborate, and manage a multitude of business documents, share ideas, track progress, and much more!
Bit is the dream tool to help organizations transform the planning process, by making it highly interactive using 100+ integrations.

Furthermore, it has some robust features to help you create awesome planning documents such as:
Bit allows employees to create unlimited documents and interlink them to create wikis that expand the knowledge base. Simply highlight the words and you have the option to create a new document.
Get management feedback in real-time using @mentions and highlight features as every document comes with its separate comment stream.
Create, share, and store documents related to the product in one place without going back and forth to your cloud storage services.
Bit has a plethora of amazing templates to kickstart your work.
Content management capabilities allow you to store PDFs, videos, images, charts, and more inside one platform for easy access. Say goodbye to Google Drive and Dropbox!
Bit documents are nothing like you have ever seen. Create interactive docs and embed Airtable blocks, Google spreadsheets, PDFs, video tutorials, Typeform surveys- basically anything with a link inside your document.
Our team at bit.ai has created a few awesome business templates to make your business processes more efficient. Make sure to check them out before you go, your team might need them!
Over to You!
That's it, folks! Now, as you hold an advanced understanding of a process improvement plan along with the benefits it involves for your business, it's time to create one using our robust documentation software- Bit.
A process improvement plan is a great way of implementing change in business processes, delivering quality work, improving communication, and much more. Remember, in order to create a successful process improvement plan, you're going to need to constantly measure and report it.
We hope you find this article useful. If you have any questions or want to share your own experience, let us know in the comments below or tweet is @bit_docs
Further reads: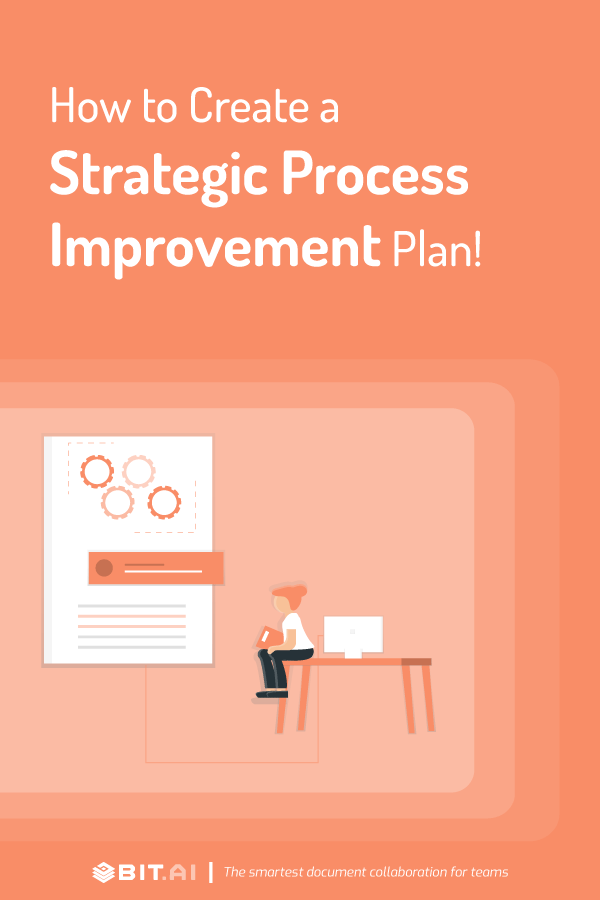 Related posts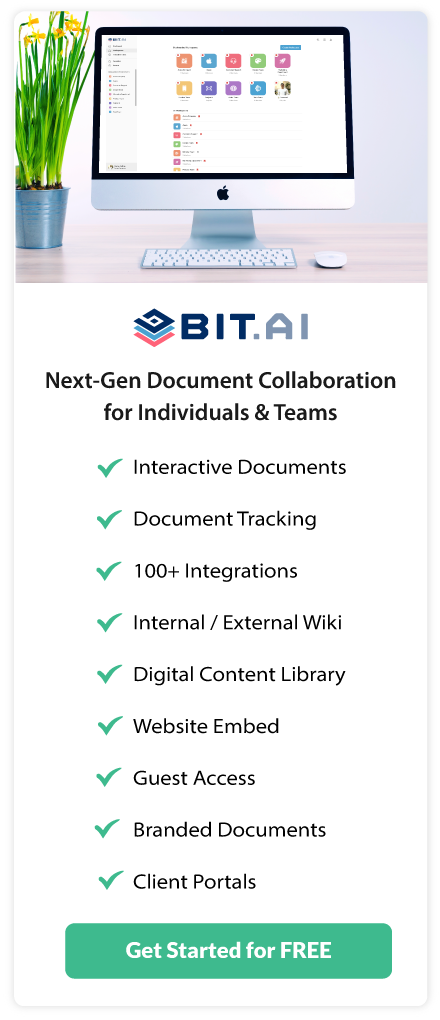 About Bit.ai
Bit.ai is the essential next-gen workplace and document collaboration platform. that helps teams share knowledge by connecting any type of digital content. With this intuitive, cloud-based solution, anyone can work visually and collaborate in real-time while creating internal notes, team projects, knowledge bases, client-facing content, and more.
The smartest online Google Docs and Word alternative, Bit.ai is used in over 100 countries by professionals everywhere, from IT teams creating internal documentation and knowledge bases, to sales and marketing teams sharing client materials and client portals.
👉👉Click Here to Check out Bit.ai.