"A goal without a plan is just a wish."
Launching a new product is tough. How tough you ask? Well, according to Harvard Business School professor Clayton Christensen, there are over 30,000 new products introduced every year, out of which, a whopping 95 percent fail. Yep, it's a bloodbath out there.
If you think you can bring a new product to the market without a plan in place, good luck! Planning plays a key role in whether your product is going to be a raving success of a heartbreaking failure. This is where a good project plan comes in.
Smart product managers know that it's foolish to rely on memory to plan, execute, and deliver a project on time, especially when many of these projects can take months and even years to finish. Having all project deliverables, tactics, and tasks documented helps managers keep their team organized and focussed in order to maximize their chances of a successful launch.
Before we talk about how to write a product plan and what things to include in your roadmap, let us first briefly explore what a product plan really is. Read on…
What is a Product Plan? (Definition)
A product plan, also known as a product roadmap, is a broad overview of the upcoming product, its timelines, budget, resources, tasks, and much more.
The product plan describes what the product team is set out to build, the reason for building the product, and by when the product is ready for launch. If the product is already launched, roadmaps are used as a way of listing out features and updates that will be rolling out in the future.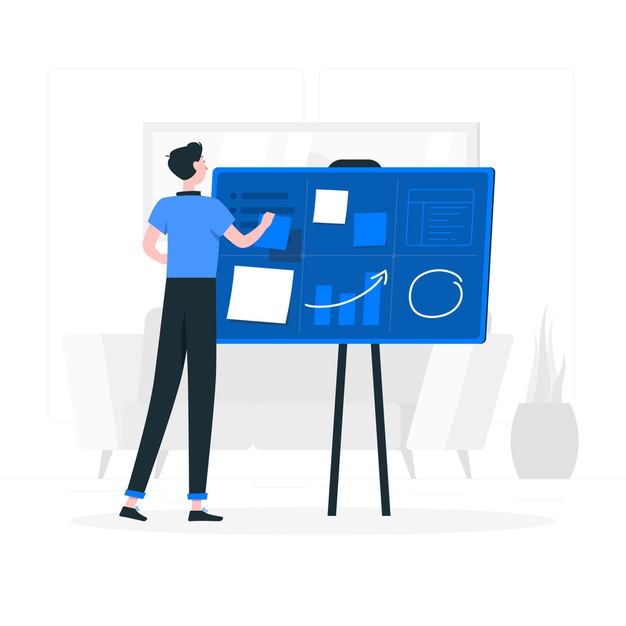 More than a "to-do list", a product plan acts as a guide for product managers and all the stakeholders involved, keeping them in the loop with development and managing expectations.
It acts as a strategic tool, keeping you focused on your objectives and product timeline while at the same time, improves communication between stakeholders. Product plans are usually used by software companies and organizations that develop technological products.
Why Creating a Product Plan is Important?
According to research by KPMG, an unbelievable 70% of organizations have suffered at least one project failure in the prior 12 months and 50% of respondents indicated that their project failed to consistently achieve what they set out to achieve.
While there can be many reasons for product failures, a common issue is the lack of preparation before a product's execution.
"Every minute you spend in planning saves 10 minutes in execution; this gives you a 1,000 percent return on energy!" ― Brian Tracy
When the development team is not clear on the goals and objectives behind a product, what needs to be developed and delivered, who needs to do what, they are simply waiting for a disaster to happen.

This is why product managers often rely on documentation like product plans to make sure every stakeholder is onboard with the product objectives and are clear on their roles and responsibilities to make it a success. A formal document, describing precisely what needs to be done and by when helps keep everyone accountable and helps avoid any ambiguity.
All in all, a product plan:
Describes what the product entails so that all stakeholders know exactly what is expected of them and what the final product should look like.
Keeps everyone on the development team accountable.
Provides a roadmap that product managers can use to allocate tasks, responsibilities, and budget accordingly.
Keeps the team focused on product goals and protects them from straying away from what is expected.
Ensures proper utilization of resources and keep things under budget.
Having a plan in place is really crucial to stay on top of product development and coordinate the efforts of all stakeholders.
Communicating deliverables, action steps, timetables, task ownership are more need to be planned before product development begins. Here are some of the key benefits of creating a product plan:
1. Gives your Team a Sense of Direction
When product managers make a plan, it kicks off the product development process and gives the entire team some instructions to follow and refer to. By assigning them tasks and responsibilities, managers give the entire team a sense of direction and roadmap to follow and oblige. ‍
Read more: What is a Product Requirements Document & How to Create One?
2. Keeps Everyone Accountable
During the planning phase, all team members are assigned roles and responsibilities. The clearer you define these responsibilities, the better you can keep people accountable for success or failure.
3. Proper Resource Allocation
Product failure can lead to a wastage of time, effort, and a lot of money for the organization. Product planning suggests teams consider the necessary resources needed to finish a project.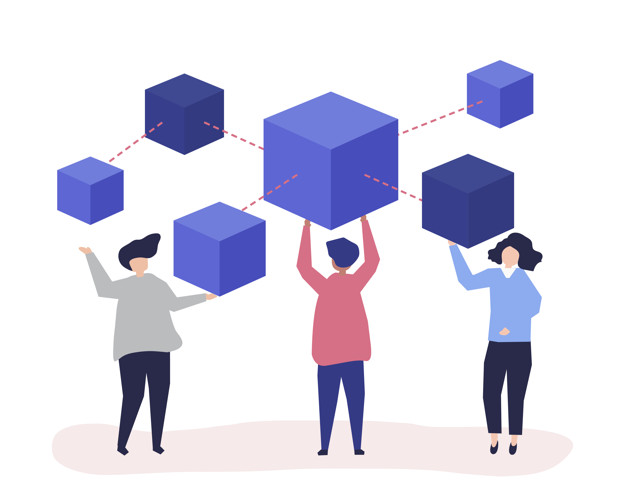 The planning phase is the correct time to brainstorm and allocate resources in order to ensure the smooth execution of the development process.
4. Forecasts Problems
When you plan, you not only plan for success but also a failure. Anticipating product limitations, possible roadblocks, and challenges is one of the most important points to keep in mind while planning.
Your project is bound to face challenges at different levels of development. Being ready and having a contingency plan in place before the problem occurs gives a much-needed confidence boost to the development team. It relieves pressure off of the team as well as stakeholders.
5. Take it to the Finish Line
Finishing projects is more difficult than starting them. When you have a clearly defined endpoint, you are more likely to visualize success and reach for it with all your might, without getting sidetracked.
Planning ensures that managers, as well as team members, are well equipped to take the product to the finish line.
Read more: Product Development Process: Definition & Key Stages!
How to Create a Product Plan? Follow these Steps!
Now that you know what a product plan really is, it's time to deep dive into the elements of a product plan.
Step 1. Define the Why
Understanding the what and why of the product is the first step to designing a plan. When you clearly know what you need from a product, you are better able to explain it in your document, and as a result, better explain it to team members and stakeholders.
Why you are building the product? How does it benefit the organizational goals? What are the features and functionalities that need to be developed for the product?
Additionally, you can include product differentiators that make the product stand out from the competition. All such questions need to be clear in your mind before you start documenting a product plan.
Step 2. Specify What You Need
The next step in product planning is gathering requirements and documenting them. If you don't know where to start, begin by collaborating with your sales and customer reps as they are the ones who interact with your target customer on a regular basis.
Note down customer expectations, pain points, commonly asked features, and add them to your upcoming product. You can also carry out a customer survey, engage directly with your users to find out their likes and dislikes in your current product offering, and devise a plan accordingly.
Step 3: Assign Responsibilities
Once you know why you are building and what you need to build, the next step in product planning is to assign roles and responsibilities. You can include each person's full name, position, department, and the part they will play in making the product a success.
Making people aware of what is expected of them in terms of commitment keeps them more accountable and sincere in their work. Moreover, carefully assigning tasks is crucial to remove all confusion and ambiguity during the development phase.
Step 4: Add Any Limitations
The team working on the product should be made aware of all the challenges they could face in the future. They should also be equipped with the necessary resources and knowledge to navigate such challenges without getting off-track from their mission. Preparing for trouble is the best thing you can do to ensure development.
Step 5. Assign a Timeframe
Without a timeframe, your product could take too long to come to the market. Keep the team accountable by assigning a specific timeframe for every product milestone.
However, these timeframes do not have to be so rigid so as to put unnecessary pressure on the product team. Time frames are put in place to give a rough idea of when the management is expecting the first working prototype of the product.
Step 6. Share Your Product Plan
Once done creating, you need to share the product plan with your team and stakeholders. Sharing your product plan helps to gain support from upper management while at the same time increasing
team participation from the get-go. Use a collaboration tool like Bit to create product roadmaps as they can help you bring all relevant stakeholders under one roof and get team feedback and suggestions.
Create a Collaborative Product Plan with Bit
Ready to create your product plan document? Well, we have got the perfect tool for you!
Bit.ai is a new age online document collaboration tool that helps anyone create awesome product plan documents, product requirements documents, instruction manuals, and other company documents in minutes. Bit is the dream tool to help teams transform the planning process, by making it interactive and collaborative.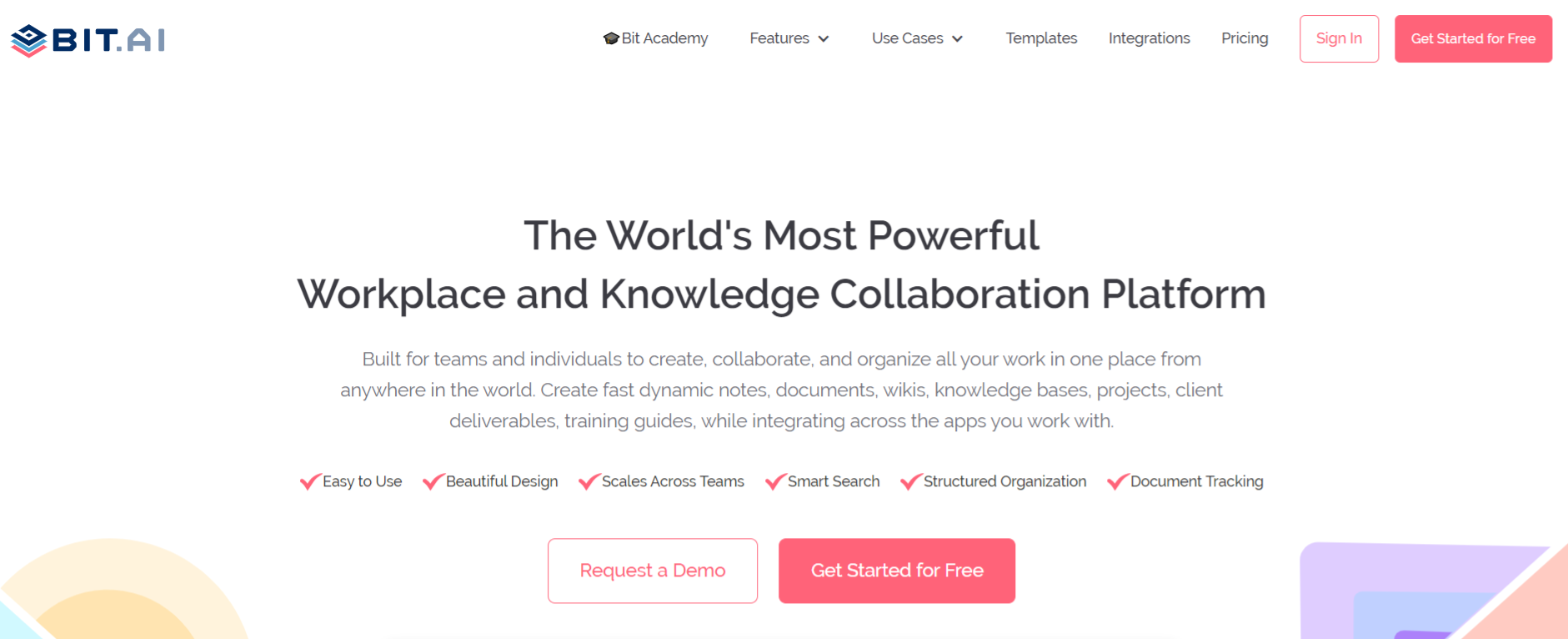 Bit provides a commonplace for employees to simultaneously collaborate and manage projects, and most importantly, share knowledge. It also has a content library where you can save all your images, files, and digital content and access them easily, making your workflow smooth as ever!
Simply create a workspace, add your team members, and start creating your workplace documents like product plans quickly! You can further share these documents with external clients, partners, agencies, etc., and get detailed insights on how they interacted with your documents! Cool, right?

Here are some key reasons to use Bit to create product roadmaps or planning documents:
Collaborate with teammates in real-time and create plan product roadmap together.
Get management feedback in real-time using @mentions and highlight features as every document comes with its separate comment stream.
Create, share, and store documents related to the product in one place without going back and forth to your cloud storage services.
Bit has a plethora of amazing templates to kickstart your work.
Content management capabilities allow teams to store their PDFs, videos, images, charts, and more inside one platform for easy access. Say goodbye to Google Drive and Dropbox!
Bit documents are nothing like you have ever seen. Create interactive docs and embed Airtable blocks, Google spreadsheets, PDFs, video tutorials, Typeform surveys- basically anything with a link inside your document.
Final Words
A product plan is a product manager's favorite tool as it cuts their work in half by guiding the team to success without much involvement from the manager. Once created, product plans document work on their own as they lead the product team through every challenge and keeps them accountable for their actions.
It communicates product goals with internal and external stakeholders, keeping the entire product lifecycle transparent and productive. Product plans are not a guarantee for product success but they are a step in the right direction.
Note that the product plan is a living document that needs to be adjusted and improved upon as the situation demands.
This is why document collaboration tools like Bit are perfect for creating such documents as you can edit any document in real-time and make changes as your company demands. So, what are you waiting for? Start creating your product plan documents today, with a little help from Bit.ai! Good luck!
Further reads: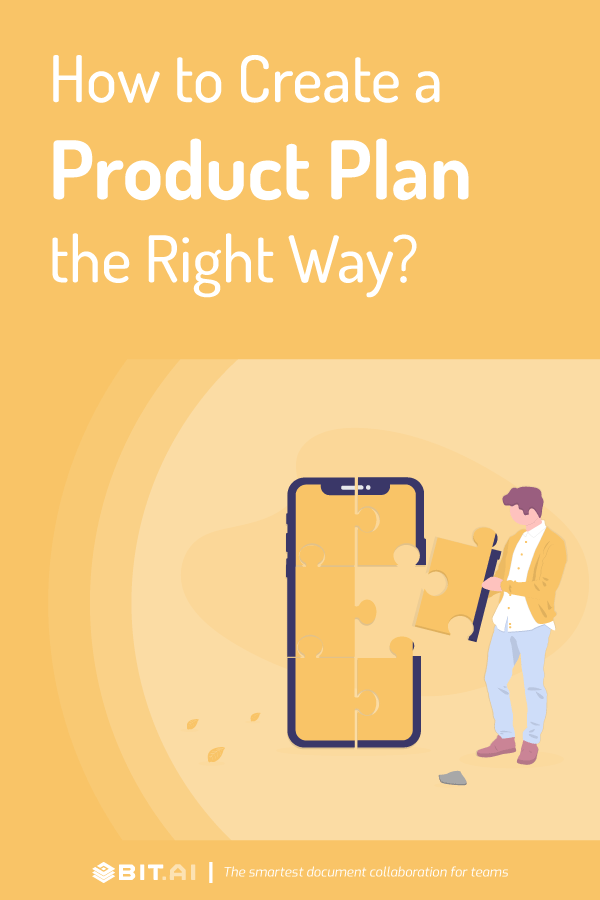 Related posts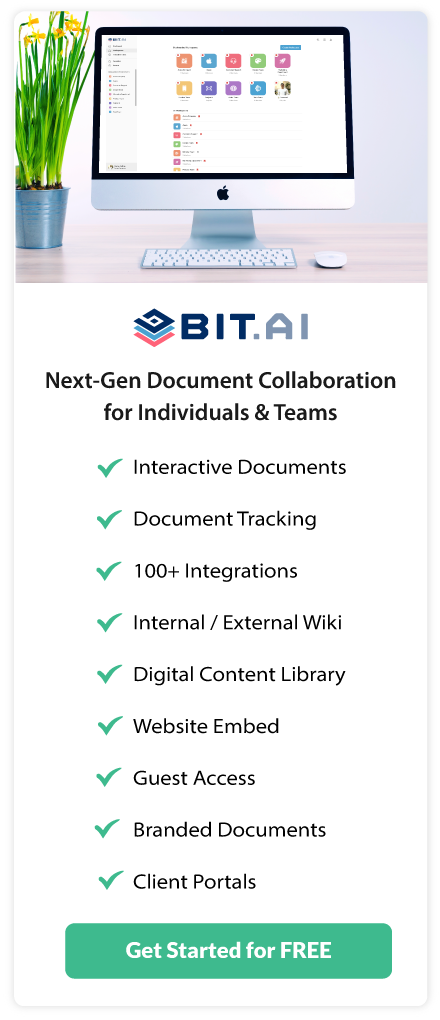 About Bit.ai
Bit.ai is the essential next-gen workplace and document collaboration platform. that helps teams share knowledge by connecting any type of digital content. With this intuitive, cloud-based solution, anyone can work visually and collaborate in real-time while creating internal notes, team projects, knowledge bases, client-facing content, and more.
The smartest online Google Docs and Word alternative, Bit.ai is used in over 100 countries by professionals everywhere, from IT teams creating internal documentation and knowledge bases, to sales and marketing teams sharing client materials and client portals.
👉👉Click Here to Check out Bit.ai.