Businesses that succeed are businesses that have a solid sales management process.
From creating sales management teams to using sales management tools, such businesses find the perfect combination for their firm that helps them close a deal and enhance it further.
Every time a business scales, it is important to not miss out on any aspect of your daily work.
When you use a sales management tool or CRM, you enable your sales team to work more effectively and yield better results without such hassles.
We get it, your firm is either new to this concept or doesn't know where to start.
Not to worry, we are here to put your mind at ease.
We will help you understand what sales management is and how when your teams are extremely busy, a sales management tool can help make tasks easier and more manageable.
So let's begin…
What is Sales Management? (Definition)
Simply put, sales management refers to managing anything and everything including people and resources that are used to sell a firm's products or services.
Sales in any business are the only way to bring in revenue and hence it needs to be managed properly.
Thus if your business generates any revenue, then you most definitely need a sales management strategy!
Sales management also fosters sales growth by organizing a full-proof sales structure and better communication channels.
Sales management is all-encompassing, it includes the planning, implementing, managing of all active sales programs and also handling the sales reps associated with the program.

All in all, sales management keeps your business on track with practical applications of sales techniques and the management of its sales operations.
Why Does Your Firm Need Sales Management? (Importance)
Sales management has become a must-have today for any commercial enterprise.
Why?
Because if your sales processes stop at just locking the customer in, you may be overlooking other important aspects.
You can even use sales management tools to help you reach out to those nooks and crannies that you're likely missing out on. They help your firm to keep up with existing competition and help increase profits.
Sales management can be a great way to analyze what strategies are effective and if the sales team can reach its goals. Moreover, it acts as a gauge to predict upcoming changes in the industry from competitors to regulations.
Without sales management in such times, you'll be lost.
We know sales management may seem like a daunting task at a first glance but trust us, there are many effective sales management tools to help you out.
Sales management tools will save you time and automate your processes. Automated processes will clear out simple tasks for your firm which do not necessarily need a human touch.
It'll also optimize your process so that your teams are better organized and thus, your teams become more likely to close every lead.
Sales management tools will offer you a leg up in performing tasks.
This way, your sales team can focus on more pivotal tasks.
When you have a sales management team stacked with the right tech, your processes will be more efficient than ever before.
And we've brought you a varied selection of awesome sales management tools to choose from.
So without further ado, let's dive in…
List Of 11 Sales Management Tools To Choose From

SalesForce with its mighty CRM (Customer Relationship Management) software is helping shape every aspect of your sales management.
It's a great tool for a company of any size or industry that helps unite your teams and drive growth with its software.
They even offer a free trial for you to test out before you can commit to their software!
Read more: Marketing Management: What is it, its Importance and Process!

Other than being a great platform for CRM, HubSpot provides highly detailed reports, helps schedule sales calls, and more.
If you are a large organization, HubSpot is a must-have but if you are a small-scale firm, there may be difficulty adopting such heavy software.
It's a free sales management tool and worth a shot, you can use it free forever and pay for additional features if they please your firm's needs.

Zoho CRM is the way to go if you want to make your sales processes faster and more effective.
With its robust and advanced analytics, Zoho helps you make smart decisions.
It has a wide global network with businesses in over 80 companies!
Their software is one of the sales tools that is integrated with Facebook, Google apps, Twitter and is constantly updated to keep up with the changes in the tech world.
To avail of Zoho CRM, you can start with a free trial offer of 15 days which is then updated to a standard version for $12/month.

UpLead is a sales tool that specializes in generating leads.
Lead generation is a vital aspect of the sales process and if your firm doesn't have any you lose the need of creating a whole sales management system.
UpLead helps you with your leads which eventually foster growth!
They offer a free trial too which is then upgraded to a standard version of $99/month.

Every firm needs to know where in the sales pipeline do they lose most of their leads.
Clari is one such sales tool that helps identify loopholes in your sales process.
This way, the sales team is better acquainted with where they need to focus their energy, and closing deals become easier.
Such a sales management tool can help boost sales productivity in your firm.
Clari, too, like many other sales tools on this list offers a free trial with an option to upgrade.

Want a powerful CRM tool that is not only easy to use but also affordable?
Pipedrive is here to your rescue.
With its robust software, Pipedrive helps you smartly navigate through your traffic with its chatbots.
Pipeline management, sales reporting, and so much more will become faster and will help you optimize your sales process.
With three different plans, Pipedrive's basic plan starts at $12/month but you can customize your plan as per your firm's needs.
Read more: 12 Sales KPIs Your Sales Department Should Measure!

Another tool to help boost your sales team productivity is SalesHandy.
This sales management tool offers an easy-to-use system that your teams can quickly adapt to.
From its sales tracking feature to mail merge which can help you send personalized emails to multiple people, it's the perfect tool for your sales needs.
SalesHandy provides a free plan with unlimited email tracking alongside an option to upgrade at $7/month.

Ambition is a sales management tool that is all about getting your firm back on its feet on its sales front.
It offers sales coaching, easy insights, and real-time contests to get your sales reps more active than ever!
It is highly adaptable and is specifically personalized for each sales rep in your firm.
Ambition provides three different plans starting from $60/month.
Right off the bat, Teamgate is all about user experience, it offers three different versions namely beginner, intermediate, and expert for users with little to no prior CRM experience.
It is also integrated with other apps like Google, Outlook, and more.
Not just this, it's easy to use and comes adorned with high ratings from its users.
So well it goes without saying, if you want a good CRM and sales management tool, this is the way to go and they provide you with a demo before you sign on to their monthly program starting at $11/month.

Another sales management tool that is known for its CRM functionalities, Insightly keeps all your data in one place and provides you with accurate business metrics.
Be it email campaigns, reporting, or any other important task, Insightly has you covered.
Insightly's CRM pack starts at $29/month and there are a different variety of plans as per your needs which is available on their website!

Bitrix24 offers great project management and CRM software for your sales-related needs.
It helps businesses to generate effective leads and automatically saves them to their CRM database.
The best part? They provide an unlimited, free plan too with limited features along with other plans depending on your firm's needs.
It's a comprehensive sales management tool for increasing revenue and providing invaluable customer service.
Before you go!
Our team at bit.ai has created a few awesome sales templates to make your sales process more efficient. Make sure to check them out before you go, your sales team might need them!
Conclusion
A huge list of sales management tools to choose from right?
Well, now we hand over the reins to you.
Whatever you choose, it's important to make sure that the software will work for each department involved. Some people might use CRM or sales performance management software more than others, but your sales tech stack must be optimized for all roles.

Choose a tool that fits the needs of your firm and knows that shifting to new software is a big change, so make sure it's the right one.
Your business may be spending too much time on mundane tasks, when you use tools like CRM, you'll be able to better focus on the bigger picture.
So try out the free trials and demos before you make a choice and get the one that offers you the best features at a lesser price and stick to it!
Trust us, you are on the right track to acing your sales plan, just keep moving ahead!
Further reads: 
Top 5 Business Process Management (BPM) Tools
Sales Territory Plan: What is it & How to Create it?
Management Report: What is it & How to Create it?
Upselling: What is it and How to do it Effectively?
15 Business Intelligence Tools & Software Every Business Needs!
Knowledge Management System Guide For Better Sales
The What, Why, and How of Lead Generation?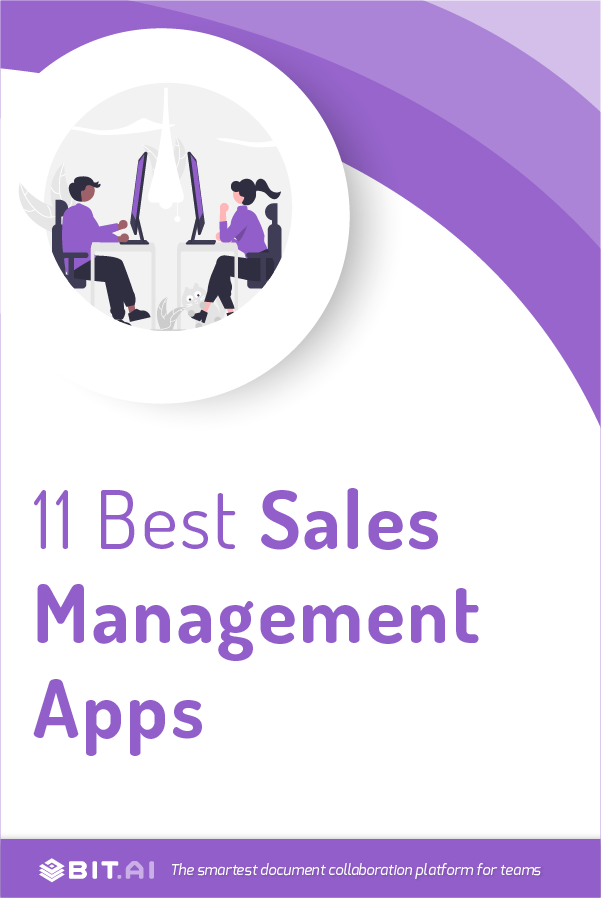 Related posts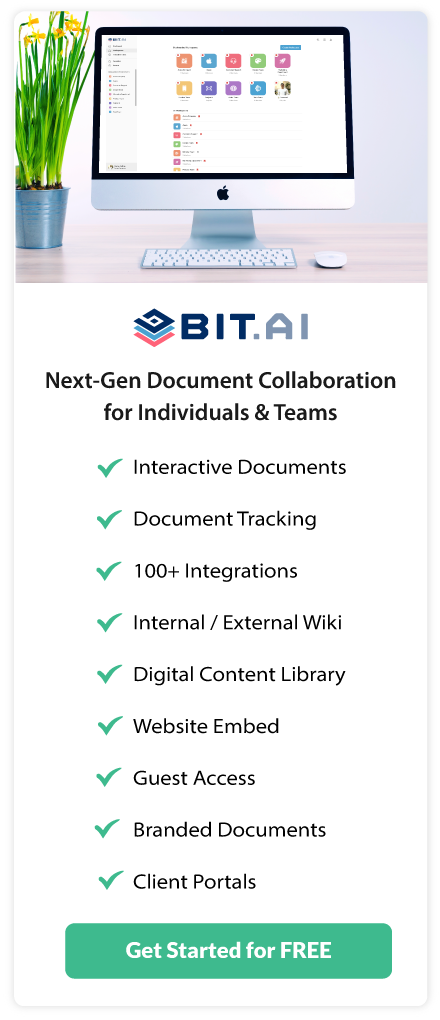 About Bit.ai
Bit.ai is the essential next-gen workplace and document collaboration platform. that helps teams share knowledge by connecting any type of digital content. With this intuitive, cloud-based solution, anyone can work visually and collaborate in real-time while creating internal notes, team projects, knowledge bases, client-facing content, and more.
The smartest online Google Docs and Word alternative, Bit.ai is used in over 100 countries by professionals everywhere, from IT teams creating internal documentation and knowledge bases, to sales and marketing teams sharing client materials and client portals.
👉👉Click Here to Check out Bit.ai.