Every company wants to be successful and grow over time. In order for any business to be successful, they need to employ the best business process management tools and practices to put themselves onto the path of success.
However, the only way of knowing whether the business processes you are applying is good enough is to keep tabs on every step. This means analyzing the operation, receiving feedback, and suggesting changes for improvement with the help of bpm tools. Only then the business will be able to run at its full potential.
This is where the concept of process management or business process management comes into play. Wikipedia describes business process management or BPM, as a discipline in operations management in which people use various methods to discover, model, analyze, measure, improve, optimize, and automate business processes.
Only with continuous improvement can an organization strive towards near-perfect workflow and minimize errors. Analyzing process, measuring their outcome vs the desired result, and optimizing each and every step, all will result in the gradual improvement of a business process.
Doing all of this crucial work with the help of manual work is time-consuming and as well as costly. This is why a ton of Business Process Management tools have emerged in the market in recent years.
What is Business Process Management (BPM) Tool?
Business process management tool is software used exclusively to optimize a business process and get the most out of it. It helps model, optimize, measure, and automate business processes for maximum return on investment.
A BPM tool streamlines business workflow and makes the best use of resources for faster implementation and execution of processes. It has been widely successful and according to the research conducted by the Grand View Research the market size of BPM is expected to reach $23.04 billion by 2024.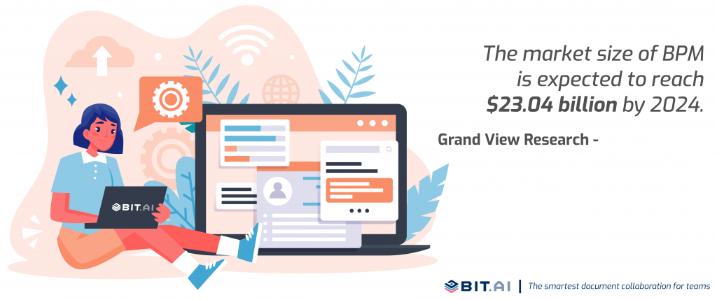 A Forrester Research survey discovered that only 26 percent of firms use BPM or workflow systems to support the majority of their business processes. However, a staggering 69 percent think that these systems will support most or all of their firm's processes within the next two years. There's definitely room for growth in the BPM tool market as adoption is only going to increase in the upcoming years.
If you don't want to be left behind and stay ahead of the competition, we would suggest that you start looking for a business process management tool today. To help you out with your research, we have curated a list of some of the best business process management tools out there. Read on…
Read more: The Ultimate Guide To Document Management Workflow
Top 6 Business Process Management (BPM) Tools To Make Process Smoother


Kicking off our list and one of the most prominent business process management tools out there is Kissflow. Kissflow strives to be your digital workplace to do it all- process management, case management, collaboration, and even project management.
Kissflow allows users to create an unlimited number of business applications by either choosing from 45+ pre-installed applications or using the cloud-based drag and drop builder to build something from scratch.
Employees can create business processes for employee onboarding, purchase or vacation request, travel reimbursement, and more. Once done creating the processes, tracking them is as easy as it gets. With their easy to use dashboard, users can track the progress of any process or item.
With robust reporting features, anyone can identify process bottlenecks and ask for changes. Kissflow integrates with 1000's of workflow applications including Office 365 and G Suite. With users like Pepsi and Comcast, Kissflow is a must-try BPM tool.
Some cool features of Kissflow include: 
Create visual forms using over 14 field types
Get estimated completion times of a process.
Create processes and apps without touching a line of code
Pricing: 
Free plan with limited features
Paid plans start at: Starter ($360/month, starts at 30 users), Growing ($450 per month, starts at 50 users), Enterprise ($1000/month, starts at 100 users)
Read more: 16 Best Business Tools Every Business Needs in 2021

A big part of your work life is the documents you produce on a daily basis. If your business processes revolve around workplace documents like employee onboarding, training manuals, HR guidelines, sales collateral, proposals, policies, client-facing material, and so on, Bit is a great tool to manage all your documents and media files in one place.
A document collaboration and content management tool, Bit streamlines your workflow by housing the creation, management, sharing, and tracking of all workplace documents in one place.
Bit provides a commonplace for employees to simultaneously collaborate on a smart document in real-time. It's a wonderful way to manage projects, brainstorm ideas, assign tasks, track progress, and most importantly, share knowledge.
Bit also has a content library where you can save all your images, files, and digital content you add to your documents so that you can access and reuse them easily, making your workflow smooth as ever!
Smart workspaces are created around projects, teams, departments, and clients to keep your documents, data, and information organized. Workspaces make it easy to collaborate, ensures that the right team members have access to the right documents at the right time, and break down silos for a free flow of information.
Some cool features of Bit.ai include: 
50+ rich media integrations
A huge library of templates to kickstart your work
Real-time alerts, chat, and document tracking
Pricing: 
Free with limited functionality
Paid plans start from: Standard ($12/month), Plus ($20/month), Enterprise (contact sales)

ProofHub is a project management solution that helps teams build concrete business processes and workflows with its detailed task management system. It features Kanban Boards and customizable Agile workflows that cater to the entire lifecycle of a task item in a business process. Teams can extensively define process stages such as "To-do", "Processing", "Sent for approval" etc. 
Whether it's a marketing team managing the fulfilment of a new campaign or a software team prepping up a complex project – ProofHub makes it easier to collaborate seamlessly. The team members can track the status of tasks, communicate via built-in team chat and share files on the go. It readily integrates with Google Drive, Box, One Drive and Slack for building a truly connected experience.
Both, in-office and remote workplaces, leverage ProofHub to simplify their business processes while keeping projects under check. It currently serves teams at Netflix, Google, NASA and more across a variety of use-cases. 
Some cool features of ProofHub include: 
Build custom workflows for every aspect of the business process

Bring cross-functional teams on a centralized collaboration platform

Access detailed reports for business performance, productivity and billable hours.
Pricing 
ProofHub is offered at a flat fee of $89 per month billed annually with unlimited projects. 

Another great business process management tool is Process Street. From assigning tasks, tracking progress, and automating workflows, Process street is a complete process management solution. Process Street allows employees to collect structured data in your checklists using forms. You can either fill them out yourself or use integration to do the work for you.
With Process Street, you can quickly create a process template, run multiple instances of the template as checklists, and track the progress of your process in real-time.
Managers can also run processes as collaborative workflows by assigning tasks to employees and keeping an eye on the progress as the tasks get checked off the checklist. With the help of conditional logic, employees can create truly dynamic checklists with if/then logic. Cool, right?
Process Street runs in the cloud and supports Windows, Mac, iOS, Android, and Windows phone platforms.
Some cool features of Process.st include: 
Create a single instance, multi-stage or sequential approvals
Activity Stream to monitor who's doing what and when
Integrates with over 1000+ apps to automate tasks
Pricing: 
Free plan with limited features
Paid plans start at: Basic ($12.50 per user per month), Standard ($25 per user per month), Recommended ($37.50 per user per month), Enterprise (contact sales).
Read more: Workflow Management Software Every Business Must Be Using!

If you are looking for a more DIY approach to process management, you can check out Zoho Creator. The best part? You don't really have to dig deep into code as Zoho creator has drag and drop builder to create robust process workflow and apps.
Whether its an accounting tool, a payment gateway, a calendar, or a CRM service, you can sync all your processes and create a robust workflow.
Note that every app you build on the web using Zoho Creator is automatically optimized for your smartphone as well as a tablet, so you have no problem using them on the platform of your choice.
Zoho Creator is a low-cost alternative to traditional BPM tools out there in the market as you can automate almost any task, from handling customer orders to updating inventory. With built-in integrations, any process you create can be integrated with hundreds of third-party apps as well as other Zoho apps you use.
Some cool features of Zoho Creator include: 
Low operational cost
DIY approach so you can scale according to your needs
Convert web apps to mobile apps with no extra code or effort.
Pricing: 
Free plan with limited features
Paid plans start at Basic ($10 per month per user)
Read more: The Ultimate Guide To Business Process Documentation (Template Included)

The last one on our list of awesome BPM tools is Smartsheet, a cloud-based BPM tool that allows teams to plan, automate, track, and report tasks and processes at scale. Forrester reports that over 92% of Smartsheet's customers find it easy to deploy and use, and 96% of them would recommend Smartsheet to a colleague.
As the name suggests, Smartsheet is a powerful spreadsheet that provides a one-stop-solution to view all business in action and keep tabs on the organization's workflow. The interface is clean and very user-friendly.
The intuitive interface empowers users to quickly configure, adapt, and improve their work processes and automate workflow wherever possible. Smartsheet is used by over 96 of the Fortune 100 including Netflix and Cisco and is also been named in the Forbes "Cloud 100" list of the best private companies in cloud computing!
Some cool features of Smartsheet include: 
Provide multiple views of your data
Administrator controls that allow users to manage and audit access, ownership, and usage
Live to report through our dashboards
Pricing: 
Free plan with limited features
Paid plans start at Individual ($14 per month), Business ($25 per user per month), Enterprise (contact sales)
Which BPM Tool is your favorite?
The business process management tools we mentioned on this blog are some of the best ones out there. You really cannot go wrong with any of the above-mentioned tools, it all depends on the type of project you are working on, the number of employees involved, and of course, your budget.
Let us know which BPM tool impressed you the most and why by tweeting us @bit_ai
Further reads: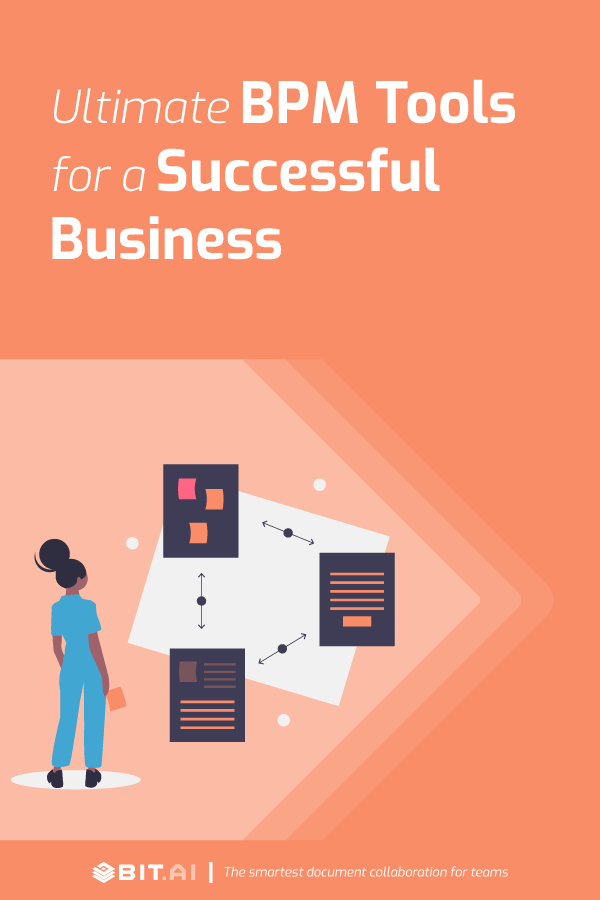 Related posts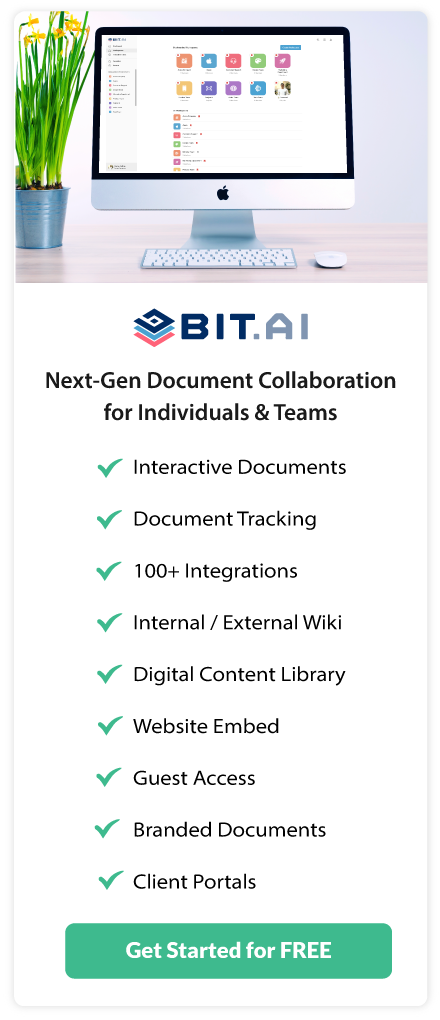 About Bit.ai
Bit.ai is the essential next-gen workplace and document collaboration platform. that helps teams share knowledge by connecting any type of digital content. With this intuitive, cloud-based solution, anyone can work visually and collaborate in real-time while creating internal notes, team projects, knowledge bases, client-facing content, and more.
The smartest online Google Docs and Word alternative, Bit.ai is used in over 100 countries by professionals everywhere, from IT teams creating internal documentation and knowledge bases, to sales and marketing teams sharing client materials and client portals.
👉👉Click Here to Check out Bit.ai.