When it comes to running a business, having the right tool for the job can be the difference between success and failure. However, choosing the right business tool is no small achievement. The secret lies in finding the right combination of tools that helps you perform business activities in the most efficient way.
With so many software platforms available, finding the right tool is like looking for a needle in a haystack. To help you out and cut down that wasted research time, we have curated a list of the best business tools out there. Bookmark this blog post so you never have to Google 'business tools' ever again!
List of 17 Best Business Tools you Must Explore:
For your convenience, we have broken down our list of business tools into the list into 9 broad categories-
Document management tools
Project management tools
Meeting apps
Communication apps
Whiteboard tools
Marketing tools
Finance tools
Outsourcing tools
Each category consists of two tools each along with their pricing and key features. So without further ado, let's dive in…
Document Management Tools for Businesses
We all know how important documents are to a business. From creating proposals to business plans- everything requires a good document.
Choosing your document management tool is vital as it can help you organize your info in one place, reduces the reliance on paper docs, and speed up your workflow 10x. Pick one of the following document management tools for a better document experience.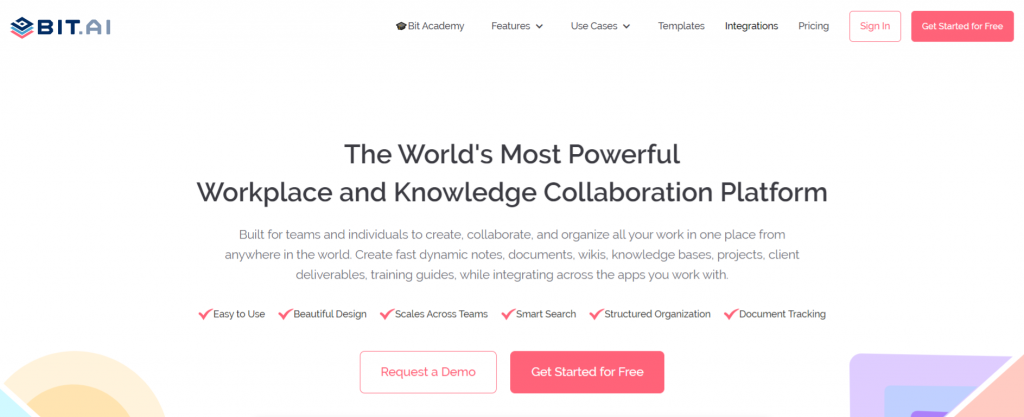 Modern teams use modern document editors like Bit that help them create, manage, share, and track all documents in one place. Organize content in different workspaces and folders, collaborate, and chat with co-workers in real-time, store all media assets in the content library, and create interactive docs- all from this powerful platform.
With smart search, quickly find what you are looking for and improve your productivity multifold. Take it for a spin (as it has a free version) and see Bit's awesomeness for yourself!
Key features of Bit: 
Built-in document tracking
Store media assets (images, videos, etc) in the content library
Interactive Documents (100+ Integrations)
Better Organization
Robust Search
Client Facing Documents with Branding, Lead Capture, Website Embeds
Real-Time Notifications
Pricing:
Free plan with limited features
Pro plan starts from: Standard ($12/month), Plus ($20/month), Enterprise (contact sales)
Our team at bit.ai has created a few awesome business templates to make your business processes more efficient. Make sure to check them out before you go, your team might need them!
Read more: Business Development Plan: What Is It And How To Create A Perfect One?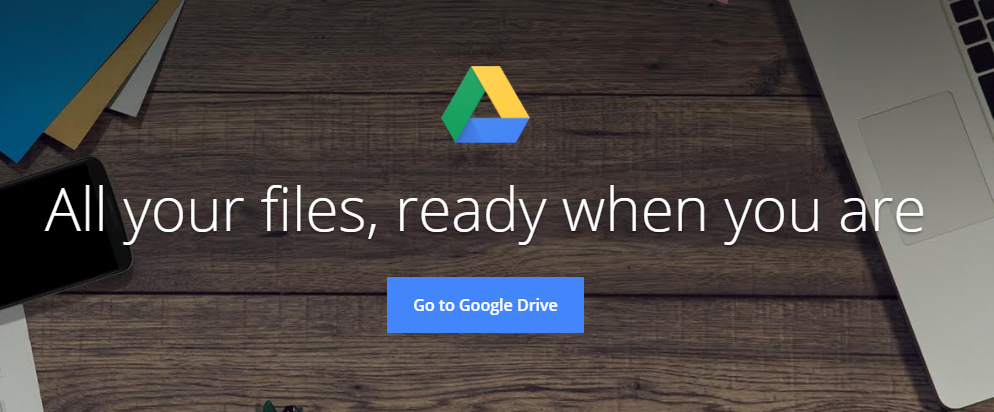 If you have a compact team and don't have a lot of documents to deal with, you can get away with Google Drive. A free content storage and document collaboration suite, Google Drive offers office apps for document creation, spreadsheets, and presentations. Their free plan offers 15GB of free storage and has smartphone apps for both iOS and Android.
Key features of Google Drive: 
AI-enabled search
Integrates with Docs, Sheets, and Google Slides.
Mobile apps available
Pricing:
Free plan with limited features
Pro plan starts from: 100GB ($89/month), 1TB ($479/month), 10TB ($4799/month).
Read more: Best Cloud Document Management Systems in 2022
Project Management Tools for Businesses
Project management tools help managers manage resources, assign tasks, keep track of the project deadline, and deliver projects successfully. The following project management tools are our top picks:

ProofHub is an all-in-one project management and team collaboration solution with a slew of scalable capabilities to keep up with your expanding business requirements. The goal of this application is to allow project managers, decision makers, and remote teams to communicate more effectively and efficiently manage all aspects of the project.
Along with serving everything on a golden platter, ProofHub also assists teams in keeping track of how much time each member of their team spends on each assignment, who is working on what, and how much money is spent on each task. ProofHub's shared workspace keeps everyone focused on the same goals, allowing teams to collaborate effectively and produce great outcomes.
Features: 
Task management with Gantt charts and Kanban boards.

In-house group and personalized chat tool

File proofing for reviews and custom reports

Integrations with third-party tools

Announcements and discussions to share ideas and celebrate successes
Pricing:
The Essential plan is priced at $45/month, billed annually

The Ultimate Control plan is priced at $89/month, billed annually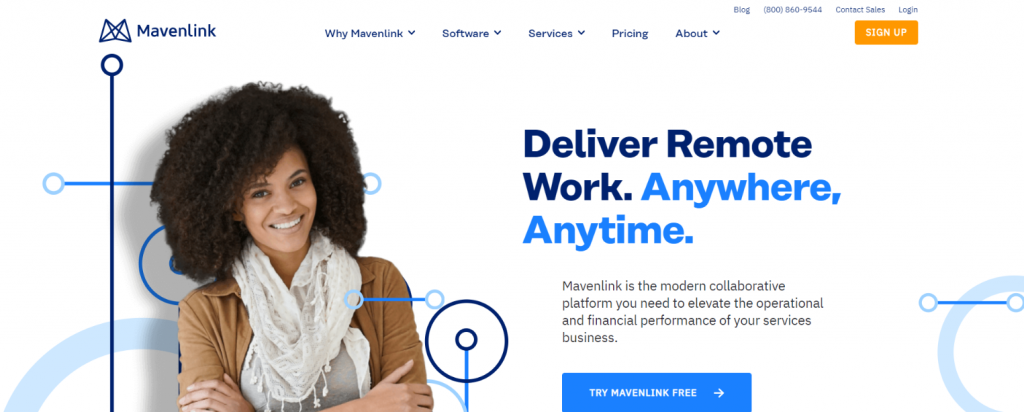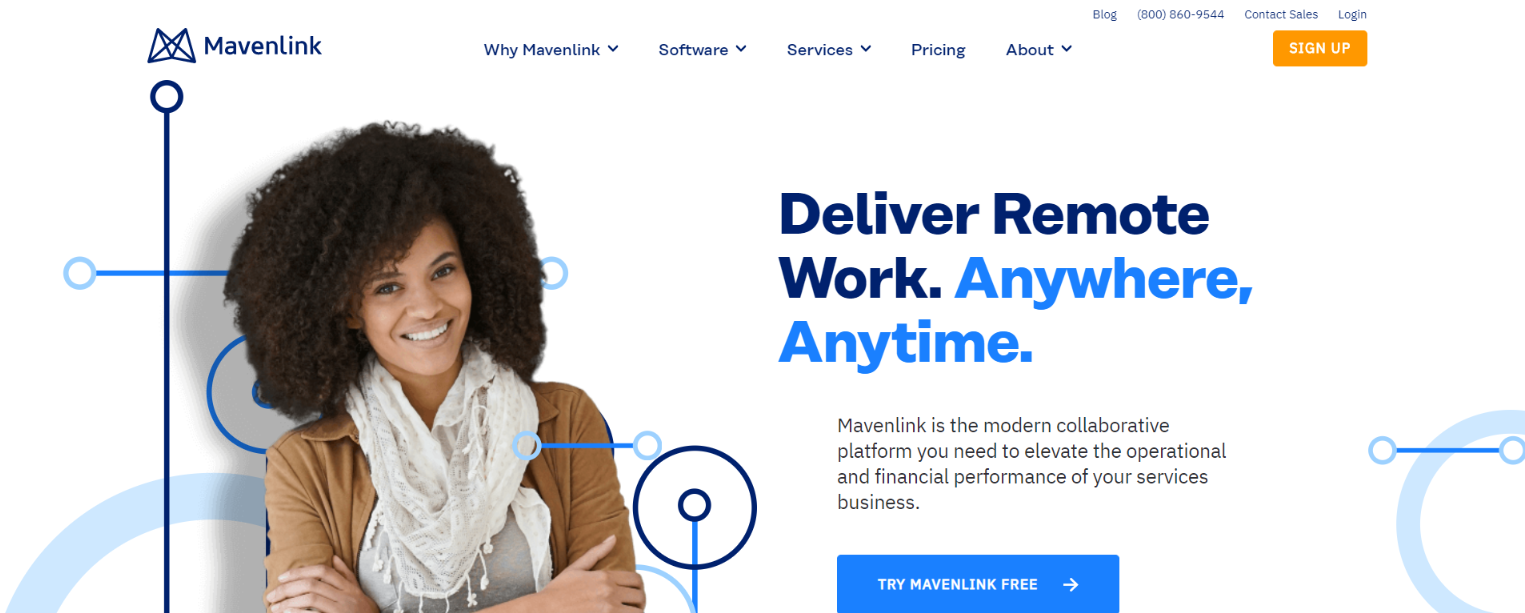 One of the top-ranked project planning and management tools on G2crowd, Mavenlink has a ton going for itself. Automate your project planning, management, accounting, and collaboration with this all-in-one software. The platform integrates all your projects, tasks, and resources, and allocates them for maximum efficiency. Monitor your projects with detailed Gantt charts, task lists. and threaded communications
Key Features of Mavenlink
Business intelligence, time-tracker, resource management
Integrates with Jira, Slack, Salesforce, and more
Monitor tasks, projects, and resources
Pricing: 
Free with limited functionality
Paid plans start from: Teams ($19/month), Professional ($39/month), Premiere (contact sales), Enterprise (contact sales).


An all-in-one project management software, Paymo is feature-packed project management software. Time-tracking, planning, project scheduling, resource planning, collaboration- Paymo does it all.
Project managers use Paymo to monitor all project-related actions in real-time, assign tasks, and allocate resources. Managers can also create estimates based on the project plan and share them with clients.
Key Features
Keep track of all expenses during the project and add to your invoice.
Automatic time tracking and share timesheets with clients.
Schedule and monitor tasks using Gantt charts.
Pricing: 
Free with limited functionality
Paid plans start from Small office ($9.56/month), Business ($15.16/month)
Read more: 10 Best Free Project Management Software in 2022
Communication apps for Businesses
Communication is the key to success in every organization. For smooth sharing of ideas, brainstorming, and day-to-day chit chat, use the following communication tools:


If you work at a startup, we are sure you have heard of Slack. A quick messaging app, Slack allows teammates to create a "channel" based on interest, project, or departments and cat with their colleagues in a streamlined manner.
Slack has quickly become the go-to messaging platform for startups and small businesses, thanks to its affordable plans. With over 35,000+ paid companies including IBM and Airbnb and with over 8 million monthly active users, Slack is a great communications app.
Key Features of Slack: 
Conduct video and voice calls
Connect over 2200 apps for added functionalities
Search messages, files, etc
Pricing:
Free plan with limited features
Pro plan starts from Standard ($2.6/month), Plus ($5/month), Enterprise Grid (contact sales)


Next up is Teams, an enterprise chat app by the one and only Microsoft. Teams have over 44 million daily active users, up from 20 million in November 2019, and is a part of the Office 365 suite of apps. Apart from messaging with co-workers, Teams also support video and audio calls. Employees can share and edit Powerpoints, Word docs, Excel spreadsheets, and more and bring their entire workflow under one roof.
Key features of Microsoft Teams: 
Conduct meetings with up to 250 participants
Integrates with all Microsoft apps
Mobile apps are available.
Pricing: 
Free trial
Paid plans start from $5 per user per month
Read more: Best Internal Communication Tools for Your Business
‍Meeting apps for Businesses
With the coronavirus pandemic taking the world by a storm, millions of employees around the world are working remotely. This means- no office meeting! If you want to touch base with your teammates and want to have a face-to-face discussion, the following meeting tools will surely help:

Zoom has gained massive popularity during worldwide lockdowns due to the Covid-19 pandemic and for a good reason. Whether you want to conduct an online meeting with your team, create a video webinar, share screens with your IT team, or conduct virtual training sessions, Zoom is the tool for you.
In March 2020, Zoom's daily active users jumped from 10 million to over 200 million in just 3 months. Apart from businesses, teachers are also using Zoom to conduct online classes and teach students virtually.
Key Features of Zoom: 
Host meeting with up to 25 participants and host an unlimited amount of meetings.
Cross-platform messaging and file sharing
2018 Gartner Peer Insights Customers' choice for meeting solutions.
Pricing: 
Free with limited features
Pro plans start at Pro (14.99/month), Business (19.99/month), Enterprise (19.99/month)


Next up is Google Meet, a cleaner and faster version of Google's Hangout app for video calling. If you are tied into the Google ecosystem, this is a great Zoom alternative. Simply set up a meeting and share the meeting link with your co-workers to conduct a video conference in seconds.
Google Meet supports up to 100 meeting participants and is integrated with G Suite. With Google, you don't have to worry about security and can rely on its infrastructure to deliver a perfect video conferencing experience every time you try it.
Key Features of Google Meet: 
Encrypted video calls for added security
A dial-in number to join meetings offline
Live captions and noise cancellation
Pricing:
Paid plans start at $10/user per month.
Read more: 10 Best Video Conferencing Software For Teams
Whiteboard Tools for Businesses
An office whiteboard has long been the go-to team collaboration tool used for brainstorming and putting your ideas to life. If you are working remotely, the following digital whiteboard tools are going to help you mimic the magic of a whiteboard right from the comfort of your home.


Miro is a great digital whiteboard designed specifically with remote and distributed teams in mind. Just like you would on a physical whiteboard, add text, sticky notes, images, diagrams, drawings, prototypes, spreadsheets, and more or work with templates to quickly start your brainstorming session. With an infinite canvas, Miro encourages free-flow of ideas and doesn't let anything come in the way of your creativity and imagination!
Key Features
Integrates with a ton of apps including Jira, Sketch, Invision, Google Drive, Confluence, Box, etc.
Real-time asynchronous collaboration
Over 7 million users worldwide
Pricing: 
Free with limited functionality
Paid plans start from: Team ($8/member/month), Business ($16/member/month). Enterprise (custom pricing)


Not many know that Microsoft also offers a digital whiteboard solution by the name of Microsoft Whiteboard. This "digital canvas" helps teams collaborate from any part of the world and brainstorm on a whiteboard just like they would in a physical office space.
The contents of the whiteboard are safe in the cloud and you can carry on your work by logging into the same or different device, whenever you like. If you have a Microsoft Surface stylus, you can use it on the digital whiteboard for making diagrams or sketching.
Key Features of Microsoft Whiteboard
Mark your whiteboard "do not erase"
Use it with a stylus, keyboard, or pen.
Reliable with Microsoft's enterprise-grade security.
Pricing: 
Free with limited functionality
Paid plans start from: Get it with Microsoft Office 365 subscription starting at $99 a year.
Read more: Top 10 Digital Whiteboard Software for Team Collaboration
Digital Marketing Tools for Businesses
Every business in 2022 needs to have an online presence to reach out and engage with customers. With digital marketing gaining prominence over traditional marketing, its time to have tools in place to help you succeed on the internet. Here are our top picks for digital marketing tools:
An amazing all-in-one content curation & marketing tool, elink helps marketers and content creators publish email newsletters, web pages, and embed web content by just adding web links! Turn any web links (articles, videos, etc.) into visual content in seconds.
You can convert collections to email newsletters and export to MailChimp, Gmail & all third-party email providers that allow HTML code (including Campaign Monitor, MadMimi, Active Campaign, etc.). With its 30+ beautiful prebuilt responsive layouts, you never have to worry about design and can just focus on your content.
Key Features of elink
Curate content for your website or social media in minutes
Fast and Easy Newsletter Creation with beautiful templates
Track engagement insights on the content you share
RSS feed reader, Bookmark manager, Chrome extension, and more
Pricing: 
Free with limited functionality
Paid plans start from Pro monthly ($15/month), Pro 1 year ($12/month), Pro 2 year ($10/month)


A big part of marketing is knowing what works and what needs improvement. Google Analytics helps you do just that by providing your website analytics in an easy to use dashboard. Track website visitors, products, marketing goals, and conversions easily. With Google Optimize, you can perform A/B testing on your website and make data-informed business decisions. Over 55% of all websites use Google analytics and you should too!
Key features of Google Analytics: 
Detailed reports and analytical intelligence
A/B test to make the best business choices
Integrates with Google Ads, Data studio, and more.
Pricing: 
Free
Paid plans start from: $150,000/year
Read more: 15 Digital Marketing Tools That Will Help Every Marketer in 2022
Accounting Tools for Businesses
Dread accounting? Let software take care of it with our favorite accounting tools: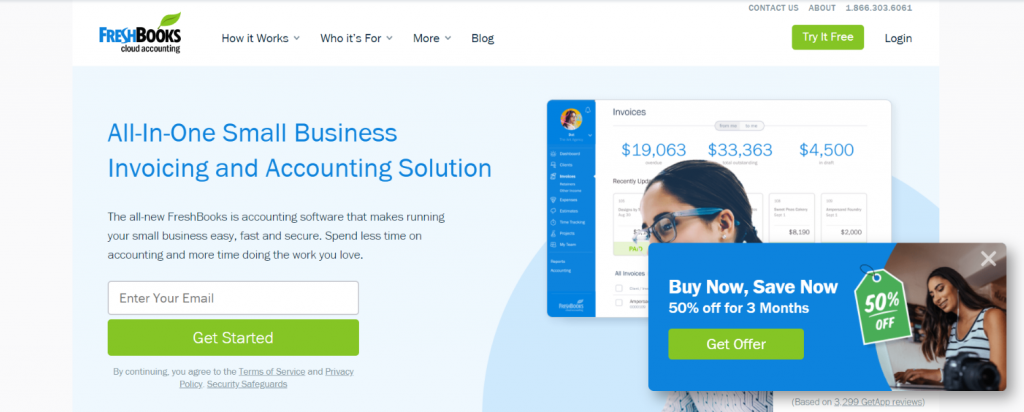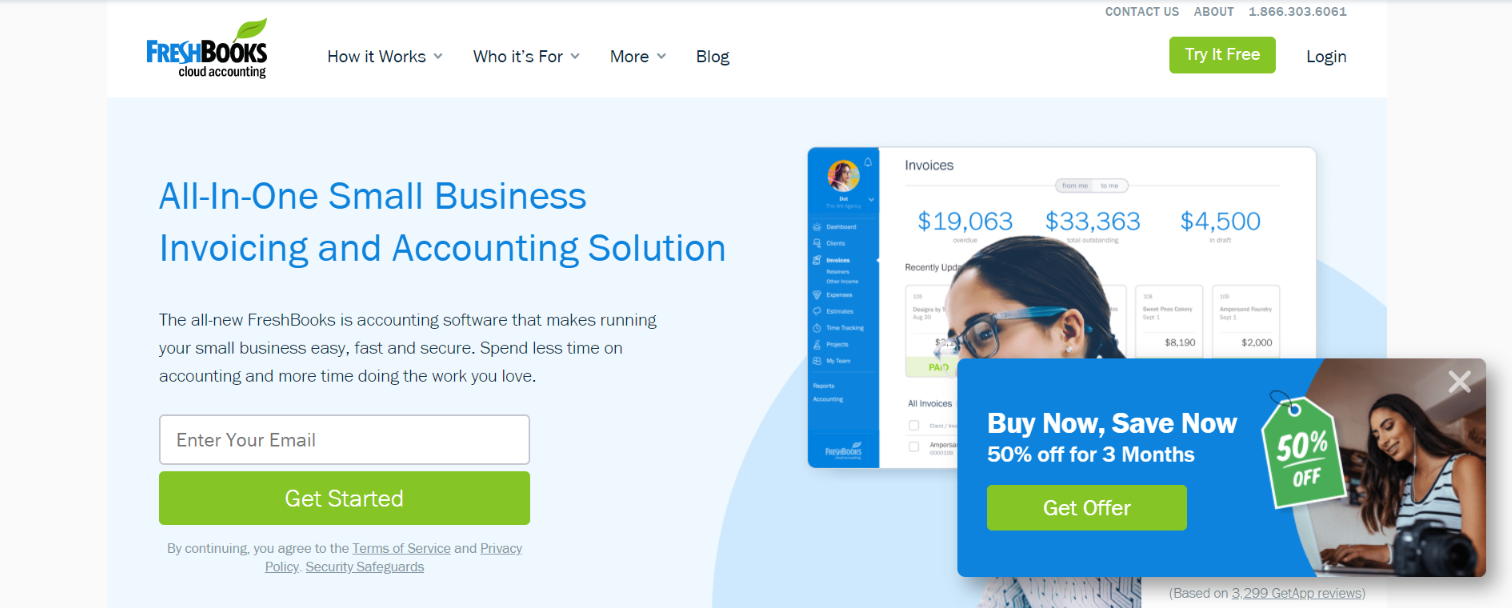 An all-in-one accounting and invoicing platform, Freshbooks wants you to focus on your work instead of your accounts. From expense tracking and invoicing to payments and reporting, Freshbooks does it all.
Automation helps users receive invoice reminders as well as payment collection, helping them put their business on autopilot. Easy expense tracking means that you can say goodbye to pesky receipts and log your expenses in Freshbook's platform.
Key features of Freshbooks: 
Easy to understand reports
Automatic checks and balances to ensure compliance
Log hours and automatically put them onto an invoice.
Pricing: 
Free with limited features
Paid plans start from: Lite ($6/month), Plus ($10/month), Premium ($20/month), Select (custom pricing)


Xero is an accounting tool for small businesses and has an easy-to-understand interface. Create quick invoices and receive a notification when they are opened, track inventory, attach files to invoices, create custom purchase orders, and handle expenses all from Xero's dashboard. Manage bills by scheduling payments and batch paying suppliers. The platform has over 2 million subscribers and works smoothly without hiccups.
Key features of Xero: 
Easy to read charts to understand cash flow and business health
Include the "pay now" button to invoices, automated reminders, and more.
Connect your bank so transactions can flow smoothly.
Pricing: 
Free with limited features
Paid plans start from: Starter ($20/month), Standard ($30/month), Premium ($40/month).
Outsourcing tools for Businesses
It's tough doing everything on your own. This is where outsourcing comes in! Get outside help with the following outsourcing apps and share the load with freelancers and contract employees.


Fiverr helps you get outside help in over 300+ categories by matching you with amazing freelancers. If you need help creating your website, need graphic design or video editing services, need someone to manage your accounts, or someone to handle your social media, Fiverr has everything you need. With payment protection, upfront costs, and great customer support, finding freelancers was never this easy!
Key features of Fiverr: 
Find over 300+ categories of freelance work
Dashboard to track activity and keep your team in sync
Payment protection and great customer support.
Pricing: 
Buyers pay a processing fee of $1 on purchases up to $20 and 5% on purchases over $20


From one-off projects to long-term contracts, Upwork can be used by businesses to find quality talent for their business needs. With over a million reviews, you are in good hands while hiring talent to outsource your business needs.
Using your business dashboard, you can manage your job listings, interviewing, onboarding, and payments. Businesses can also track project milestones and progress. Upwork offers help in over 80+ different categories and is a great platform for outsourcing.
Key features of Upwork: 
Trusted by over 5 million businesses
80+ categories including web development, marketing, writing, accounting, customer service, and more.
Hire for both short and long-term contracts.
Pricing: 
Free with limited features
Paid plans start from Plus ($49/month), Business ($849/month).
Final Words
There you have it folks, some of the best business tools out there to help you run your business efficiently. All of the above-mentioned tools are great at what they do and you cannot go wrong with any of them. Still, your choice is bound to depend upon various factors like the size of your business, your target use-case, a particular business problem you are looking to solve, and of course, your budget.
Did you find your next business tool on our awesome list? Was your favorite tool missing from this list? Tweet us @bit_docs and let us know! Good luck!
Further reads: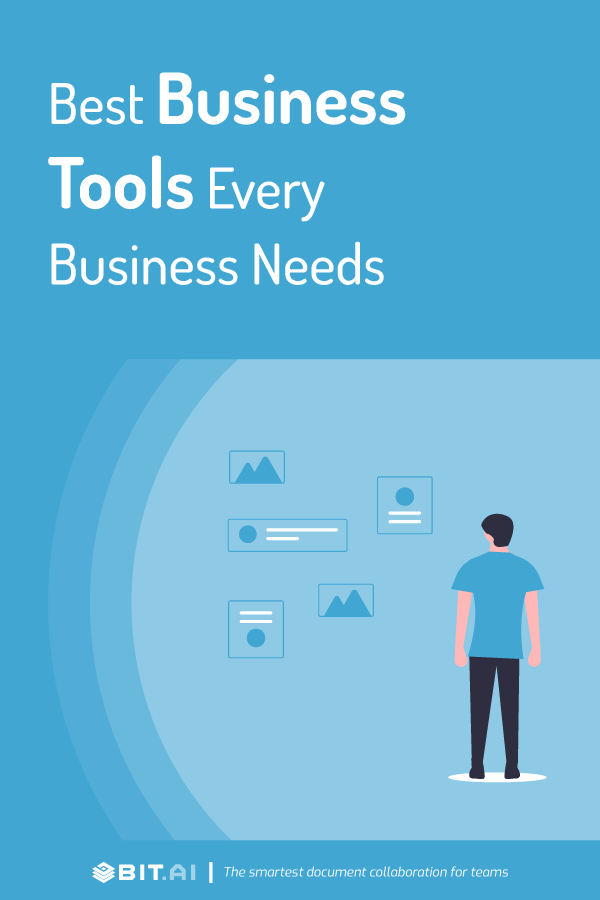 Related posts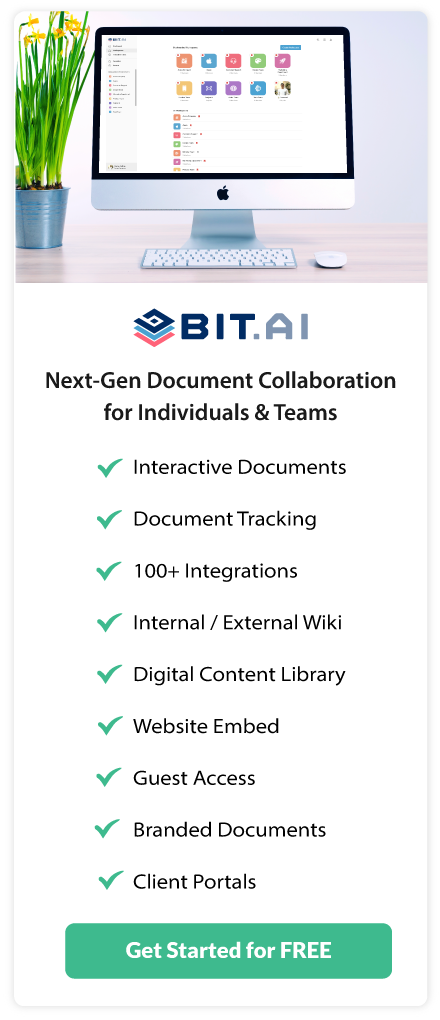 About Bit.ai
Bit.ai is the essential next-gen workplace and document collaboration platform. that helps teams share knowledge by connecting any type of digital content. With this intuitive, cloud-based solution, anyone can work visually and collaborate in real-time while creating internal notes, team projects, knowledge bases, client-facing content, and more.
The smartest online Google Docs and Word alternative, Bit.ai is used in over 100 countries by professionals everywhere, from IT teams creating internal documentation and knowledge bases, to sales and marketing teams sharing client materials and client portals.
👉👉Click Here to Check out Bit.ai.