Let's be honest – running a marketing campaign is tough.
The chaos during the planning stage, the consequences of missing deliverables, the anxiety when a deadline is lingering upon you…and we could go on and on.
Well, it doesn't have to be this way forever. There's a way to bring order to all the madness that marketing campaigns bring with them – marketing project management!
You've probably heard of project management in industries like IT, architecture, and logistics, right? Imagine how great it would be to implement project management into marketing.
That's what marketing project management is all about! When implemented in the right manner, it has the power to push your campaign to success. These stats prove just that:
The point is, with competition increasing every minute, it is essential for marketing teams to manage their marketing projects/campaigns in a more efficient manner.
So, without further ado, let's learn more about this concept of marketing project management.
What's Marketing Project Management?
Marketing project management refers to initiating, planning, executing, monitoring, and completing a marketing campaign. In short, it includes everything that's necessary to meet the goals of the marketing campaign.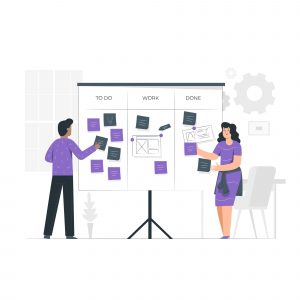 Also known as 'project management in marketing, marketing project management puts all the different parts and processes of the marketing campaign in order and makes the entire workflow more balanced.
Marketing project management involves a few key things such as brainstorming, scheduling, budgeting, assigning the tasks, identifying KPIs, evaluating KPIs, and more.
Through solid marketing project management, your team will be able to complete campaign tasks more efficiently and communicate in a much better way.
Want to know a few more reasons why marketing project management is SO important? Read on!

How Does Marketing Project Management Help Companies?
1. Makes Planning & Execution Easier
The most important (and most tedious) stage of a marketing campaign is planning. A well-planned marketing campaign has a higher probability of being successful, compared to an unplanned campaign.
With a comprehensive project management system in place, you can take your marketing team from the planning stage to the execution stage with much more precision.
2. Tracking & Evaluating Campaigns
Your marketing campaigns need to be constantly evaluated in order to measure the progress, analyze returns on investment, and identify what's working and what isn't.
This task can get a little intimidating unless you have a solid project management system. After all, it gives you a birds' eye view of your entire marketing campaign!
3. More Effective Collaboration
A sports team trains together, play together, and over time, they develop a better understanding of each other. They master their roles and responsibilities, which helps them get better results.
Similarly, the chemistry and communication between your marketing team members can be a game-changer. Good project management can help your team communicate effectively from the beginning till the end.
.
4. Better Cost Tracking
It goes without saying – every marketing campaign needs a substantial amount of money. To make sure that everything goes as planned, proper budgeting is essential.
Through marketing project management, you can track costs and document everything – which will help you avoid overspending and work as per the budget allocated.
5. Helps You Follow a Detailed Strategy
Marketing isn't just about advertising your products to every individual on the planet. It is about following a detailed strategy for converting a potential customer to a loyal one.
If you want to improve your conversion rates, every little step that you take as a part of your marketing needs to be well calculated…and managing your marketing project helps you do just that.
Eager to manage a marketing project? We know you are. However, you first need to build the right foundations. Let's explore the five stages of the marketing project management process.
Read more: 17 Marketing Terms You Must Be Aware Of!
The 5 Stages of Marketing Project Management
Stage 1: Initiate
If you execute this step well enough, everything else will automatically fall into place. The very first thing you need to do here is determine the business case.
Basically, present a compelling argument backed with data, which demonstrates why your organization's resources and time should be allocated to this particular marketing campaign.
Once that's done, craft a project charter that outlines the objective of your project, the stages, and the roles and responsibilities of every person involved.
No, this stage isn't over yet! You now need to define the scope of your project aka the specific goals, deliverables, tasks, deadlines, and costs.
Make sure that every team member is aware of the project scope and what it entails. This would save you from a lot of headaches in the future.
Stage 2: Plan
Yay! Your project is all set to take off. Now, it's time to start planning and building solid foundations to make sure that you are on the right track.
In this stage, there are four things you need to work on: buyer personas, creative brief, project plan, and a project timeline. Let's explore them – one by one.
Buyer personas will give you an idea of who your audience is, what they want, and what they like. They will help you tailor your marketing campaign in a proper way.
In the creative brief, you need to map out all the crucial information such as the deliverables, the target audience of your campaign, and everything that you can use to achieve the campaign goals.
Now, it's time to dive into the project logistics and create a project plan. This plan would include information such as the budgets, timings, quality control measures, and more.
A project timeline gives you an overview of the project's deadlines and goals and helps you make sure that your project is moving at the right speed.
Once all these four elements are in place, you can conduct a kickoff meeting, and make sure that all the stakeholders agree on the objectives and desired outcomes.
In the kickoff meeting, all the documents that you created above will be finalized. It's a really good opportunity to get off on the right foot and start the campaign on a positive note.
Stage 3: Execute
Now, walk your team through the entire process, and ensure that the project is moving according to the plan and objectives set in the previous two stages.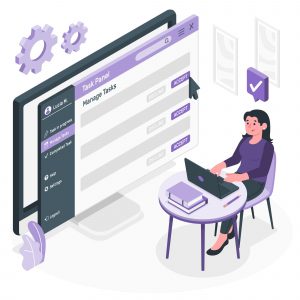 Over the entire marketing campaign, your team will be producing a lot of marketing content. Make sure that everything that's created is in line with the principles you stated previously. Keep the buyer personas in mind!
Most importantly, keep monitoring and assessing all the marketing collateral. If something doesn't fit the scope of the campaign, cut it out.
Stage 4: Evaluate & Control
Keep a close eye on the campaign throughout its lifecycle, and make sure that it's on track. The top management might ask you about the status of the campaign anytime, so create a project status report.
The status report should be up-to-date, accurate and should demonstrate the progress you've best. The best reports show that you're being proactive and you're doing everything according to the campaign goals.
Got any concerns? You can use the project report to address these concerns and have conversations about the project scope, marketing budget, and more.
Stage 5: Completion
Before you enjoy a celebratory drink, make sure that all the loose ends are tied up. Go through the marketing collateral, ensure that they're in perfect condition and nothing needs to be done further.
Don't go into this phase blindly. Build a project completion checklist as it will help you confirm that each and every aspect of your marketing project is complete.
Now that you've learned the entire process of marketing project management, here are some tips that will help you master the art. Dive right in!
Read more: 10 Best Project Planning Software List with Pricing!
8 Tips For Improving The Marketing Project Management Process
1. Learn About Your Audience
You obviously want your marketing campaign to succeed. The key is to align your goals to the goals of your audience. Find out who your audience is, what they care about, how you should reach them.
Interview your audience, understand their thought process, ask them what they're looking for, reach out to them via social media and create content that's relevant to them.
2. Keep Experimenting
Everyone in the marketing team is given a set of responsibilities, and sometimes, new ideas and experiments take a back seat. However, experimentation is the key to great marketing!
You should conduct brainstorming sessions regularly for your marketing team so that everyone can share their ideas and you can test out new strategies.
3. Set Up a Cross-Department Workflow
More often than not, marketing teams need to communicate across the design team, the product development team, the sales team, and so on.
To maintain seamless collaboration between the marketing team and other departments (and manage your marketing project effectively), you can set up a cross-department workflow.
A cross-department workflow will make it easier for all the teams to assign tasks, set deadlines, and request follow-ups. The result? Less chaos and more focus!
4. Make Content Development Your Priority
No matter which industry you're a part of, informing and engaging your audience through content marketing would always be a part of your marketing strategy.
However, don't just go about writing about anything and everything. If you actually want to build brand engagement and awareness, identify what your audience wants to learn, and write about it.
5. Have Standards in Place for Each Deliverable
For every deliverable, set up some pre-defined set of rules and standards. For instance, if you're producing content, establish the word count, keywords, and tone in advance.
Some more standards can be: all the blog posts should include the company's branding, all the content deliverables will have to go through the top management, etc.
6. Go With The SMART Approach
The SMART approach refers to setting goals that are specific (S), measurable (M), achievable (A), realistic (R), and time-oriented (T). It's the best way to set solid goals!
Some examples of SMART goals are: increase the conversion rate from 3% to 6% in the next quarter, drive 5% more traffic through social media marketing, or increase monthly subscriptions by 6% in the next four months.
Truth be told, without SMART goals, your marketing campaign might lose its direction, and your team members might lose motivation when they see their efforts going to waste.
7. Follow The Agile Marketing Method
In the agile marketing approach, large complex projects are divided into smaller, manageable chunks/sprints. Then, the work produced under each sprint is reviewed and optimized with feedback.
This approach towards marketing boosts the output, reduces the delay, and makes sure that every aspect of the campaign is continuously evaluated and improved!
8. Examine The ROI of Your Campaigns
Knowing the returns that your marketing strategies are generating is important so that you can gauge which strategy is worth continuing, and which needs to be slashed down.
Without diving into marketing analytics, you would just be throwing darts in the dark! Also, while calculating the ROI, don't forget to consider the time that you've invested, along with the monetary investment.
Wrapping Up
In the midst of the ever-changing deliverables and deadlines, marketing teams often forget the importance of marketing project management.
Remember: poor marketing project management can flatline a healthy business. It can create chaos – leading to low-quality work, unhappy employees, and missed deadlines!
That's exactly why we wrote this blog, and we hope that it helps you tackle your marketing campaign better and achieve amazing results. Good luck, folks!
Further reads:
Management Report: What is it & How to Create it?
Feasibility Study: Definition, Types, Importance & Steps to Write!
Business Development Plan: What is it & How to Create a Perfect One?
SMART Marketing Objectives: What are they & How to Write them?
Agile Marketing: Definition, Benefits & Process!
Marketing Campaign Plan: What is it & How to Create it?
Management Plan: Definition, Benefits & How To Create One?
Burndown Charts: What Are They and How to Create Them?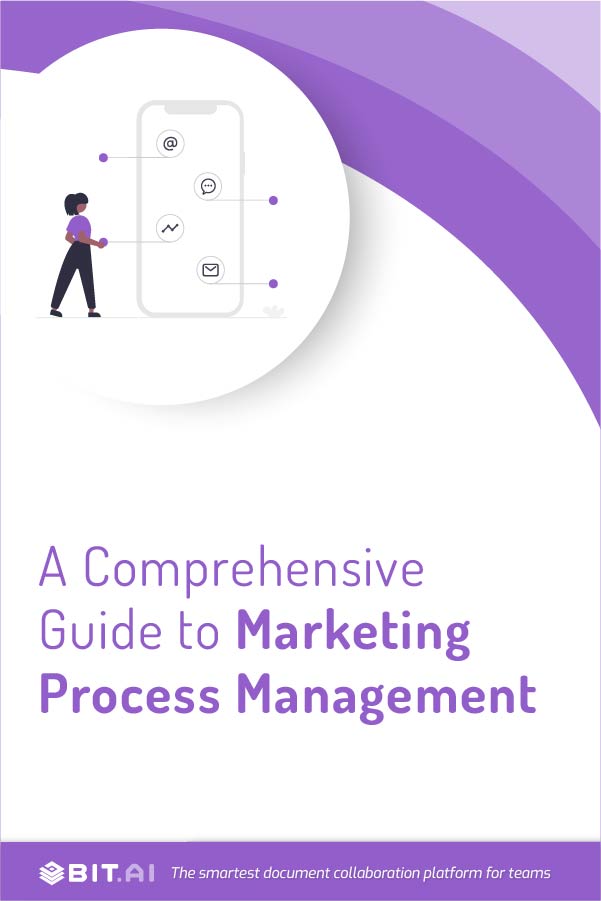 Related posts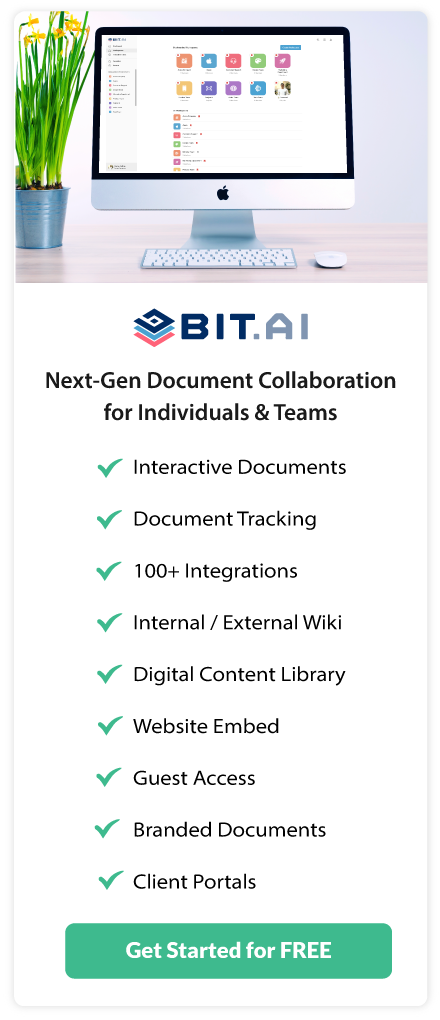 About Bit.ai
Bit.ai is the essential next-gen workplace and document collaboration platform. that helps teams share knowledge by connecting any type of digital content. With this intuitive, cloud-based solution, anyone can work visually and collaborate in real-time while creating internal notes, team projects, knowledge bases, client-facing content, and more.
The smartest online Google Docs and Word alternative, Bit.ai is used in over 100 countries by professionals everywhere, from IT teams creating internal documentation and knowledge bases, to sales and marketing teams sharing client materials and client portals.
👉👉Click Here to Check out Bit.ai.