How often have you not done things on time – simply because you forgot? Lost count? Well, you're not alone.
Owing to our busy lifestyle and hectic work-life schedules, we may frequently fail to do things like returning a call or turning up for an appointment with the dentist or completing a deadline on schedule, and so on.
And, the more this happens, the more disorganized your life becomes in addition to the fact that you may also lose a lot of opportunities in your work and life.
Now, simple solutions to this would be asking someone else to remind you, setting a timer or alarm on your phone, or simply noting it down on your calendar.
As easy as this may seem, ask yourself how often you can rely on someone else to remind you about your tasks or how often you're going to have to take a look at your calendar to keep up with all your appointments or how many alarms could you possibly keep?
It seems unreasonable to do all this when we live in the age of technology where we have everything right at our fingertips! That's why we recommend you start using reminder apps and software!
If you're not very well informed about reminder apps and software and which ones to use, then we have you covered in this blog!
Here will we explain to you what reminder apps are and provide you with a list of some of the best ones available in the market!
Let's get down to it, shall we?
What is a Reminder App? 
As its name suggests, a reminder app or software is a tool on your smartphone that reminds you about the things you need to do, that you are likely to forget.
Though each reminder app may come with its own set of unique features, its core purpose is to keep you from forgetting about important dates, tasks, events, and so on.
A reminder app usually integrates with your calendar so that it can send you notifications when you're about to reach a deadline or when you have an appointment coming up.
This app allows you to organize your tasks into a to-do list based on the dates and priority levels, thereby making it easy for you to focus, manage, and complete your tasks on time.

List of Reminder Apps and Software to Help You Out!
Let's kickstart the list with Todoist, task manager, and reminder app with a clean and simple interface loaded with features. Its Quick Add option allows you to set reminders and create tasks with just your voice!
With Todoist, you can manage your tasks, prioritize them according to dates and even delegate them to other people on your team. It also lets you keep track of your projects.
Todoist is smart enough to learn how your business works and how you spend your time so that it can suggest recurring tasks and prioritize your reminders for you! What's more? It gamifies your reminders by using a 'streak system' and provides you with real-time alerts and updates as well.
Key Features
Creates to-do lists for better organization.
Helps micromanage daily tasks.
Available in 20 different languages
Pricing
Free with limited functionality.
Premium tier stars at $3 a month.
Annual subscription: $5 per month for the business package
If you're someone who regularly uses the Microsoft productivity suite, then you can easily get accustomed to the reminder software it offers for desktops called To-Do. It is designed to manage your tasks and increase your productivity.
With Microsoft To-Do, you can break down your work into manageable tasks with recurring dates and set reminders. Its smart suggestion feature learns your habits and pattern to provide you with suggestions in the future.
Microsoft To-Do comes with a personalized daily planner, which allows you to take detailed notes, periodize your tasks, create sub-tasks, and prioritize them with colors and due dates. What's more? It even allows you to collaborate with others, making it a great app for your work life.
Key Features
Offers a smart suggestion feature
Comes with a daily planner
Supports collaboration
Pricing
Read more: Focus at Work with the Help of These 11 Effective Ways!
Desktop Reminder is a free reminder app for your Windows PC that comes with a multitude of features and offers stable performance. It reminds you about everything from office-related work to daily tasks, bills, and more!
Desktop Reminder has a 12-month calendar that displays all your past and future tasks. It allows you to set reminders for repeated tasks and even lets you set alarms at a specific time.
A cool thing about Desktop Reminder is that you don't have to actually log in to your computer each time, it sends you emails and text messages to remind you about your tasks and schedule.
Furthermore, Desktop Reminder has a straightforward and simple user interface and its system requirements are pretty low, thereby providing you lightning speed.
Key Features
Offers lightning speed performance
Features a 12-month calendar displaying past and future tasks
Sends email and text notifications
Pricing
Are you a fan of Google's productivity tools? Then we have for you Google Keep, an excellent reminder app that allows you to create to-do lists and make notes. You can do this via typing, drawing, and adding voice notes or audio clips, and images
A cool feature about Google Keep is that it allows you to set location-based reminders. This means that you will get reminders based on your geolocation information. You also have the option to set standard time-based reminders.
Google Keep allows you to share your lists and notes with other people. It also lets you create a 'Read Later' label to save content for reading later. What's more? You can sync your to-do lists and notes with your Google account.
Key Features
Simple and easy to use
Allows typing, drawing, and sharing audio notes and images
Offers location-based reminders
Pricing
Up next on the list we have TickTick, a task manager and reminder app that will help you stay organized and perform all of your personal and professional tasks.
With TickTick, you can create notes and to-do lists and manage all your emails, files, projects, and deadlines from a single location. It allows you set multiple reminders and timers for your due dates so that you never miss any of your deadlines.
TickTick is also a great communication tool that offers collaboration features that allow you to share your lists and assign tasks to your team members. What's more? It is available on multiple platforms, such as Windows, iOS, Android, etc.
Key Features
Breaks down tasks by priority.
Comes with widgets, calendars, reminders, etc.
Offer collaboration features
Pricing
Free plan available.
Premium plan costs $2.79/month.
Here we have, Remember the Milk, a highly popular and minimalistic app to help you keep on track and boost your productivity. It will keep to-dos lists out of your head and allow you to set reminders for each task.
Remember the Milk lets you divide your tasks into sub-tasks so that you can manage them more efficiently and allows you to control multiple projects. It also enables you to share your lists and tasks with other people.
With this reminder app, you can add tags to your tasks so that it is easier to search and find them. It syncs your account across multiple devices and sends notifications via email, mobile, text, Twitter, and more so that you never miss out on any important tasks.
What's more? Remember the Milk is available on Android, Mac, iOS, and Linux, and even offers browser extensions and add-ons.
Key Features
Minimalistic and easy to use
Works offline
Send notifications
Pricing
There is a free version
Pro plan costs $39.99 per year
BZ Reminder is a lightweight, easy-to-use, and straightforward reminder app with robust features that is gaining popularity for personal use. It allows you to set hourly, daily, weekly, and monthly reminders for repeating or recurring tasks.
With BZ Reminder, you can color-code your tasks and reminders based on priority for better organization. It also has a feature that sends you notifications for missed calls and reminds you until you cancel it.
A really cool feature about BZ Reminder is that it comes with an Android Wear smartwatch support, which allows you to set, snooze, or even dismiss reminders from it using voice commands. What's more, it has widgets, calendars, and more.
Key Features
Easy to use and lightweight
Supports Android Wear
Notifies missed calls
Pricing
Basic – Free
Paid plan starts from $3.99
Read more: 10 Best Free Online To-Do List Apps to Help Improve Your Productivity!
If you're a user of iPhone or iPad, then Capsicum is a great reminder app for you. It is like a digital planner that allows you to set different notebooks, take notes, set reminders, and manage to-do lists.
Capsicum is smart and comes with AI elements that help you track your work and habits to prioritize your tasks and plan out your day. It integrates with your Apple calendar and allows you to set monthly, weekly, and daily to-do lists so that all your tasks, reminders, and appointments are in a single location.
With Capsicum, you can even shift your incomplete tasks to other days and access reports about your to-do lists to get a full picture of your productivity. Furthermore, Capsicum has a Time Travel feature that allows you to navigate to a past or future date quickly.
Key Features
Integrates with calendar
Time travel feature
Comes with AI elements
Pricing
$1.99/month or $19.99/year
Last on the list, we have Any.do, a popular to-do list and reminder app that helps you organize your tasks, lists, and reminders in a single place.
It has a clean and simple user interface that allows you to switch between beautiful themes to change the look and feel of the app.
Any.do lets you add smart reminders that automatically sort in chronological order and connect with your calendar to give you a complete overview of your schedule.
The coolest part is that Any.do offers geolocation tagging that allows you to get reminders when you are in close proximity to a specific location.
Any.do seamlessly sync across all devices and supports cross-platform compatibility, which allows you to switch from Web, iOS, and other platforms to Android or vice-versa.
Key Features:
Create smart reminders in chronological order
Allows geolocation tagging
Supports cross-platform compatibility
Pricing
Free version available
Premium account costs at $2.99/user
Business account costs $2.99/user/month
Conclusion
Forgetting things from time to time is absolutely normal. With a shrinking attention span and a hectic schedule, it's definitely getting harder to keep track of everything in our lives.
And for this reason, the existence of reminder apps has been truly a blessing. Installing one on your phone – the one thing we carry around everywhere – can ensure that you never forget an important date or miss an important deadline.
We hope that this blog has educated you enough about the different reminder apps and software available in the market for you to pick the one that fits your needs!
Now go out there and download a handy reminder app! Adios!
Further reads:
11 Powerful Time Management Strategies to Save Time!
13 Online Meeting Apps and Software for Remote Teams!
20 Best Online Collaboration Tools For Teams!
11 Kanban Tools and Software to Explore!
11 Dashboard Software You Should Explore in 2022
6 Workflow Tools and Apps for Smoother Processes!
10 Appointment Scheduling Software in 2022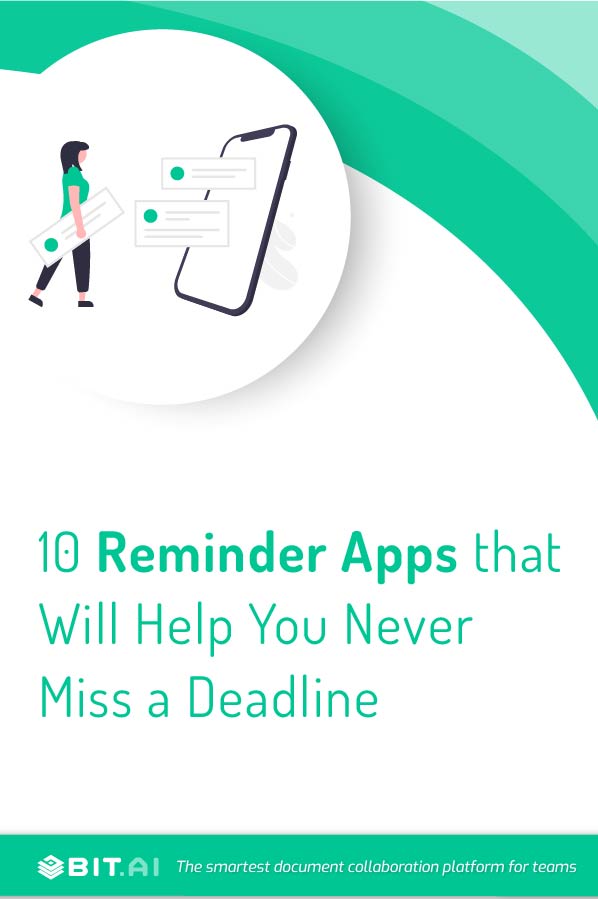 Related posts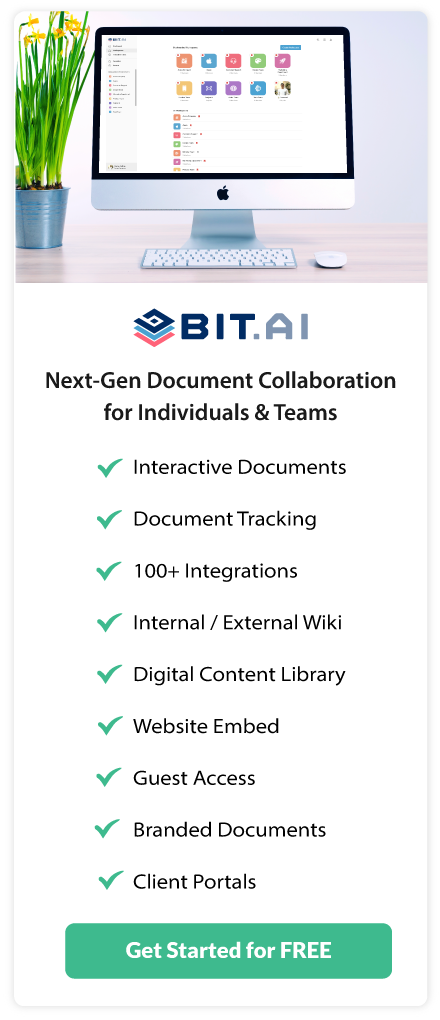 About Bit.ai
Bit.ai is the essential next-gen workplace and document collaboration platform. that helps teams share knowledge by connecting any type of digital content. With this intuitive, cloud-based solution, anyone can work visually and collaborate in real-time while creating internal notes, team projects, knowledge bases, client-facing content, and more.
The smartest online Google Docs and Word alternative, Bit.ai is used in over 100 countries by professionals everywhere, from IT teams creating internal documentation and knowledge bases, to sales and marketing teams sharing client materials and client portals.
👉👉Click Here to Check out Bit.ai.