You know that running a business comes with its baggage of problems.
Starting a business, by itself, is a big risk. As if that's not bad enough, your business is constantly exposed to multiple risks.
What if your company is attacked by hackers? What if a storm causes damage to your products? What if you lose a big client tomorrow?
There are a million different ways that something could go wrong and set you back in achieving your goals, and there are no two ways about it!
But if you know what risk management is, then you'll know that consistently tracking and managing risks can help you combat these setbacks and problems.
And what is risk management without a risk register? It helps you identify, document, track and monitor any risk that might come your way.
With a well-structured and well-defined risk register in place, your business can easily manage and overcome any and every unexpected risk.
That's why, in this blog, we will take you through everything you need to know about a risk register, its importance, and how to write one that will keep your business running even in the face of adversity!
Ready? Let's go!
What is a Risk Register? (Definition)
A risk register also called a risk log, is a document that is used as a tool by businesses and managers to identify risks that may affect their business.
It is usually created before a project or task begins, and then it is regularly updated throughout the life of that project or task.
The purpose of a risk register is to document, track and monitor any potential risks and take the right measures and actions to prevent and correct them.
Basically, it is a well-defined and structured response to the question "what could go wrong?"

Now, let's try to understand why need every business needs a risk register!
Why is a Risk Register Important?
The primary function of a risk register is to act as a database for multiple types of risks that your business is exposed to, such as security risks, financial risks, legal risks, environmental risks, etc.
The risk register enables you to list down all these potential risks into rows and then give a quick rundown of all its important components in the corresponding columns.
Let's try to understand how a risk register is useful by using an example.
Imagine that you are starting a new project and you are creating a risk register for it.
At the beginning of your project, it presents a framework for a brainstorming session. Here, all your project managers and stakeholders put their heads together to identify and establish the potential risks. These risks are then prioritized based on their probability of happening and the severity or intensity of their impact
Doing this will help your company be prepared in advance for each risk and look for appropriate corrective measures, thus reducing the negative impact of the risk.
During the course of your project, your risk register will act as a reference point that will help you keep updated with new risks. This will help you evaluate and assess the new risks, and assist you in dealing with them accordingly.
Finally, towards the end of your project, your risk register analyzes how well you have assessed each risk from the beginning. This will reveal how accurate your predictions were and whether you estimated the severity of each risk correctly.
In short, a risk register plays a crucial role from the beginning to the end of a project.
Now that you know how important a risk register is for your business, let's take a look at how to create one!
Read more: Mitigation Plan: What Is It & How To Create One?
How to Write a Risk Register? Follow these steps:
Before we get down to the steps involved in writing a risk register, let's take a look at some of the risk-related information that you will find inside a risk register:
Risk Category
Risk Description
Risk Owner
Probability Risk Rating
Impact Risk Rating
Risk Score
Risk Response Plan or Contingency Plan
Trends
Now that you know what some of the contents inside a risk register include, let's get down to the step involved in writing it:
Step 1. Brainstorm and Identify Risks
The first step is you gather your team around and brainstorm for all possible or potential risks.
Study each area of your business or project and identify any risk that hinders the achievement of targets and goals.
Consider the concerns of your stakeholders to identify their risks as well.
Step 2. Describe the Risks
The next step is to lay down all the possible risks and describe them in detail. Be specific about it. You consider following this format: Cause–Risk–Impact.
For example, instead of writing 'Fire' as a risk, write something like 'The overheating of the machinery can lead to a fire breakout, causing threat to life and damage of property.'
Here, you must also look for the potential sources of each risk, consider the probability of it materializing into problematic issues, and discuss the possible consequences or repercussions from it.
Step 3. Mention the Impact
The next step is to mention how each risk can impact the functioning of your business.
Layout in detail the possible consequences and the negative outcomes resulting from the impact of a risk.
This section is important because it helps you investigate future options, develop a strong strategy, and be prepared in advance in case of adversity.
Step 4. Prioritize the Risks
Now that you are aware of how each risk can impact your results and overall functioning, you can prioritize them according to their severity.
You can determine the risk level by categorizing them as high risk, medium risk, or low risk.
This way you can decide which risks require more time and resources.
Step 5. Assign Ownership
In this step, assign each risk to an owner. This means that each member of your team will be responsible for dealing with at least one potential risk.
This will ensure that every single member is prepared to face the problems associated with risk and solve them. It will also help avoid any confusion regarding duties and responsibilities if such a risk were to arise.
Step 6. Create a Response
This is the most crucial step because it deals with how you will respond if one of the potential risks were to arise.
Here are three ways to breakdown this step:
Prepare a Prevention Plan: Here, you come up with countermeasures to prevent or avoid risk, mitigate risk, and transfer risk to a third party.
Design a Contingency Plan: A contingency plan is an emergency response in tackling issues. You can include step-by-step instructions on what to do in the event of potential risk is triggered and how to deal with the situation. You can also discuss how to exploit risk in favor of your business goals.
Create Fallback Plans: This is a plan that outlines what should be done in case the Contingency Plan fails.
Keep this section of your risk register concise and to the point.
You can add a link or attachment of your risk response strategy, contingency plan, and fallback plan to the document.
Step 7. Write Notes
In the last column of your risk register, you can write down any extra notes or ideas that don't fit into any of the above-mentioned steps. This is to ensure that those points and notes don't get lost and have a place to reside.
P.S: Remember, risk management should be a continuous and ongoing process with a risk manager or a project team that raises a risk to record the risk and identify actions that can be taken to mitigate the risk.
There you have it! All the steps involved in writing a risk register are now right in front of you.
But before you go, we want to introduce you to the tool that can make writing risk registers as easy a breeze! Yes, you heard that right!
Don't believe us? Then scroll down and see for yourself!
Read more: Risk Management Plan: What is it and How to Create it?
Bit.ai: The Ultimate Tool to Write a Risk Register

We know that creating a risk register can be a pretty hectic process. As if writing wasn't hard enough, it also involves a lot of brainstorming and discussions.
What you need is the right tool that can help you create documents and allow collaborative work so that the entire writing process is effortless.
For that, Bit is the perfect tool for you!
Bit.ai is a new-age document and workplace collaboration tool that helps everyone in the organization collaborate, create, and share knowledge.
Bit not only provides a commonplace for you and your team members to simultaneously collaborate and manage projects, but it also lets you create, edit and manage interactive documents.
Why do we say that Bit is the perfect tool for creating a risk register? Check out these features:
Ready-made Templates: Create your risk register using Bit's plethora of amazing templates, from which you can choose your favorite one to kickstart your work.
Auto-formatting: Focus on your content while writing your risk register because Bit will automatically format your entire document to give a very uniform and consistent look.
Media Integration: Your risk register needs to have tables to list down risks, charts, and graphs to show trends, links to your contingency plans. With Bit, you can easily embed multiple rich media integrations like tables, charts, graphs, PDFs, weblinks, etc. onto your risk register document.
Smart Workspaces: Since creating a risk register requires you to research and store information, Bit is the perfect tool for you! It lets you create infinite workspaces and folders to help you manage and organize any information related to risks and risk management.
Real-time Collaboration: Creating a risk register is a team effort and it requires multiple discussions over a span of time. With Bit, you can seamlessly collaborate with your team and work together on the same document in real-time. You can chat privately, make inline comments, co-edit, highlight sections and do so much more to ensure that everyone is on the same page.
Multiple Sharing Options: Bit documents can be shared in a live state meaning that all changes that you make to the document will update in real-time. This is a great feature because your risk register is an ongoing document that requires to be updated constantly.
What's more? Bit provides options like link tracking, password protection, expiration dates, etc.
Even though Bit is jam-packed with features, it has a simple and easy-to-understand user interface, which makes it extremely easy for new users to get on board with the platform.
All-in-all Bit is the one-stop solution for all your documentation and collaboration needs!
Conclusion
Risks are bound to happen in all kinds of projects. But with a well-structured risk register in your hands, you can easily navigate the process and mitigate risks much more effectively.
In essence, risk registers help maximize your project's chances of success. This helps you have a clearer picture of the status of your project and the factors that can reduce its potential. In many ways, it is truly a blessing in disguise.
Note that a risk register is a living document that needs to be monitored and changed however the situation demands. This is why document collaboration tools like Bit are perfect for creating such documents, as it lets you edit in real-time, make changes as needed, and use them as guides even before starting a project.
So, what are you waiting for? Create your risk register today, with a little help from Bit.ai! Good luck!
Further reads:
Information Security Plan: What is it & How to Create it?
Risk Assessment Matrix: What is it and How to Create it?
Incident Report: What is it & How to Write it the Right Way!
9 Risk Management Tools & Techniques You Must Try!
Contingency Plan: What is it & How to Create it? (Steps and Format)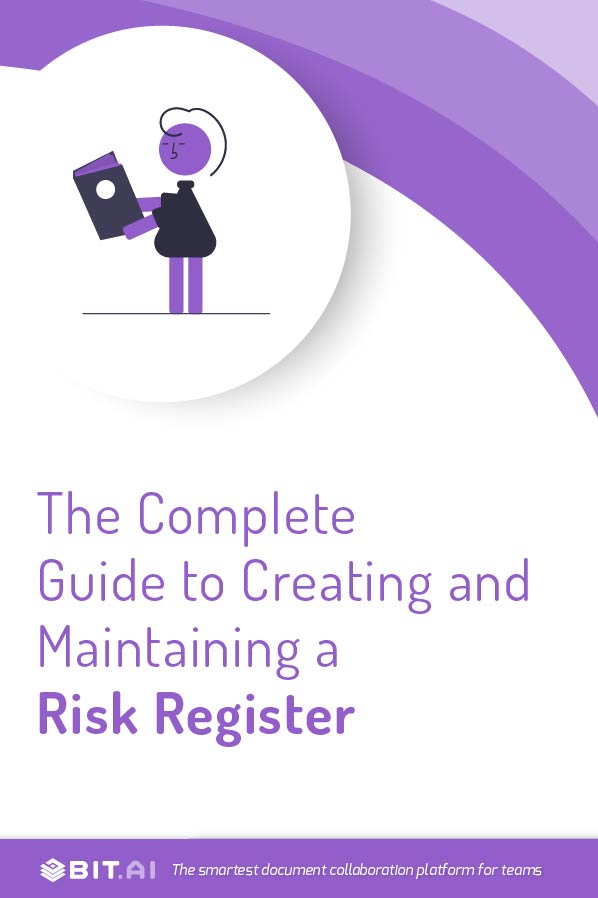 Related posts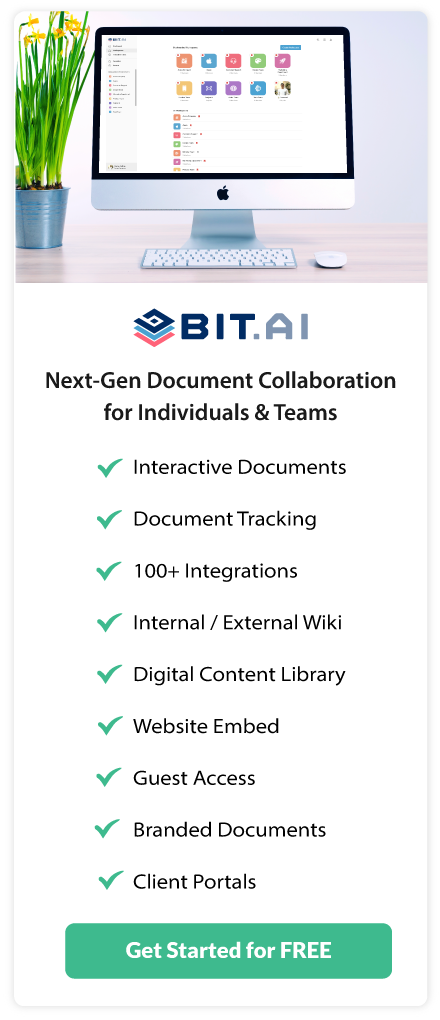 About Bit.ai
Bit.ai is the essential next-gen workplace and document collaboration platform. that helps teams share knowledge by connecting any type of digital content. With this intuitive, cloud-based solution, anyone can work visually and collaborate in real-time while creating internal notes, team projects, knowledge bases, client-facing content, and more.
The smartest online Google Docs and Word alternative, Bit.ai is used in over 100 countries by professionals everywhere, from IT teams creating internal documentation and knowledge bases, to sales and marketing teams sharing client materials and client portals.
👉👉Click Here to Check out Bit.ai.