Remote work has become more prevalent than ever.
According to the google trends report, the term remote work saw a significant hike in 2020. The Covid-19 pandemic made remote work necessary for businesses to function.
However, even before it, remote work saw an increase of 44% in the last five years.
More and more people are now adopting the work from home culture. In fact, 4.3 million people in the USA prefer working from home at least half the year.
Due to this sudden growth, a lot of tools and software for remote workers flooded the market, which connected people all around the world and helped them to do their jobs efficiently.
One such amazing tool that made the transition from office to remote super smooth is Bit.ai that helps virtual teams to create, share, track and manage all company knowledge in one place. Just like a virtual office!
Yes, Bit.ai certainly handles all the aspects of your documentation process like a champion, but there's more to remote working than documents, right?
In order to stay fully connected with your remote team, you need to make your communication system so strong, that even behind a screen, your team's productivity levels don't get hampered.
We mean, people may feel detached from work if they don't know anyone in the company on a human level and everything is screens and display pictures!
So, in this article, we will enlist some of the best online meeting apps, platforms and software in the market.
However, before getting into the list, let's get a quick view of what online meeting applications are and why they're crucial.
Ready to work collaboratively? Let's go.
What are Online Meeting Apps, platforms and Software?
Communication is the single, most important element of remote work. It is because it is the only thing that may get hampered when you're not on office premises.

Otherwise, you anyway work on a desktop and mail it to the superiors. Work does not happen offline, even in the office! It is the communication, strategizing, relationship building and supervision, that happens face-to-face.
If someone would have said years ago that a business can fully function behind a screen, nobody would believe them! This is because businesses were based in one location and never needed to expand virtually.
Today, it is amazing to see how people from one country can contribute to a business in another country, almost seamlessly. Online meeting apps and software have transformed virtual collaboration among teams.
Read on as we explore the best online meeting apps and software for your remote team.
List of 13 Best Online Meeting Apps and Software
Working remotely has its own challenges. If you're one of the 54% remote workers in the USA, you know working from home is no candies and sunshine.
However, these meeting apps and software make remote working a little easier! Let's explore them!

Starting off, Microsoft teams is one of the most popular videos conferencing software in the market.
In fact, it will completely replace Skype for business in mid-2021.
Microsoft Teams is easy to use, with a clean User Interface (UI). It has awesome file storage along with chatting and video conferencing options.
Being from a Microsoft parent body, Teams is integrated with other Microsoft programs such as Powerpoint, Excel, One Note, Words, etc. Thus, it is highly useful for people already using these tools in their workspace.
Some additional features of Microsoft Teams include – up to 300 people calls, guest access, screen sharing, file sharing, and document collaboration using the integrated applications.
Read more: Effective Workplace Communication For Better Collaboration

Zoom is a video conferencing software that hosts academic classes, webinars, meetings, and much more.
It is actively being used by organizations and individuals alike.
Zoom users get access to a unique link for every webinar or show being hosted on the platform. They can then send this link to anyone and invite them to join an ongoing event.
If the event is on a future date, this link can be used to register for it in advance. It also sends notifications to remind users of the event.

Slack is a product program that helps organizations, workers, and customers discuss work online with ease. Comments and messages are automatically distributed and are put into project channels.
The Users of this software can speak with one another in real-time.
Recently, the creators introduced the voice feature into Slack. It helps project individuals record their notes before a project really sets into action.
Slack offers different price ranges according to the size of the project.
From small businesses to international organizations, Slack is used by professionals of all kinds to manage communication in their organization.
For instance, NASA's Jet Propulsion Laboratory, which put a robot on Mars is using Slack for their everyday operations!

Next up on our list is Yammer. It isn't your average day-to-day communication website. Consider it as a private web-based media webpage made only for your company.
Used by 80% of the Fortune 500's top organizations, Yammer considers the protection of your information just as important as communication.
Users can share files and communicate only with people with a valid IP address.
Launched in 2008 as a start-up, Yammer is currently claimed by Microsoft and is effectively incorporated into Office Platforms.

The brainchild and the virtual collaboration tool of Cisco systems, WebEx is one of the most well-known tools for video conferencing, online gatherings, screen share, and online courses.
It is a flexible and simple-to-use tool.
Webex integrates with a range of popular software like Office 356, Github, Salesforce, and Google Drive.
It has different pricing charts according to user needs. It has a personal version for individual users and a starter version for small businesses and sole entrepreneurs.
For more advanced features, Webex has "plus" and "business" plans as well.
Read more: Best Internal Communication Tools for Your Business

Google Meet is the conferencing feature of Google that comes with many advanced features such as mobile access, private chats, and screen sharing.
Being a part of Google makes this tool more credible and adds to its popularity.
You can access Google Meet directly from your Gmail account. You can send invites for meetings and accept invites from Gmail itself.
It is free to use and thus is useful for small businesses or individuals.
The quality of Google meet conferences is however slightly low in comparison to other software.

Uberconference is another, slightly lesser-known video-conferencing application that comes with several useful features.
Unlike other meeting applications, there is no limit to the number of calls in a month in Uberconference. Users can record calls, transcribe speech and enable screen sharing.
Transcribing speech gives subtitles at the bottom of the window. It helps when a person is giving a lecture and someone misses out on a word or sentence. Different accents also pose a problem. When speech is converted to text, it is much more efficient.
However, Uberconference does not yet support international calls.

Team Viewer is remote desktop software with a comprehensive set of features. It boasts itself to be a reliable partner for all remote teams.
Users can monitor, work, and even repair desktop virtually using TeamViewer.
Suppose you get stuck with a technical issue and want to take assistance from a colleague. Telling the directions over a call is tedious and may not even work.
Instead, he/she can directly access your computer using Team Viewer and fix the error.
It facilitates IT management, Remote support, and AR, VR support along with online meetings and communications.

Adobe Connect is a virtual collaboration tool by Adobe software that uses the tag line, 'Welcome to the real virtual' and abides by it.
It is popularly used for conducting meetings, conferences, and classrooms. The host has complete control over the narrative and engagement of the meeting.
With Adobe Connect, you can record, present, screen share, and do on-demand webcasting.
It also has a unique event tracking feature that differentiates Adobe connect from other meeting applications.
The tool, however, does not offer private chat as of now.

GoTo meeting is an online conference and meeting software primarily designed for corporate use.
To access the tool, you don't need to download any external application. Its web-based server has a strong interface compatible with mobile phones and desktops.
Some features include HD audio, real-time chat, screen sharing, and direct messaging.
A slight con of this software is that it is not integrated with Outlook so some people might face a problem with that.

As the name suggests, Global meet is a video calling software that focuses on global connectivity.
It makes international video calling seamless with features like easy to use interface and great connectivity.
On Global Meet, you can directly set up a meeting from Outlook.
An interesting feature of Global Meet is the 'hold Music' function. When you put someone on hold, you can play music for them while you're gone!

Whereby is a collaborative space for professionals who want to host video meetings effortlessly?
Users don't need to install any physical tool to access Whereby.
It offers screen sharing, whiteboarding, hand raise, presentations, and much more on its browser-based tool. The UI (User Interface) is easy to use and has a one-click join meeting function.
One setback of this software is that it does not contain on-demand webcasting.

Pexip is a video conferencing tool ideally matching a large, globally dispersed workforce.
The software provides screen sharing, on-demand webcasting, real-time chat, record and playback, and many more.
It, however, does not offer hand raising and HD audio options.
Conclusion
This was our list of some of the best online meeting tools. It is crucial for your team to use one of these to stay connected to build an effective and healthy work environment.
Know about any other online meeting apps and software? Do let us know by tweeting us on @bit_docs!
Further reads: 
Meeting Plan: What is it & How to Create an Effective One?
Most Popular Free Screen Sharing Tools For Collaboration
Communication Plan: What is it & How to Create it? (Steps included)
17+ Remote Work Stats That Will Shock You!
11 Best Video Conferencing Software For Teams!
Why Companies Need to Invest in Work-From-Home Technology?
Remote Tools to Help Counter Coronavirus Pandemic
Combating Social Isolation in Remote Working
15 Team Meeting Ideas & Topics For Your Next Meeting!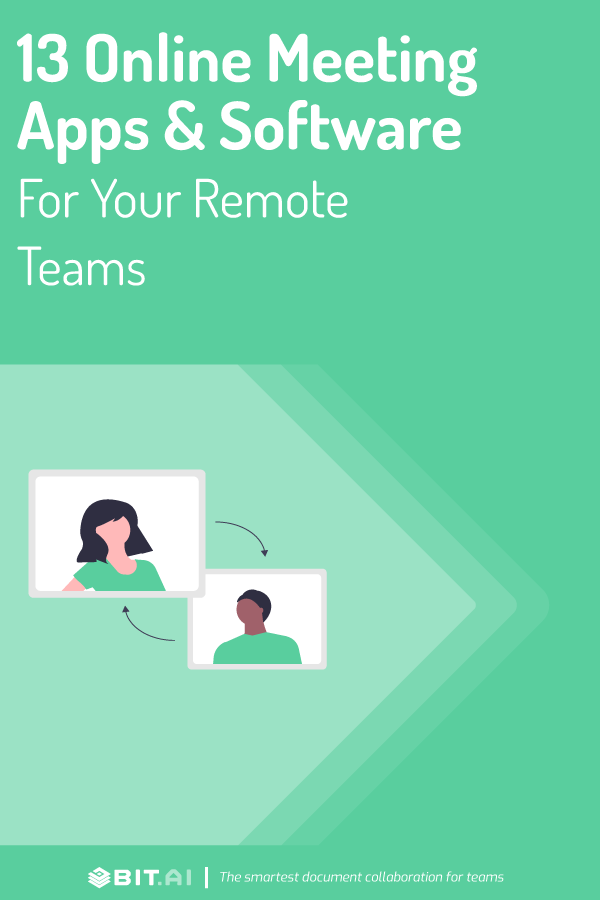 Related posts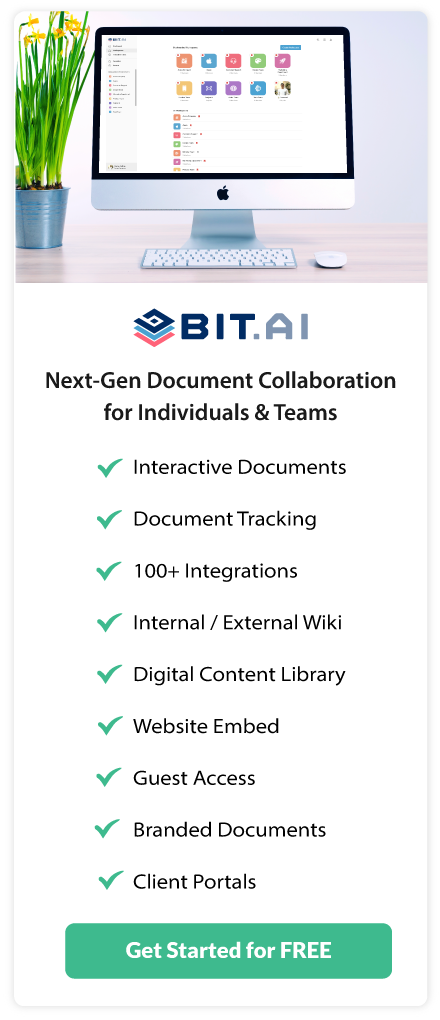 About Bit.ai
Bit.ai is the essential next-gen workplace and document collaboration platform. that helps teams share knowledge by connecting any type of digital content. With this intuitive, cloud-based solution, anyone can work visually and collaborate in real-time while creating internal notes, team projects, knowledge bases, client-facing content, and more.
The smartest online Google Docs and Word alternative, Bit.ai is used in over 100 countries by professionals everywhere, from IT teams creating internal documentation and knowledge bases, to sales and marketing teams sharing client materials and client portals.
👉👉Click Here to Check out Bit.ai.