As a project manager, you probably hear the word 'agile' a lot. It is becoming increasingly popular and seems to be creating a buzz almost everywhere in the world of business…and for good reason!
Agile literally means the ability to move quickly and easily. This applies to project management and software management. Being agile brings the team together, boosts communication, creates room for improvement, and simply helps you get the job done quicker.
For businesses that juggle multiple projects, tasks, and deadlines, the agile methodology is the solution to manage them all without compromising on quality.
With the growing number of agile project management tools in the market, it is important to find the tool that works for you best.
So we have taken it upon ourselves to provide you with a list of some of the best agile project management tools for managing your agile projects. Let's get started!
What is an Agile Project Management Tool?
We all know that a project management tool helps project managers and teams to effectively plan, track, organize, collaborate, and manage projects.
Now let's try to understand what agile methodology means.
The agile methodology involves dividing or breaking down a whole task or project into multiple smaller tasks and attaching them with incremental work phases known as sprints. The primary goal behind this is to get rapid and early delivery, regular reassessment, continuous improvement, and flexibility to make changes.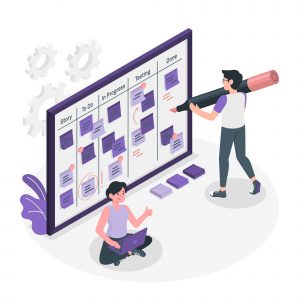 When talking about 'agile', it is important to note that it is considered more of a mindset or philosophy that most teams and organizations follow rather than a set of specific tools.
However, there exists a set of project management tools that are used by agile teams to accomplish their goals. These tools can be referred to as agile project management tools.
So, going by definition, an agile project management tool is a project management tool that utilizes the agile methodology to manage teams across various departments and automate processes to increase workflow and productivity.
A good agile project management tool supports:

A centralized workspace for documentation and communication
Collaboration features for sharing and communication
Project planning and Time tracking
Roadmapping features
Tracking progress and measuring performance
Task management and Backlog management
Now that you have a basic idea about agile methodology and agile project management tools, let's take a look at some of the best ones available in the market.
List of Agile Project Management Tools
Let's start off the list with one of the most popular agile project management tools of all time, Atlassian JIRA. It is primarily aimed at software developers, IT professionals, UI/UX designers, and development teams.
Jira supports fully customizable Scrum and Kanban boards, which allows you to easily adapt to your team's general workflow. It lets you visualize and manage all your daily tasks and sprints, and assign tasks to your team.
With Jira, you can create roadmaps for your project which allows you to visually track them. You can get a real-time view of your team's performance using its burnout charts, velocity charts, cumulative flow diagrams, epic reports, and more.
Moreover, Jira supports a simple backlog management system and bug-tracking software and integrates with various developer tools.
Pricing:
Jira's free plan supports up to 10 users
$7/user per month for 10 users or more
The Premium plan is $14/user per month
Related: 8 Best JIRA Alternatives and Competitors For Project Management!
Asana is an all-in-one cloud-based agile project management tool that helps you plan, organize, and track the progress of your projects and tasks.
Using Asana's shared workspace, you can manage multiple projects at the same time and collaborate with your co-workers and teams. It even provides you with real-time status updates.
Asana comes with several agile features such as project timeline, project and task templates, Gantt charts, Kanban boards, sprint planning, bug tracking, roadmap planning, backlog management, and lots more. It also has a clean and user-friendly interface that offers drag-and-drop functionality.
Additionally, Asana has an offline feature that updates your tasks and automatically syncs them once you're online. It also integrates with multiple third-party applications.
Pricing:
Basic plan is free of cost
Premium plan at $13/month
Business plan at $30/month
Contact for enterprise pricing
Next, we have, Monday.com, an all-in-one project management tool that works for all agile team sizes. It lets you create and manage projects and tasks and track time and productivity.
Monday.com is highly intuitive and user-friendly and helps automate repetitive tasks. It visualizes data through its dashboard, provides a clear overview of your overall workflow, and shows your agile project details in a timeline view with the help of Kanban boards.
With Monday, you can easily share files and collaborate with your teams in a shared workspace to keep all your team members on the same page.
Monday.com comes with various agile project management features such as project tracking, time planning, reporting, and many more. Furthermore, Monday offers templates and integrations with multiple apps.
Pricing:
Basic plan costs $10/user/month
Standard plan costs $12/user/month
Pro plan costs $19/user/month
Enterprise plan – contact for pricing
Trello is a well-known agile project management tool that is based on the Kanban and Scrum framework to help you visualize and organize your workflow. It supports an intuitive and easy-to-use, drag-and-drop interface
Trello helps you assign, organize, and prioritize your tasks, and add descriptions to each task with a Trello card. It also lets you set deadlines and due dates, create checklists, and track your processes.
What makes Trello unique is its robot called Butler, which automates processes using rule-based triggers, calendar commands, due date commands, and by creating a custom board and card buttons.
Moreover, Trello offers ready-made templates for common projects, provides a calendar view of your deadlines, and sends you notifications and alerts. It also has unlimited storage and supports an unlimited number of users.
Pricing:
Free version available
Business Class plan costs $9.99/user/month
Enterprise plan costs $17.50/user/month
Read more: 14 Best Free Trello Alternatives in 2022
Here is ActiveCollab, an agile project management software that offers excellent reporting and budgeting features. This makes it a great tool for e-commerce and small businesses.
With ActiveCollab, you can create and organize task lists and subtasks, set priorities, and collaborate in real-time with your team members. It also allows you to assign and track your workflow and monitor the progress of your project on a system-wide calendar.
ActiveCollab lets you set up role-based permissions to determine who gets to view and access your project, thereby ensuring confidentiality and security of data. It helps you track the time spent on individual tasks and checks real-time task progress against the accuracy of time estimates as well.
Furthermore, ActiveCollab creates budget and expense reports, offers invoicing features, and integrates with various email tools.
Pricing:
Free plan available
ActiveCollab costs $7/user/ month.
Up next is Forecast, an agile project management tool that is built on a sophisticated AI engine. It's a great choice for agencies, consultants, and software teams.
Forecast helps maintain visibility on projects, tasks, and milestones while ensuring optimum project delivery via workflow automation and adaptive work processes. Its timeline allows you to set up ceremonies such as stand-ups, sprints, and backlog refinements.
Forecast offers intelligent features such as auto-schedule that uses machine learning to help you plan projects, estimate task duration, predict delivery dates, and allocate team members based on availability. It also has built-in features to manage workflows for Agile, Scrum, Kanban, Waterfall, or a hybrid of methods.
Furthermore, Forecast offers drag and drop functionalities, real-time reporting features, and also integrates with various tools, such as Azure DevOps, GitHub, GitLab, Jira, and more!
Pricing:
Paid plans start at $29/user/month
Wrike is another cloud-based agile project management tool that is known for project planning, streamlining workflows, and facilitating communication between agile teams. It is usually aimed at mid-sized companies.
Wrike offers a highly customizable dashboard with an interactive drag-and-drop interface, Gantt charts, Kanban boards, and more. It provides you with shared calendars to avoid any project management-related clutters.
Wrike's 360° visibility allows you to see your tasks ahead of you and provide you with real-time updates and alerts to keep track of the progress of your team. It also offers a built-in proofing and approval system to help review and approve work within the system.
Moreover, Wrike comes with project management templates and enterprise-grade security. It also offers handy integrations Google, Microsoft, Dropbox, Marketo, Salesforce, and more.
Pricing:
Free for up to 5 users
Professional plan costs $9.80 for up to 15 users
Business plan costs $24.80 for up to 200 users
Enterprise plan – contact for pricing
Read more: 10 Best Project Planning Software List with Pricing!
Next, we have, Celoxis, an all-in-one agile project management tool with a simple and intuitive user interface that helps you manage all your projects, finances, resources, and business processes. It offers enterprise-class features and dynamic dashboards.
With Celoxis, you can build project plans while allocating resources to tasks based on demand, availability, and skills. It lets you handle several tasks linked to different projects via its interactive Gantt chart. It also allows you to collect project requests from different sources and organize them based on KPIs.
Celoxis combines resource time offs, multi-time zones, part-time resources, working weekends, etc., into one schedule with its advanced scheduling features. It also offers real-time visibility into profits and budget spending.
Moreover, Celoxis has robust reporting capabilities and lets you automatically send reports as an attachment in an email. It also supports various collaboration features including a customizable free client portal.
Pricing:
Monthly billing at $25 per user-month
Yearly billing at $22.50 per user-month
Two-yearly billing at $21.25 per user-month
Three-yearly billing at $20 per user-month
Here we have Pivotal Tracker, a story-based agile project management tool that lets you conceptualize your tasks as a story and rank them according to their complexity. This makes it easy for you to manage tasks, monitor workflows, and communicate with your clients.
Pivotal Tracker offers a project monitor that gives you a real-time view of your shared work, team status, project priorities, individual objectives and responsibilities, next steps, and more. Its iteration planning breaks down tasks and duties into manageable chunks. It also has a whiteboard for discussions and adding comments.
This software has an analytics page that helps you measure your velocity and the rate at which stories are created, completed, rejected, or put on hold. It also includes a burnup chart, an iteration report, a cumulative flow chart, and more.
What's more? Pivotal Tracker offers more than 140 third-party apps and integrations
Pricing:
Offers free plan
Startup Plan at $10/month
Standard Plan at $6.50/month
Enterprise Plan – Custom pricing
Axosoft is an agile project management tool that helps streamline processes with its agile-scrum framework. It lets you create plans, organize process steps, and collaborate effectively to tag and solve issues. It
With its release planner feature, you can drag and drop tasks, bugs, and stories to assign them or mark them finished. It provides you with an overview of your team members' tasks and their progress using its burndown charts.
Axosoft has a workflow dashboard that allows you to share notes and comments on various tasks. Its help desk feature lets you turn your emails into support tickets. Your customers will have their own portal for communicating their requests and feedback directly to the team.
Other key features of Axosoft include project scheduling, document management, issue management, project collaboration, reporting, resource management, task management, and time tracking.
Pricing: 
Cloud-based pricing starts at $105/month for 5 team members
The installed option starts at $1,250 for 5 team members
Nutcache is an all-in-one agile project management tool that is designed to manage your entire project lifecycle from the first stage to the final stage. It's great for all types of business owners, from sole traders up to large companies.
Nutcache allows you to plan, track, and organize your tasks using color-coded schedules, task organization queues, and data reporting. You can organize it with agile or scrum project management as well.
With Nutcache, you will also be able to see the state of your projects and prioritize or rank them by their due dates, build customer workflows, break down tasks, visualize your deadlines, and more. You can also track your sprint progress and product's profitability using its scrum framework and project dashboard.
Nutcache also gives you control over project budgeting, time tracking, expense management, product billing, and more. It even integrates with multiple apps, such as Google Drive, GitHub, Slack, PayPal, QuickBooks, and more.
Pricing:
Free for up to 20 users
Pro plan costs $6/user/month
Enterprise plan costs $12/user/month
Bonus Tool! Bit.ai: The Ultimate Tool For Project Documentation
Good documentation is the foundation for good project management and that is where Bit comes in. Bit serves as a central hub where collaborators, content, and communications can be accessed in one all-inclusive document.
Project managers use Bit to create planning documents, collaborate with peers in real-time, and store all project assets in one place for easy and fast access. Check out some amazing features of bit:
Create Interactive Documents: You can add content from over 100+ various applications that will live inside of your Bit documents. Add Excel spreadsheets, PDFs, Google Forms, Gantt charts, Maps, YouTube videos- basically anything on the internet with a link and Bit will automatically convert that into live content living inside your document!
Smart Editor: Bit's minimal and distraction-free editor makes a great tool for project documentation. The platform also supports Markdown for fast typing. Once you are done creating, you can easily export your documents as Word files, Markdown, PDFs, and much more.
Templates: Kickstart your project management with amazing ready-made templates specially made for project managers. The project management plan, project charter, project proposal, project tracker- there are countless templates for numerous use-cases.
Smart Workspaces: With Bit, you can create infinite workspaces and folders to help you manage and organize information related to your project. It allows you to bring all your documents, media files, and other important project data in one place.
Collaborate in real-time: Multiple people can simultaneously collaborate on a Bit smart document in real-time. It's a great way for employees to discuss project details, work on spreadsheets, brainstorm ideas, collaborate on documents, manage to-dos, share assets, and more. Bit's sleek, minimal and distraction-free editor makes a great tool for documentation.
Safe & Secure: Bit allows users to manage permissions and information access that suits their organizational needs. It supports features like document tracking, password protection, file access restrictions, etc. that help keep your important company information safe.
Multiple ways to share: Bit documents can be shared in a live state, which means that all changes that you make to the document will update in real-time.
In short, Bit provides a common workplace for project members and teams to collaborate, document, share their knowledge, brainstorm ideas, store digital assets, and innovate together.
So what are you waiting for? Do yourself a favor and get Bit today!
Wrapping Up
Despite being fast-paced, an agile environment can be a chaotic one if its individual processes, methods, and techniques aren't centralized.
For agile teams, it is extremely crucial to coordinate their efforts and the only way to effectively do this is with the right agile project management tools.
We hope our list has helped you get an idea of the various agile project management tools out there.
Now all you have to do is examine what your teams need and consider your budget before choosing a tool for your organization. Good luck!
Further reads:
10 Task Management Tools Every Business Must be Using!
11 Gantt Chart Software You Should Check Out!
9 Best Form Builder Software in 2022!
Best Document Management Systems of 2022
Burndown Charts: What Are They and How to Create Them?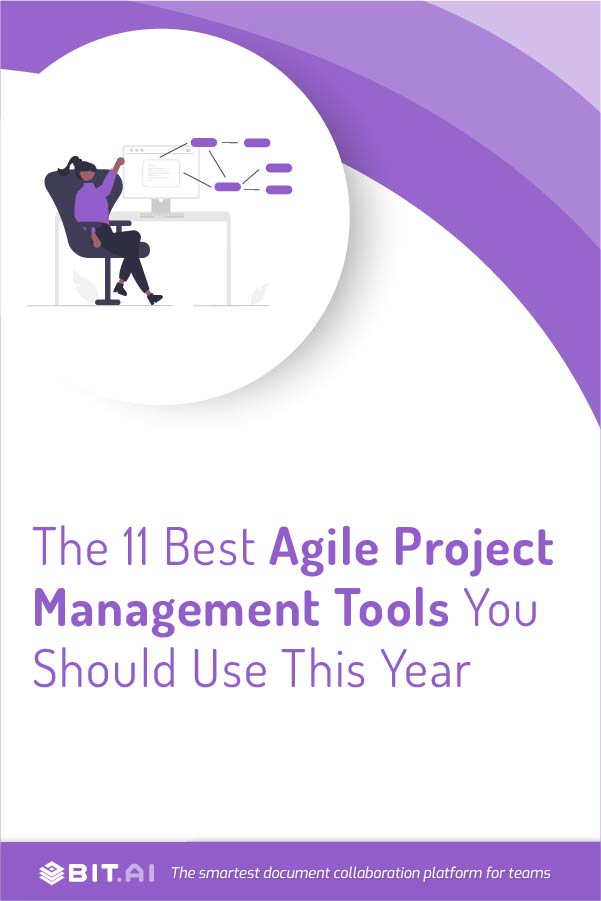 Related posts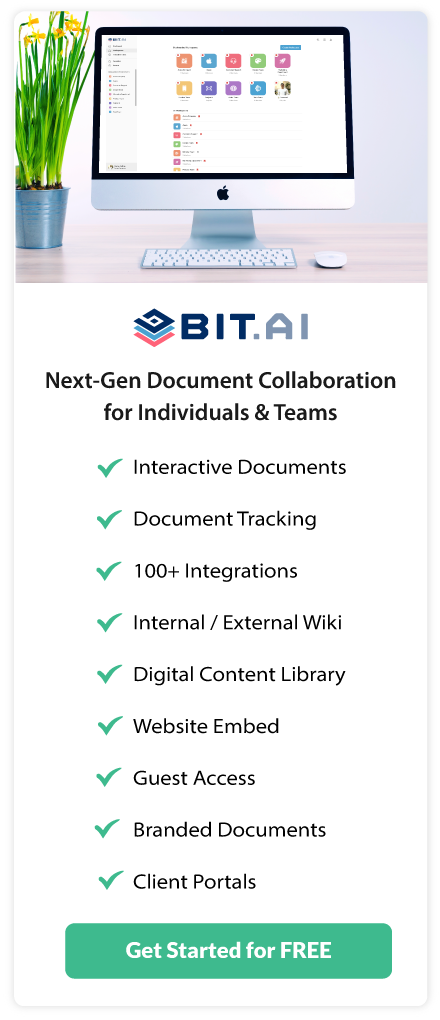 About Bit.ai
Bit.ai is the essential next-gen workplace and document collaboration platform. that helps teams share knowledge by connecting any type of digital content. With this intuitive, cloud-based solution, anyone can work visually and collaborate in real-time while creating internal notes, team projects, knowledge bases, client-facing content, and more.
The smartest online Google Docs and Word alternative, Bit.ai is used in over 100 countries by professionals everywhere, from IT teams creating internal documentation and knowledge bases, to sales and marketing teams sharing client materials and client portals.
👉👉Click Here to Check out Bit.ai.