Are you looking for Trello alternatives and don't know where to start?
We understand how difficult it can be to comb through all that research and test different applications to find which one best meets your needs. So, we have curated a list of 14 tools that each offer a different set of features from Trello. Read on to find out whether you and your team should use Trello or any of the below Trello alternatives.
A recent study showed that 30% of employees believe that apps improve productivity and 23% believe that they increase their productivity.
We all know the saying "time is money." In this age of rapid digitization, professionals cannot afford to waste time in their job. SaaS companies have long recognized this need to save time and resources, and as a result, there are a large number of productivity apps and tools available on the market today.
If you are looking for Trello alternatives, you already know about the all-important need to be productive. So let's talk about Trello for a minute, shall we?
What exactly is Trello?
Trello is a fun and interactive project management tool that lets you organize your work and tasks into visual boards. You can then add tasks or cards to these projects, assign a due date, add descriptions, attach assets, create checklists, make labels, and assign tasks to fellow team members.
Trello offers Kanban-style boards that allow you to drag and drop your task cards around as you organize your workflow. What sets it apart from other project management software is its user-friendly interface, making it a breeze for anyone to get up and running quickly.
Trello also has iOS and Android apps so you can always stay in sync, wherever you go. Unfortunately, if you are a part of a large team, Trello can get pretty messy, even with the Kanban-inspired design. As workforces grow some users have noted that they don't get email notifications on time when a task is edited, or their board starts to load slowly as more tasks are added.
Trello 'generates' most of its power from its ability to add on third-party apps or 'power-ups.' But these power-ups come at an additional cost of up to $9.99 per user.
No matter how 'perfect' some of us think a tool is, sometimes we want to see if there are alternative products that could meet our unique needs better.
For those of you who want to compare tools and see if there is task-oriented software better suited to your needs, look no further. We have curated a list of some of the best Trello alternatives in the market. Let's get started!
List of 14 Best Free Trello Alternatives and Competitors:
Let's take a look at the best Trello alternatives out there and decide which one is the best fit for you: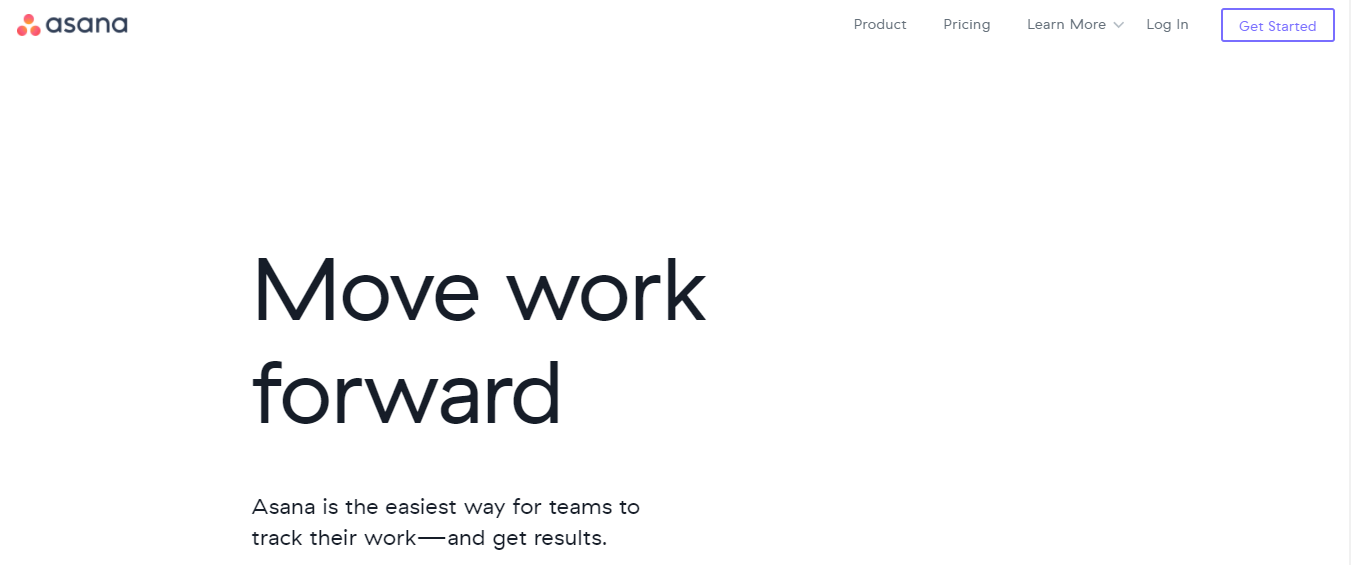 Asana has consistently been a crowd favorite Trello alternative and competitor.

Asana is a project and task management tool that makes team collaboration and communication a breeze. With Asana, you can assign tasks, view progress, have conversations all in one place. Asana is a fast, responsive, beautiful-looking, and feature-rich application.
You can share notes, attachments, follow and 'like' tasks, add due dates, and receive email notifications when a task is assigned to you or if someone on your team has made changes to the task or project.
Asana makes it easy to add files to tasks, with a size up to 100MB and the best part is there's no storage limit. With plenty of third-party integrations like Dropbox, Hipchat, Zendesk, Jira, and much more, Asana enhances your productivity and helps you handle all your operations from a single tool.
Apart from the Kanban-style Trello interface, Asana allows your tasks and projects to be displayed in the list view, calendar view, or file view. It's a fun, simple app that gets the job done well.
Pricing: Asana is free for up to 15 users and offers unlimited projects, tasks, and conversations. Pro versions start at $10.99/month.
Read more: 11 Asana Alternatives & Competitors You Must Know About!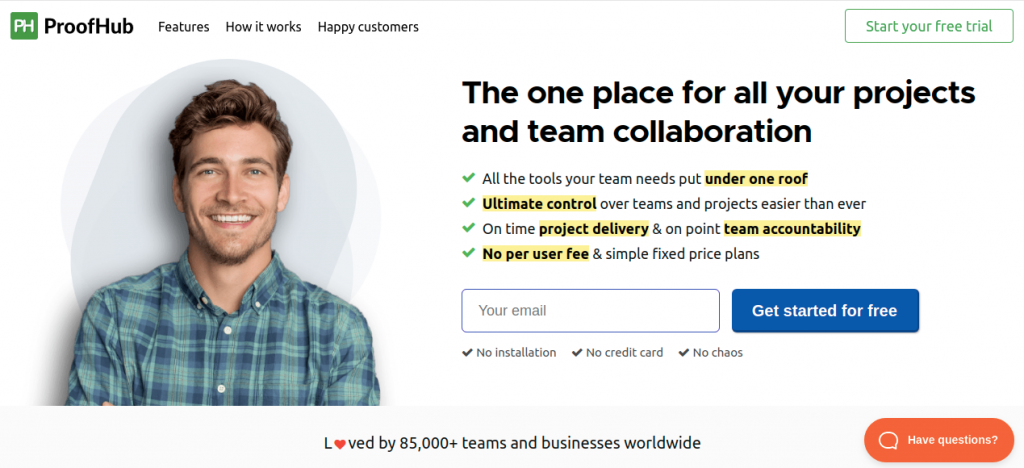 ProofHub -task management, project management, and team collaboration software — is another powerful alternative to Trello. While using Trello would mean that you'd need to spend on a chat tool (or any other tool) separately, ProofHub replaces multiple tools with one.
ProofHub in addition to board view has three more views for your tasks: Gantt chart view (timeline view), list view, and calendar view.
It has all the advanced features to add tasks, prioritize them, assign them to multiple people, collaborate over them, @mention people, attach files, set start and due dates, set estimated time, and even track time spent on them.
Unlike Trello, ProofHub allows you to customize access levels and add custom roles for your teams and clients in addition to the default access levels.
ProofHub has resources, projects, and workload reports too. Besides that, users get to track time and also export time entries to third-party apps like FreshBooks, QuickBooks, etc. Notable users of ProofHub would be Netflix, Nike, Disney, etc.
Pricing: ProofHub is available in two ways. The Essential plan is for $45 /month when billed annually. The bigger plan — Ultimate control — is for $89 /month when billed annually. There is no per-user fee as of now. And there is a 14-day free trial which allows you to try the features included in the bigger plan too.

JIRA is another alternative to Trello specifically designed for software teams. It is a software development tool that helps software teams plan, track, and release great software. You can even evaluate your project timelines and progress by generating automatic reports.
You can assign and distribute tasks, track each project with full visibility, and get real-time reports to improve your team's performance and efficiency.
You can enhance Jira, by integrating it with thousands of add-ons including Hipchat, Zephyr, Bitbucket, Confluence, and many others. JIRA also has mobile apps so that your software developers can stay in sync, even when you're on the go.
Pricing: Jira offers a free 7-day trial and costs start at $10/month for a team of 1-10 members.
Read more: 7 Best JIRA Alternatives For Project Management in 2022
[/vc_column_text]

The fourth most powerful alternative to Trello on our list is Airtable. Airtable's customizable interface allows it to work dynamically with every team's unique needs. If you like searching and filtering, then you'll find Airtable a powerful database for project management.
Do you love working and managing projects in spreadsheets, but feel restricted at times because you aren't able to move beyond text in cells? Airtable is just the tool you need. Airtable makes the often boring task of adding, managing, and collaborating data a lot more intuitive with their colorful interfaces and easy to use mobile and desktop apps.
The best part is you do not have to stick with the spreadsheet view of your work as Airtable allows you to switch your data to a grid, gallery, or even a Trello like Kanban view. You can add any type of content- long text notes, checkboxes, attachments, or links to records in other databases to Airtable's highly flexible data fields.
Airtable can even be integrated with your favorite office apps like Slack, Gmail, Dropbox, Google Drive, Zendesk, and even social media platforms like Facebook, Twitter, Instagram, etc. With a user base boasting of Tesla, Buzzfeed, and Airbnb, this Trello competitor is a must-try.
Pricing: Airtable is free for use with a 2GB attachment space/base and a 1200 records/base limit. The pro plan starts at $10/month.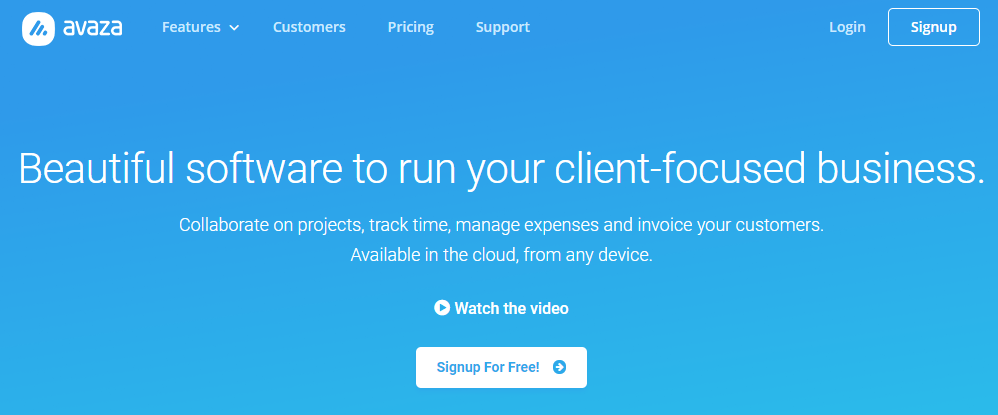 Avaza is a project management tool with some bells and whistles of accounting software. It allows users to collaborate, tracks time spent on tasks or projects, generates expense reports, timesheets, sends invoices to customers, and even get paid right there from the tool.
Avaza allows for easy collaboration with email-enabled discussions and notifications. It also provides the ability to switch between Kanban, Gantt, and list views for tasks that you create. It even allows you to convert an email into tasks, track the completion rate of a task, time spent on tasks, and much more.
You can integrate files into Avana from your Dropbox or Google Drive to keep all your files in one location to avoid duplication and confusion.
Avaza is especially useful for freelancers or small businesses. It allows you to share your project board with your customers, send them quotations, and share project reports. The customers or clients can then track the time spent, the estimated costs of projects, and receive and pay invoices through Paypal, Visa, Mastercard, etc.
Pricing: Avaza is free for a single user, who can work on five projects per month, ten customers, five invoices, and 100MB storage capacity. The pro plan starts from $9.95/month.
Read more: 16 Best Business Tools Every Business Needs in 2022

Launched in 2017, ClickUp is a relatively new Trello alternative and competitor. Just like your typical project management tool, ClickUp allows you to assign tasks to teammates, assign comments, get notified about changes, and make adjustments to dashboard view (lists, boards or blocks).
What sets ClickUp apart and makes it a compelling Trello alternative is its machine learning capabilities. Though still in beta, ClickUp automatically predicts who you'll assign certain tasks to, where you'll put those tasks, and can even determine if time estimates are accurate.
ClickUp is aiming to do what other project management tools claim to do by reducing workload and automate redundant tasks to maximize productivity.
Other notable features include:
Assign multiple teammates to a task
Collaboration detection which allows you to see in real-time, who is viewing, commenting, and editing.
Threaded comments
Multitask toolbar to make changes to multiple tasks in one go.
Open tasks as tabs
Check project progress percentage and track time spent on tasks with a third-party integration through Harvest.
And much more!
With built-in AI capabilities, ClickUp is one tool we have our eyes set on. Let's just hope that ClickUp lives up to the hype.
Pricing: ClickUp's "forever free" plan allows unlimited projects and spaces with 100 MB of storage. The pro plan starts at $9/month.
Read more: 6 Workflow Tools and Apps for Smoother Processes!

Mavenlink is a powerful project management tool that helps automate project management, resource planning, project accounting, and team collaboration. This Trello alternative is designed for service organizations and allows you to integrate your employees, task, projects, and resources for transparency and effective utilization.
Mavenlink is a more feature-rich Trello alternative with project management capabilities, allowing you to improve your project's performance by monitoring budget, time, and margins.
You can also manage multiple projects with ease across different departments. Mavenlink's advanced analytics provides business intelligence, identifies problem areas, and suggests best practices. Managers and team members can gain control over margins, improve resource utilization, and better forecast revenue and cost.
Mavenlink integrates with popular applications like Google, Microsoft, and Salesforce to help you have a single source of truth.
Pricing: The free plan lets you manage an unlimited number of projects with an unlimited number of teammates, but you only get 500 MB of storage. Mavenlink's paid plans are divided into four categories: Mavenlink Teams ($19/month), Professional ($39/month), Premier (Contact for a quote), and Enterprise (Contact for a quote).

Dapulse is a team collaboration tool that focuses on making collaboration as simple and intuitive as possible. It has a beautifully designed dashboard that makes sure all your projects, task, milestones, and to-dos are displayed in a visually appealing manner.
With a quick glance, you can have all the information you need, who's doing what, and what's the progress. Anyone who is familiar with social media can easily use Dapulse. You can communicate with team members, assign tasks, view progress, share progress, and stats with clients and partners, and much more.
Communicating with team members on Dapulse is as clean as it gets. You can add rows to your board (called "pulses") which keeps all your communication within the app. No need for unnecessary meetings or dreaded email threads.
A stand-out feature of Dapusle is the ability to invite clients to your workspace to work as guests. It's an amazing way to share progress with them and keep them in the loop.
Pricing: Dapulse offers a 30-day trial period and a 4-tier pricing plan– Basic ($39/month), Standard ($49/month), Pro ($79/month), and Enterprise ($144/month). This pricing model is for teams with five members and varies as the number of users increases.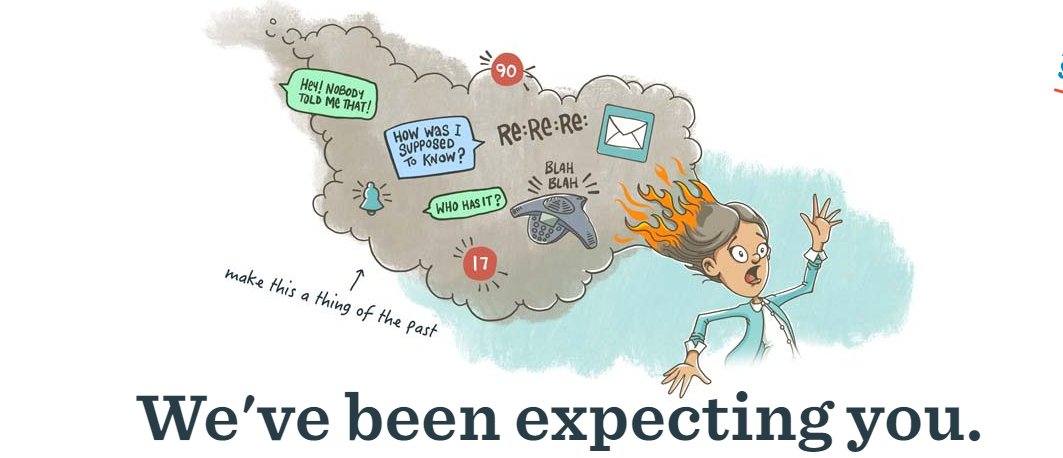 Basecamp is the pioneer in the project management and collaboration space. Started way back in 2004, was one of the first companies to introduce remote project management and collaboration.
Basecamp provides a centralized view of all the tasks, projects, and progress for maximum transparency and efficiency.
Basecamp incorporates six core tools they feel every team needs to get work done on time and within budget. These include to-dos, a message board for keeping track of conversations and updates, chat rooms for a casual chat amongst team members, a schedule for posting deadlines, the ability to share files, and automatic check-ins to get progress reports.
Even though Basecamp's design can be improved, it doesn't take away from the fact that its an excellent project management tool. It works on the web and has apps on Windows, Mac, Android, and iOS apps as well.
Basecamp now boasts over 100,000 paid customers using their product and shows no signs of slowing down.
Pricing: There's no free plan (unless you are a teacher or a student). There's only one option, $99/month for any number of users and projects with 500GB of storage.
Read more: 11 Basecamp Alternatives to Check Out!

Active Collab is a powerful, yet simple project management tool and a worthy Trello alternative. The tool works in the cloud, or you can even host it on your own servers for full control of your data.
Task management allows teams to assign tasks, track progress, attach files, set due dates, add reminders, leave comments, and stay notified about updates. You can organize tasks into lists and filter them by people, labels, or due dates.
Team collaboration allows teams to work simultaneously on a document, make edits, and leave notes. You can @ mention team members to start a conversation or alert them to changes.
Time tracking allows team members to track the time spent on a given project and bill their clients accordingly. You can list your working hours and ActiveCollab automatically calculates the billable hours and shows how much money you have made. It generates reports for set hourly rates for job types and adds time records as you work on a project.
Invoices allow users to create and send invoices to clients and even sets up payment gateways. You can keep a record of all your payments and send reminders to clients when a payment gets overdue.
Active collab boasts of over 200,000 users ranging from government institutions and universities, small businesses, and even fortune 500 companies.
Pricing: It has a 30-day trial, with plans starting at $25/month for five members and a 5GB storage option.

Taiga.io is an open-source, agile project management tool. Designed for agile developers, designers, and project managers, Taiga has a clean and easy-to-use user interface.
The developers at Tiaga themselves wanted a tool with no compromises and hence set out to create their version of the "perfect project management tool." The tool supports Scrum and Kanban workflow, it is highly customizable to suit team needs and includes many features like wikis, tasks, team collaboration, bug tracking, reporting, time tracking, integrations, social management, and an open API.
The built-in wiki feature of Taiga allows a secure location for project documentation. All team members can contribute, edit, and file to the wiki. This helps improve the quality of the wiki. It allows users to import their current projects from Trello, JIRA, Asana, GitHub, etc. into Taiga easily.
Taiga also offers Android, iOS, and Windows mobile apps to help you work when you are on the move.
Pricing: As an open-source tool, Taiga is free for use, but you can opt for monthly paid plans starting from $7 for additional features and benefits.

Wrike is a powerful Trello alternative, with various customizable widgets and views to help you and your team manage the most complicated projects.
With extensive project management features, Wrike helps you create, plan, collaborate, report, and customize your projects and tasks. If you are a heavy Trello user, Wrike's interface may seem a bit intimidating upon first glance.
Don't let that fool you, it is feature-rich. Here are a few of the wide range of features Wrike offers:
Gain visibility into projects with real-time reports
Enable collaboration with stakeholders
Live editing and file management
Budget and time tracking
Gantt-chart view of projects
Resource management
Templates to reduce duplicate tasks
Email integration which converts emails into tasks on Wrike
Calendar synchronization
Live activity stream to provide an eagle-eye view on various project updates
And much, much more!
Wrike can be integrated with all third-party apps including Gmail, Zapier, Box, JIRA, Photoshop, GitHub, and much more. Using Wrike APIs, you can essentially connect any tool to Wrike.
Pricing: Wrike offers five pricing models. Its free plan with 2GB of storage for up to 5 users and the option to create unlimited projects. The paid plans start at $9.80/month.

Workzone is a Trello alternative and competitor that claims to be "just the right" tool for most teams. According to Workzone, it is more robust than entry-level tools like Basecamp but less complicated than powerful tools like Microsoft Project.
Workzone allows users to break down large projects into simple to-do lists and specific workspaces. Users can assign tasks, manage to-dos, collaborate on documents, access Gantt chart view of a project schedule, share files, track time spent on projects, and more.
Every project or task has on Workzone has its own comment section where team members can discuss and stay informed of changes. Workzone generates graphical reports that give management a quick picture of the progress. Users can choose from dozens of standard reports or create you're their custom reports.
Having been around since 2000, Workzone has made quite a name for itself in the project management and collaboration space and is thus, used by big companies like Adidas, Reuters, and Verizon.
Pricing: Pricing is divided into a three-tier structure- Team ($24/month), Professional ($34/month), Enterprise ($44/month).

Teamwork is another cloud-based project management tool with a robust set of features. This Trello alternative allows users to manage projects, chat with teammates and handle customer service requests simultaneously.
Founded in 2007, Teamwork boasts over 3,000,000 users worldwide. Teamwork offers an excellent user interface that is extremely easy to use.
Get organized and more productive with Teamwork Projects, chat with your teammates with Teamwork Chat and answer customer queries vi Teamwork Desk. Teamwork acts as a one-stop shop for all your project and business needs.
The tool also provides the ability to track time spent on projects by teams and team members and generate custom time reports. It also lets users invoice all tracked time and expenses.  Pre-determine user rates per project and export them as Excel or PDF, export your invoices as HTML, and customize them before sending them to your client.
Teamwork seamlessly integrates with the majority of the apps you might be using like Google Drive, Dropbox, Box, SalesForce, etc.
Since Teamwork works in the cloud, it's accessible anytime, anywhere. With clients like Disney, Spotify, Paypal, eBay, VEVO, Forbes, and more, you cannot possibly go wrong with Teamwork.
Pricing: Pricing is where Teamwork really shines. Its "forever free" plan includes 100Mb storage space for up to five users. The pro plan starts at $9/month with 100GB storage and supports up to 100 users.
Conclusion: 
Trello is one of the most popular and widely recognized project management tools out there. It's simple, yet the intuitive design and the ability to view and add tasks easily make Trello, a crowd favorite project management tool. However, it's always nice to have some options available so that you can choose the tool that fits your team's needs and wants.
We don't think you'd be disappointed with any of the above-mentioned Trello alternatives. Nearly all of them perform the same way, and it all boils down to a couple of key differentiators or pure personal preferences.
Did we miss out on any Trello alternatives or it's competitors? Which tool do you use for your project management? Share your thoughts in the comment section below!

Further reads: 

Related posts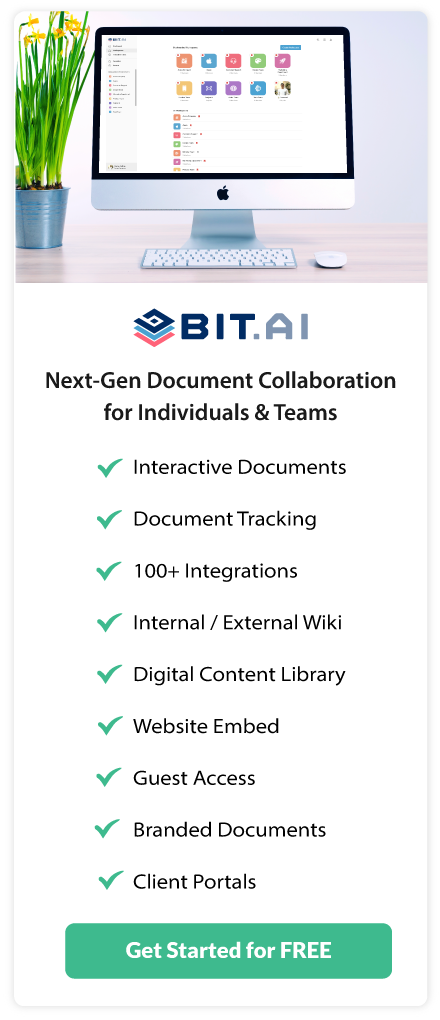 About Bit.ai
Bit.ai is the essential next-gen workplace and document collaboration platform. that helps teams share knowledge by connecting any type of digital content. With this intuitive, cloud-based solution, anyone can work visually and collaborate in real-time while creating internal notes, team projects, knowledge bases, client-facing content, and more.
The smartest online Google Docs and Word alternative, Bit.ai is used in over 100 countries by professionals everywhere, from IT teams creating internal documentation and knowledge bases, to sales and marketing teams sharing client materials and client portals.
👉👉Click Here to Check out Bit.ai.