Project management software has become a necessity with teams of all sizes and rightfully so. Read on to find out why they are so important to organizations and we'll share the best free project management software.
Businesses thrive on good project management, and good management never comes easy!
There are too many layers involved in processes today and it's imperative to pay attention to details.
Whether you're big in business or just starting out, management efficiency is the baking powder to your productivity pie. A management that is both mindful and proactive will convert into a growth upsurge that will take your company to new heights.
But a fast-paced world calls for quick-witted management and leaves no space for errors. With companies running a multitude of projects, it's foolhardy for managers to not rely on some service or software to manage all their tasks efficiently in one place.
This is where project management software comes in.
What is Project Management Software? (Definition)
Project management software is what helps project managers handle their projects efficiently while keeping in check the proper use of time and resources. These software tools also allow managers to perform administrative services, so they can ensure that all employees are doing result-oriented work.
A project management software helps managers control their costs and hit deadlines.
With so many to-do's revolving around a single project, oftentimes projects end up breaching the assigned deadline and budget, procuring lower than expected ROI.
This occurs because there's a lot of back and forth that happens between teams in a project. You need to keep everyone constantly in the loop of what's happening, whether you need to shift strategies for better productivity or assign more tasks that will help you accomplish your goals. Moreover, you need to make certain that everyone has been assigned the required amount of tasks, and nobody is overworked or underutilized.
Cost, time, and resource management are also three very important aspects of projects that managers need to account for. No client or company would appreciate extra costs or ill-timed results.
With so many particulars that need to be taken care of, project managers, and even team members can't just rely on their own memory.
Everyone needs to know:
Who is in charge of what
What resource or material is to be used for which task
What is the cost structure of a project as a whole and what is the cost assigned to a specific task or sub-task
How much time is assigned to complete a task and what are the top priority tasks that need to be completed first?
The list is endless!
This is the reason why many companies today avail of the services of free project management software.

So you can see now why it's important to take the help of project management software if you want your projects to have a high success rate. Let's dig into what they have to offer.
Features of a Project Management Software
There's a whole gamut of features and functions that free project management software offers. These include:
1. Collaboration
Project management software help teams to collaborate in real-time, without members having to spend tons of emails whenever they have a query or want their managers to review their tasks.
These software tools also provide quick access to all the documents and information team members might need. Some also enable you to add metrics and charts that showcase the work progress of teams and employees.
2. Schedule and Plan
With project management software, you can plan out the whole course of your project. You can allocate the number of resources you'll need and the kind of people you need on your project.
You can also pin the high-priority tasks so that they can be accomplished first, and you don't have to reschedule all other tasks around it. Also, project management software tools can be very helpful in setting goals and estimates as to the amount of time and money that will be needed to complete the project.
3. Monitoring
With project management software, every little process that a project comprises is like an open book. All the tasks, resources, and time is allocated and everyone can access that information.
This is why monitoring is a piece of cake if you're operating on a PM software. Nothing can escape a manager's eye and this will result in higher accountability on the employee's end.
4. Resource Management
There are four broad categories of resources that projects usually require: equipment, money, digital assets, and materials.
Project management software provides you a clearer picture of where all your materials have been allocated. This way you can always see when you need to refill your stock, or if there's more efficient management required.
5. Budget Management
Each project has a specific cost assigned to it, along with contingencies and profit. Managers need to accomplish projects such that the cost never exceeds the set limit.
Project management software helps you manage expenditures efficiently by providing weekly or monthly reports so that you're always aware of whether or not you're managing your budget properly.
Here's a detailed list of best free project management software we've combined to help you make an informed choice.
List of Best Free Project Management Software You Must Explore!
Let's take a look at each software one by one and decide which one is best for your business!
Zoho Projects is an online project management software from Zoho, and it provides its services to more than a million businesses. This software is usually recommended for small businesses. It's smooth and easy when it comes to setting it up.
Some key features include:
You can use timesheets and employees can log in their billable and non-billable hours.
There are Gantt charts that provide a visual representation of schedules and time assigned to various tasks.
It offers integrations with Zapier, Dropbox, Slack, Zoho CRM, etc
Making Zoho is a great free project management software!
This project management software is an all-in-one collaboration platform. It has some high profile clients like Buzzfeed, Slack, and Time Inc.
 Some key features include:
Teams can view their work through grids, galleries, kanban boards, and calendars.
It has an array of useful templates you can choose from.
It consists of bases, and each base is an individual project. These bases can be grouped into workspaces and teams can access it.
Airtable is at the top of its game. Though this free project management software has a steep learning curve so is a bit hard to figure out, there's plenty of help and guidance.
Wrike is another project management software that boasts of having top clients. Companies like Hootsuite, Google, L'Oreal use this tool. When it comes to setting up, Wrike has a pretty simple interface and is easy to start with. This tool is mainly suitable for companies with large teams, mainly medium to large businesses.
 Some key features include:
Interactive Gantt charts for a visual representation of the project schedule with easy drag and drops feature.
Online work and project calendars to view the most up-to-date tasks and schedules.
Drag and drop dashboards that you can customize in accordance with what you want to view.
Has its own inbuilt document editor.
This free project management software is recommended for people who want a simple and easy to use surface. Wrike also offers many integrations and works seamlessly with OpenOffice, PDF, JPG, PNG, Adobe Creative Suite, and Microsoft Office file formats.
 Jira is a project management software used by agile teams and is one of the top-rated software on Finances online.
  Some key features include:
Choose a workflow or create your own according to your convenience.
Integrate your workflow with other developer tools like Confluence, Bitbucket that you might be already using.
You can plan, track, release, and report your project using real-time updates.
Jira has a good mobile interface which is why it is recommended for large and remote teams working across various geographical locations.
Read more: Workflow Management Software Every Business Should Be Using
Avaza is an all in one solution for project management, resource scheduling, time and expense tracking, quoting, and invoicing. Its interface is more visual, so it's recommended or teams who are looking for a more visual experience. It has been trusted by '30,000+ businesses in over 150 countries.'
Some key features include:
You can convert emails into tasks.
You can view your tasks through lists, Kanban boards, or Gantt charts.
There are flexible project budgeting & billing methods.
Read more: 10 Best Microsoft Project Alternatives You Must Explore!
Asana is one of the best free project management software and is fantastic if you're serious about hitting deadlines. It also has top clients like Avon. Spotify, Delliote, etc.
 Some key features include:
Plan and structure your work and set priorities.
Over 100 integrations so you can add in emails, tickets etc into Asana
You can turn repetitive processes into templates and reuse them whenever required.
Read more: 11 Asana Alternatives & Competitors You Must Know About!
Teamweek is an easy team planning software and is ideal for teams who want to focus on planning and collaboration workflows.
Some key features include:
You can share your project timeline with clients to keep them informed.
Gives a daily overview of each team member's workload so that managers can stay up to date with regard to what they're doing.
Integrations with Slack, Github, Chrome, Mozilla, and many more so you can import your tasks.
Teamweek is very intuitive and simple to use and provides great workflow overviews with the help of color coding making it an awesome free project management software.
Read more: Top 5 Business Process Management (BPM) Tools
Paymo is an all-in-one project management software that includes planning, scheduling, time tracking, collaboration, resource management, finance management, and much more.
 Some key features include:
 You can view the availability and workload of each resource in real-time and can also track resource usage by viewing resource usage on a calendar.
You can get an hourly price rate on a particular resource item, keep track of your budget, and much more.
There's an activity stream that shows all the recent activities and teams can also collaborate in real-time.
You can track everything you do on your computer and link entries to ongoing projects.
The features mentioned above don't even scratch the surface of the number of features Paymo has to offer. We'd recommend you definitely look into this one if you want multiple features paired with an easy-to-use interface.
OpenProject is also a software diverse in its functionality and can aid you in bringing your entire project to fruition from start to end. This free project management software has features ranging from project planning, time tracking, and bug tracking to cost reporting, and budgeting.
Some key features include:
Shared timelines for seamless collaboration.
Share product roadmap with clients and stakeholders and get feedback on your plan.
It has kanban and agile boards, as well as a Scrum.
OpenProject excels at bug tracking, offering QA managers and testers a platform to capture, classify and prioritize bugs.
OpenProject is an open-source PM software that offers advanced features especially suitable for agile teams. There's also no risk of losing data while shifting to other tools.
How to Choose the Best Free Project Management Software?
The list of best free project management software is endless, with their functionality catering to a plethora of requirements that might be needed by teams while managing a project.
While the basic plans of most of these best free project management software are free, if you want to avail advanced features or use these software tools for larger teams, you'll have to upgrade to premium plans.
That said, you need to first have a clear picture of what exactly you need in the software. If you need it just for planning and scheduling, there's no need to go for extensive software like Paymo or OpenProject, because you might not require their advanced features. You can instead settle for something simple like Teamweek.
You have to make a decision based on the size of your team and the extent of the functions you require. One thing you can do is read reviews for each of these software to make a better choice. Websites like Capterra.com provide great reviews for software tools!
Happy choosing!
Further reads:

Related posts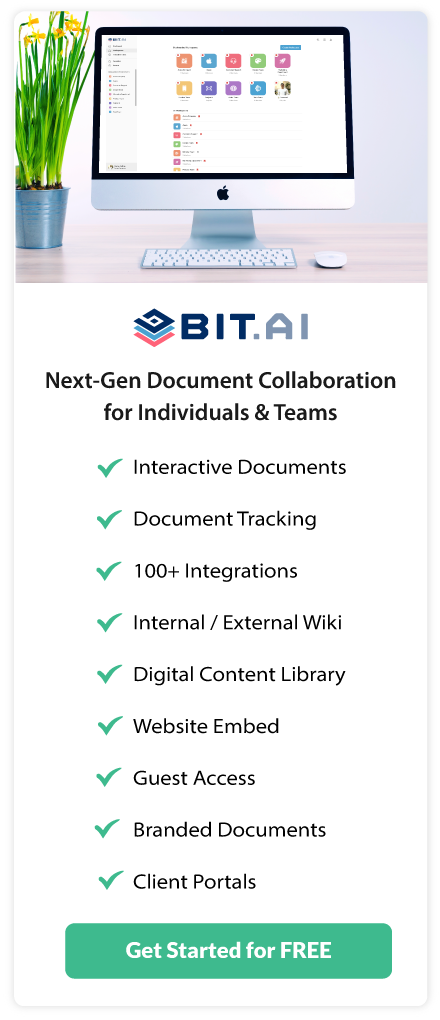 About Bit.ai
Bit.ai is the essential next-gen workplace and document collaboration platform. that helps teams share knowledge by connecting any type of digital content. With this intuitive, cloud-based solution, anyone can work visually and collaborate in real-time while creating internal notes, team projects, knowledge bases, client-facing content, and more.
The smartest online Google Docs and Word alternative, Bit.ai is used in over 100 countries by professionals everywhere, from IT teams creating internal documentation and knowledge bases, to sales and marketing teams sharing client materials and client portals.
👉👉Click Here to Check out Bit.ai.