Learn how to embed Google Sheets inside a document as an iframe in 4 easy steps! Read on…
From freelancers to small, medium and large organizations, everyone uses spreadsheets to organize their data. Whether you want to create a personal task list, manage projects, analyze data, record inventory, measure website analytics, manage product SKUs, and more- spreadsheets are everywhere.
Spreadsheets have been an integral part of our digital world ever since electronic spreadsheets were introduced to the world by Rene K. Pardo and Remy Landau by the name LANPAR in 1969.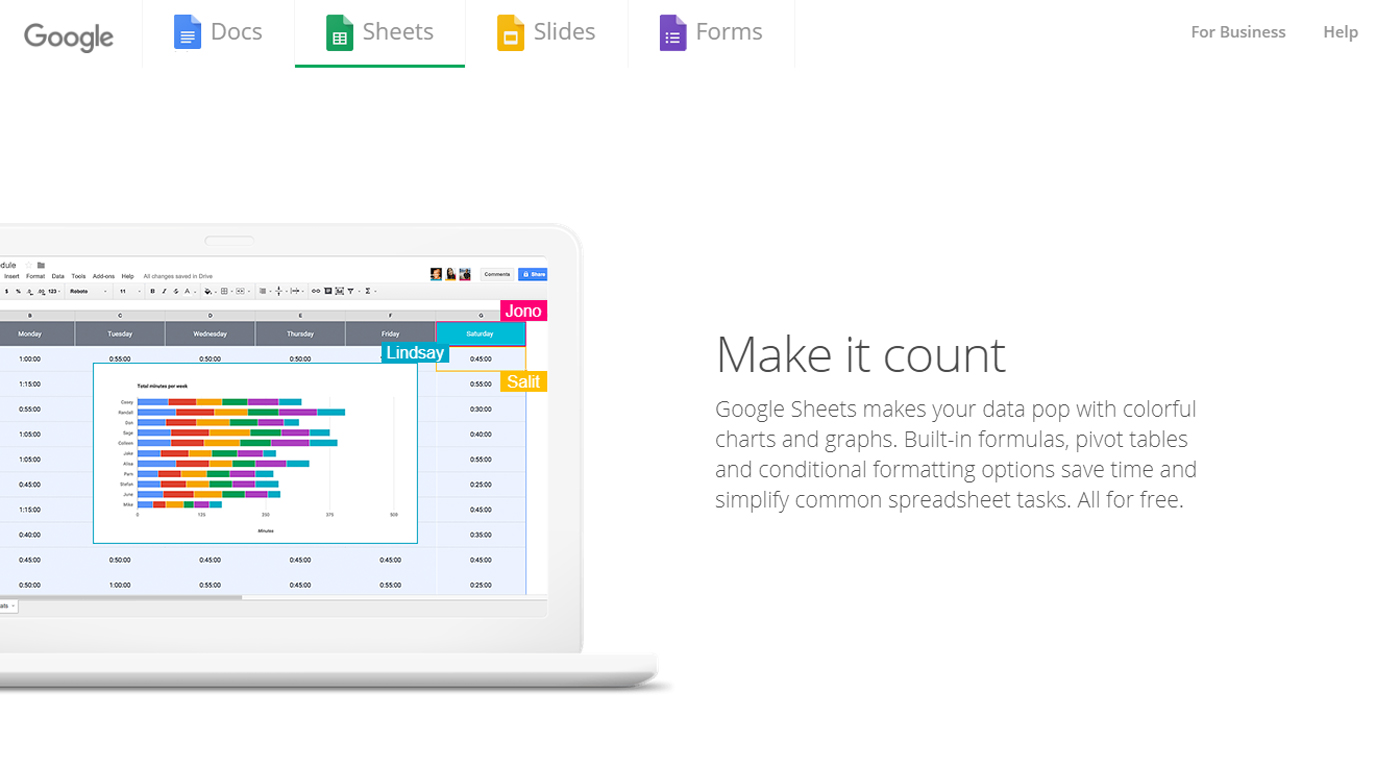 Spreadsheet software VisiCalc was the first electronic spreadsheet on a microcomputer, and it helped turn the Apple II computer into a popular and widely used system. Spreadsheets and computers have worked hand-in-hand to make our personal as well as professional lives better.
Spreadsheets have long been used to make complex problem solving and organizing huge data sets into segregated blocks. Excel spreadsheets can support more than a million rows and more than 16,000 columns, leaving you ample space to store massive chunks of data.
Apart from data management, businesses use spreadsheets to carry out complex business and inventory problems and help them grow their business.
As the world advanced and the internet came along, Google too jumped into the spreadsheet business and developed their very own spreadsheet software by the name of Google Sheets.
Read more: Top 5 Google Sheets Alternatives to Help Businesses
Google Sheets: A new age spreadsheet!
Sheets is Google's answer to the famous Microsoft Excel spreadsheet. Google Sheets is a free, cloud-based spreadsheet platform that allows users to create, edit, and collaborate on a spreadsheet.
Apart from spreadsheets, Google Sheets allows you to present data visually using colorful charts and graphs. With built-in formulas, pivot tables, and conditional formatting, Google Sheets is a formidable tool in the spreadsheet business.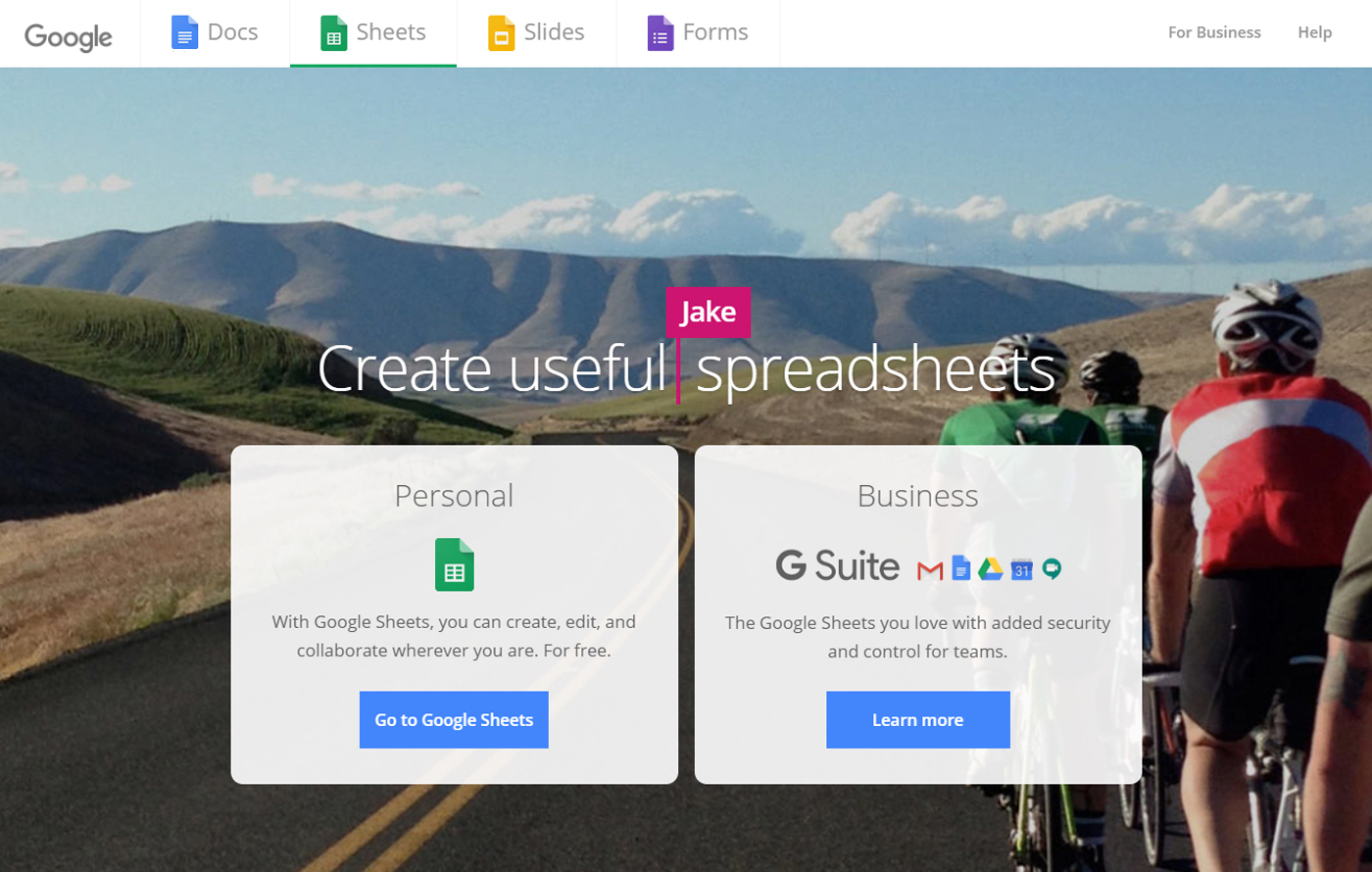 Google Sheets provides you with plug-and-play templates- budgets, schedules, expenses and many more- all designed to make your work quick and easy.
On top of that, all your changes are automatically saved as you type. You can even use revision history to see old versions of the same spreadsheet, sorted by date and view who made the change.

Access, create and edit your spreadsheets wherever you go — from your phone, tablet, or computer — even when there's no connection! All-in-all, Google Sheets is a brilliant tool to bring your team together and create lightweight spreadsheets quickly and easily.
Use Bit Documents To Embed Google Sheets as an iframe!
If you, like us, love using Google Sheets as your primary spreadsheet tool, you are going to love this trick! But if you are new here, let me just give you an introduction about Bit!
Bit.ai is a new-age document collaboration and communication tool that helps teams to collaborate, share, track and manage all company knowledge in one place.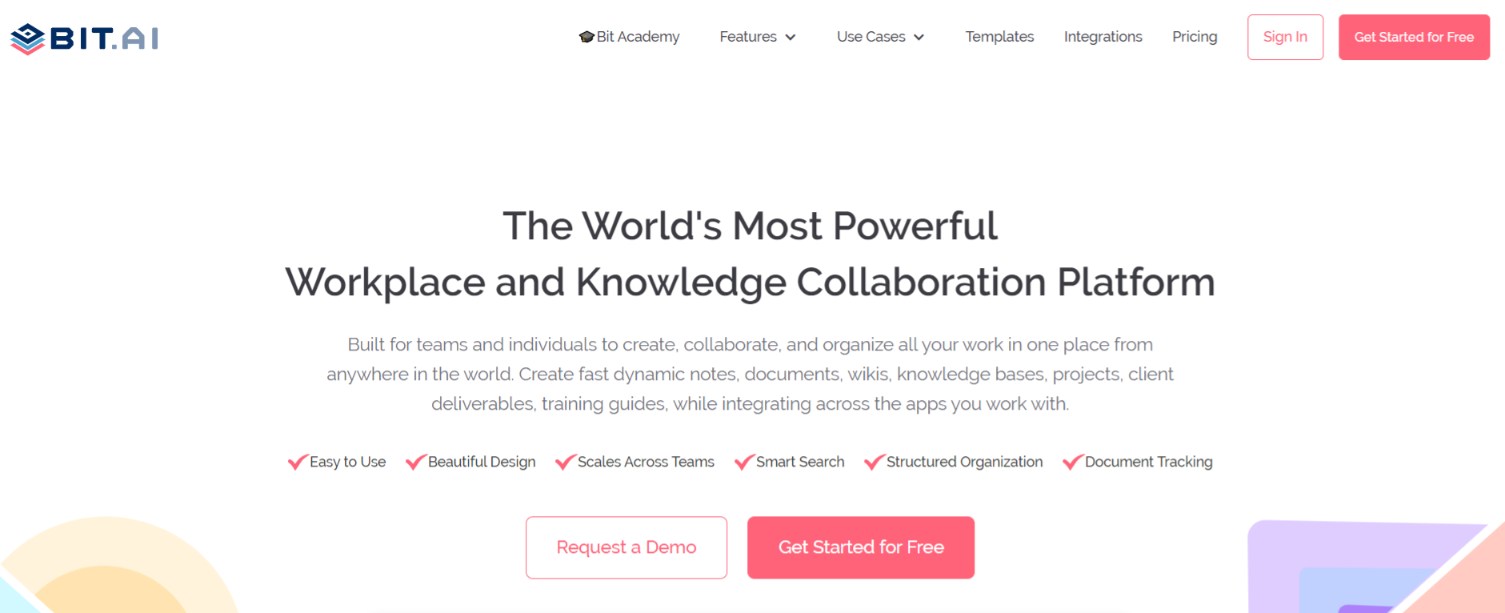 Bit allows teams to create workplace documents like- project proposals, sales decks, training documents, how-to guides, company policies, process documentation, media kits, fact sheets, competitive research, case studies, e-books, etc., and provides a safe and robust place to store these documents.
If you want to send these documents to external partners, clients, customers, or prospects, you can even track them to get intelligent engagement insights.
The secret sauce to Bit is its ability to create documents like no other document editor out there. Bit helps you create documents of the future that are dynamic and much more than plain-boring text.
Apart from allowing multiple users to collaborate on documents, Bit also allows users to share any sort of rich media like YouTube videos, SoundCloud Playlists, embed Google Sheets, Docs, and Slides, One Drive Excel Spreadsheets, GIFs, Tweets, Cloud files, Pinterest boards, etc.
Basically, anything on the internet with a link can be shared and Bit will automatically turn it into visual content.
Bit's documents are smart enough to read any weblink and automatically transform that link into visual content. Just enter any weblink on a blank line and hit enter. Bam! The content will show up beautifully.
With Bit, you can copy and paste any Google Sheets weblink on a blank line of a Bit document and hit enter. No more dealing with messy iFrame/embed code! Embed Google Sheets inside a document in seconds!
Why embed Google Sheets in a Bit document as an iframe in the first place?
1. Get rid of the distractions.
We live in a world of constant notifications and distractions. You create your files in a document editor or excel, share them via email, get notified about the email via a messaging app, and store it in the cloud.
Even while providing feedback or suggestions, you share the content link on Email, Slack, Trello, Google Docs, Dropbox, or any other of the thousands of collaboration tools out there.
When you have your important content scattered around different devices and tools, your productivity always takes the backseat.
The more tools you use to make your work life better, the more complicated your workflow becomes and the less effective your communication will be.
In order to carry out your effective collaboration and communication, you need to get rid of all the apps that seem to slow you down rather than make things better.
You need to bring all of your work files, data, content, and most importantly, people, under a single virtual roof. Where all your documents, spreadsheets, marketing, and sales collateral, internal wikis, and knowledge and co-exist without the need for any third-party communication tool or chat app.
2. Bring your team under a single roof!
Embedding Google Sheets inside a Bit document allows you and your team to communicate and collaborate in a single location.
Also, it makes the process of sending client-facing material (reports, updates, sales collateral, marketing material, etc.) easy as you can put all of your content as well as your Google Sheet inside a single doc. No more email attachments and confusing messages!
3. Bring context to your work.
Sometimes you want more than just numbers on a spreadsheet to show what's going on. You need context, information, and text to make your peers and teammates understand what the spreadsheet is all about.
Embedding a Google Sheet inside a Bit document provides you with that much-needed space to discuss, give suggestions and feedback, and collaborate effectively- without people being lost and feeling confused.
Read more: How To Embed Google Slides Within Your Documents
Embed Google Sheets inside a Bit document in 5 simple steps
Follow these simple steps to embed Google Sheets cloud files or any weblink into your Smart Bit Documents:
1. Click the share button for your Google Sheets weblink.
[/vc_column_text]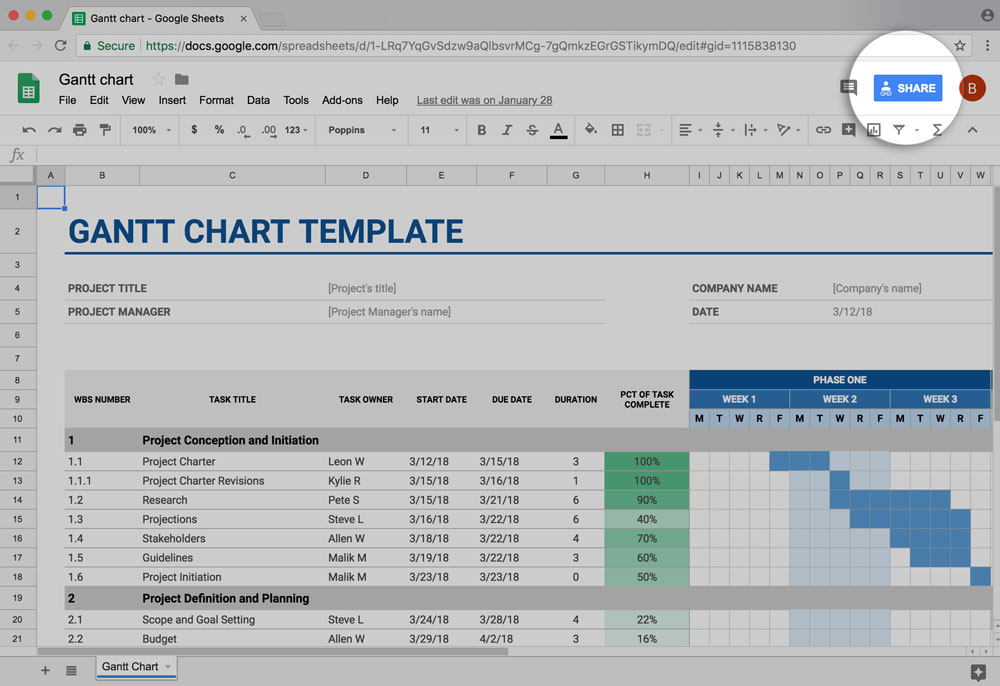 2. Customize your shareable link. We recommend that you choose 'Anyone with the Link can View.' You can do so through the drop-down menu above the shareable link or by clicking on the 'Advanced' button on the bottom right corner.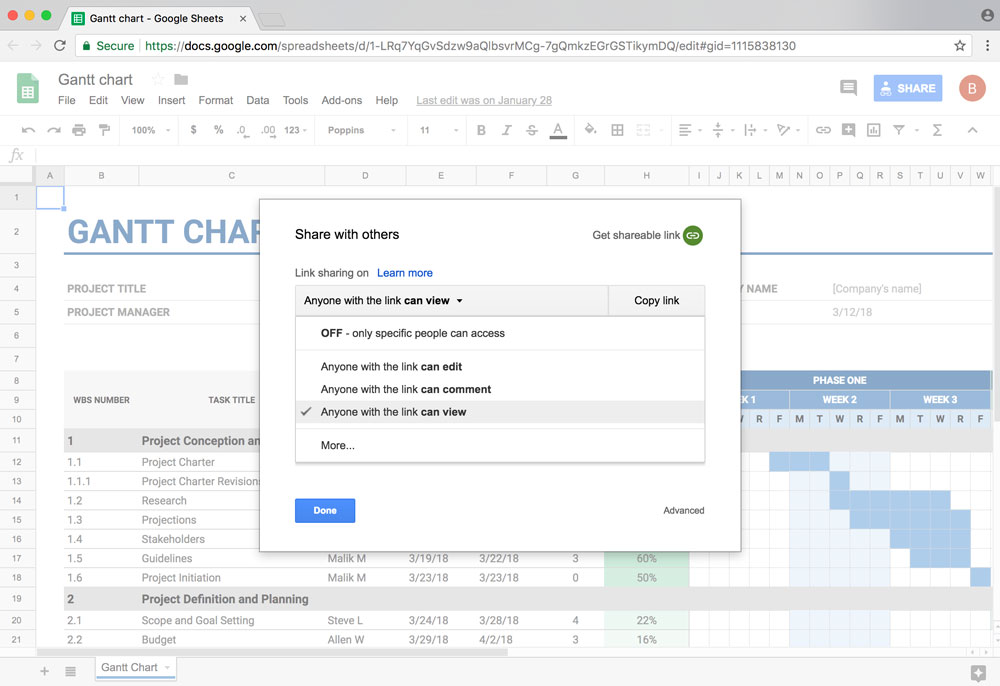 3. Copy the Google Sheets shareable link.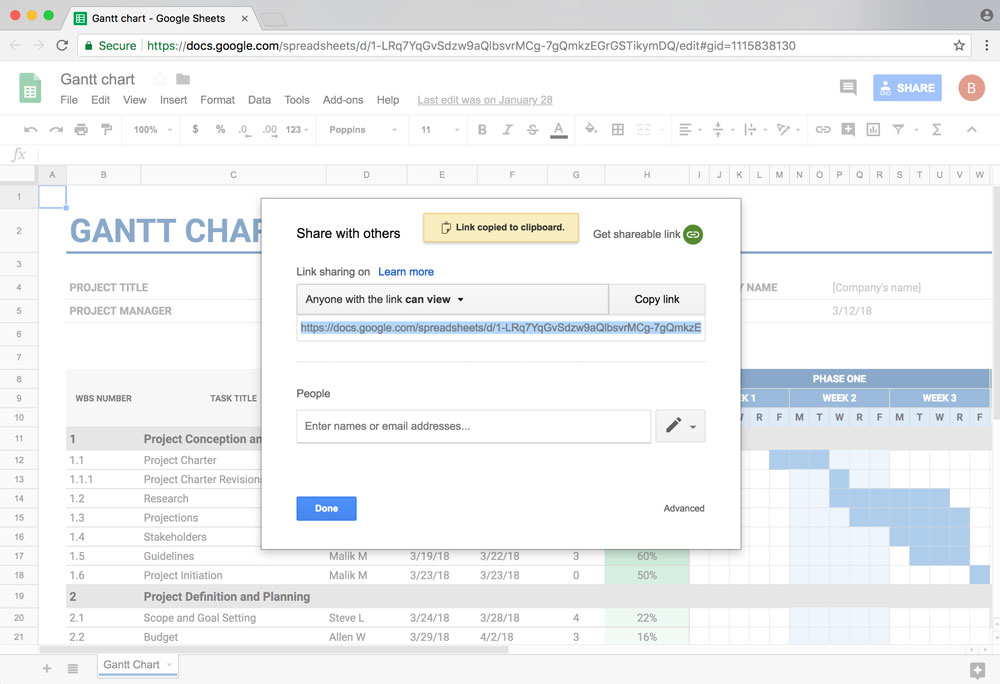 4. Go to Bit.ai and paste the Google Slides weblink on a blank line and hit enter.
5. Bit will automatically fetch the Google Sheets file and display it like this.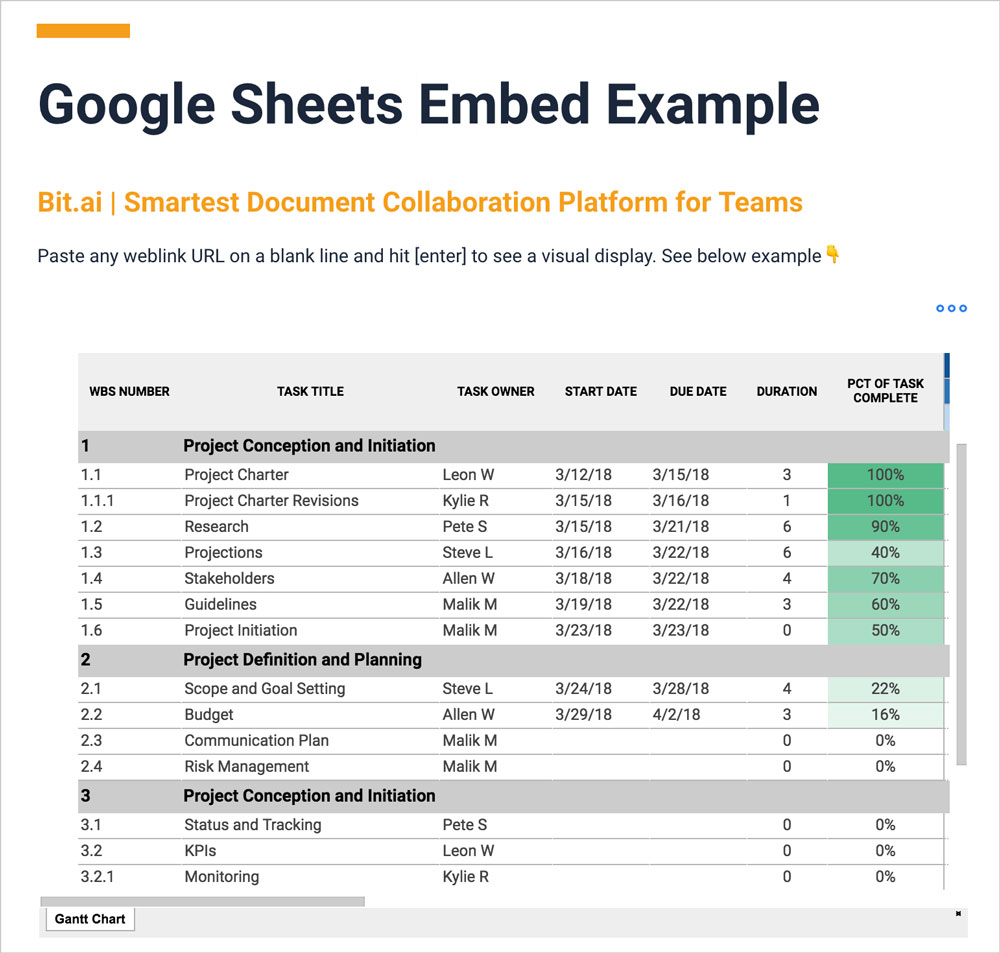 Important: Any changes made to this Google Sheets will be reflected in this Bit document rich embed in real-time.
Here are a Few Ways to Use Google Sheets in Bit Documents:
Creation of receipts and invoices.
Report trends or make business forecasts.
Identify inaccuracies and duplicates in your data
Keep track of your expenses and budget
Check out some of the Bit's pre-made templates and how Google Sheets embeds are used inside Bit documents- 
1. Meeting Agenda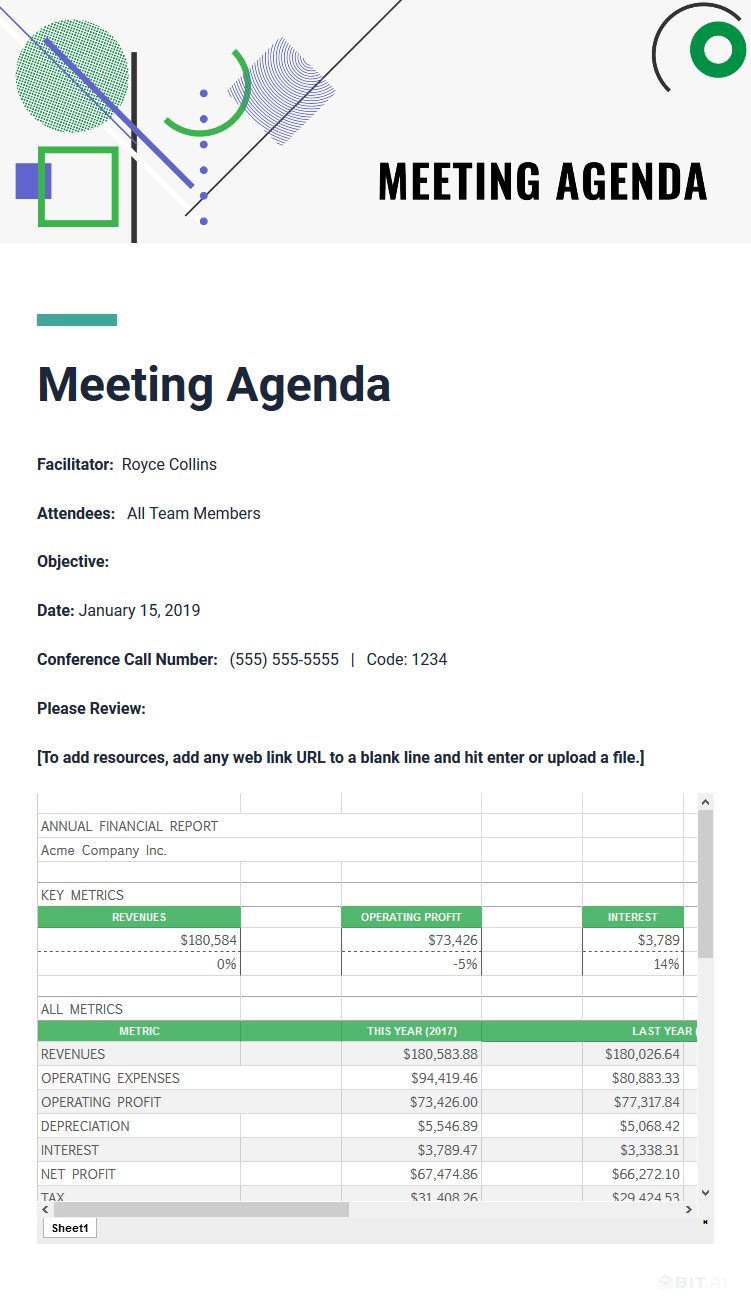 2. Project Management Plan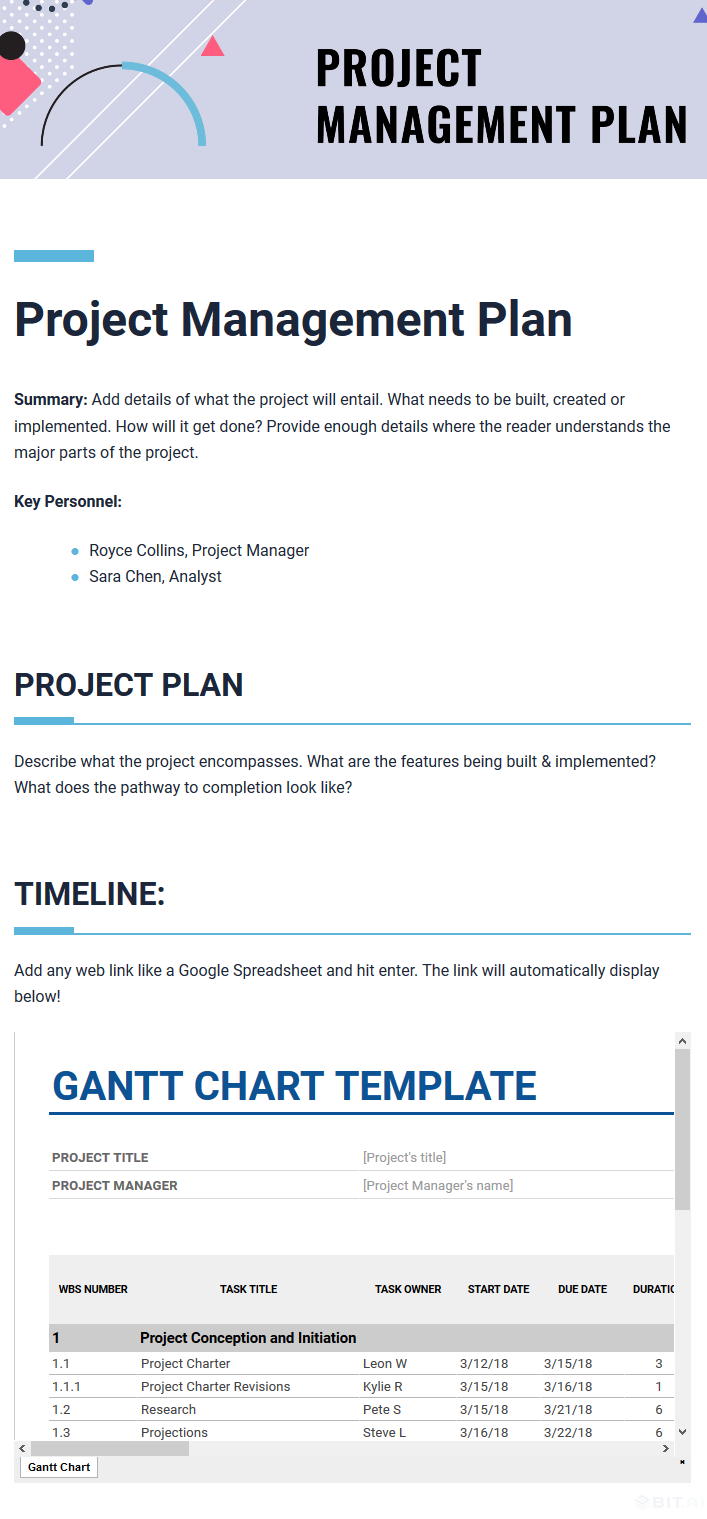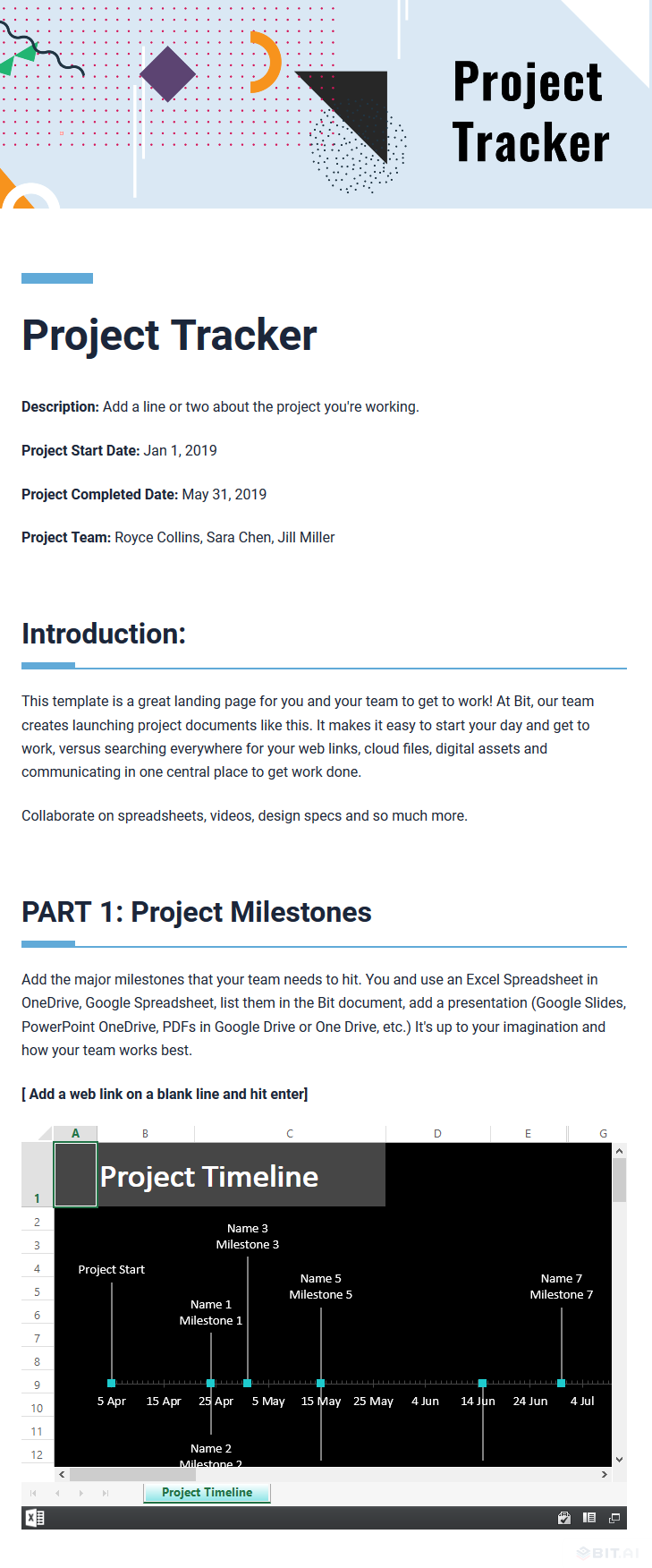 👉Watch this video to learn more:
Conclusion:
Bit documents allow users to create, share, manage and track all your work documents, both for internal and external use.
With Bit's ability to embed Google Sheets inside a document, you can enhance this process of communication and collaboration by quickly sharing spreadsheets and bringing your team closer than ever.
Further reads: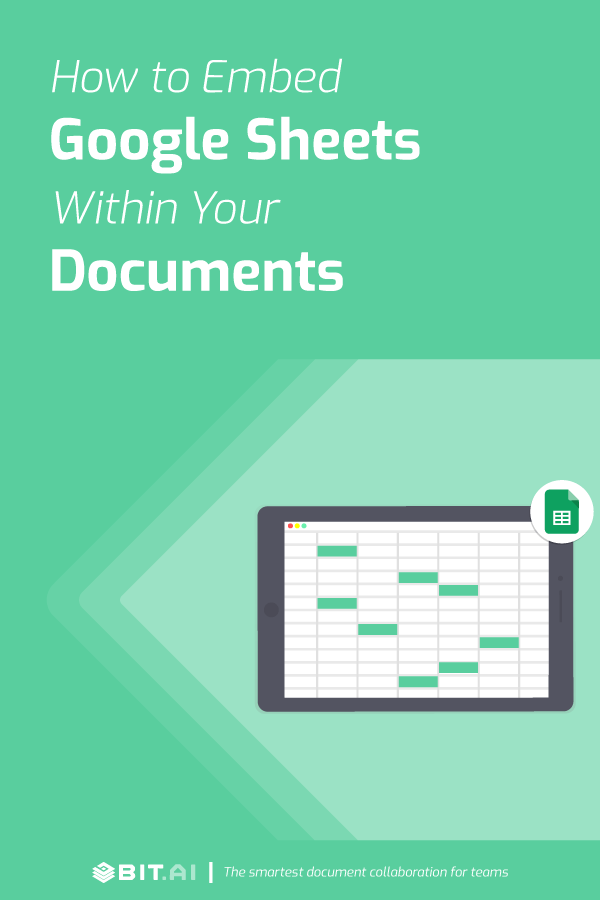 Related posts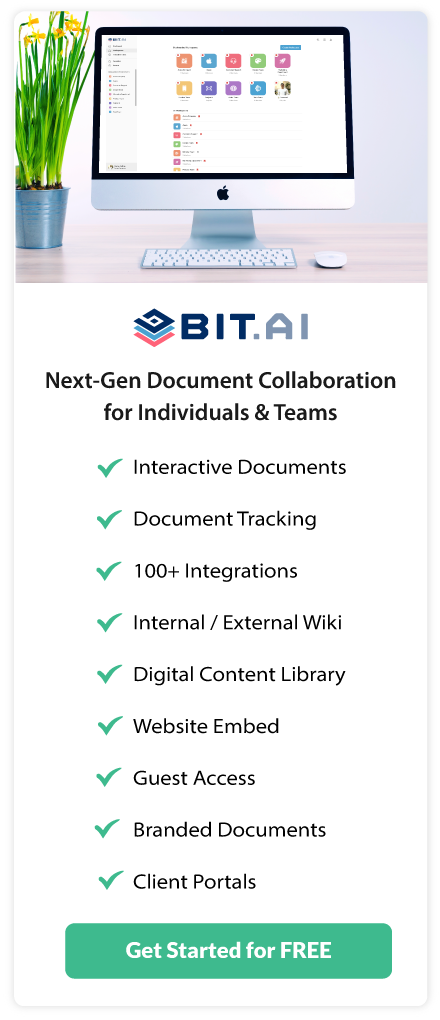 About Bit.ai
Bit.ai is the essential next-gen workplace and document collaboration platform. that helps teams share knowledge by connecting any type of digital content. With this intuitive, cloud-based solution, anyone can work visually and collaborate in real-time while creating internal notes, team projects, knowledge bases, client-facing content, and more.
The smartest online Google Docs and Word alternative, Bit.ai is used in over 100 countries by professionals everywhere, from IT teams creating internal documentation and knowledge bases, to sales and marketing teams sharing client materials and client portals.
👉👉Click Here to Check out Bit.ai.