Spreadsheets are ubiquitous since the pre-internet era!
They play a significant role in the modern business world, and people use them every day for budgeting, forecasting future performance, storing/sorting data, tracking, and a million other things.
However, in 1987, one software rapidly took over the market and has remained unshaken in the spreadsheet business for 33 years – Microsoft Excel!
Excel has been one of the world's most popular spreadsheets software, with an estimate of 750 million people using it for data organization, summary, analysis, and reporting.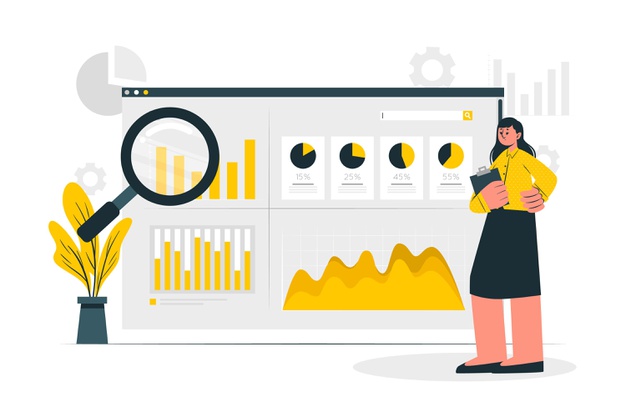 While Excel is certainly a forever favorite for both- individuals and teams, using it is actually a very costly affair! A standalone copy of the software costs $129.99, dishing out to a $69.99 per year price tag with an Office365 subscription — especially when the software has yet to embrace seamless collaboration features, most modern spreadsheet software incorporate!
Therefore, if you are simply looking for a free alternative, or seek new tools to improve productivity, there are tons of options in the market to make your life easy!
Before we move on to our list of top 6 Excel alternatives, let's take look at some reasons as to "why" do we even need one!
4 Common Reasons to Choose a Microsoft Excel Alternative!
Excel is a great software for data crunching and is suitable for most people, but there are many tasks/processes that can be performed more efficiently and accurately with an Excel alternative. The reason to choose one totally depends upon the personal requirements and used-cases!
Before you decide on any other spreadsheet software, here are some reasons as to why should you even go down the lane of choosing a Microsoft Excel alternative in the first place!
1. Time-consuming
Using an Excel spreadsheet can be time-consuming for a number of reasons:
Setting up data into an excel sheet requires a lot of thought and planning.
It's difficult to drill-down and search for information with masses of data.
Spending time updating excel sheets can result in a backlog of work which will hinder your growth.
Hence, some Microsoft Excel alternatives will help you make planning, updating, and organizing information a speedy process.
2. Poor reporting
Excel isn't very flexible when reporting bigger sets of data and won't allow you to configure reports automatically. A modern-day alternative will help you to quickly identify the flow of figures and formats from the available information in real-time.

3. Lack of security
Excel spreadsheets do not have an audit trail. That is, users cannot monitor-who is making changes or edits to data, which makes them susceptible to security leaks and fraud. Whereas, with a cloud-based excel alternative you will have the feature to secure important information and receive daily backups to avoid data loss.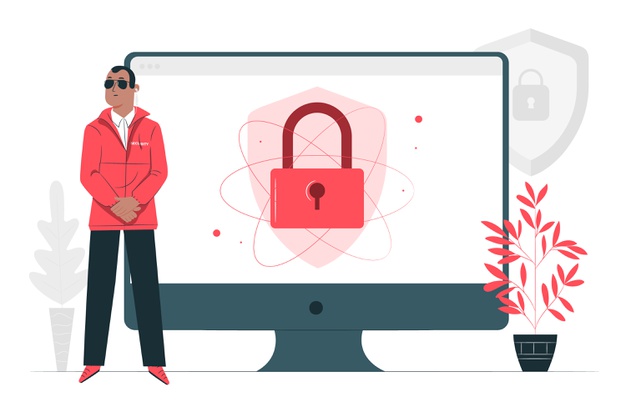 Users have the option to multiple access levels, so only people with authorization can edit information or access the document, giving you peace of mind when it comes to security!
4. Lack of collaboration
Excel can't be used as a tool for project management even though its purpose is to present knowledge into a well-defined form for better management. It does not include key collaboration tools such as tracking, file sharing, discussion boards, and integrations.
There are tons of great alternative resources available for managing your database and offer integration for tasks like stock management, payroll, job costing, timesheets, etc.
Read more: Top 5 Google Sheets Alternatives to Help Businesses
Let's Explore List of New-Age Microsoft Excel Alternatives in this List:
A quick Google search would give you a comprehensive list of spreadsheet software, all claiming to be better than Microsoft Excel. But, after extensive research, we have come up with the top 5 Microsoft Excel alternatives that rival Excel in various aspects of usage, design, quality, pricing, and features. So without further ado, let's get started…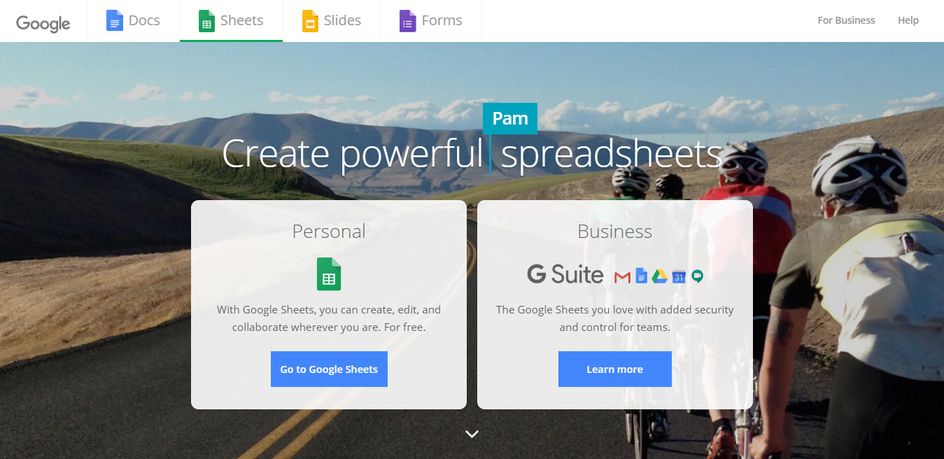 Google Sheets is a cloud-based software for spreadsheets that allows users to create, collaborate, and edit, on a spreadsheet document from anywhere around the world. Users can present information using graphs and charts with in-build pivot tables, formulas, and revision history.
As Sheets is sub-tool by Google, you can enjoy some advanced data operations that are not available in Excel such as =GOOGLETRANSLATE or =GOOGLEFINANCE. Google Sheets also offers ready-made templates for expenses, budgets, schedules, and more.
With both- mobile and desktop compatibility, Google Sheets is the best spreadsheet software for anyone looking to manage their data and work collaboratively with their team.
Best for: Teams working primarily in G-Suite, startups, freelancers, budget-conscious teams.
Pricing: Free
Read more: How to Embed Google Sheets Within Your Documents?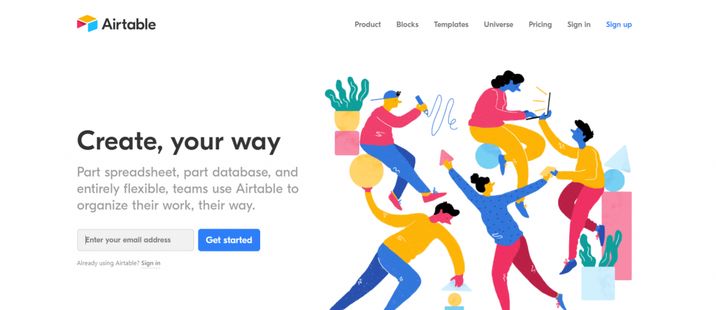 Airtable is a unique Microsoft Excel alternative. Being prompted as 'spreadsheets with a superpower,' Airtable allows users with restrictions-free, simple spreadsheet cell-like structure and do more with their data.
If you find the task of managing and adding data into a spreadsheet a bit tiresome, Airtable will surely change your thought process. From a colorful dashboard and an intuitive interface, Airtable makes the often boring spreadsheet environment dynamic!
Also, Airtable is flexible enough to integrate different types of content like attachments, checkboxes, links, long text notes, etc. and can even attach to records in other databases.
Best for: Small business and teams within larger organizations
Pricing: Offers a free trial, starts at $12.00 per month

Another cloud-based alternative to Microsoft Excel for external data extraction is Smartsheet. It's more than a spreadsheet as it allows teams to capture, plan, track, report, and automate work at scale. With an intuitive and clean interface, Smartsheet empowers users to instantly configure and improve their processes by turning spreadsheets into dashboards.
Users can collaborate, plan, and keep an eye on the workflow from a single dashboard. They can combine data from multiple sheets and look for the latest insights.
Best for: Planning and data management by project managers for large teams.
Price: Starts at $14 per month
Read more: How to Embed Smartsheet Spreadsheets to Your Documents?

Stackby is another great Excel alternative that combines the best of databases, spreadsheets, and business APIs in one single location. With its automation features and robust API (application program interface), you can keep the spreadsheets constantly updated. Unlike Excel, Stackby provides real-time metrics like views, SEO analysis, campaign metrics, lead generation, and more!
As a popular alternative to Microsoft Excel, Stackby is a modular database-inspired software that gives you more tools to define the relationship(s) with—and between—your data.
Best for: Agencies, Marketers, and small businesses need a better way to organize, plan, pull data, and manage their work.
Price: Stackby is normally $5 per user per month.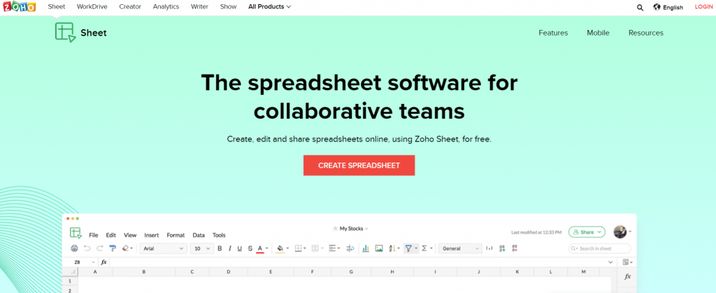 Next up on our list of awesome Microsoft Excel alternatives is Zoho Sheets. This tool is built around Zoho's Customer Relationship Management (CRM) software solution, thus it bakes collaboration into its very core.
It offers you the freedom to shift between different spreadsheet extensions such as .ods, .xls, .csv, and .xlsx. Therefore, you do not have to stress through data compatibility anymore.
Zoho sheets are highly interactive, meaning that users can track document progress with checklists, validate data entries, and automate daily tasks- all within the spreadsheet tool. Regardless of its simple interface, Zoho Sheets supports complex Excel functions like the data visualizations, pivot tables, and charts.
Best for: Zoho CRM users working outside the Google Suite
Price: Free for individuals up to 5GB, then starts between $2-$4.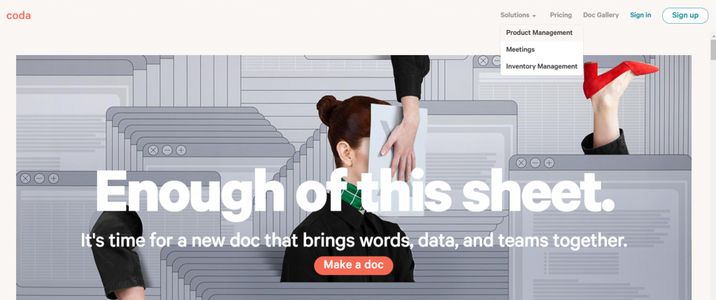 Coda is cloud-based editing software. It provides word-processing, spreadsheet, and database functions, similar to Microsoft Excel. Coda blends the flexible spreadsheet, the power of a document, and the utility of operations into a single new canvas, enabling anyone to use it as a multi-purpose app.
It's a versatile tool that will help diverse teams and individuals with regular access to shared sets of data but want to manipulate and view that data on their own terms.
Best for: Big Companies wanting to track global launches.
Pricing: Offer a free trial, start at $12.00 per month

Apple Numbers is a preinstalled Excel alternative that comes with all Apple devices, from Macbook to iPhones. Since it's an Apple-based product, it combines well with other Apple tools such as Apple Pencil on your iPad to add notes or diagrams sketched by hand.
Other unique features offered by Numbers include the ability to play, edit, and record audio in a spreadsheet, which is perfect for project management. The tools can manage complex formulas and functions and provides table organization and summaries for deeper insight into your data. If curious,  Numbers' has 250+ functions.
Best for: Apple users who don't want to deal with Excel's steep learning curve.
Price: Free for standard Apple devices
8. EtherCalc

EtherCalc is a web-based spreadsheet tool hosted by Framasoft that can be self-hosted on any platform including GNU/Linux, FreeBSD, Mac OS X, and Windows. You just have to download the following code to your server:
./node_modules/ethercalc/bin/ethercalc
Or, you can use it free without creating an account at ethercalc.org. This tool allows users to collaborate with multiple people in real-time and downloads spreadsheets in various formats such as as.ODS,.HTML, and.CSV,
EtherCalc allows you to perform basic functions but does not have advanced functionality like data filtering or conditional formatting. If you need a simple spreadsheet tool that offers you compatibility outside the Microsoft/Google Suite, this tool is worth considering.
Best for: Developers and users looking for a free, open-source spreadsheet tool
Price: Free
Final Words!
The list of Microsoft Excel alternatives is nearly endless and we hope that the ones we mentioned above will help you with the times in need of perfect data crunching and collaboration. It's up to you to discover which alternative will bring you the most benefits.
Do you have a favorite alternative to Excel? Let us know in the comments and we would love to add it to our list!
Further reads: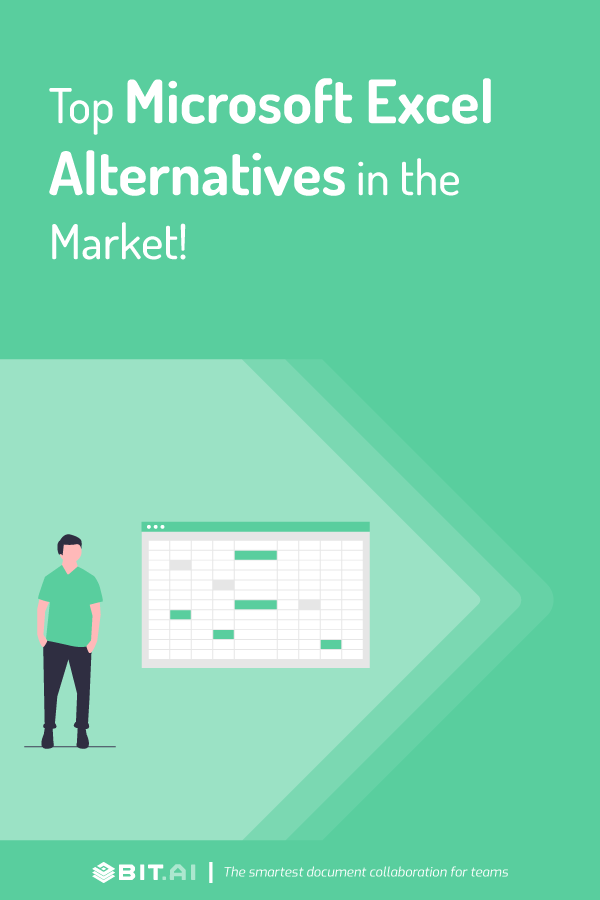 Related posts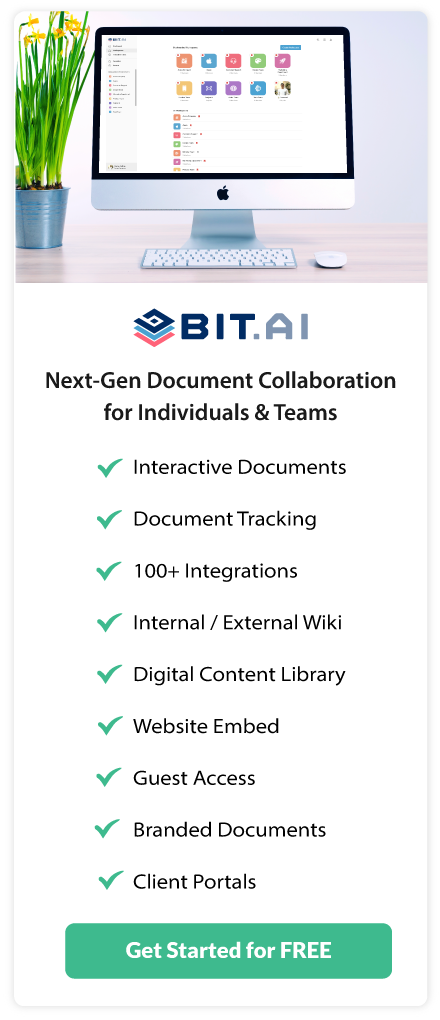 About Bit.ai
Bit.ai is the essential next-gen workplace and document collaboration platform. that helps teams share knowledge by connecting any type of digital content. With this intuitive, cloud-based solution, anyone can work visually and collaborate in real-time while creating internal notes, team projects, knowledge bases, client-facing content, and more.
The smartest online Google Docs and Word alternative, Bit.ai is used in over 100 countries by professionals everywhere, from IT teams creating internal documentation and knowledge bases, to sales and marketing teams sharing client materials and client portals.
👉👉Click Here to Check out Bit.ai.