In the good old days, people who had a bad experience with a brand may only tell a few close friends about it.
However, whether you like it or not, the emergence of online communication platforms has made reputation extremely fragile. Social media lets pretty much anyone say anything about your brand, for better or worse.
In short, when it comes to your online reputation, your customers and other people hold the reins.
This can turn even the most minor of misstep into a PR crisis, leading to something as minute as one customer choosing your competitor over you or a global boycott of your brand. 🙂
Even though it feels like there's not much you can do about it, there is. It is called 'reputation manegement'. TBH, saying that reputation management is essential for a company's survival would be an understatement.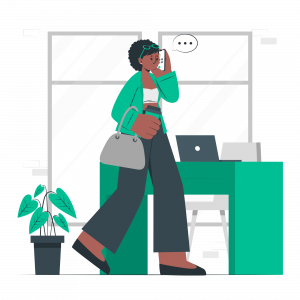 In this blog post, we will walk you through the nitty-gritty of reputation management. Ready? Let's go!
First Off, What's Reputation Management?
Quite simply, reputation management is the effort to influence what and how people (and AI systems) think of a brand, business, or person.
Considering that a huge amount of communication happens online, reputation management happens mostly in the online space. Some of its facets are social media, online community engagement, and search results.
In fact, reputation management is also known as online reputation management (ORM) and internet reputation management.
But no matter what you call it, the end goal is the same: trying to control and improve how your customers and other people perceive your brand.
Now that you know what reputation management exactly is, let's find out why it is such a big deal.

Why Does Reputation Management Matter?
1. Businesses Live & Die On Customer Feedback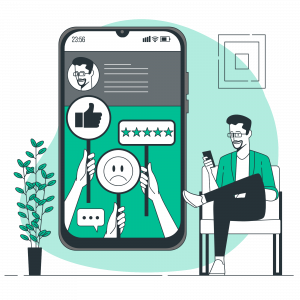 When you search for 'vegetarian restaurants near me', you usually check the reviews that appear in the right-hand corner of the results page, right?
If you see negative reviews and poor ratings of a restaurant, you will most likely not go there. That is the power of reviews! What appears in the search results is what people see, believe, and respond to.
So you can sing your own praises all day long, but consumers rely on reviews when it comes to purchasing decisions. 94% of online shoppers have said that they avoided a business entirely because of bad reviews!
Moreover, the average consumer needs to see 10 positive reviews before trusting a business, and 87% of customers will change a purchase decision after seeing negative content about a brand or product online.
The bottom line is, when it comes to building a reputation and a loyal customer base, good reviews are important. After all, you don't want your prospects' first impression of you to be a scathing review!
2. Know What People Are Saying About Your Brand
85% of consumers trust online reviews as much as a tip from a friend, and 88% of consumers read reviews to determine if a business is reliable enough.
If your customer reviews are impeccable, then you do not need to worry at all. But what happens when someone posts a well-grounded negative review?
In the age of social media, when everything spreads like wildfire, this can really get your reputation down the tubes. And when your reputation is down the tubes, so is your business!
This is why you need to track and respond to what people are saying about your business online. By using a proper response strategy, you can turn an unhappy customer into a loyal fan.
According to a Lee Resource Study, 70% of customers who complained and got a satisfying response will come back and do business with the company again.
Read more: Marketing Management: Definition, Importance, and Process!
3. A Better Conversion Rate
Truth be told, the lack of management of your online reputation can actually cost you your customer base.
See, what people think of your brand would influence EVERYTHING about your brand. It's next to impossible to sell a product to someone who doesn't trust or believe in your brand.
The good news, by being proactive in your online reputation management, you can actually influence what information makes it users' Google search results.
How? You can encourage happy customers to leave positive reviews, provide useful feedback, and minimize the effects of negative search results, reviews, and articles.
Remember, with a good reputation management plan in the back of your pocket, you can build credibility and trust with your consumer base. The more solid your reputation, the better your conversion rates!
With all these facts and figures, we're sure we've convinced you to give reputation management a shot. But, where and how should you start? Let's find out!
Read more: 10 Best Customer Retention Strategies for Startups!
How to Create a Reputation Management Strategy (Steps)?
Step 1: Research & Audit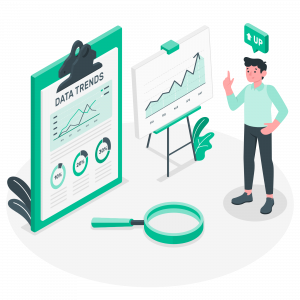 The whole reputation management thing is based on the grounds that you know what people are saying about you, and then you respond.
People talk about your brand on the internet – all the time. So, first, you need to listen and monitor.
If you're a restaurant, tourist attraction, or any other physical location, people are probably giving their reviews about you on websites like Yelp, TripAdvisor, or Google.
If you sell physical products, keep an eye on Amazon, eBay, and other online retailers. Remember, 69% of shoppers consult reviews before buying anything online!
Apart from the above review sites, you also need to monitor blogs and videos. There are thousands and millions of bloggers who write and publish reviews about all kinds of stuff.
To truly manage your brand's reputation, track the social media conversations about your brand as well.
Step 2: Prepare a Response Plan
Now that you know what's being said about you online, it's time to take action. As with everything in life, it's best to create a plan first. While creating a response plan, answer these questions:
Who will monitor the comments and reviews?
Who will decide whether new comments need a response?
Who'd decide the position that the company should take regarding potential issues or reviews?
Finally, who will actually respond to the reviews?
Just make sure you've thoroughly thought about these things before responding to the reviews. As long as you have a response plan in place, you'll have something to guide you if things get tricky.
Step 3: Handle the Negative Comments Nicely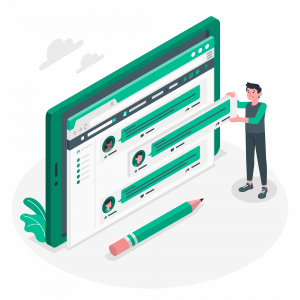 Even though it is super tempting to brush the negative review off and pretend it never happened, it isn't possible. They're on the internet, and they'll probably stay there forever.
Yes, no one likes to get bad reviews, but it doesn't have to ruin your reputation. Reputology conducted a poll and their clients said that 80% of unhappy customers were won over with the right response.
But what exactly is the "right response"? Polite, professional, and friendly!
While responding to negative reviews, keep a level head and try to get to the heart of the issue. Make it clear to your customers that you're listening and you are doing your best to provide a solution.
If you're patient enough and try to actually help, it can become an opportunity to build rapport with your customers, improve your product, and leave a good impression in the customers' minds.
Step 4: Build on the Positives
Positive reviews can take your online reputation to great heights. So, just how you should not ignore the bad comments, you should respond to the good ones too.
By responding to the nice comments, you will not only reward your customers for saying kind things about you, but you will also encourage others to do the same.
Things bring up the question: how can you generate more and more positive reviews?
It's actually quite simple! Every time a customer buys your product or uses your service, say, "If you enjoyed the product/service, I'd really appreciate it if you would leave me a review."
By personally asking for a review, the customer will be more likely to go a tiny step out of their way to post a review. Remember, you can only build your reputation on positive reviews, so encouraging it is important!
Step 5: Keep Repeating The Above Steps
Reputation management is a continuous effort. Fixing one situation doesn't mean that you won't face any hurdle or negative feedback in the future.
This is why you need to keep researching and monitoring the conversations around your business. Always know where your reputation stands, follow the steps of your plan, and act on the feedback you receive!
Also, you need to make sure that you're actually making the changes you've committed yourself to, especially if you have made these offers online, in public.
So whether you offered a customer a discount as an apology for bad service OR you promised to speak to an employee about an issue someone brought up on Twitter – do it as soon as possible!
Remember, it's an opportunity to make real change in your organization!
Wrapping Up
The internet has witnessed the rise and fall of many big-shot companies and individuals.
There are people who have lost their jobs over inappropriate tweets. There are restaurants that have crumbled due to negative reviews. The list goes on and on.
So, if you don't want to end up in the same situation, you can't leave the search results for your brand riddled with negativity. 💁🏻‍♀️
Always remember – your online reputation can have a strong influence on your target audience – the people who're most important to your business.
With the right reputation management strategy, you can improve your online reputation and inspire customer loyalty, which has always been a significant driver of revenue and growth.
Further reads: 
Guerrilla Marketing: What is it and How to Use it For Marketing!
Management Plan: Definition, Benefits & How To Create One?
12 Marketing Goals You Must Include In Your Plan!
Social Proof: 8 Ways to Use it to Get More Sales!
What is Product Adoption & How to do it Right?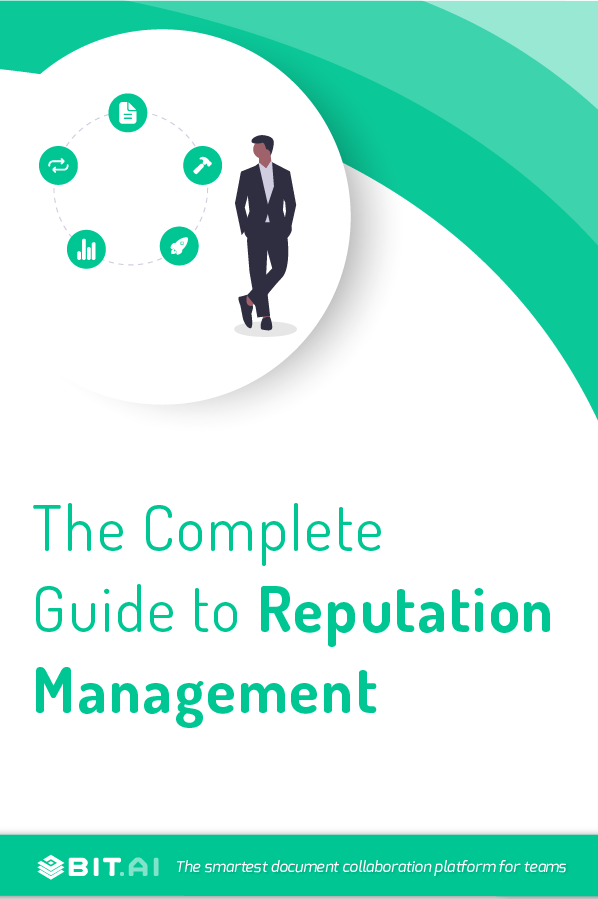 Related posts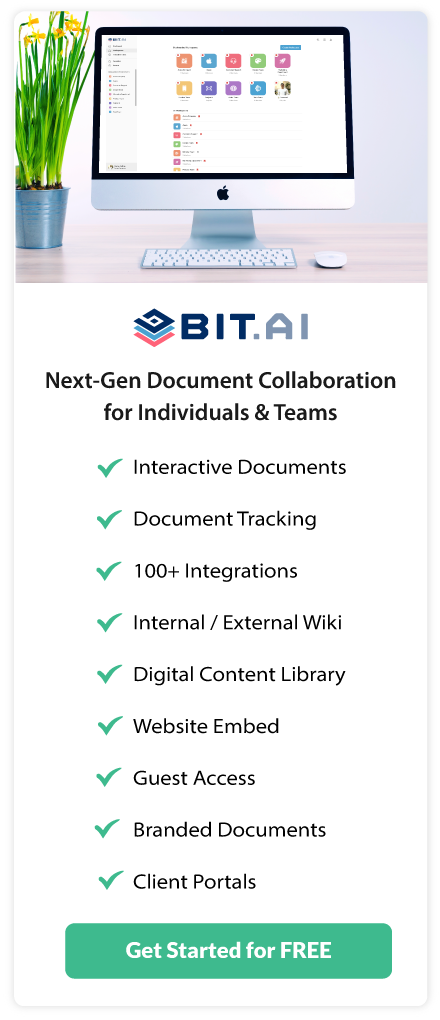 About Bit.ai
Bit.ai is the essential next-gen workplace and document collaboration platform. that helps teams share knowledge by connecting any type of digital content. With this intuitive, cloud-based solution, anyone can work visually and collaborate in real-time while creating internal notes, team projects, knowledge bases, client-facing content, and more.
The smartest online Google Docs and Word alternative, Bit.ai is used in over 100 countries by professionals everywhere, from IT teams creating internal documentation and knowledge bases, to sales and marketing teams sharing client materials and client portals.
👉👉Click Here to Check out Bit.ai.