Have you ever sent an email with a glaring typo that you somehow missed? Or maybe you submitted an assignment with multiple grammatical errors?
Perhaps, it was something even worse – an important presentation with an embarrassing spelling mistake?
Whatever the case may be, we have all been there and done that. After all, we are humans, and making mistakes is in our blood. Yes, you too grammar-nazis!
Even though we all fall prey to these blunders, in a lot of situations they can be deemed unprofessional, negligent, and downright sloppy.
Only if there was something that could save us from these godawful slip-ups, right?
Well here's the good news – we are fortunately living in a world of technology that has blessed us with amazing tools such as writing checkers! They can help us with every misspelled word, incorrect grammar, forgotten punctuation, and awkward sentence.
So, whether you want to write an impeccable email or a sophisticated assignment, or a quirky blog, a writing checker is a must-have item!
That's why in this blog we are bringing you a list of writing checkers from which you can pick your favorite one!
So what are you waiting for? Jump right in!
What is a Writing Checker?
A writing checker is pretty much self-explanatory. It is a digital tool or software designed to check for errors in your writing, particularly with relation to grammar, spelling, punctuation, style, sentence structure, etc.
Writing checkers help you find these errors, correct them or make better suggestions and ultimately help you improve your writing style.
Not only do they enhance your writing, but they also check for plagiarism and even support multiple languages.
In short, writing checkers are a blessing for your writing adventures.

So, let's take a look at some really cool writing checkers out there!
List of 9 Writing Checkers
1. Grammarly
Let's kickstart our list with Grammarly, one of the most popular writing checkers out there. It's known for being an online grammar checker that comes with editing and plagiarism tools.
Grammarly helps you detect a wide range of mistakes in your writing, including grammatical mistakes, spelling errors, wrong punctuations, awkward sentence structures, and many more. It suggests changes in real-time and ensures that your writing is error-free.
It's available as a web-based or online tool, web browser extension, an add-on for Microsoft Word, a desktop app, and even as a keyboard for your mobile devices.
What's more? Grammarly comes with a high-quality plagiarism checker that scans and cross-checks your material from over 16 billion web pages and also ProQuest's databases
Pricing
Free plan
Premium plan – $11.66 per month
Business plan – $25.00 per month.
2. Hemingway Editor
Hemingway Editor is a writing checker that analyzes your writing style to identify areas for improvement. It assesses the readability of your text and gives you a readability score.
If you have complex sentences, it alerts you with 'hard to read' or 'very hard to read labels so that you can rephrase them in an easier manner. It uses different colors to suggest improvements in text related to passive voice, excessive adverbs, and complex phrases.
This writing checker gives you information on the letter, character, word, paragraph, and sentence count and also calculates the reading time of your text.
What's more? Hemingway Editor is available both online and offline
Pricing
The online version is free.
The offline desktop app is available for $19.99.
Read more: 9 Best Paraphrasing Tools for Writers! (Free & Paid)
3. Ginger
Next on the list is Ginger, an AI-powered writing checker that is jam-packed with tools and features. It has a grammar, punctuation, and spelling checker tool, which helps you eliminate mistakes and typos and offer context-based corrections.
It has a text reader and sentence rephrasing tool to help you change complex and awkward sentences and also comes with an in-built dictionary and thesaurus for improving your vocabulary.
On top of that, Ginger has a translator which supports over 50 languages, making it suitable for beginners as well. It even has a personal trainer feature to give you lessons based on mistakes and help you improve your English.
Pricing
Free plan available
Premium plan – $20.97 per month.
4. Writer
If you are looking for a writing checker for professionals and businesspersons, then we recommend you use Writer. It goes above and beyond regular grammar, spelling, and punctuation checks, and lets you customize suggestions according to your brand voice preferences.
Writer's AI writing assistant ensures that everyone in your organization writes in the same style, language, and brand voice. It also recommends terms and phrases that distinguish your brand from your competitors.
This tool checks for clarity, readability, approachability, conciseness, writing style, terminology, tone, and bias in your written works and helps you identify areas that require improvement.
In addition to all this, Writer also comes with a plagiarism checking tool and inclusivity checker.
Pricing
Free plan available
Starter plan at $11
5. WhiteSmoke
Here we have WhiteSmoke, an easy-to-use writing checker that uses AI technology and natural language processing techniques for analyzing your texts.
Like every other writing checker, WhiteSmoke proofreads your document and corrects your grammar, spelling, and punctuation mistakes, and also suggests words and better sentence structures. But what makes it really unique is that it provides you with video and written tutorials to improve your writing skills.
WhiteSmoke also has a translator and dictionary which supports over 55 different languages, 100 built-in document templates, and an integrated plagiarism checker. It even supports grammar checking in Gmail.
You can access WhiteSmoke via mobile app, PC, and any web browser.
Pricing
Web plan – $5.00 per month.
Premium plan – $6.66 per month.
Business plan – $11.50 per month.
Read more: 10 Writing Tools that are Essential for a Writer!
6. Outwrite 
Be a better writer with this AI-powered grammar checking and proofreading tool called Outwrite. It is a writing checker that uses advanced grammar, spelling, and rephrasing suggestions to enhance the quality of your written works.
Outwrite has a unique feature called the AI Eloquence Engine, which scans your text and offers recommendations on how to improve it by removing incorrect words, simplifying phrases, and avoiding the use of passive voice to bring more clarity.
If you want to enhance your vocabulary, then Outwrite's thesaurus will provide you with stronger synonyms and word choices. You can track the statistics of your writing and understand the readability, word count, and grade level of your work.
What's more? Outwrite comes with an efficient plagiarism checking tool that conducts around 50 checks a month to ensure the originality of your work.
Pricing
Free plan available
Pro plan at $9.95
7. ProWritingAid 
ProWritingAid is a multiple-purpose tool with features that make it suitable for different styles of writing. It helps you quickly edit your grammar and spelling mistakes, fix punctuation, optimize word choice, and also detect plagiarism.
This writing checker can analyze your entire text and produce over 20 in-depth writing reports that highlight elements like repetitiveness, vague wording, variation in sentence length, complex sentence structures, overused words, etc.
What makes ProWritingAid stand out is that it offers in-app explanations, inclusive language suggestions, quizzes, videos, and articles to help you build and enhance your writing skills in real-time.
ProWritingAid integrates with Google Docs, Microsoft Word, MS Outlook, as well as most web browsers.
Pricing
Free plan available
Premium plan starts at $20
Read more: 9 Awesome Assignment Writing Tips to Get Better Marks!
8. Language Tool
If you're looking for a writing checker suitable for software companies and publishing houses, then Language is an amazing option for you. It is an open-source multilingual proofreading tool that comes with a grammar and spell checker, which can be downloaded for offline use.
The cool thing about Language Tool is that it can fix grammatical mistakes in more than 20 different languages and generate context-aware suggestions for it as well. It can also fix your English and suggest preferred vocabulary based on geographical location – such as American, British, Australian, South-African, etc.
Language tool even detects gender while proofreading which is extremely useful while dealing with the gender structure in writing for different languages.
What's more? It provides you with a personal dictionary that you can customize for yourself.
Pricing
Free plan available
Premium Plan at $19/month
9. Scribens
Here is Scribens, a reliable writing checker that uses a sophisticated syntactical algorithm to correct more than 250 types of grammar, spelling, and stylistic mistakes.
You can use Scribens to correct the redundancies, run-on sentences, and repetitions in your written work. These corrections often include explanations that can help you improve your English writing skills. In addition to this, it also has a dictionary and thesaurus that provides you with definitions, conjugations, and synonyms
Also, Scribens provides you with highly detailed statistics about your texts, such as its readability indicator and word, sentence, and paragraph count.
What's more? Scribens supports third-party integration and can be easily downloaded as browser extensions
Pricing
Scribens is absolutely free
Conclusion
Making errors and typos are more common than we think, even when we believe that we have impeccable grammar and writing skills.
But thanks to these amazing writing checkers, we never have to worry about making an embarrassing mistake ever again.
We have given you a list of some of the best writing checkers out there and now there's only one thing left for you to do!
Pick one that fits your needs and you are good to go!
Ciao!
Further reads: 
9 Powerful Tips For Writing Great Content For Your Website!
10 Best Apps for Writing a Book!
Article Spinner: Definition, Purpose & Tools!
9 Essential Writing Tips Every Writer Must Use!
10 Best Writing Apps To Make You A Better Writer!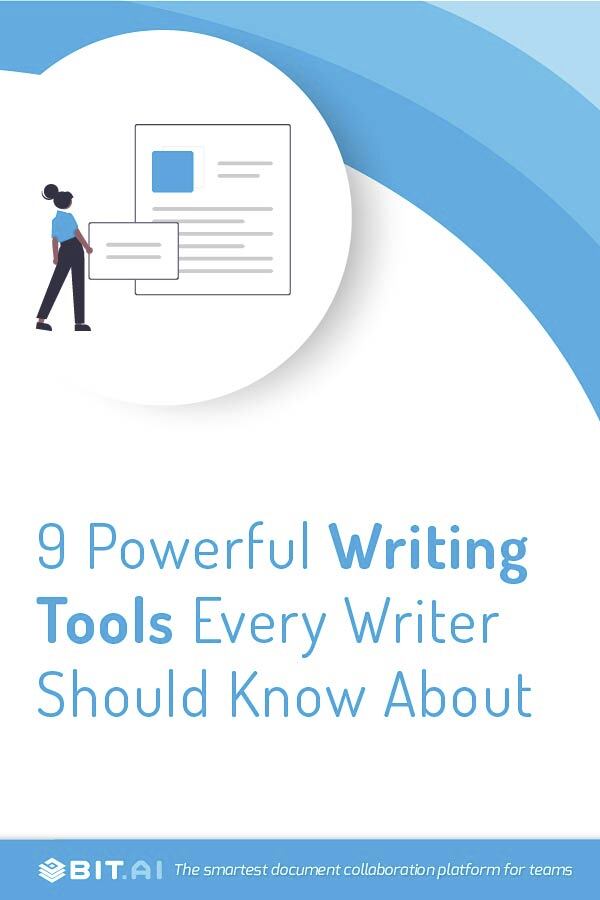 Related posts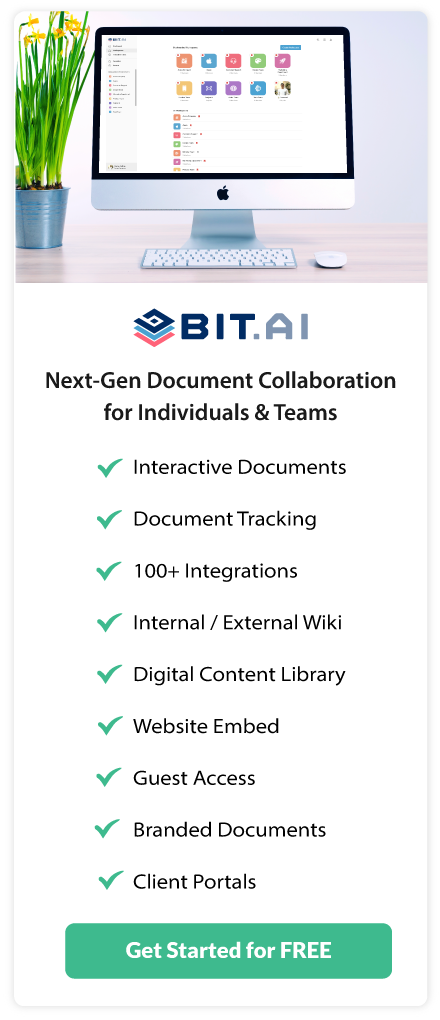 About Bit.ai
Bit.ai is the essential next-gen workplace and document collaboration platform. that helps teams share knowledge by connecting any type of digital content. With this intuitive, cloud-based solution, anyone can work visually and collaborate in real-time while creating internal notes, team projects, knowledge bases, client-facing content, and more.
The smartest online Google Docs and Word alternative, Bit.ai is used in over 100 countries by professionals everywhere, from IT teams creating internal documentation and knowledge bases, to sales and marketing teams sharing client materials and client portals.
👉👉Click Here to Check out Bit.ai.