Whether you are writing a research paper, a blog post, an article, thesis, dissertation, or an essay, you need a writing app that can make that process easier.
However, finding an awesome writing app is not an easy job to do, especially when there are a ton of options out there.
In this blog post, we will go through some of the best writing apps available on the market and how they can help you in your writing process.
List of Best Writing Apps You Must Try!
Today, research is dynamic. We no longer go to the library to study a particular topic and make notes. Rather, we go online, browse websites, watch videos, study analytics, and conduct our research by exploring different types of digital content.
Thus, in order to find a writing app for researchers, we need to look not only for editors but also for apps that help them manage all this research work, collaborate with fellow researchers and writers, and connect with them in real-time to get the work done quickly and effectively.
Let's take a look at some of the best writing apps for researchers and see if we can find that ideal app!


Next-Gen Document Collaboration for All Businesses
Since our research is dynamic, it involves all sorts of rich media content like videos, audio files, PDFs, whitepapers, articles, etc.
For our dynamic research, we need an app that incorporates all this research under a single roof. Simple text-editors of the past just won't cut it anymore! This is where Bit comes in.
Bit allows researchers and teams to collaborate, share, track, and manage all knowledge and research in one place. It's the perfect tool to share multi-dimensional research with your teams and not just text and slides.
Add videos, articles, PDFs, Google Sheets, ebooks, white papers, audio samples- basically anything you can think of – and share it with your peers easily!
Other notable features of Bit include:
A minimal editor that supports Markdown
Collaborative, real-time editing and communication with teammates
A content library to save all your media files under the same roof
Smart search, which allows anyone to search and find any files, images, documents, etc. quickly.
All-in-all, Bit is a must-have writing app for researchers and authors!

Read more: The Best Authoring Tools You Must Explore!

Put your best words forward
It's been 34 years since Microsoft introduced us to Word, it's a famous word processor that everyone continues to use to this day.
In the writer's community, Word has been one of the most well-known and go-to apps for them to write their research work or thesis. We all are familiar with the Word "ribbon" toolbar which provides a ton of formatting features.
Some of these include text formatting, bullets, and numbering, Grammar and spell-checker, Thesaurus, inserting watermarks, page numbers headers and footers, readymade templates, etc.
However, a lot has changed in the last three decades, as our workflow has become more digital, more connected, and more collaborative. Unfortunately, Word has been a bit disappointing in providing new and advanced features to writers.

More than letters and words
Google Docs has been one of the most popular cloud-based document editors over the last two decades. Writers and researchers from all over the world use Google Docs to create content, collaborate with their team, and get work done.
It was one of the first apps that brought real-time document collaboration to the masses. No matter where users are in the world, they can write, comment and edit content together.
There's even a voice-to-text option using which you can dictate any document and Google will type it automatically. Although it doesn't always work as well as it should.
Google Doc's intuitive, simple and user-friendly design makes it easy to access, edit and share your documents, spreadsheets, or presentations on the go using a smartphone or a tablet.

The document foundation
LibreOffice is a free and open-source writing app, build and supported by millions of community members worldwide. If you want a Word's like ribbon interface, you'll probably enjoy working on LibreOffice.
LibreOffice is compatible with a wide range of document formats such as Microsoft Word (.doc, .docx), Excel (.xls, .xlsx), PowerPoint (.ppt, .pptx) and Publisher. Researchers can even export their documents in many different formats including PDFs.
Along with the editor, LibreOffice includes many applications that make it one of the most versatile apps on the market: Writer (word processing), Calc (spreadsheets), Impress (presentations), Draw (vector graphics and flowcharts), Base (databases), and Math (formula editing).
Read more: Power Words To Make You Stand Out From Competition

Powerful Writer. Powerful Words.
Another writing app worth mentioning on this list is Zoho Writer. A standout feature of Zoho Writer is something called "writing modes", which include- compose, review and distribute modes, all with different functionalities.
The writer essentially accommodates itself to work for you, based on the phase of your document editing you are currently in. You can make part of a document available for editing and the rest private.
Zoho Writer also offers an advanced document review system- you can search and filter through comments, get email updates, track version history, and reply to the comments happening on the writer directly from the email.
Zoho Writer also offers greater apps for editing and has over 350+ fonts to make your text stand out. If you do research with a bunch of peers, Zoho Writer can just be the app for you!
Read more: Best Collaborative Document Editing Software in 2021

Organize life. Then go enjoy it…
Before you begin writing, you need a place to organize your research and come up with a plan.
Having a to-do list in place allows you to clear your mind and go about your work in a strategic and systematic manner. This is where Todoist comes in. Among one of the best task managers/to-do list creator tools, Todoist has a clean and simple interface that lets you create tasks in minutes.
Just go to Todoist, create a task, set a due date (or a recurring due date), organize the task into a project, and add a due date. You can even share projects or delegate a task to a fellow researcher and add a priority level so you know what's important and what can wait.
Available for desktop as well as a smartphone app, researchers can use Todoist to organize their research, create an outline, and get work done systematically.
Read more: 5 Best eBook Creators List For Writers!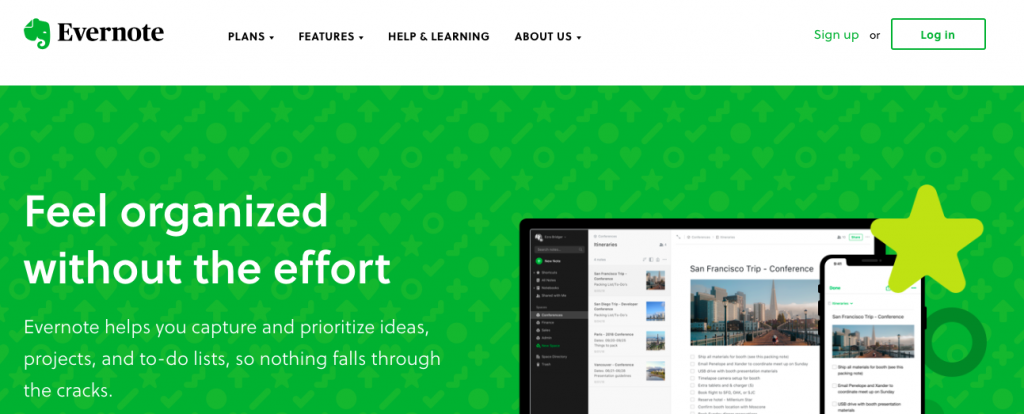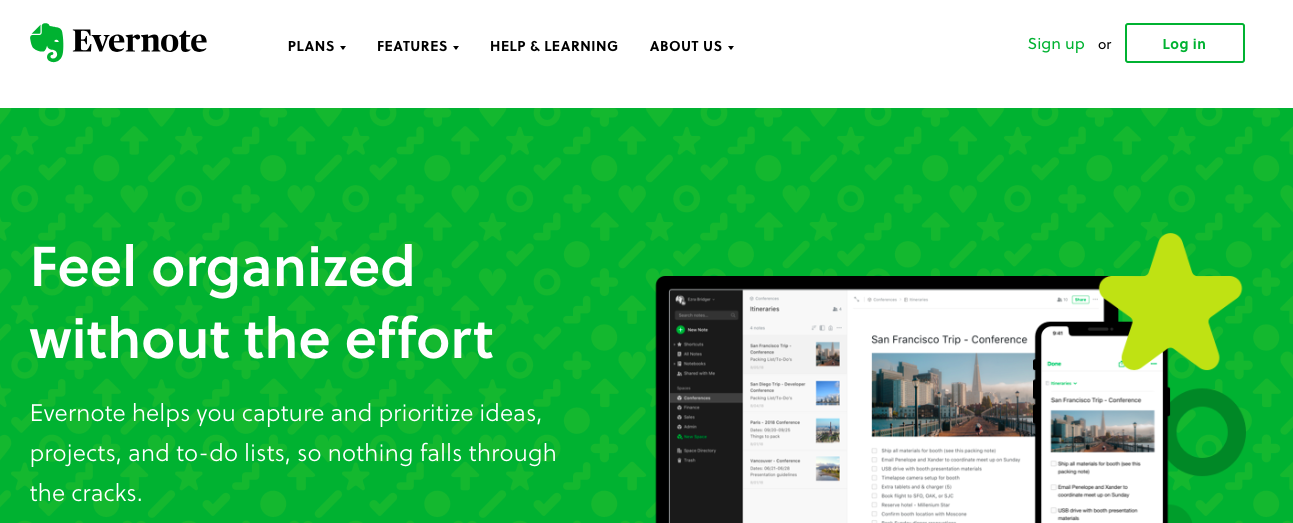 Feel organized without the effort!
Another one among the best note-taking/task management apps, Evernote is a great writing app for researchers. Evernote helps you store all your personal ideas, to-do lists as well as professional meeting notes and work documents in one place.
Easily create separate tags and folders for the different types of information and keep it all organized. Evernote auto-syncs across all your devices, including desktop, smartphone, and tablet. Your ideas, photos, and clipped pages are always available, no matter where you are.
Evernote also has one of the best Chrome browser extensions that makes it easy to add just about anything to your research documents. As you browse the web and discover things you want to remember, just click the browser extension to save highlights or the entire page to your notebook along with any notes you have about that page.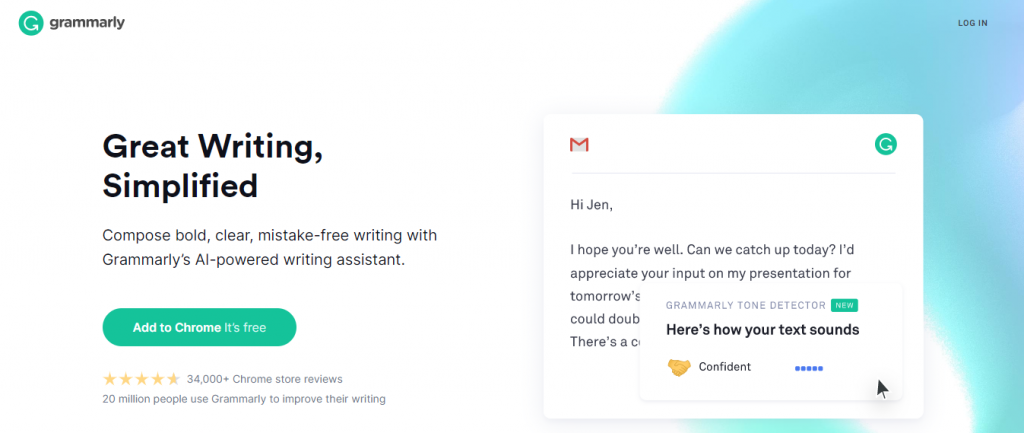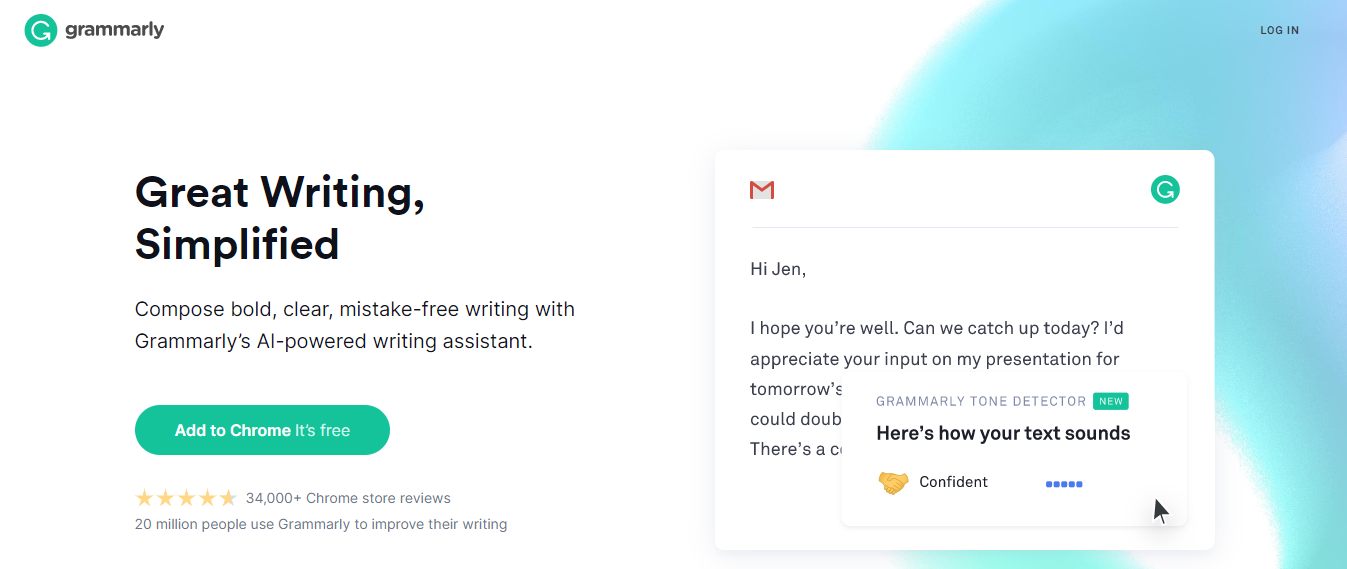 Great writing, simplified!
No research work is complete without spending hours on proofreading and spellchecking! Grammarly, a writing enhancement app wants to help you out with this dreaded task.
Grammarly goes beyond your basic spell checkers as it includes a bunch of cool features like a punctuation checker, a grammar checker, a plagiarism checker, and a vocabulary enhancement app.
Grammarly scans your text for more than 250 types of grammar mistakes in six distinct writing genres. Grammarly also provides detailed explanations for all your errors and weekly progress reports. It's available as a browser extension, a Microsoft Office add-in, a desktop app, and a website.

Smarter alternative to Word and LaTeX
Typeset.io claims that Word and Latex are not meant for research-based writing and Typeset is the smarter alternative for researchers. Typeset provides over 100,000+ verified journal formats to choose from.
Researchers can easily copy-paste or upload their paper on Typeset and follow any citation style they require. After you are done uploading and citing, simply click on "autoformat" and Typeset will generate your research report in seconds! Furthermore, Typeset includes your work quality through their inbuilt Plagiarism and Grammar check apps.
You can then easily download your research in PDF format, as a Docx file, LaTeX file, or even as a Zip file. Typeset is an app built by and for researchers and is a must-have for all researchers out there!
Read more: 8 Different Types of Writing Styles (And How to Improve Your Own)

For writing. And writing. And writing!
The last one on our list of awesome apps for researchers is Scrivener. A writing app used by novelists, screenwriters, non-fiction writers, students, academics, lawyers, journalists, translators, and more, Scrivener is tailor-made for long writing projects.
Users can quickly jump right in the editor and start off writing or can build a story outline, write down characters, and build your manuscript organically. You can break your text into manageable sections of any size and leave Scrivener to stitch them together.
If you are a novice writer, Scrivener can feel a bit daunting with all its bells and whistles. However, it's an extremely powerful writing tool once you get the hang of it.
Final Words…
Research is hard work. A lot of time and effort is spent on finding out content, reading, organizing, and managing information, and coming with your own thesis so you can add value to your work.

A great writing app can go a long way towards helping you manage all this hard work and make it easy for you. Did we miss any awesome writing tools for researchers out there? Let us know by tweeting us at @bit_docs.
Further reads : 
Related posts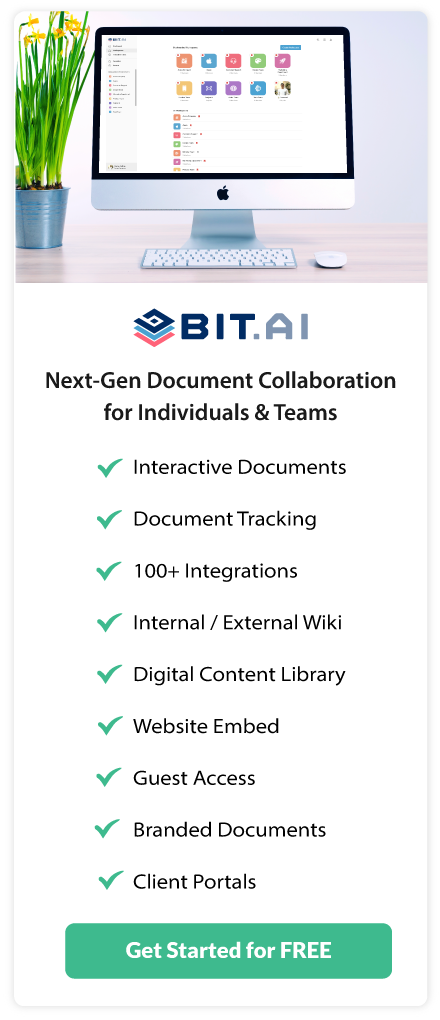 About Bit.ai
Bit.ai is the essential next-gen workplace and document collaboration platform. that helps teams share knowledge by connecting any type of digital content. With this intuitive, cloud-based solution, anyone can work visually and collaborate in real-time while creating internal notes, team projects, knowledge bases, client-facing content, and more.
The smartest online Google Docs and Word alternative, Bit.ai is used in over 100 countries by professionals everywhere, from IT teams creating internal documentation and knowledge bases, to sales and marketing teams sharing client materials and client portals.
👉👉Click Here to Check out Bit.ai.