Think of all the times your teachers in school drew tree diagrams and different shapes to explain a complicated process that you just couldn't fathom while reading.
Wouldn't you say that caught your eyes and made it easier to understand?
Well, the same applies to even the field of business. Visualizing data just helps us comprehend better, identify patterns and communicate ideas in a clear and simple manner.
Like teachers used flowcharts in your class, as a business manager, it's time you used flowchart tools for your business.
Clueless? Don't worry, we have curated for you a list of flowchart software and tools that will come in handy while dealing with complex business processes.
So without further ado, let's get down to business!
What Exactly are Flowchart Software and Tools? 
First, let's look at what a flowchart is. It is a type of diagram that illustrates the steps of a process in a sequential manner.
Usually, it involves the use of pictures or images of different shapes like rectangles, ovals, squares, circles, etc. to depict a series of events or steps in a procedure.
So, flowchart software and tools are platforms where you can design and create these diagrams in a hierarchical order or structure to visualize data.
Though these tools are mostly used in the software development industry, nowadays it's becoming more and more common in the field of business and management because it helps break down the complex processes to provide the best solutions.
We know that flowchart software and tools may not seem like the most important tool for investment, but it's great when it comes to brainstorming and organizing ideas and processes.
Let's take a closer look at this and try to understand why you need to use flowchart software and tools in your business.

Why You Need Flowchart Software and Tools?
There's no denying that a flowchart's use of symbols and texts to explain extremely complex business processes makes it easy for a wider audience to understand and digest information.
With that being said, let's take a look at some of the benefits of having a flowchart software or tool in your business.
Comes with a set of pre-drawn or ready-made and customizable templates for basic flowcharts.
It automatically aligns symbols, provides proper spacing, and connects symbols to give a clean and professional look
Helps you convert flowcharts into different formats
Makes it extremely easy to share flowcharts on multiple platforms
Provides great importing and exporting features
With these features, not only can you can easily present your ideas, you can manage a proper workflow, maintain good communication, and improve organization.
In short, flowchart software and tools are nothing short of a great investment!
Now that you know the amazing ways that a flowchart tool can make your business management better, let's take a look at some of the best ones out there!
Ready for this? Then, jump right in!
List of Flowchart Software and Tools You Must Explore!

Let's kickstart the list with Lucidchart, a web-based platform that allows you to draw, edit and share charts and diagrams. With over 15 million users, it is one of the most widely used and reliable flowchart tools on the market.
This tool offers over 1000 different customizable templates and comes with a drag-and-drop shapes library which lets you make flowcharts easily and quickly.
Lucidchart is one of the few flowchart tools that can be used with Windows, MAC, and Linux systems. It comes with extensive import and export features and integrations with multiple workplace platforms such as G Suite, Atlassian, Slack, Salesforce, and Microsoft Office.
What's more? With Lucidchart, you can seamlessly collaborate online and make edits in real-time.
Features
Offers 1,000+ templates
Supports 1 GB of storage
Provides real-time collaboration
Pricing
Lucidchart offers a free personal plan
Paid plan starts at $7.95 per month
Read more: How to Embed Lucidchart Diagrams to Your Documents?

Make flowcharts in a jiffy with Gliffy, a cloud-based diagramming tool that lets you create and share your flowchart ideas.
If you are a beginner, then Gliffy is the perfect tool for you. Its intuitive drag-and-drop feature makes it extremely easy to choose a template and drag over the shapes you need to create amazing flowcharts. Shapes neatly snap into place with its built-in grid, which gives your presentation a clean look.
Gliffy has the ability to track and preserve changes, which means that you can roll back your revisions in case of an error. It integrates with multiple platforms such as WordPress, Jira, Confluence, Lucidchart, etc., and also comes with extensive import and export features as well. It also comes with a Chrome version that allows you to work offline.
What's more? Gliffy provides a 24/7 email support!
Features
Supports an intuitive drag-and-drop editor
Tracks and preserves changes
Provides 24/7 email support
Pricing
Gliffy starts from $4.99/user/month
Personal Plan at $7.99 per month

Next on the list is Cacoo, a web-based flowchart tool designed to improve team collaboration. It has an intuitive interface that allows you to choose from a library of templates and shapes to create diagrams, flowcharts, and graphs within minutes.
Cacoo lets you collaborate with an unlimited number of users in real-time to edit, comment, update and track changes on your flowcharts, which you can then share easily as links or embed them on your reports or presentations.
Because this tool is also designed to improve team collaboration, it keeps your projects organized in shared folders and saves them within Cacoo itself. It also lets you monitor your project status through activity notification. In addition to this, it has an in-app video chat option.
Furthermore, Cacoo integrates with multiple cloud services like Google Drive, Docs, Confluence, Dropbox, Slack, Visio, etc., and even provides a 'suggestion box' for future app integrations.
Features
Supports unlimited users
Offers in-app video chat feature
Provides real-time editing and collaboration features
Pricing
Cacoo starts from $5/user/month
Offers free plan
Read more: 9 Powerful Mind Mapping Software & Tools You Need to Check Out!

If you are looking for a budget-friendly and easy-to-use flowchart tool, then Drawi.io is one of the best options. It is a standalone browser-hosted diagramming tool that was initially developed as a plugin for Confluence and Jira, which can be used both online and offline.
Draw.io comes with a simple drag-and-drop functionality with a visual grid layout and it features a large library of templates and shapes. Because it's online software, it's easy to boot up and get started within a few seconds.
You can integrate Draw.io with popular apps like Google Drive, Google Docs, Dropbox, Chrome, Confluence, etc., and also import and export it to a wide variety of formats.
What's more? You don't even need an account to get started with Draw.io.
Features
Extremely easy to use
Offers drag and drop functionality
Works both online and offline
Pricing
Draw.io is free to use online
Pricing plan for Confluence users vary

Canva is an online tool for graphic designing suitable for both beginners and experts. Apart from designing logos and business cards and editing photos, it is also a great flowchart tool that helps you create amazing flowcharts with professionally designed templates.
You can make adjustments to colors, fonts, font size, and alignments very easily with Canva's editing features. It then allows you to save, download and embed your flowcharts in presentations and reports. It comes with drag and drop editor features, provides over 20 professional graphs, and offers over 8000 ready-made templates.
Moreover, with Canva, you can easily collaborate with your colleagues in real-time while making your flowchart.
Features
Offers drag and drop functionality
Saves, download and embeds flowcharts in presentations
Helps collaborate with co-workers
Pricing
Canva costs $12.95 per team member per month.
Read more: How to Embed Canva Designs into Your Documents?

Creately is a user-friendly diagramming and collaboration tool that enables you and your teams to create and edit flowcharts quickly and easily. It has an extensive library of templates that enables you to create complicated diagrams and even lets you try out templates before actually investing in them.
Creately has a simple drag and drop functionality which makes creating flowcharts super easy in addition to an excellent feature called the 'one-click create' that lets you draw shapes and lines connecting it with just one click.
Built for team collaboration, this flowchart tool lets you collaborate, leave comments and edits, and track changes in real-time. It even comes with an in-built video conferencing feature as well.
What's more? Creately is available online, as a desktop app, and on mobile platforms.
Features
Supports an extensive library of templates
Comes with a one-click create feature
Has an in-built video conferencing feature
Pricing
Free plan with limited features.
Paid plan starts from $5/month

Next on the list is Edraw Max, a popular flowchart tool with a wide variety of graphic elements, integrations, and export features.
Edraw Max offers multiple templates for 280 different diagram types and also helps construct professional-looking flowcharts and organizational diagrams. It also comes with an intuitive and easy-to-use drag-and-drop interface.
This tool is supported on Windows, Mac, and Linux systems and can be used on mobile platforms as well. It even integrates with PowerPoint and easily exports files in a wide variety of formats such as PDF, JPEG, HTML, etc.
What's more? Edraw max also comes with free technical support.
Features
Offers 280 types of diagrams
Has 1 GB free cloud storage
Comes with free technical support
Pricing

If you are a huge fan of Microsoft products, then Visio is an excellent flowchart tool option for you. Because it is incorporated into Microsoft office, it has an interface that is easy to use and navigate for a Microsoft user.
This integration with Microsoft also means that you can convert your excel sheets into Visio diagrams, automate workflow diagrams, and collaborate on Visio files and documents using Microsoft Teams.
Visio offers a library of useful diagrams and chart templates and supports a sorting feature that automatically rearranges your messy-looking and confusing flowcharts.
What's more? Visio has a 2 GB OneDrive storage.
Features
User-friendly interface
Offers a sorting feature
Provides real-time collaboration
Pricing
Microsoft Visio starts from $6.40/user/month
Visio Plan 2 starts at $15/user/month
Read more: 12 Best Design Collaboration Tools for Designers!

SmartDraw is an excellent diagramming tool with over 4000 free templates, close to 35000 symbols, over 70 diagram options with quick-start options.
One of SmartDraw's amazing features is its intelligent formatting, which automatically connects and rearranges shapes within the template that you choose.
SmartDraw allows you to quickly create diagrams and shapes using keyboard shortcuts and automatically places them on the canvas while adding connecting lines.
This flowchart tool integrates with multiple platforms such as Confluence, Jira, Trello, G Suite, Dropbox, OneDrive, etc., and allows you to collaborate behind a protected firewall.
Features
Offers 4000 free and unique templates
Provides intelligent formatting
Support keyboard shortcuts
Pricing
Single user plan at $9.95 per month
Multiple user plan at $8.25 per user per month
Conclusion
Flowcharts are an integral part of the process of business management, and creating one can be challenging and even quite daunting, but the short-term and long-term benefits it offers are well worth the time and effort.
The list of flowchart software and tools we have provided to you in this blog will equip you to make create amazing flowcharts that will help you visualize your data.
Now, it's up to you to choose the one that fits your needs the most. All the best!
Further reads: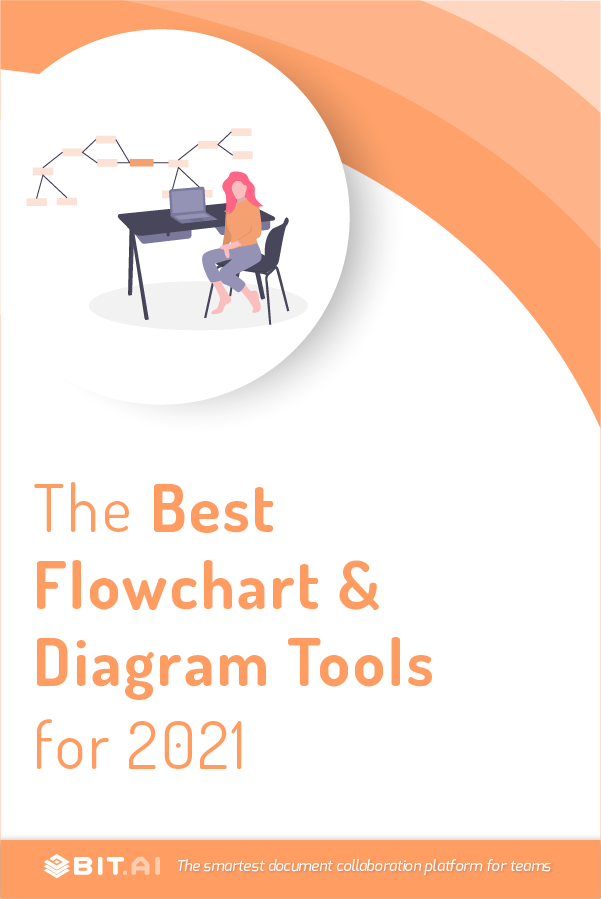 Related posts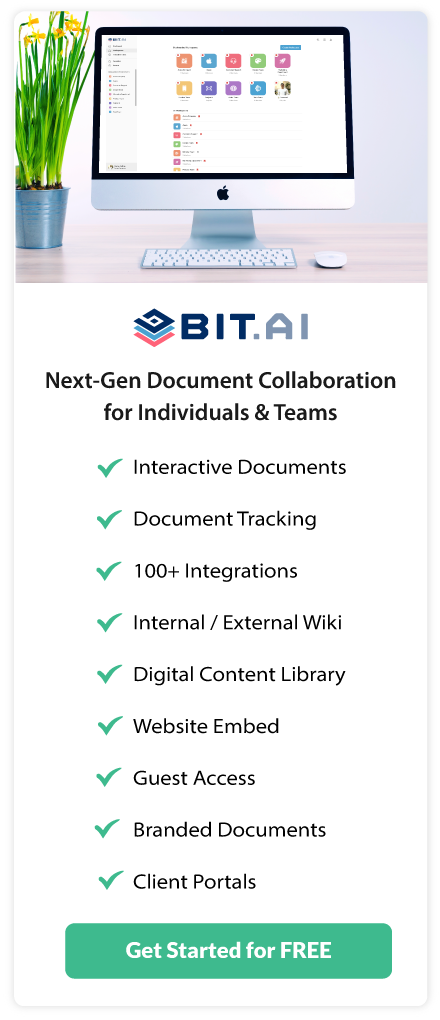 About Bit.ai
Bit.ai is the essential next-gen workplace and document collaboration platform. that helps teams share knowledge by connecting any type of digital content. With this intuitive, cloud-based solution, anyone can work visually and collaborate in real-time while creating internal notes, team projects, knowledge bases, client-facing content, and more.
The smartest online Google Docs and Word alternative, Bit.ai is used in over 100 countries by professionals everywhere, from IT teams creating internal documentation and knowledge bases, to sales and marketing teams sharing client materials and client portals.
👉👉Click Here to Check out Bit.ai.