Looking to ace your presentations? Presentation tools are all you need. Read on to know more!
At least once in your life, you've had to put together a presentation and show it to your superiors. Be it at school or in your workplace, a slideshow can cover any topic.
Sometimes the hardest part of creating a presentation is choosing what design you'd choose. Don't worry, we've all been there. You wouldn't want your presentation to look like a plain old template with a couple of words thrown on it. And details such as for example business-related images would easily make them more appealing.
But before we dive into the list of the best presentation tools for collaborations, let us first discuss why you need presentations, and why you need to collaborate with your team members.
Why Do You Need Presentations?
When you're presenting your project and you suddenly lose your train of thought, you'll need a cheat sheet to put you back on the right track. Consider the presentations as your digital cheat sheet.
Well, more or less.
Presentations are there to guide you and your audience in different ways. Your presentation keeps you on the right track and helps you visualize your message.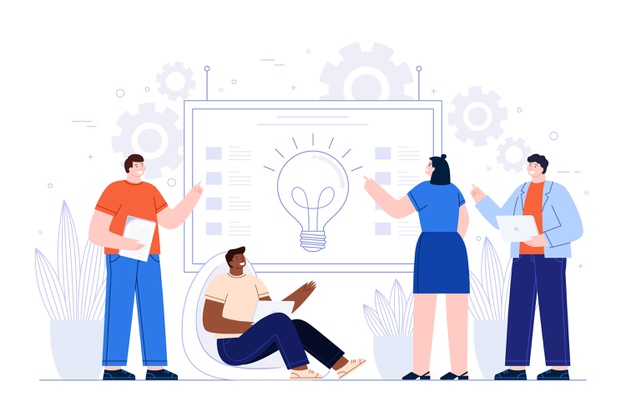 For the audience, your presentation acts as a visual aid for them. It guides your audience to your message. Through your presentation, your audience will form a picture in their minds of your plans and outlook for your project.
We see presentations everywhere, from the office to the classroom. But in this era, most of them will be viewed online. And if your team is tasked to make a presentation for your project, you will need to collaborate.
Why Collaborate using Presentation tools?
Making a presentation should not take too much of your time. This is only one aspect of your whole presentation, and there are more important aspects of a presentation than this. Therefore, you should make your presentation in the most efficient way possible.
If your team was assigned to prepare a presentation, you need to collaborate to save time. This saves you from multiple drafts in emails that often lead to confusion within your team. This isn't what you want for your project and it's a complete waste of time.
What your team needs is a presentation tool that allows your team to collaborate even if they are working remotely. You need software that allows you to work on a project simultaneously and keep your team updated whenever there are changes made to your presentation.

Here is a list of all the presentation tools your team will need to improve your presentations, as well as your collaboration.
List of Presentation Tools to Woo Clients using Slideshows:
Bit helps you and your team create interactive presentation documents that can be data-rich and integrate with over 100+ applications to bring in data. You can add rich media, pdf files, mp4s, social posts et.. If you share reports with clients that are visual-heavy and need to be responsive, trackable, and have features like password protection and lead capture, Bit is the best option.
If you want to share your documents in your workspace and improve your collaboration with your team, Bit can be an ideal choice. You can make comments and edits on shared documents and improve the quality of your presentation through this application.
Bit has inbuilt design features that make sure that all your interactive documents have brand consistency and they all look the same. If you are using google docs or word Bit can be an ideal replacement with many robust features. Create your free account on Bit.ai today!
Features
Media-rich client-facing documents
Documents can be edited in real-time by multiple users
Make documents visually appealing by using various themes
Private workspaces to bring in clients as guests.
Rich integration of over 100+ web applications (YouTube, Google Drive, PDF, etc.)
The Content library allows you to store media files for everyone on your team
Better organizing and sharing with workspaces and folders
Pricing
Bit.ai is free to use with limited functionalities. To have access to the full capability of the tool, their paid plan starts at $8 per month for the standard plan and $15 per month for the business plan.
Read more: 15 Best Presentation Blogs and Websites to Follow!
2. Google Slides (available on the website, Mac, iOS, and Android)
As part of the G-Suite family of apps, Google Slides is like the online alternative of PowerPoint. Just as you can create word documents on Google Docs, you can make your presentation on Google Slides.
This presentation tool has a variety of templates that you can use for your presentations.
As in PowerPoint, there are also Google Slide templates that you can access online. These templates fuel the artistic side of your presentation, but make sure that this does not hinder your message from reaching your audience.
You can easily collaborate using Google Slides because you can give your team members access to the presentation. You can make them a viewer, commenter, or editor of your presentation.
Everyone on your team will edit the same presentation, so everyone will work on the latest copy of it. It means that you can see the changes that happen to your presentation in real-time. There is also a chat feature so you can chat with fellow editors during brainstorming sessions.
Features
Collaboration options allow you to share your presentation
Leave a comment, or edit the presentation in real-time
Rich media support (GIF, embed options, videos, etc.)
Revision log to see who and what revisions have been made
Pre-installed graphic assets to make a livelier presentation
Shareable in social media
Has offline viewing mode
Pricing
If you have a Google account, you have free access to all the G-Suite apps, including Google Slides. You can opt for the business plan if you want. Teams can be managed in a more organized way for as low as $6 per month per user.
If you're looking to upgrade your presentation from the traditional slide-to-slide format, Prezi is a must-have presentation tool for your team. Though this tool might be a little complicated to use, it's perfect for adding a creative touch to your presentation.
If you're new to Prezi, the interface can be a little confusing. You have to remember that this presentation tool operates by zooming in and out of major and minor topics. Create a few presentations and you'll get the trick of it. The only problem here is when you choose a template, there's nothing much that you can customize from it.
Prezi now allows you to collaborate in real-time with your colleagues. This tool allows up to ten collaborators in one project. Just like Google Slides, you work on an updated copy because you can allow access to your team members. There is also a sidebar where you will see the updates on the document in real-time.
Features
Can have a high learning curve but made easier with Prezi's online tutorial
Prezi animations allow for a fresh and creative presentation
A variety of pre-installed templates are available on this presentation tool
Embed options for YouTube and other videos
Voice-over options can be added in paid plans
Shareable on social media
Has offline viewing mode
Pricing
Prezi is free with limited templates and functionality. There are also paid plans ranging from $3 to $7 per month. If you want everything Prezi has to offer, you can take advantage of the premium plan at $59 per month.
Visme is an all-in-one presentation tool that allows you to create professional presentations. It has a variety of clean templates that you can customize to your liking.
With the functionality that it offers, it is understandable that you can only access collaborative features when you're using the paid plan. You can share your slideshow on a private link and collaborate with your team members when you choose the paid plan.
Features
User-friendly
You can choose from a wide variety of templates pre-installed on the presentation tool
Different choices of graphic assets can be added to your presentation
Embed videos and GIFs on your presentation
Audio and voice-over support
Pre-installed widgets to enhance data presentation
Has offline viewing mode
Pricing
Visme is free with limited access to its features. If you want to collaborate with your team members, you should go for the team plan. Their standard plan is $15 per month and their business plan is $25 per month.
Read more: 6 Awesome Video Presentation Software and Tips to Follow!
The beauty of this presentation tool is the AI that helps you make your presentation throughout. If you have an outline and you choose a presentation theme, Slidebean will make the presentation for you — complete with formatting. Amazing, right?
You can access most of the collaboration functions if you subscribe to their paid plan. You can also share your presentation on social media when you go premium.
Features
User-friendly
AI support which allows you to create smart presentations with ease
Wide variety of templates you can choose from
Graphic assets are mostly icons and images, but shapes are not included
Videos and GIFs are supported
Supports embedding multiple types of media files
View and edit on multiple devices
Shareable on social media
Has offline viewing mode
Pricing
The price point for their paid plan starts from $8 per month (billed annually) for the starter plan. This comes with the collaboration feature and privacy settings. If your company can shell out $149 for the Founder's Edition plan, you can have the help of experts on your presentations.
6. Keynote (available on its website, Mac, and iOS)
Keynote is basically Apple's presentation tool and has been a clear competitor of PowerPoint for years. This is because Keynote is as easy to use as PowerPoint when it comes to making a presentation.
You can use Keynote online using iCloud or any other Apple device since it's a pre-installed software. The templates are limited but the animations are wonderful. When presenting, you can even use your iPhone as a remote controller for your Mac.
There are collaboration options in Keynote.
You can collaborate with your team using Keynote. You can send them the link to your presentation and they can make necessary edits to your work. You can see the edits done to your work in real-time as well.
Features
Smooth animations and transitions
Very easy to use
Pre-installed templates available on the presentation tool
Graphic assets have variations and can be edited to adjust the size, shape, or gradient
Rich media support (audio, images, GIFs, etc.)
Videos can be added via a separate plug-in (LiveSlides)
Can be viewed offline in .pdf or .pptx format
Collaborations can be permitted in the settings
Pricing
Keynote is free! All you need to do is set up an iCloud account and download the Keynote app from the App Store.
7. Ludus (available on its website)
Ludus is the most recommended app for creators.
If you want your presentation to have a unique artistic touch from your team, Ludus is the best presentation software for you. It allows you to go beyond the limits of typical presentation software.
Ludus also brags about the integrations that you can incorporate in your presentation. From photography to YouTube and GIPHY, Ludus allows you to pull content from various sources so you can improve yours.
Collaboration with your team is possible on paid plans. And since this presentation software is geared mostly for designers, collaboration is an important factor. You can collaborate with other designers or your team members when you choose the paid plan.
Features
Allows you to create a visually appealing presentation
Rich media file integration (YouTube, GIPHY, etc.)
Personalize and design your own template
Drag and drop media files to incorporate them in your presentation
Audio files can be embedded in the presentation
Presentations can only be edited on a PC, but can be viewed on multiple devices
Shareable on social media
Team plans allow you to collaborate with your team
Can be viewed offline as .pdf or .html format
Pricing
Free 30-day trial when you open an account. You can then upgrade your plan to a team plan ($49 per month) or a pro plan ($99 per year).
Work as a team now!
If you want to save on your precious time, you should try these presentation tools for your team.

With these tools, you can work simultaneously with your team and make a presentation that best conveys your message.
Further reads: 
Best Time Tracking Software and Tools
Business Presentation: How to Create One to Woo Clients!
9 Best Presentation Ideas and Tips You Must Explore!
Best Resource Management Tools and Software
10 Best Reporting Tools and Software for Businesses
Best Focus Apps to Eliminate Distractions!
Best Employee Onboarding Tools Out There!
The Best Authoring Tools You Must Explore!
16 Best Business Tools Every Business Needs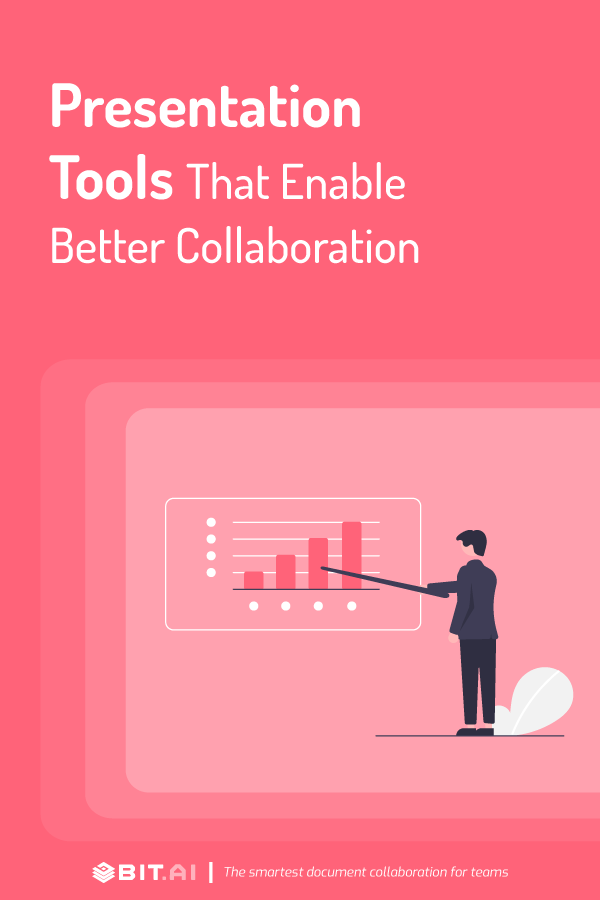 Related posts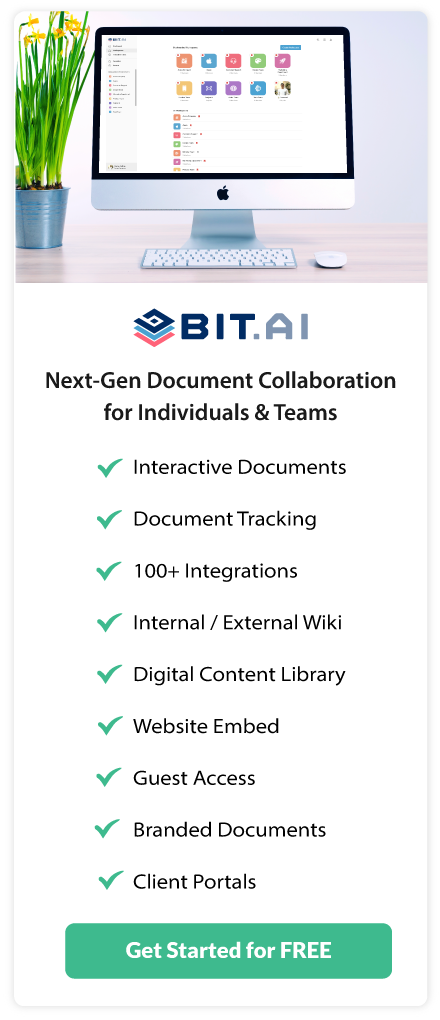 About Bit.ai
Bit.ai is the essential next-gen workplace and document collaboration platform. that helps teams share knowledge by connecting any type of digital content. With this intuitive, cloud-based solution, anyone can work visually and collaborate in real-time while creating internal notes, team projects, knowledge bases, client-facing content, and more.
The smartest online Google Docs and Word alternative, Bit.ai is used in over 100 countries by professionals everywhere, from IT teams creating internal documentation and knowledge bases, to sales and marketing teams sharing client materials and client portals.
👉👉Click Here to Check out Bit.ai.